As a paradise for tourists, Da Nang – the most worth-living city welcomes millions of travellers each year. 
The eco-tourism sites below are the most evident proof, and they also are the best places to relax and escape from the hustle and bustle of city life. Let's find out what are they!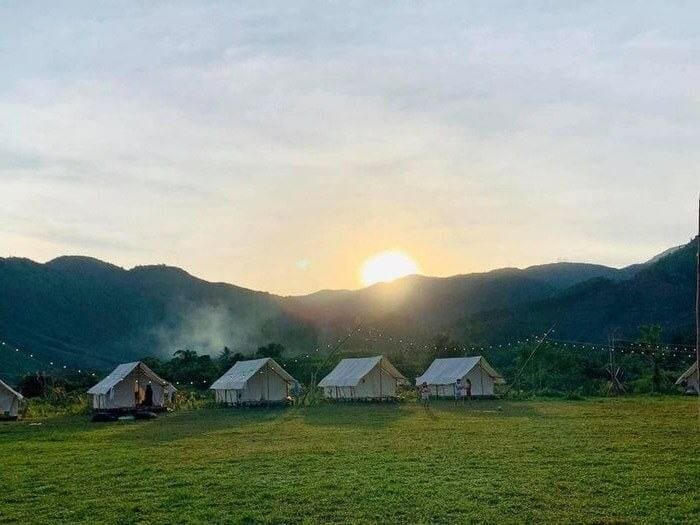 1.Cat Tien Sa Ecotourism Destination
 Located 10 km away from Yet Kieu Street, Son Tra District, Da Nang, the site is such an untouched, graceful, and charming place. 
 Legend has it that fairies often alighted on the sandbank to play Chinese chess, dance, or have fun together. Since then, people started calling it Cat Tien Sa, which means the sandbank where the fairies come down from heaven.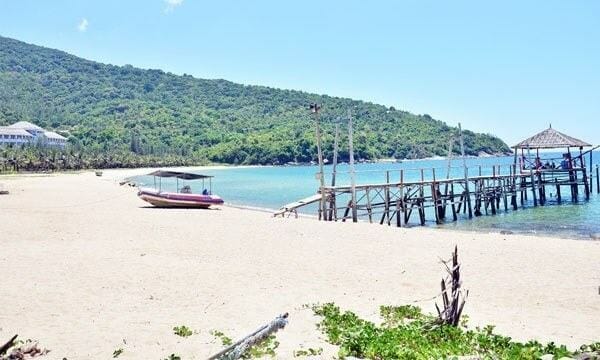 The place lies peacefully amid the mountain cliffs whose harmoniously calm water is as beautiful as My Khe, Phu Quoc, and even Nha Trang Beaches. 
 Offering many tours, leisure activities, and outdoor games such as paragliding and jet-ski, to name a few, Cat Tien Sa draws tourists to come. Plenty of them travels there for relaxing overnight, getting close to nature, and holding meetings or events. 
Boasting its stunning landscapes and mild weather hardly, Cat Tien Sa is always the top choice for filming movies, dramas, music videos, and unique wedding photographs. Besides, tourists will have time to experience in diving and watching coral reefs. 
2.Suoi Hoa (Flower Stream) Eco-tourism Site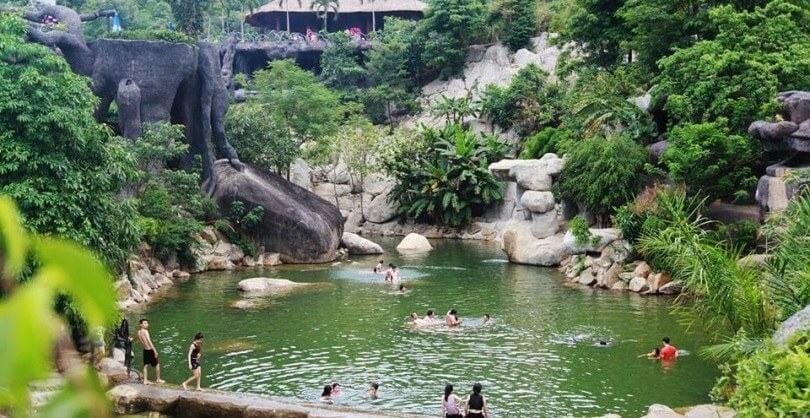 Located in Phu Tuc Hamlet, Hoa Phu Commune, Hoa Vang District, the Suoi Hoa Eco-tourism has the same address as Ngam Doi and Hoa Phu Eco-tourism Destinations. 
30km to the west of downtown Da Nang, the site welcomes its guests with cold weather, dreamy spectacles, colourful flower gardens, and diversified flora and fauna. 
Considered as a paradise in the heart of Da Nang City, Suoi Hoa is such an ideal meeting place for nature lovers and for those who want to run away from the hustle and noise of city life.. As the name implies, the attraction is full of colourful flowers standing out of the green of hills that can comfort all sightseers. 
Entering the area, tourists can immerse themselves in nature and fully enjoy the sense of peace. That helps relieve your distress and sadness for sure. There are also other attractions for tourists including Bong Lai Lake, Thien Thai Waterfall, Toc Tien Cascade. 
Moreover, Suoi Hoa has a 7000-m2 sport court flooring to meet visitors' needs of practising and playing sports aside from provided outdoor activities like horse riding, campfire. 
3.Ngam Doi Ecological Tourist Area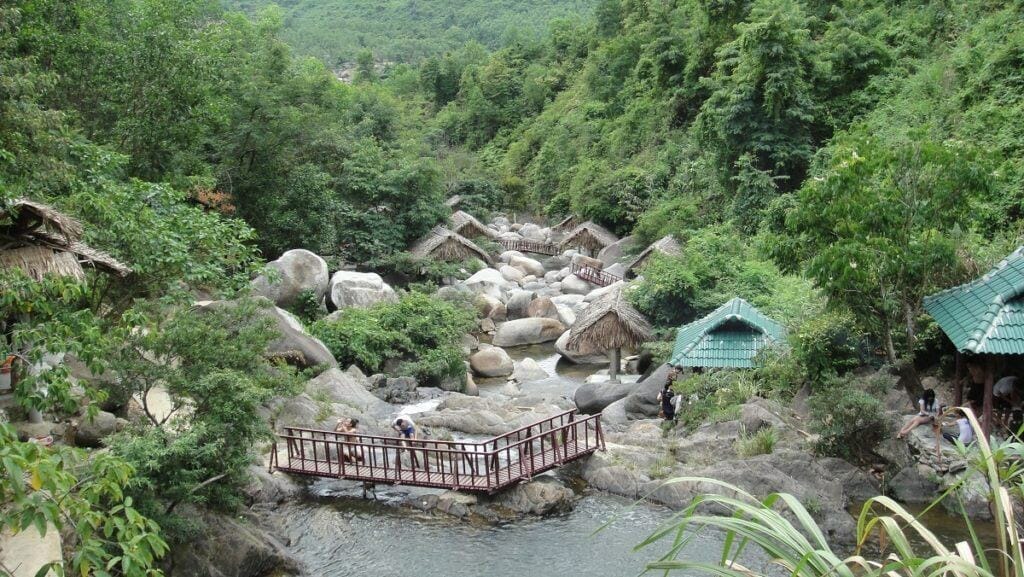 300 km to the west of Da Nang in Phu Tuc Hamlet, Hoa Phu Commune, Hoa Vang District placed the Ngam Doi Ecological Tourist Area nearby Suoi Hoa Eco-tourism Site and Nui Chua Nature Reserve. This is a go-to place for travellers on hot summer days. 
 The area was developed on the base of Lo Dong River formed by a small, long stream with poetic and romantic natural settings. The way to Ngam Doi is easy to take, and you can arrive and leave within a day on a motorbike or by car. 
 The site is made for leisure and nature activities, team building or picnics with family and friends. As a day outing, you should spend time relaxing, relieving your stress, and enjoying the fresh air. 
4.Nhat Lam Thuy Trang Tra Eco-tourism Site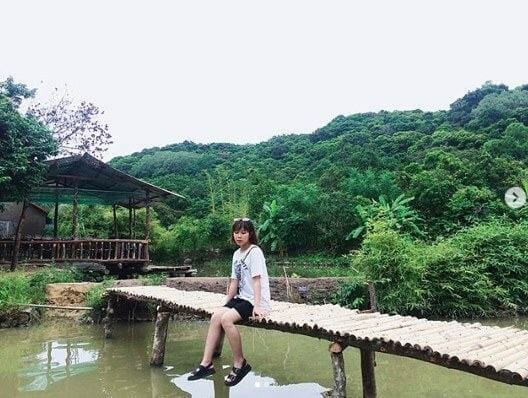 As a new name to travellers, Nhat Lam Thuy Trang Tra still remains its pristine sceneries and simplicity of forests and mountains. Even the road leading here is also dubbed a short road trip for vacationers. It may be a challenge to those who have never gone on a road trip because it's going to be quite hard along the way. However, this new generation of eco-tourism sites will never let you down, making itself well worth your effort. 
There a slew of huts for vacationers to rest and view the sky and surroundings. Nai River and thousand-year-old banyan tree are the two must-visit spots in this area. 
The Nai River is famous for its primitive beauty and the mystery of an immense green. And the ancient banyan tree must have left an unforgettable impression on visitors getting here. With a height of 20m, the tree is imposing and towering that expanses dozens of strong branches. It's quite hard to believe that the tree's foliage is luxuriant and gigantic, covering a large part of the ground and an enormous root with hundreds of branches intertwined deeply into the ground. 
 Vacationers can completely admire the views of nature, go fishing, picking fruits and do the simplest ordinary things. This makes you feel leisured and free.
5.Lai Thieu Eco-Tourism Site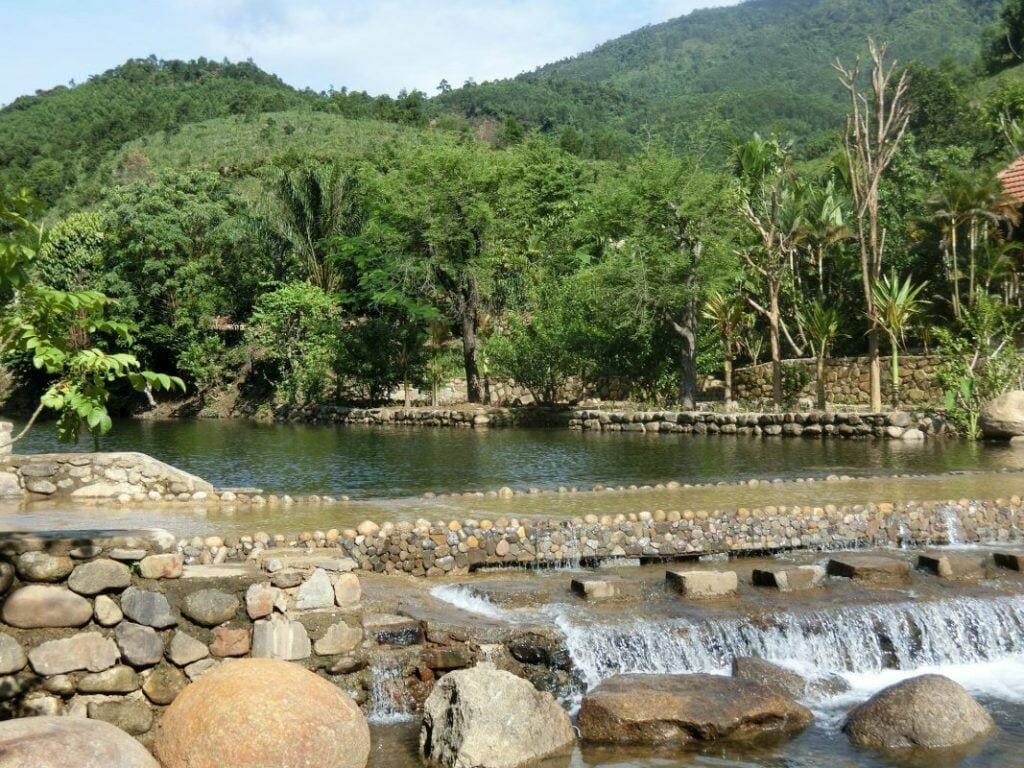 Lai Thieu Eco-tourism Site is a quite new name on the map of Da Nang tourism. 30 km far away to the west of Da Nang City, the site expanses 50 h.a. which came into operation since 2017. 
 For over two years of its public open, Lai Thieu has attracted thousands of visitors with its authentic nature rich in southwest regions that intrigues them. 
Focusing on developing a green flora system, the site's operators have raised a giant fruit orchard which is recognized as the most abundant fruit tree-growing area in Vietnam by the Viet Nam Guinness Book of Records. And for those who want to experience culture-based tourism, visit the uniquely ancient houses where Co Tu people's ethnic culture displayed to enrich your knowledge.  
The spot was built in a rustic style of Vietnam's southwest region to bring the sense of simple rustication. It's a complete contrast to the stress of big city life.
6.Hoa Phu Thanh Eco-tourism Area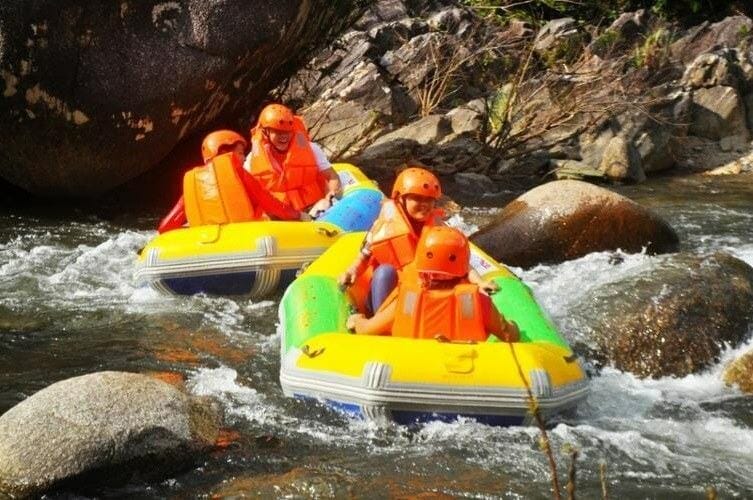 Nestled on the side of National Highway 14G in the west of Da Nang, Hoa Phu Thanh tourist area is the most popular among youngsters in this list. 
 Apart from out-of-earth natural settings to explore, there are also many thrilling and exciting adventurous games waiting for you. 
 Getting back to nature and throwing yourself into the fresh air, your stress and anxiety are sure to go away. Forget not to try water slip and slide, a fun game that can blow your mind. With just over 6 dollars, you will get an article of full protective clothing comprising life jacket, inflatable boat, and helmet. The slide you will get through is 2 km long with some sections of surging waters, but some are calm and gentle. 
 You are having a good time alongside your beloved and friends, taking a zipline or a massage. 
 7.Yen Retreat Da Nang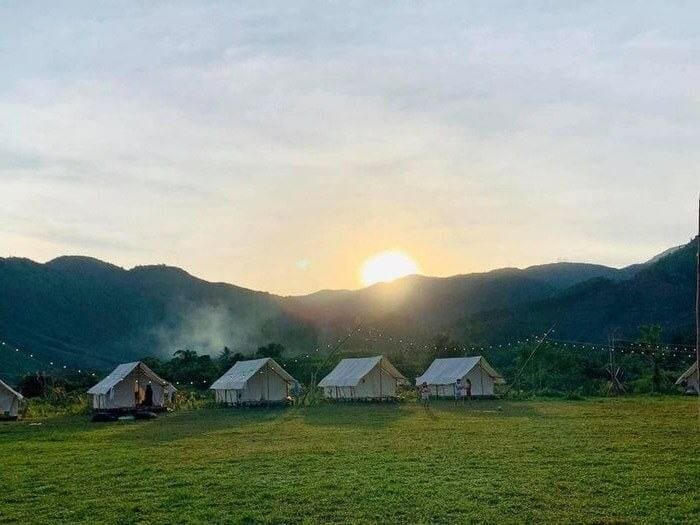 Escape from Da Nang City and finish Nam O Bridge then turn left to Ngo Xuan Thu Street, go ahead for around 12 km, you will arrive in Hoa Vang District for Yen Retreat. 
 Nestled into green hills, next to a calm river, Yen Retreat's scene can please even the most fastidious holiday-makers. 
 Spend time sitting on a boat along the river viewing the open air, perhaps you will find the inner peace of mind or come up with new ideas. Such a perfect location to dispel the disquiet of deadline, flee away from mountains of missions or find some time to think about your relationship at a standstill and rearrange your own life. 
The above are the top 7 best Eco-tourism Sites in Da Nang handpicked by the budget Hanami beach hotel. They are all essential areas for you to take a trip and make your holiday so don't get them out of your travel list if you are planning to travel to this beautiful city.