Da Nang, located on the South Central Coast, converges all mountains, plains, and sea, resulting in a diverse terrain and beautiful natural scenery. Aside from well-known attractions such as the Marble Mountains and the Linh Ung Pagoda, the eco-tourism zones in this area are extremely popular with both domestic and international tourists. Hanami Hotel Danang will introduce you to Ngam Doi eco-tourism zone in Danang as an excellent example.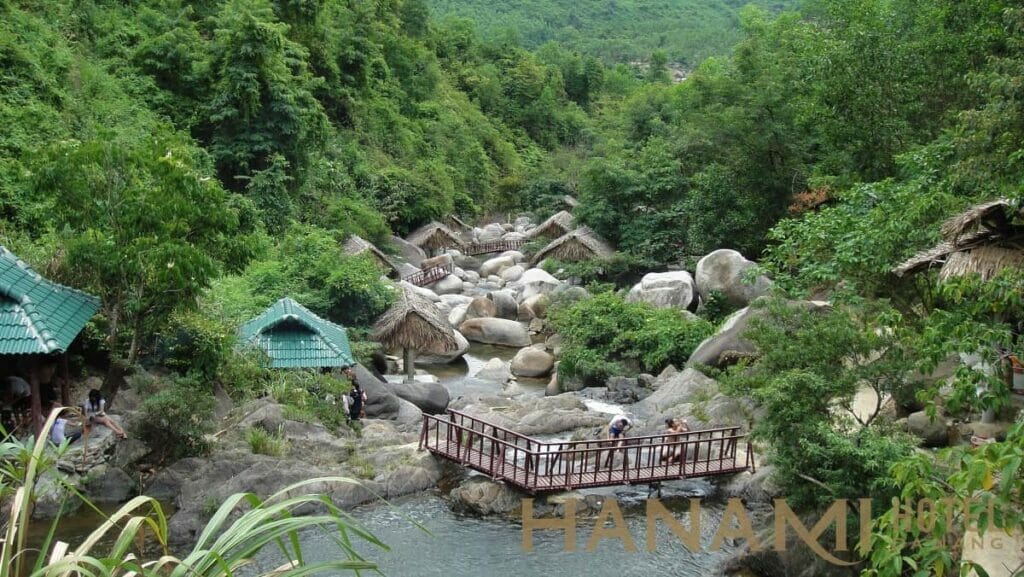 An Overview of the Ngam Doi Eco-Tourism Zone
The Ngam Doi eco-tourism zone is well known for its wild and magnificent beauty, as well as for its harmonious natural population and poetic space. Ngam Doi is a good destination for people who want to get away from their daily worries. Cool waterfalls and clear blue streams will soothe your soul, transporting you to a natural world of relaxation.
Where is the Ngam Doi eco-tourism zone?
Located in Phu Tuc Hamlet, Hoa Phu Commune, and Hoa Vang District, Ngam Doi is a great place to stop. A short distance from the Nui Chua nature reserve, the Ngam Doi eco-tourism zone is located 30 km west of Da Nang's downtown.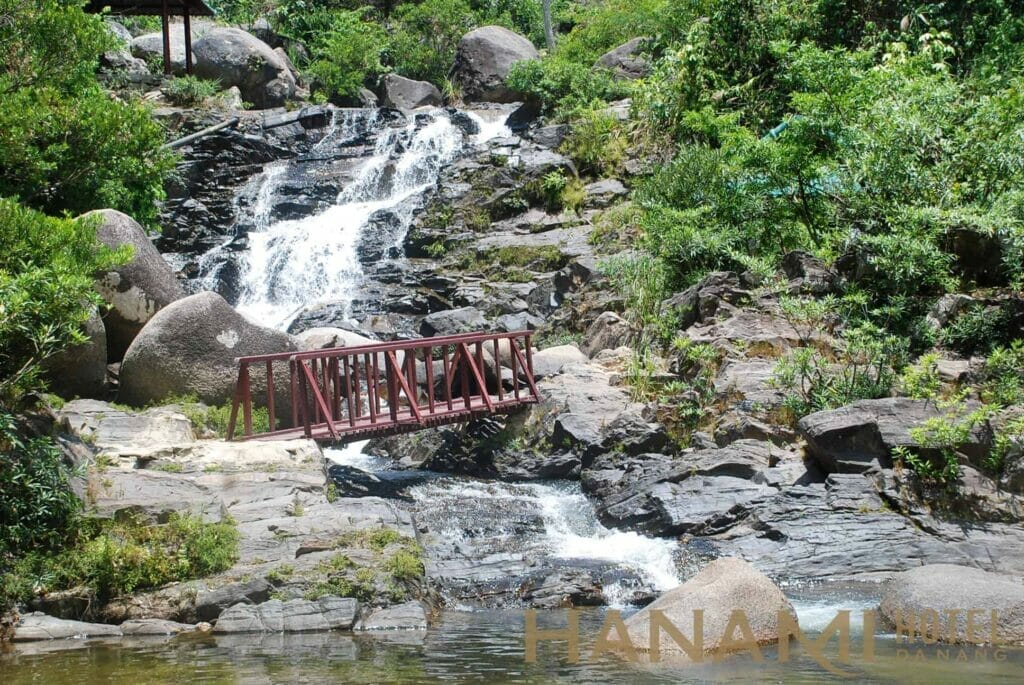 Instructions for getting to the Ngam Doi eco-tourism zone
To make it easier for tourists to visit, the road system leading to the Ngam Doi eco-tourism zone has been improved. It only takes about an hour to get here by motorcycle or car.
Reviews of the Ngam Doi eco-tourism zone
Despite being a relatively new tourist destination, Ngam Doi is gaining popularity and positive feedback from both domestic and international visitors.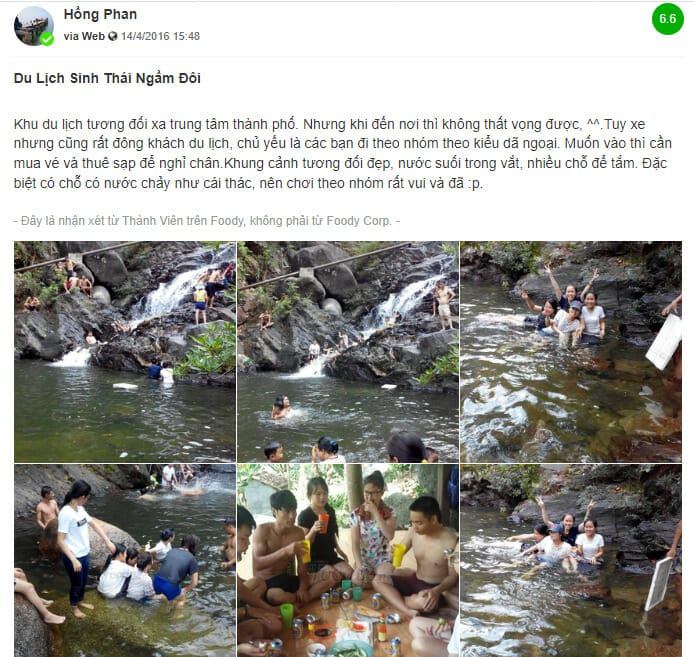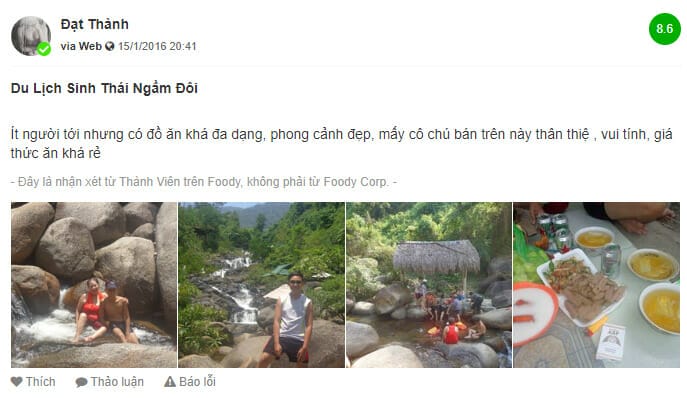 What makes the Ngam Doi eco-tourism zone appealing to visit?
The well-known Ngam Doi eco-tourism zone is ideal for picnics and outdoor activities by the lucid blue streams. Here are some ideas for things to do so that you can fully enjoy the wonder and beauty of Ngam Doi nature.
Climbing in the Ngam Doi ecotourism zone
If you're a seasoned enthusiast, climbing is a sport you shouldn't miss. Explore the short mountain ranges that are not too steep and the wide, flat stones that are lying sideways. The journey to the mountain's top and back down to its foot only takes you 3 to 4 hours. You can choose between going on climbing trips that cost between 200,000 and 300,000 VND per person or going climbing alone to save money.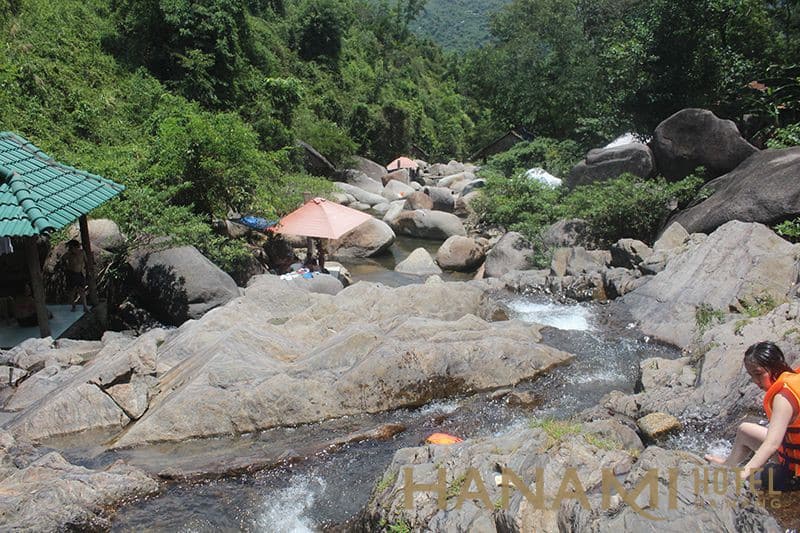 Take a break at a hut in the Ngam Doi eco-tourism zone
You don't need to worry about lodging if you visit Ngam Doi. The villagers' huts, which range in price from 200,000 to 700,000 VND, can be the perfect place for you to rest.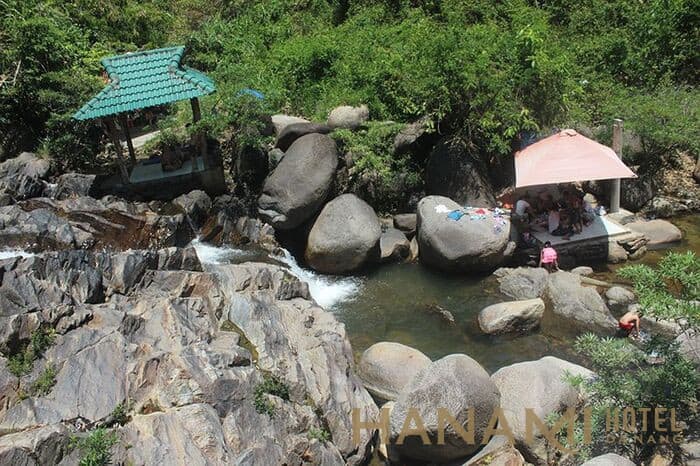 Enjoy taking pictures at the Ngam Doi ecotourism zone
A gorgeous and poetic mountain landscape can be seen reaching along the route on the way to Ngam Doi. These are the beautiful stills and motion pictures of nature.
It's a whole different world outside when you enter Ngam Doi, and there are numerous stunning scenes for you to capture on camera. Visit the Ngam Doi eco-tourism zone right away if you want to take some stunning pictures!
Stream bathing at the Ngam Doi ecotourism zone
You won't fully enjoy it if you visit Ngam Doi without taking a bath in the stream. Taking a bath in crystal-clear water is a magical healing technique that can help you temporarily forget about life's stresses and immerse yourself in the natural world.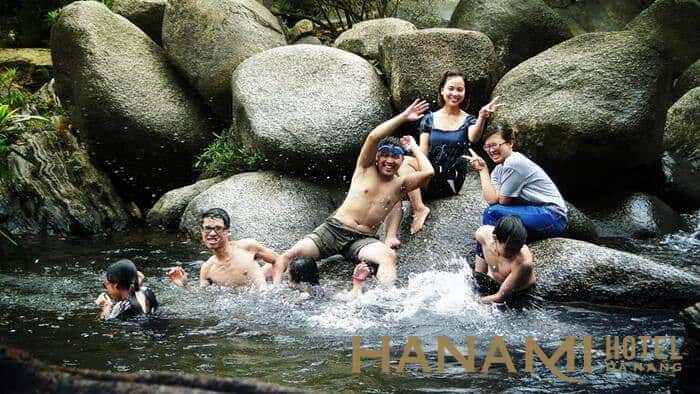 Enjoy the peaceful, natural landscape  
Ngam Doi is a world apart from the hustle and bustle of the outside world. The only sounds in this place are the murmurs of waterfalls through the rocks, the chirping of insects, the singing of birds, and the scent of mountain flowers. All of these come together to form Ngam Doi's music. All of these come together to form Ngam Doi's melody, lulling you into a beautiful, serene world akin to a fairy tale.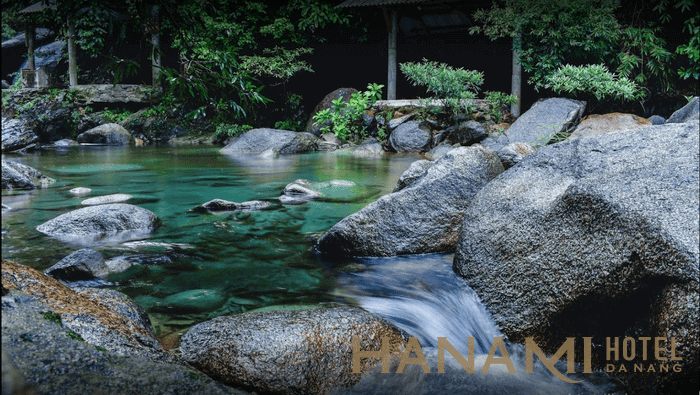 Enjoy a dinner party with friends 
A picnic or BBQ by the stream is a great idea for everyone to have memorable moments with loved ones, family, and friends.
To further enrich your experience while visiting Ngam Doi, you can also indulge in some local specialties, including stream fish, vegetable fern, wild chicken, etc.
Details on ticket price and some advice for visitors
The ticket pricing and a few additional details below should also be kept in mind if you plan to plan a sightseeing or picnic trip in order to make it fully enjoyable.
You should take note of the following points in order to have a convenient and thorough visit and stay in Ngam Doi:
Ticket price:
The entrance fee to the Ngam Doi eco-tourism zone is only 20,000 VND per person, which is fairly affordable. Students, groups of friends, and families searching for a picnic location may all afford the entrance fee.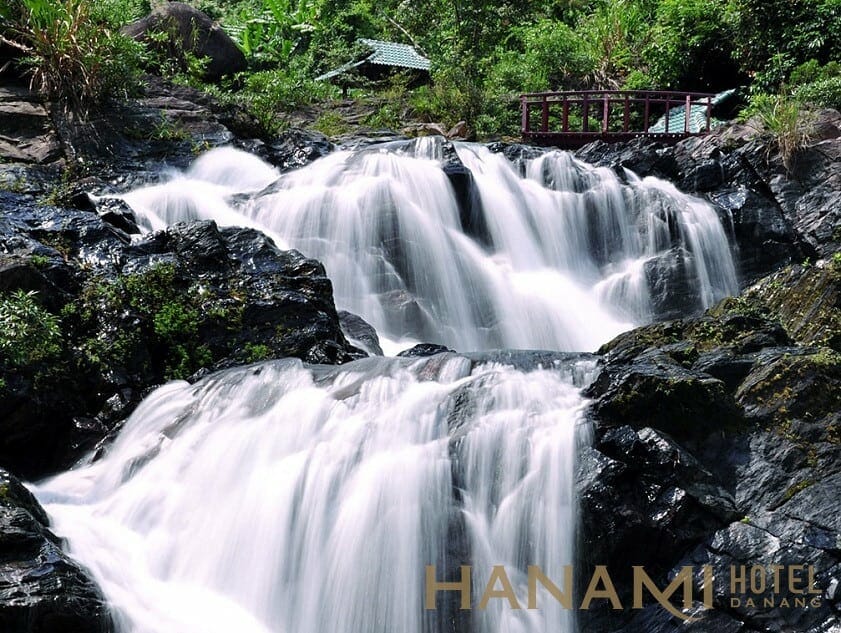 Some advice for visitors to have a good time
Ngam Doi is an outdoor picnic area that is ideal for going on nice days. Ngam Doi will be an ideal place to escape from hot summer days.
The Ngam Doi eco-tourism zone has not been heavily exploited, so it remains wild and deserted. To avoid potential risks, you should only travel during the daytime.
Bring sunscreen to protect your skin, as well as swimwear and summer clothes in case you want to swim in the stream or easily climb mountains and exercise. In addition, medicines and sprays are required to protect yourself and your family from insects.
Hanami Hotel Danang hopes that this article has given you some new insights into visiting the Ngam Doi eco-tourism zone. I hope your family has a great vacation. Call the hotline at 0905 432 922 for more details about Hanami Da Nang's low-cost hotel reservations.