Known as the most worth-living city in Vietnam, Da Nang has long been a favourite location for travellers all around the world with lots of majestic and fantastic landscapes. Namely, Son Tra Peninsula, the Marble Mountains, My Khe Beach, the lighthouse at the foot of Thuan Phuoc Bridge, the East Sea Park, and Ba Na Hills. There are also some famous tourist attractions such as 3D Museum Art in Paradise Danang, Phong Nam Ancient Village, Cham Pa Museum, and more. Among them, the Upsidedown World Da Nang can't be missed, which has become a favourite hangout for many youngsters lately. Scroll down for more information about the location with us - the budget Hanami beach hotel.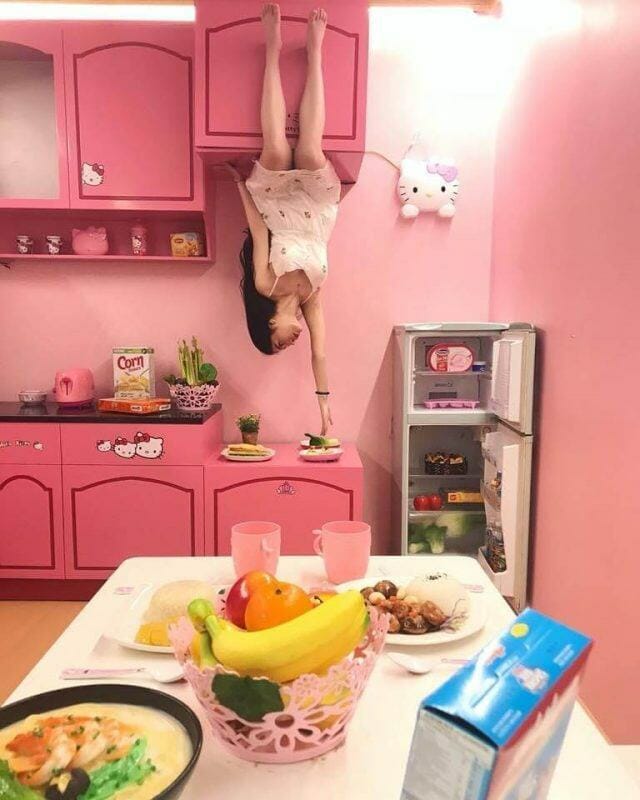 Here are some outstanding hotspots for check-in around Da Nang
 The Upside Down World is at no. 44 Ho Xuan Huong, Ngu Hanh Son District, Da Nang. Located on the Da Nang - Hoi An route, the place attracts many foreigners and the locals to come for a photo shoot. It's now the hottest spot for tourists coming to Da Nang.
 This hangout draws plenty of people to come thanks to its creative, unique architect with a fresh feeling. 
Hotspots for a photoshoot around Da Nang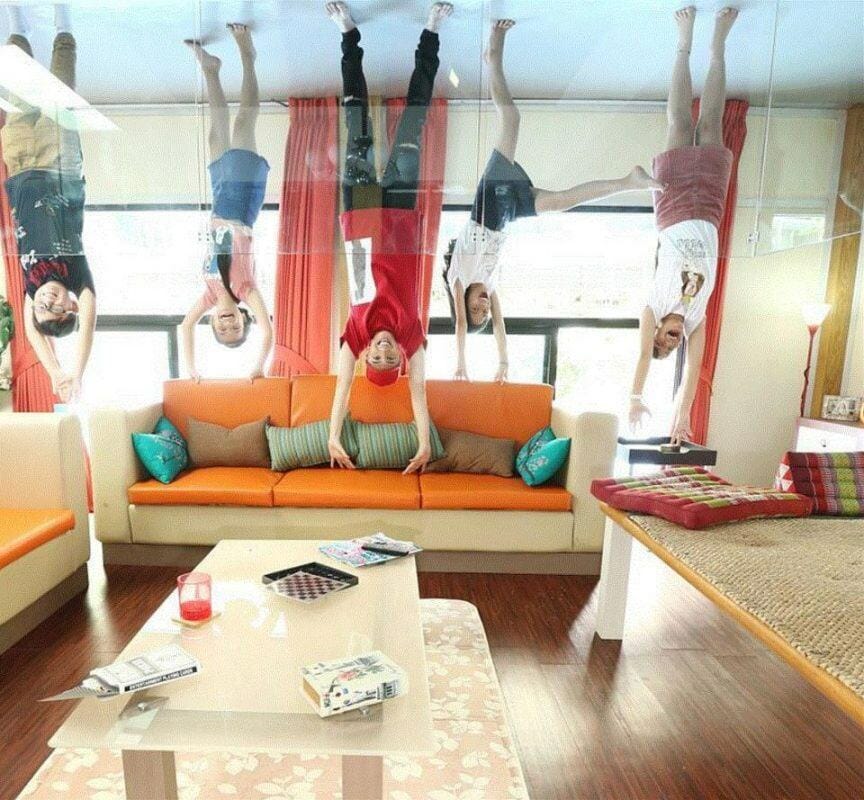 For most visitors, they will be stunned by the floor, and the ceiling comes in reserve order. Everything is disordered and hung over the head. This building was constructed in 2 models, where all the subjects placed in 90 degrees or 180 degrees tilted room in various styles and concepts of Hello Kitty, cute bedroom for girls, Doraemon's room, study room, and beautiful market. As one of the most exciting spots for check-in in Da Nang", the place also has three 90-degree tilted rooms in vintage style (one of them as a hair salon, and another one as Vietnamese eatery). 
 All the backdrops were set up carefully with a creative idea that fits for tourists' needs of some snapshots and Instagram feeds. From the sofa, TV, small chandelier, to the broom, all the subjects inside the rooms are hung over the head. Entire of them are true 100% and fixed to the gypseous ceilings to ensure safety. 
The Upside Down World Danang - What to do there?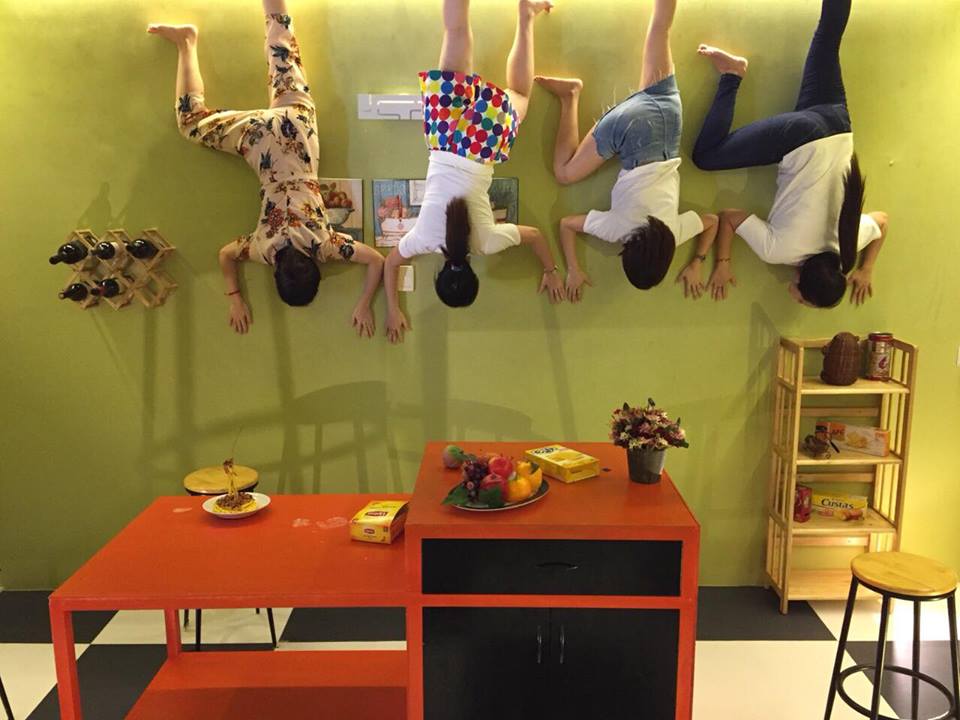 To explore this charming place to its end, you should classify its rooms. Before then, set up the core idea for your photographs at each compartment. 
 All the rooms inside the Upside Down World Da Nang mostly laid out in 2 themes that suitable for different ages.
Funny spot for all ages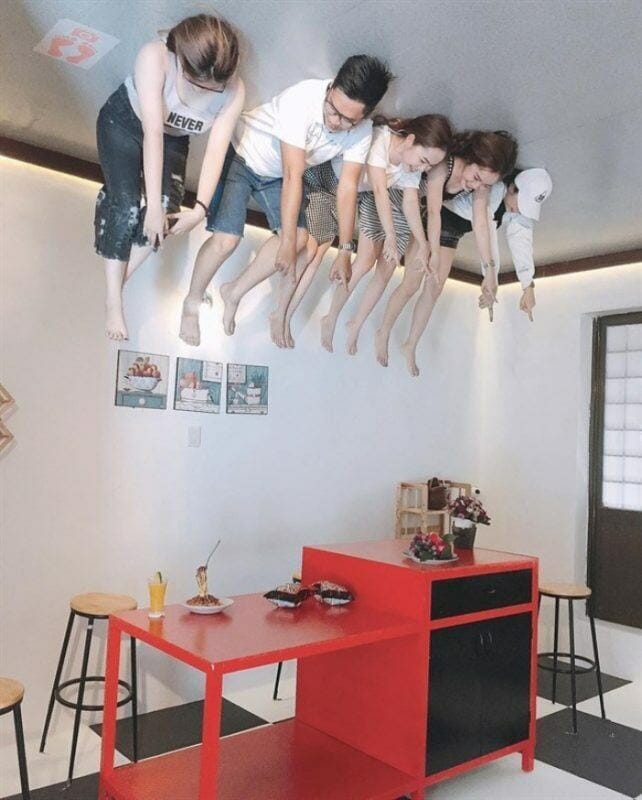 The first model includes Hello Kitty pink kitchenette, the room of Nobita and Doraemon. With the bright colours and stories' effect, these rooms are made for kids and babies. The other rooms are more practical with a bathroom, a study room, a kitchen, dining room, hair salon, and more. This is for all, not for any specific group of age.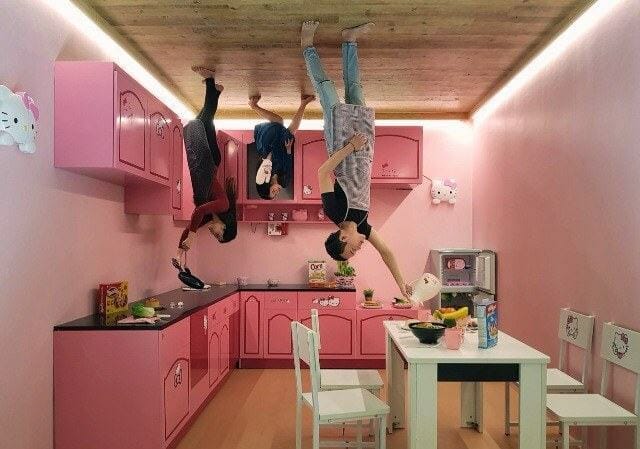 Find some photographs of this house on the internet, and perhaps you will come up with many exciting ideas. And don't be surprised or worried about the objects over your head. This intriguing and unreal space only makes you feel hard to balance, and it takes time to get used to it. 
 The opening time is from 9 a.m. to 7 p.m. at a fixed price. If you are interested in it, why don't you put its name on your travel list when touring in Da Nang?