Summer is a season of dazzling sunshine, yet the searing heat is unavoidable. Swimming is an ideal way to beat the heat while also enjoying the health benefits of swimming. Swimming is also an enjoyable way to spend time with family and friends. Follow Hanami Hotel Danang's article: "Top 10 Most Beautiful Swimming Pools in Da Nang to Beat the Summer Heat," to help you decide where to spend your summer vacation.
Benefits of swimming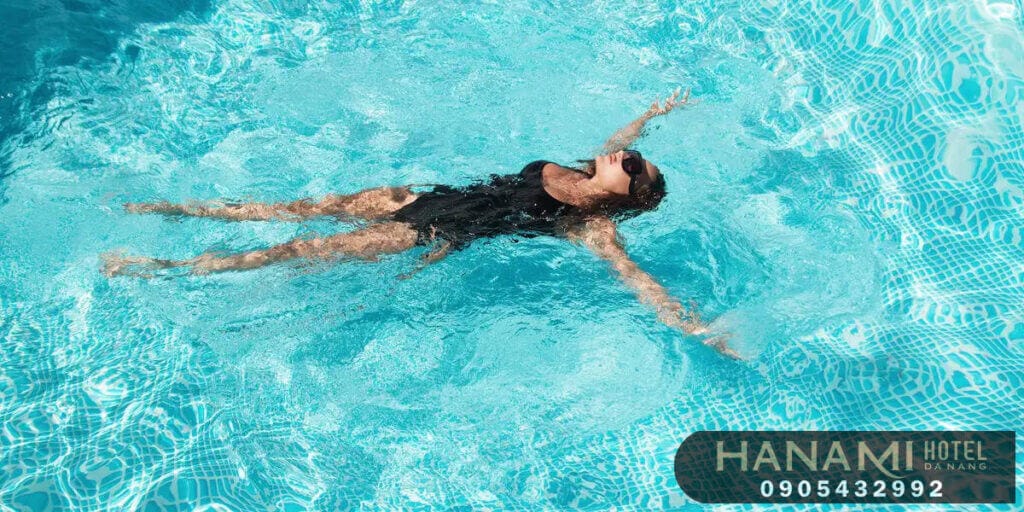 Human health and spirit both greatly benefit from swimming. If you have the opportunity, swim to benefit from the following great benefits:
Swimming is a healthy workout because it lowers blood pressure, improves blood circulation, and increases respiratory capacity. This is also an activity that does not put pressure on the joints, helping to reduce pain and improve flexibility of the body.

Strengthens muscles: Swimming is a rhythmic, comprehensive exercise for the body. It improves muscle endurance and strength, particularly in the chest, shoulders, legs, and biceps.

Lose weight and burn calories: When swimming, the body uses most of the major muscle groups, assisting in the efficient burning of calories. This aids in weight loss and weight maintenance.

Improves mood: When swimming, the body will release happiness hormones and

endorphins

that stimulate a natural happy state. Therefore, swimming helps relax the body, relieve stress and reduce stress for the brain. As a result, you will have a better night's sleep and feel more relaxed.
Recreational activities and sports at the pool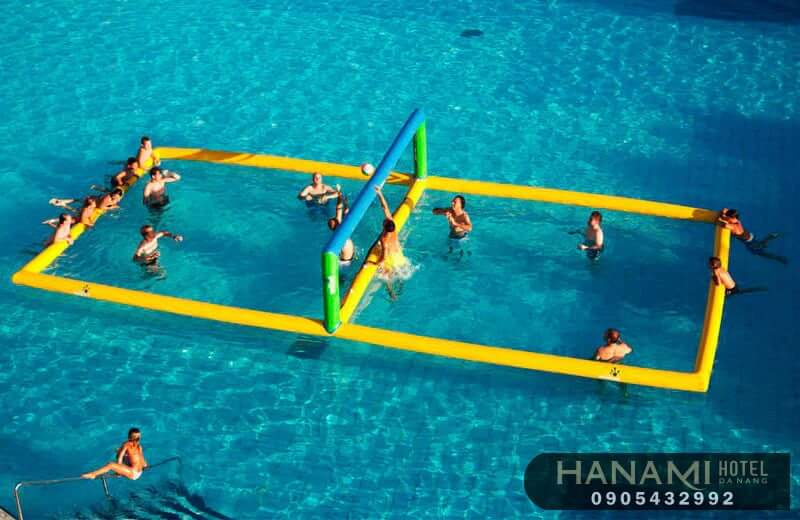 The swimming pool is not only a place for swimming, but also a great place for entertainment and sports activities. Try some of the activities below to experience the fun moments at the pool
Water volleyball: Is a sport that many people love when going to the pool, requiring a good coordination of swimming and passing skills. You can play this game with your friends or family to enjoy it to the fullest.

Swimming competition: This is a popular activity for those who enjoy swimming. These endurance trials can include racing swimming, obstacle swimming, or long-distance swimming.

Relax and practice yoga: With clear water and fresh air, you can relax on the pool chairs or do yoga to chill with this beautiful space.

Diving: This is a fun and exciting activity to do at the pool. It aids in the strengthening of your respiratory tract as well as your muscles.

Water exercise: You can exercise in the water using aids such as skateboards, water balloons, or water exercise equipment. This is a refreshing challenge and activity to train major muscle groups.
Top 10 most beautiful swimming pools in Da Nang to beat the summer heat
Swimming is a fun and healthy activity on hot summer days. The following is a list of the top 10 swimming pools in Da Nang you should not miss to cool off in the summer.
Bon Mua 30/4 Swimming Pool 
The name Bon Mua (Four seasons) swimming pool comes from its very feature that can serve you not only in summer but also in winter. This place has equipment to provide hot water to ensure the temperature of the water source is suitable for the body according to the weather. With a ticket price of 50,000 VND/ticket, you can rest assured about the water quality in this pool. Because the swimming pool is equipped with the most modern circulating ionization water treatment system and does not use chemicals to treat water.
The Bon Mua swimming pool is an indoor swimming pool built in compliance with competition and instructional standards. Therefore, this place is also a famous swimming center. At 30/4 Swimming Center, there is a team of coaches who are ready to guide and support exercise and have a separate training plan suitable for each person's physical fitness.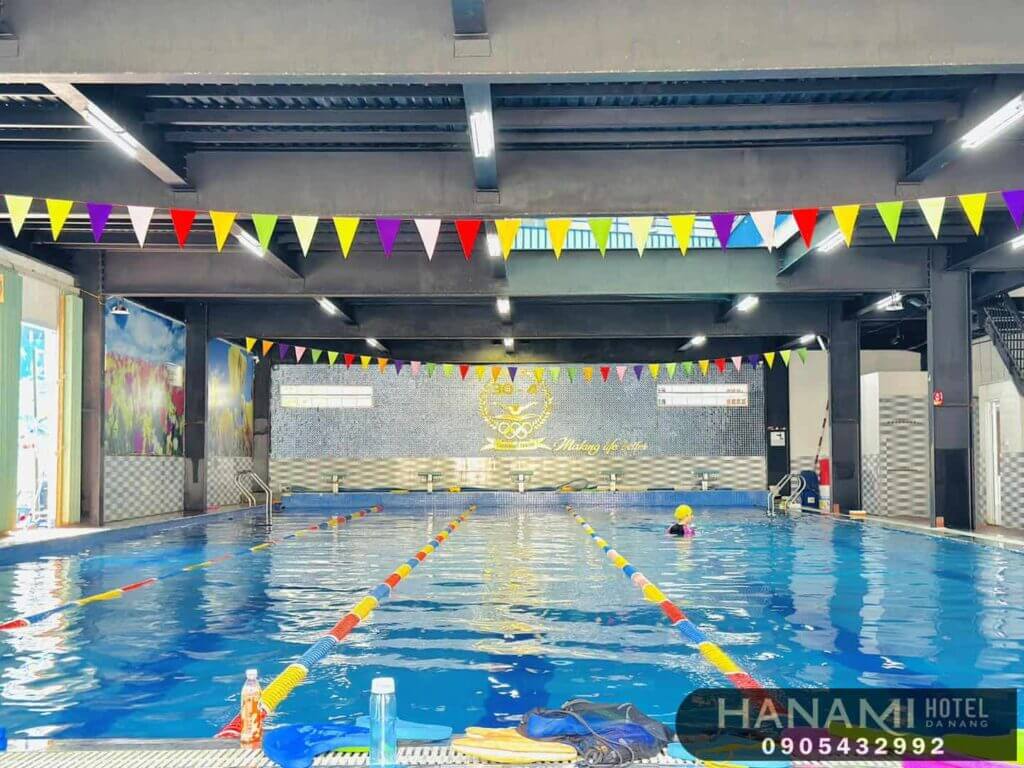 Contact Info:
Address:

39 30/4 Street, Hoa Cuong Bac, Hai Chau

Hotline:

0397 908 488 / 0974 033 995

Email:

beboibonmua304@gmail.com

Opening hours:

5:30am – 11am & 2pm – 8pm (Monday – Saturday), 8am-11am & 2pm – 5pm (Sunday)
Military zone 5 Swimming Pool 
The Military Zone 5 swimming pool is not only a swimming pool for the military, but anyone can come here to swim. With an area of 50 x 25m, the swimming pool here is divided into 8 swimming lanes, enough to serve 120 people at the same time. There is also a spacious and airy covered stage for everyone to relax on. Water is treated with modern technology to bring the best water quality to swimmers.
At just 30,000 VND per ticket, the swimming pool in Da Nang's military zone 5 is quite reasonably priced and a popular weekend destination for families. Additionally, both children and adults can take swimming lessons at the military zone 5 pool. So if you don't know how to swim, this is the place to find a private swimming coach.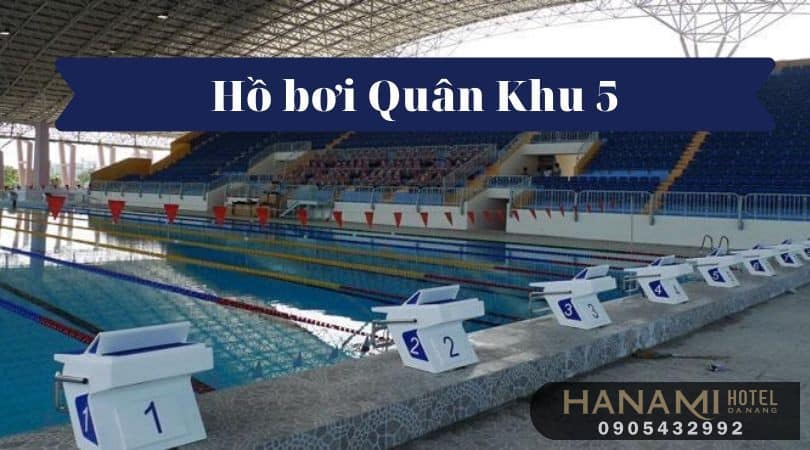 Contact Info:
Address:

7 Duy Tan Street, Hoa Cuong Bac Ward, Hai Chau District, Da Nang City

Hotline:

0905 737 017

Opening hours:

7am – 6pm
Swimming Pool of Danang University of Physical Education and Sports 
This is a swimming pool located on the campus of the University of Physical Education and Sports, with a professional and modern swimming pool system. This swimming pool is specialized for study and exam purposes, so it is built to meet national standards. The pool area is large and covered, so you will not need to worry about the weather affecting your swimming.
The water is treated with advanced technology, providing safe and hygienic water quality for swimmers. With a ticket price of 20,000 VND/ticket, this is a cheap Danang swimming pool to beat the summer heat. There is also a swimming club for those who want to learn to swim from basic to advanced.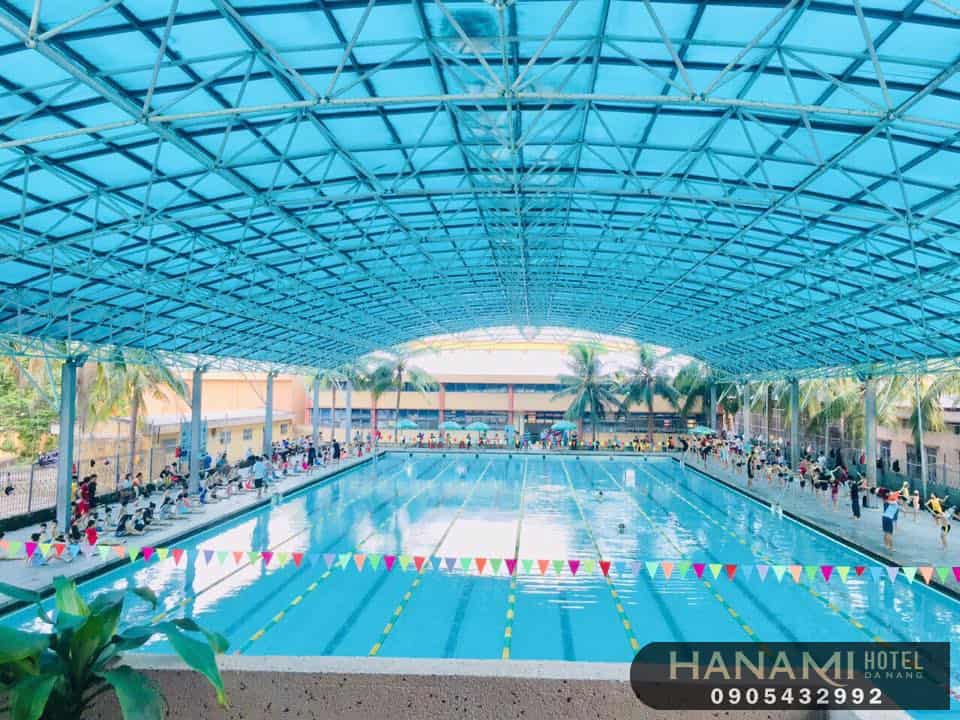 Contact Info:
Address:

44 Dung Si Thanh Khe Street, Thanh Khe Tay, Thanh Khe, Da Nang

Hotline:

090 351 15 52

Opening hours:

5:00 pm – 7:00 pm
Han River Hotel Swimming Pool
The swimming pool located on the 4th floor of the Song Han Hotel is elegantly designed and in harmony with nature. For about 50,000 VND, you can relax under fresh water and see the city from above. The swimming pool is always controlled with water standards, safety procedures, and equipment to ensure that you enjoy the most peaceful swimming hours possible. This is an excellent location for you to escape the searing summer heat.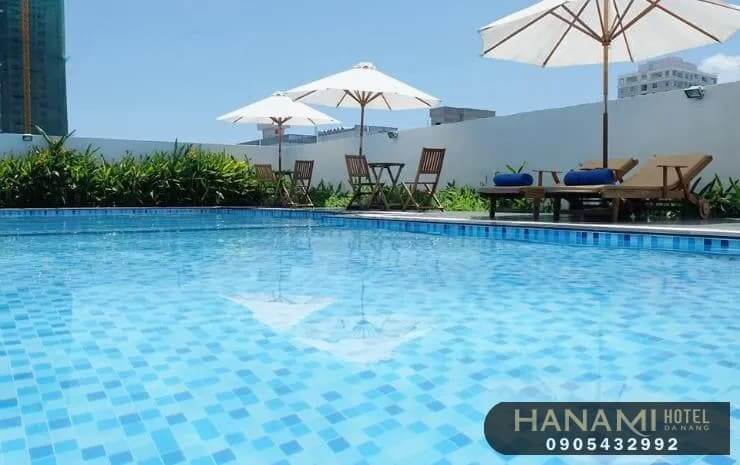 Contact Info:
Address:

14 Ly Tu Trong, Thach Thang, Hai Chau, Da Nang

Hotline:

0236 3525 666

Opening hours:

6am – 8pm
Sao Sang Swimming Pool
If you enjoy relaxing, the Sao Sang Da Nang swimming pool should be on your list of places to visit. You can both sip a cup of coffee and swim in the clear blue water of the swimming pool. Sao Sang is a Danang swimming pool with a unique combination of swimming pool, coffee, and karaoke. With a modern and lively sound system, you can have fun with family and friends.
Contact Info:
Address: 131 Ly Tu Trong, Thanh Binh, Hai Chau, Da Nang
Furama Swimming Pool 
Furama Resort's swimming pool has a breathtaking view of the sea. Simply immerse yourself in the pure blue water while gazing out at the sea and listening to the waves. This will provide you with a mild sense of relaxation and harmony with nature. The water quality is also always ensured because it is filtered and cleaned on a regular basis.
The swimming pool is free for tourists staying at the Furama resort. As for those who just want to come here to experience it, the price of Furama Swimming Pool is about 230,000 VND/ticket.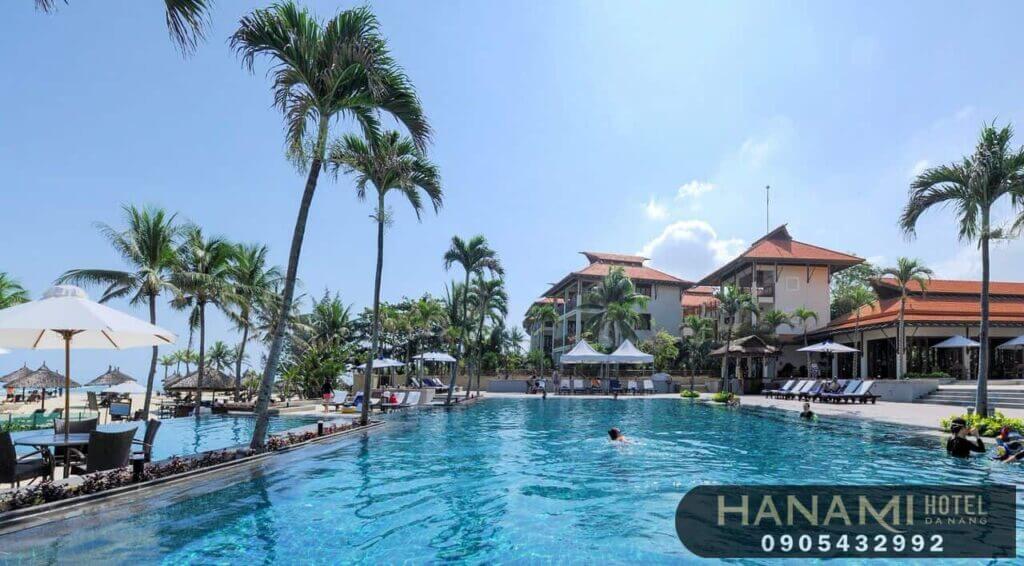 Contact Info:
Address:

105 Vo Nguyen Giap, Khue My, Ngu Hanh Son, Da Nang

Hotline:

0236 3847 333 / 0236 3847 888

Opening hours:

8am – 8pm
Thanh Tich Cao Swimming Pool 
Swimming tournaments of all sizes, large and small, are regularly held at Thanh Tich Cao because this is the Olympic-standard Danang swimming pool. The pool is equipped with swimming lanes. Avoid collisions between swimmers, which is highly beneficial in competitions. In addition, this pool also ensures clean water by using the most advanced water treatment technologies.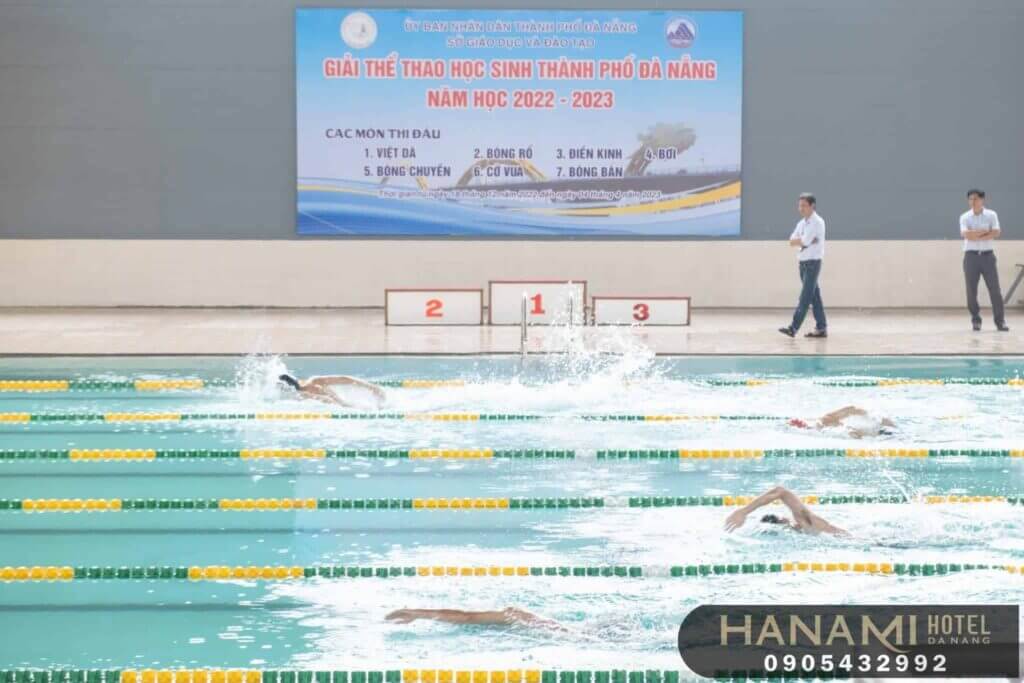 Contact Info:
Address: 105 Vo Nguyen Giap, Khue My, Ngu Hanh Son, Da Nang
Hotline: 0236 3847 333 / 0236 3847 888
Opening hours: 6:00am – 6:30pm
Green Hotel Swimming Pool 
The Green Hotel Swimming Pool is located on the way to famous landmarks such as Ba Na Hills, Than Tai Mountain, My Son Sanctuary,… The pool is designed in the shape of a butterfly, which is one of the unique features that draws many visitors. In addition, the Green Hotel also equips the swimming pool with a circulating water filtration system, ensuring that swimmers have the highest water quality possible. 
Besides, you will not be disappointed with the hotel's additional amenities and services. With a ticket price of 60,000 VND/ticket, making it one you shouldn't skip this summer.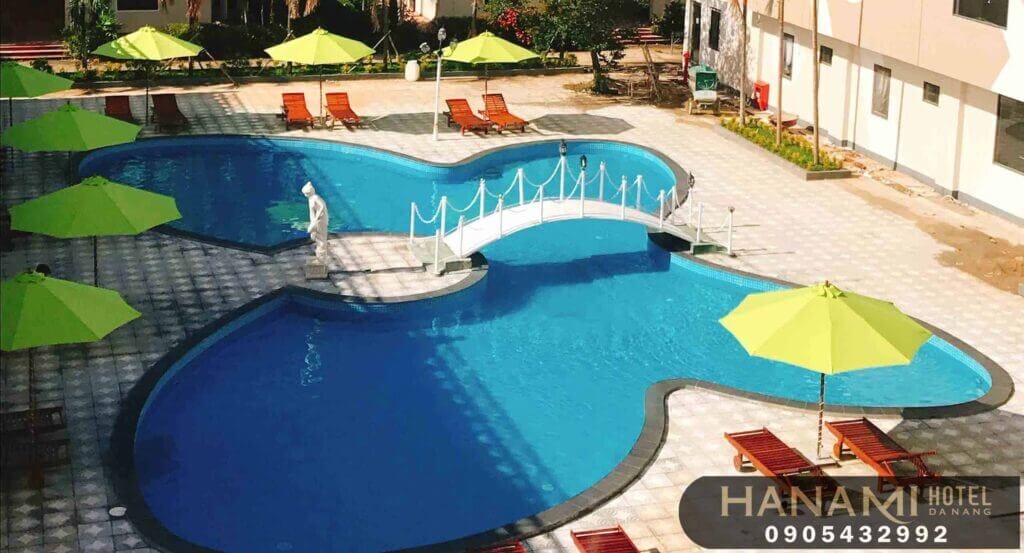 Contact Info:
Address:

64 Hoang Van Thai, Hoa Minh, Lien Chieu, Da Nang

Hotline:

0236 3842 055

Opening hours:

6am – 8pm
Sea Phoenix Hotel Swimming Pool
Sea Phoenix is a 3-star hotel of international standards located on My Khe Beach. You will enjoy the great atmosphere here with the elegantly designed outdoor swimming pool. The swimming pool has clean and hygienic conditions due to the application of advanced European technology "Dejoyaux" and the circulating water purification process. The location of the pool provides a cool and windy space and is also an ideal place for those who enjoy sunbathing.
With 149,000 VND for one time using the swimming pool here, you will be able to sit back and relax, swim freely while enjoying French cake, and drink water. If you only use the swimming pool service, you can get a membership card for 600,000 VND/month.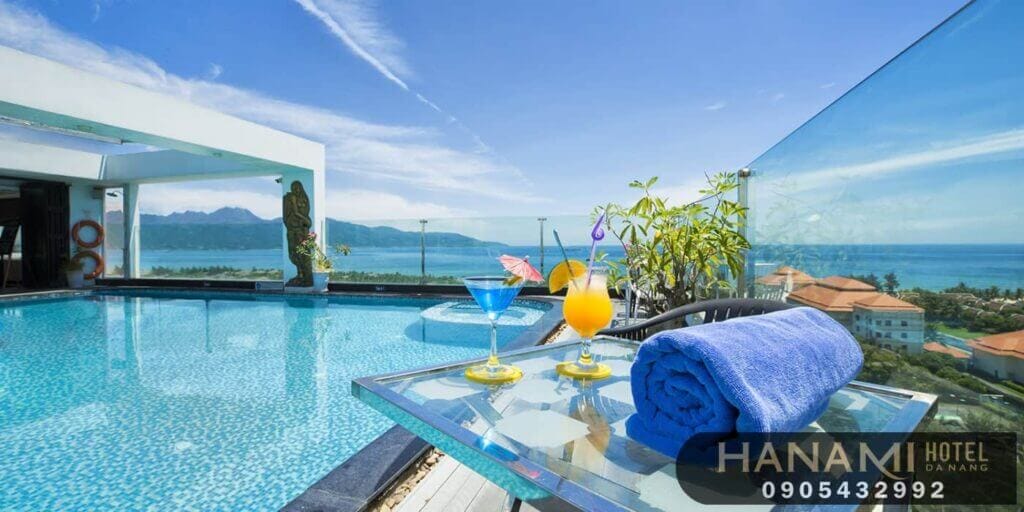 Contact Info:
Address:

115 Ho Xuan Huong, Bac My An, Ngu Hanh Son, Da Nang

Hotline:

0236 3525 999
Muong Thanh Grand Hotel Swimming Pool 
Muong Thanh Grand Da Nang is a 4-star hotel in the largest private hotel chain in Vietnam. Therefore, the swimming pool at this hotel will make you satisfied from the design to the surrounding view. The water temperature in the pool is always adjusted appropriately, bringing comfort to swimmers. Water treatment technology is imported from abroad, so it is safe for both sensitive skin and baby skin.
There are two sorts of tickets available here: daily and monthly. Adults pay 100,000 VND for every ticket, while minors pay 90,000 VND per ticket. Adults pay 900,000 VND per month for 12 swims, while children pay 800,000 VND per month for 12 swims.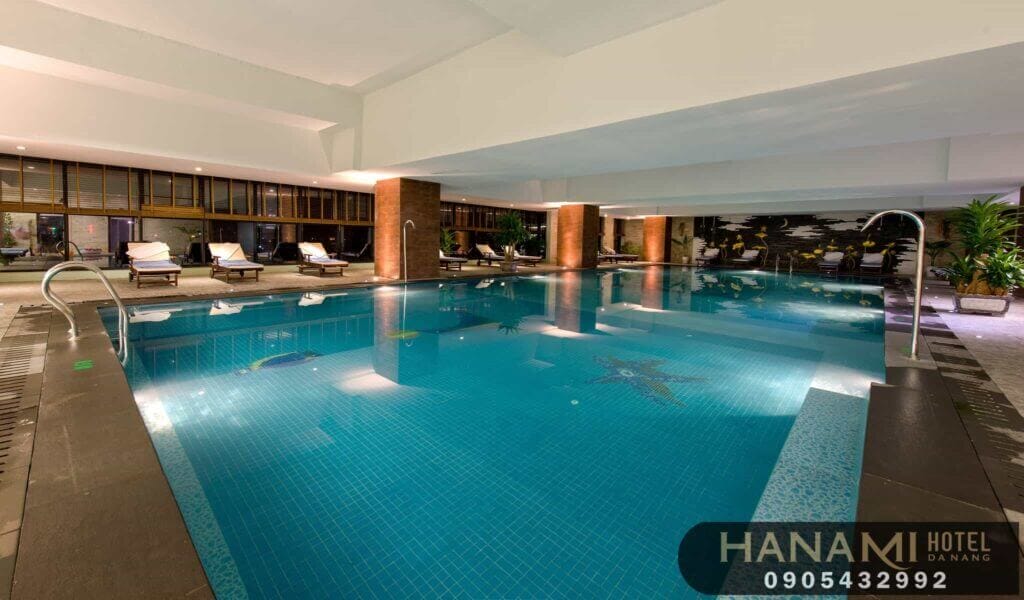 Contact Info:
Address:

962 Ngo Quyen, An Hai Tay, Son Tra, Da Nang

Hotline:

0236 3929 929

Opening hours:

6am – 8pm
The top 10 most beautiful swimming pools in Da Nang to beat the summer heat are listed here. You can relax by immersing yourself in the azure water or participate in swimming pool activities to boost your health. Hanami hopes that the information provided above will assist you in choosing a swimming pool that suits your needs.