When traveling to Da Nang, after visiting the landscape of rivers, mountains, sea, and lakes, many tourists have chosen Son Tra night market to shop, enjoy specialties and buy gifts. Follow Hanami's article "Review of Son Tra Night Market: Discover the vibrant nightlife" to discover the fascinating experiences here!
An Overview of Son Tra Night Market
When was Son Tra Night Market established?
Son Tra Night Market is also considered one of the vibrant markets that are worth exploring. Officially established on September 2, 2018 at a prime location in the city center with a total construction cost of 4.2 billion VND.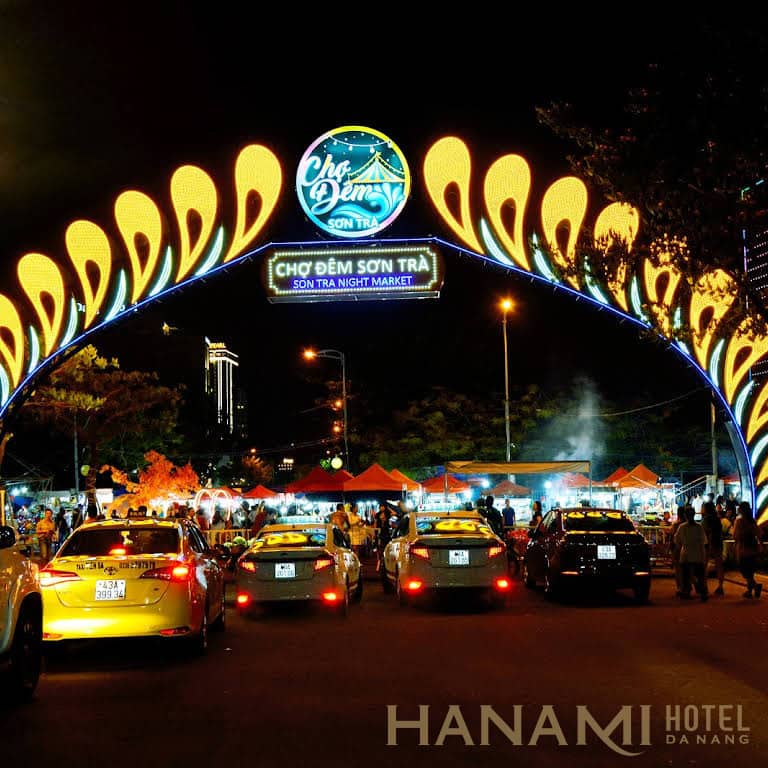 Although it is new to operation, it has become an extremely popular destination that attracts a large number of domestic and foreign tourists. However, the birth of Son Tra night market is not only to serve the purpose of shopping but also to preserve the typical cultural values of each region. The most unique and impressive feature that Son Tra Night Market brings is the combination of dining and entertainment space, sightseeing, and exploring the city at night.
Son Tra Night Market's Address
Address:

Mai Hac De, Ly Nam De Street, An Hai Tay Ward, Son Tra District

Son Tra Night Market's Address
Son Tra Night Market is in a very convenient location, close to other popular tourist attractions in Da Nang such as the Dragon Bridge, Love Bridge, Dragon Statue, and so on. It is easier for tourists to visit the night market and other nearby locations.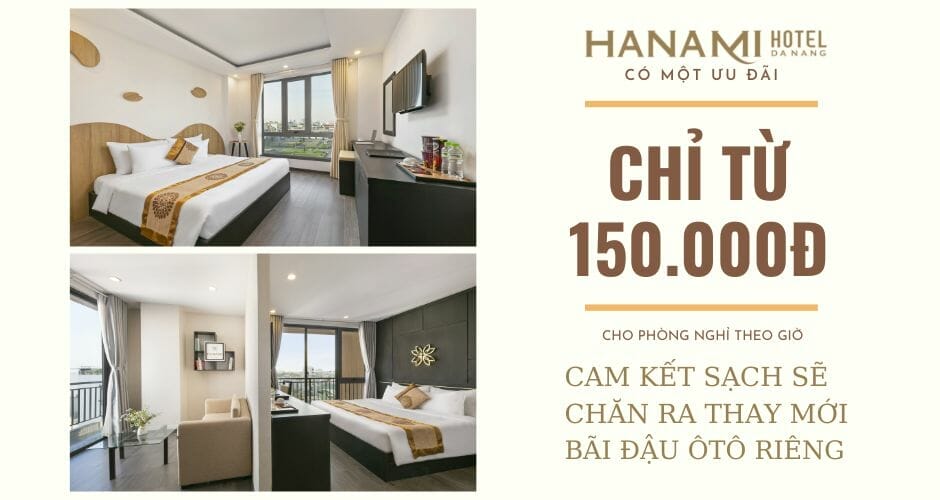 How to get to Son Tra Night Market
Son Tra Da Nang Night Market is conveniently located at the foot of the Dragon Bridge. You can take a taxi or a cyclo to the night market, or you can ride a motorcycle if you want to feel free. Just move to the top of the Dragon Bridge, look down the sidewalk, and you will immediately see the outstanding night market in the sparkly, colorful electric lights.
Working hours
Son Tra night market, like other night markets in Da Nang, is open daily from 6 p.m. to 11 p.m. It is completely free for all people to experience, including Da Nang residents and visitors. However, if you come here in the early afternoon, you can walk around and visit a few places nearby before going to the night market.
Review of Son Tra Night Market: Discover the vibrant nightlife
Number of booths
There are hundreds of different stalls at Son Tra Night Market. Stalls selling the same items will be arranged and divided by area. This makes it extremely easy for you to find the item you want.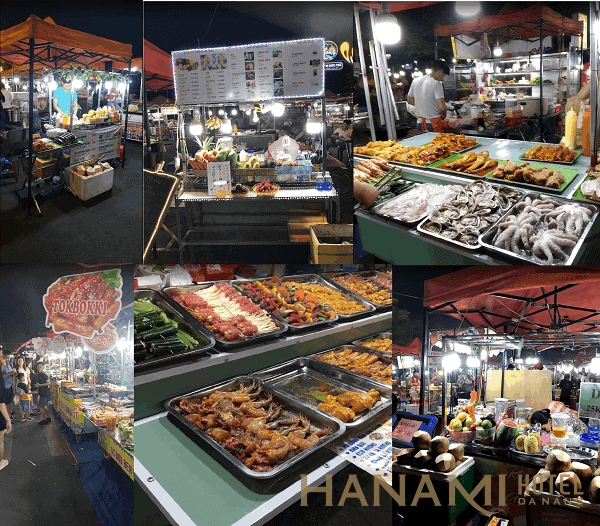 The night market has a wide range of stalls. There are stalls for snacks, drinks, regional cuisine, souvenirs, pottery, jewelry, clothes, and so on. "Shopping paradise" must be named Son Tra night market because everything you need to buy is readily available at all times.
Purchase products at a low cost
Shopping at Son Tra Night Market is the best option. Fashion heaven and cheap souvenirs will appear right before your eyes.
Souvenir sale area: Vietnamese cultural items such as lanterns, embroidered paintings, stone statues, hand fans, ceramics, etc. can be bought as gifts for relatives and friends after traveling to Danang 

Clothing and fashion include a wide range of items such as clothes, shoes, glasses, hats, bags, and so on. The average price ranges from 35,000 to 75,000 VND/piece, with the highest going for more than 100,000 VND/piece.
Extremely appealing street entertainment
If you go to the night market on a special day, you will have the opportunity to enjoy the brilliant performances of talented street artists. The acoustic guitar repertoire or the impressive circus performances, etc., which will bring you a new experience that nowhere else can be found.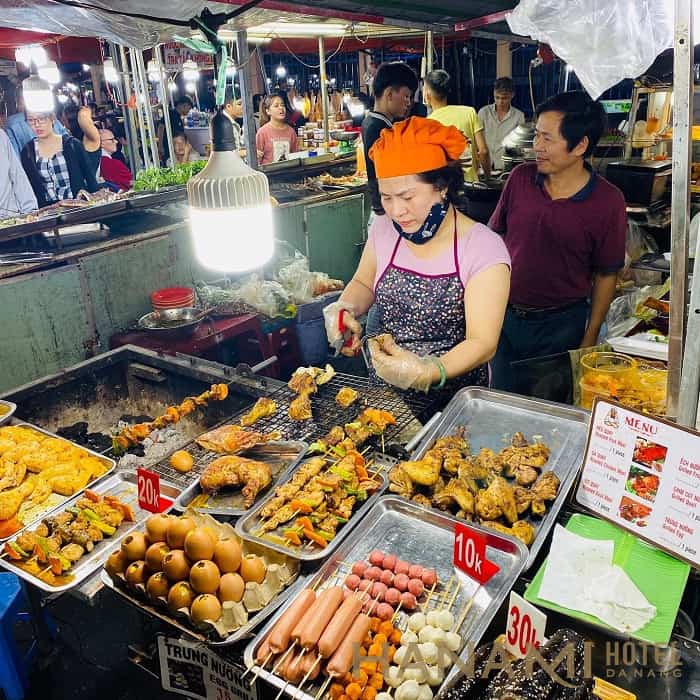 Furthermore, those of you who are passionate about taking photos can immediately take a photo shoot in front of the market's unique welcome gate. The gate is creatively designed with an arc pattern and is equipped with a brilliant LED system, giving you an impressive view.
Vibrant atmosphere in Son Tra Night Market
Son Tra night market is always appealing to first-time visitors due to its vibrant and bustling atmosphere. Because there are so many trading stalls, there are a lot of people coming to the market. The atmosphere here is similar to an uptempo song, which will definitely surprise you.
People from the Central area are the main traders in the market. As a result, there is a considerable regional influence on both the voice and the lifestyle. You might find it challenging to understand everything said at first, but you'll be impressed by how true and honest everyone in this market is.
Walking around Da Nang to see other attractions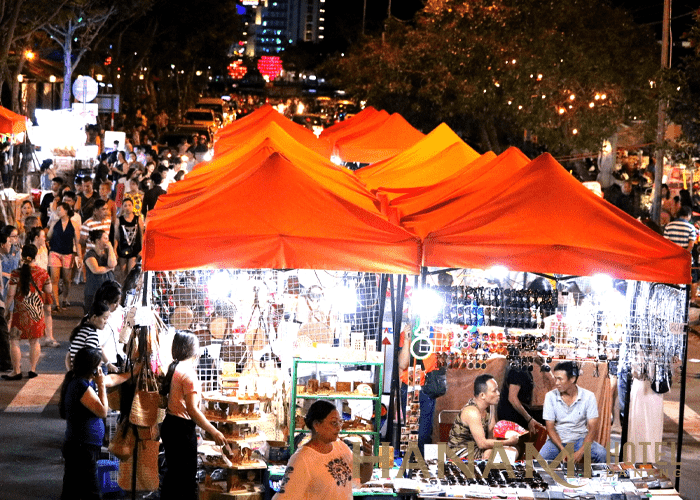 The romantic Han River, as well as the famous Dragon Bridge and Love Bridge, are only a few minutes' walk from Son Tra Night Market. After eating and shopping to your heart's content at the night market, you can walk along the Han River to see the nighttime scenery of Da Nang or take photos and check in.
Discover the diverse and unique cuisine in Son Tra Night Market
Quang noodles
As a famous rustic dish in Central Vietnam, Quang noodles (mi Quang) are considered the top choice when tourists come to Da Nang.
Both the broth and noodles of Mi Quang have their own unique characteristics. You can see the chef put a layer of raw vegetables in the bowl, then cover them with a layer of pre-cut noodles. The broth is poured in just enough and mixed with raw vegetables and toppings. The broth has a red-yellow color and a delicious greasy taste. Putting in a pinch of crushed roasted peanuts on top, with chopped fresh onions, lemons, and chili, will make the dish even richer, sourer, and spicier.
Sliced pork rolled with rice paper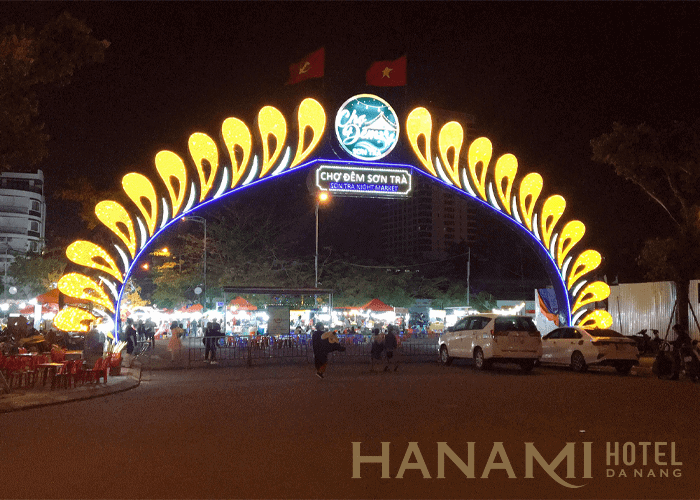 As its name implies, banh trang cuon thit heo, one of the foods that you must eat in Son Tra Night Market, is the combination of tender pork and soft rice paper. Like many other specialties of Vietnam, this dish comes with many herbs such as basils, corianders, lettuces, and sliced cucumber. Thus, the fat of the meat will be balanced with the freshness and the sweet, spicy, sour, and salty fish sauce. For a roll of this ensemble, you will need a little bit of finesse.
Grilled skewers 
The aroma of the grilled skewers being sold in the night market certainly makes you want to try them immediately. The meat has been marinated with special spices and is delicious, with an eye-catching exterior color. Grilled skewers are one of the most favourite foods among many people, so you should try them at least once if you go to the night market.
Banh Xeo (Vietnamese pancake)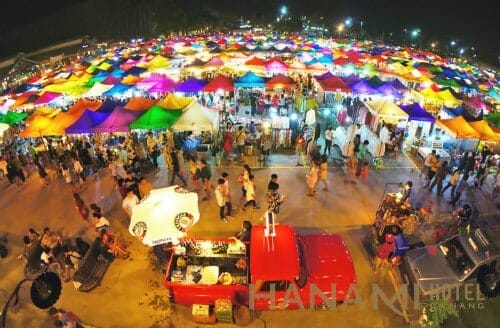 This pancake is made from a super-thin and crispy layer of rice flour, turmeric, and coconut milk. And the stuffing ingredients include shrimp, beansprouts, pork, mushrooms, and sliced onions. These fresh ingredients from local markets make this eatery one of the tastiest foods you must eat in Son Tra Night Market. It is most noteworthy that it should be served right out of the pan, hot and crispy.
Da Nang has its own style of making this popular dish. Instead of using the familiar fish sauce (nuoc mam), Da Nang's banh xeo is served with a special sauce that consists of pork liver, hoisin sauce, and garlic. This variation absolutely ramps up the pancake's flavors to even greater levels.
Fresh Seafood
For those who are seafood lovers, Son Tra night market is a paradise for you. The seafood dishes here are carefully selected, fresh, deliciously prepared, and presented in a clean and beautiful way. Depending on your preferences, you can eat grilled squid, fried snails with lemongrass and chili, steamed shrimp with lemongrass, seafood with tamarind sauce, and so on.
Grilled rice paper
Grilled rice paper, also called Vietnamese pizza, is a popular dish with tourists and young people. The baked rice paper is not only delicious but also very affordable. Toppings mainly revolve around familiar ingredients such as pate, quail eggs, beef jerky, chili sauce, and scallions. Despite these ordinary ingredients, the "pizzas" are prepared in different ways that render them interesting and unique.
Some advice when visiting Son Tra Night Market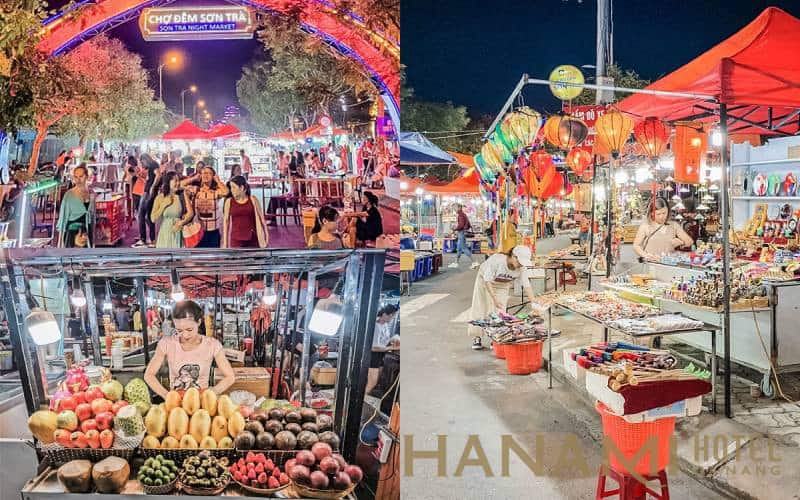 Personal property preservation
Because this place is crowded and bustling, bad guys frequently take advantage to steal or rob tourists' phones, money, wallets, etc. Hence, you should be more careful with your personal items when you come here. If you can leave them all at home, only carry a little amount of cash.
Check the price before you buy
You should compare prices in several stores before buying anything. Avoid buying items whose quality does not match the price you pay.
Choose the right time to buy
You should choose the right time to buy goods to bargain. Do not buy into the stalls that have just opened; as the first buyer, you will find it difficult to bargain.
Do not show interest in any item
Do not show interest in any item. Because the seller is very experienced in understanding the customer's psychology. If you show a lot of interest in their product, the store owner will raise the price higher than usual.
Above is detailed information about the famous Son Tra night market that you can visit on your upcoming trip to Da Nang. This place promises to bring you exciting and new feelings, don't miss this place!