Placed in Hue, Bach Ma National Park has long been a familiar name among tourists. If you are heading to Da Nang for a vacation, drop by the site. Magnificent to begin with, the place's perfect to get back to nature and outdoor activities like camping. With dreamy, romantic natural spectacle to offer, let's venture out for the national park for some great fun and get some fresh air.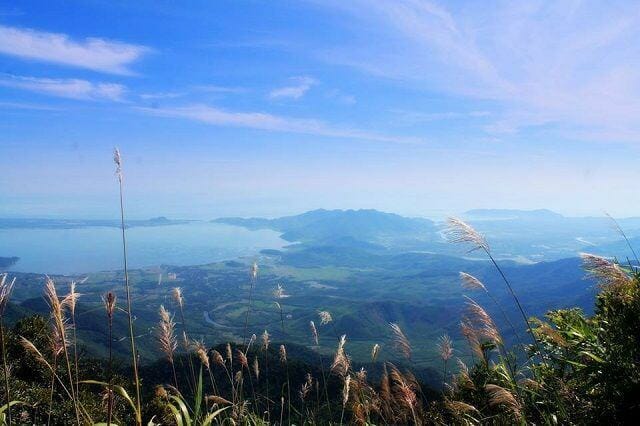 Something about the Bach Ma National Park
Where is the Bach Ma national park?
 Bach Ma National Park is part of Truong Son Bac Mountain Range. This rolling range has many peaks at over 1000m high running from west to east. The closer reaching the sea, the lower it gets. With an area of 37.487 h.a., below the jills are small, narrow, and long valleys. It's the clear streams cool down the area's temperature.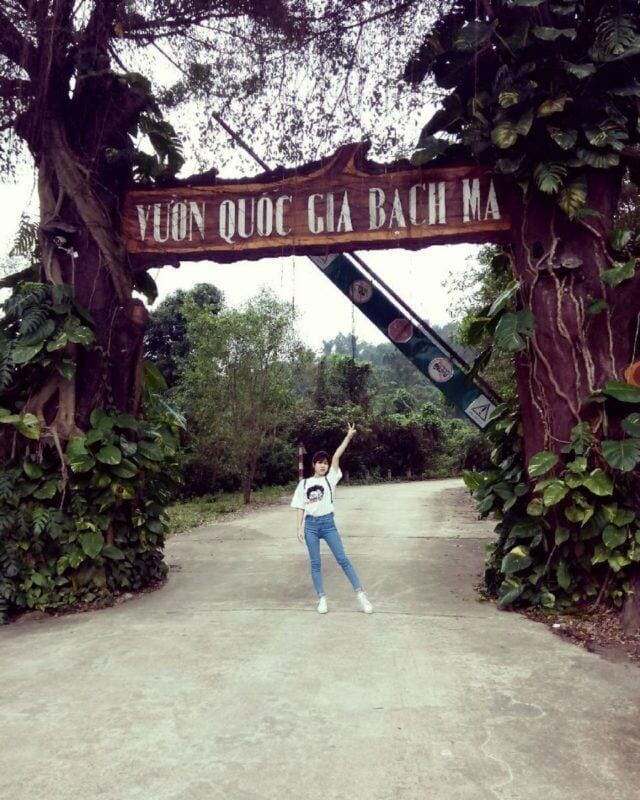 Ticket prices
| | | | |
| --- | --- | --- | --- |
| No. | Contents | Unit | Unit Price |
| 1 | Adults | Fare | $2.5 |
| 2 | Children, Students/Pupils | Fare | $1 |
Bach Ma National Park has a diversified fauna and flora system

.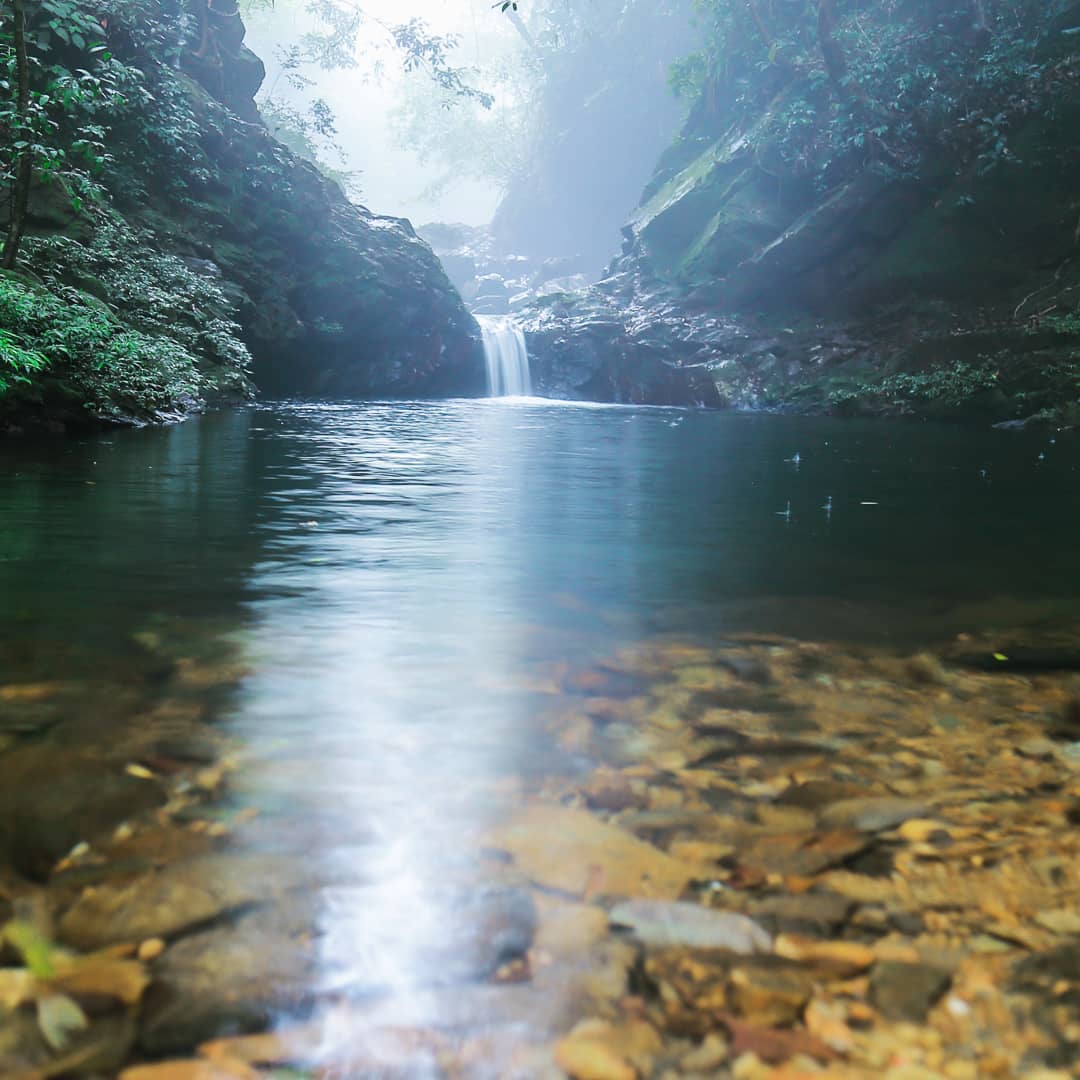 Bach Ma National Park has a diversified fauna and flora system, as recorded, there are 2373 species of flora. In which, the number of gymnosperms hits 22, angiosperms are 1749, ferns & its relation reach 183, while there are 332 types of mushrooms and 87 species of moss. 
 The fauna system has 1715 species including 1029 kinds of insects, 57 breeds of fishes, 134 types of amphibians and reptiles, 363 groups of birds, and 132 breeds of mammals. Some of them are rare and precious animals and plants listed in the Vietnam Red List of Threatened Species. For example, Licuala bachmaensis, Calamus bachmaensis, fokienia trees, frankincense, mahogany, Merawan Giaza, Muntiacus truongsonensis, langurs, the dholes, leopards, Pseudoryx nghetinhensis, Python molurus bivittatus, Trimeresurus cornutus, Cuora galbinifrons, Lophura edwardsi, Anguilla marmorat, etc. 
Moderate weather all year round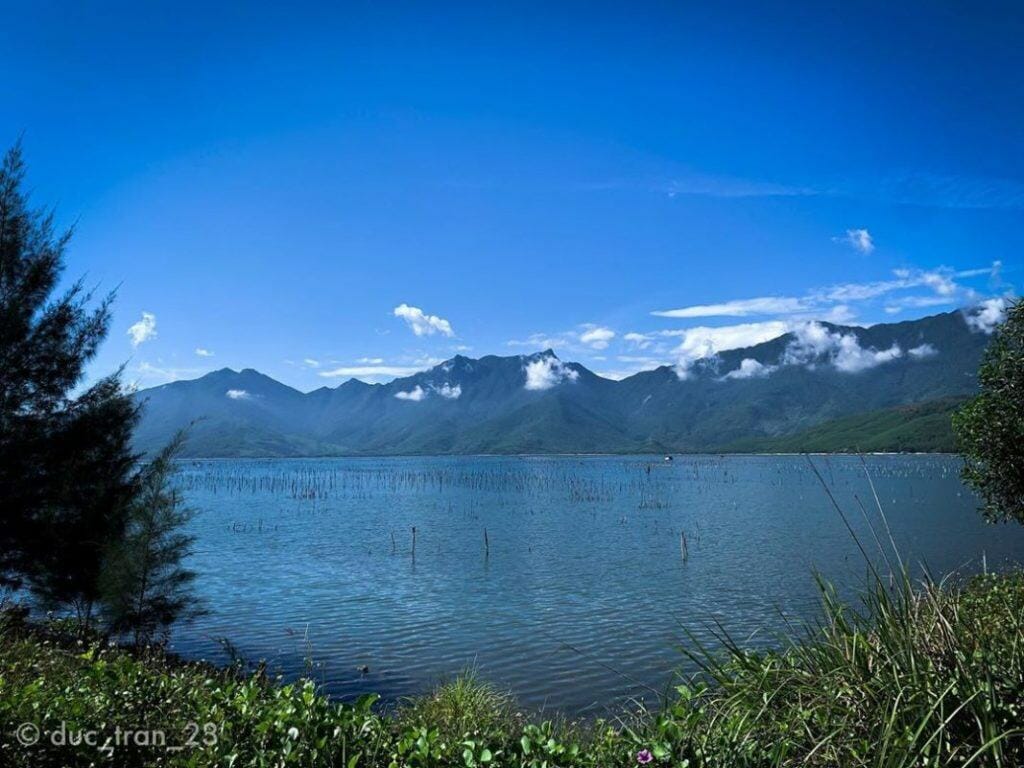 The buffer zone of Bach Ma National Park extends over 2 provinces of Thua Thien Hue and Quang Nam. It's home to 4 ethnic groups: Kinh, Van Kieu, Ka Tu, and Muong, of which the Kinh people account for the majority.
 Covered with a fresh and cool air brought by a rich and widespread flora system, you will be left speechless by the comfortable climate here. The temperature ranges from 18 to 23 Celsius degrees. Aside from this, the park can draw tons of visitors to come for its scenic landscapes. 
 Since 1930, the French understood the advantages of this land and built many resorts, villas, hotels, post offices, and markets to push up the region's tourism and facilitate holidaymakers. Now, these works are remained and restored to hotels to serve the increasing number of tourists. At the same time, this is also an act of conservation and developing historical and natural values of this nature-favoured land. 
Visiting Bach Ma National Park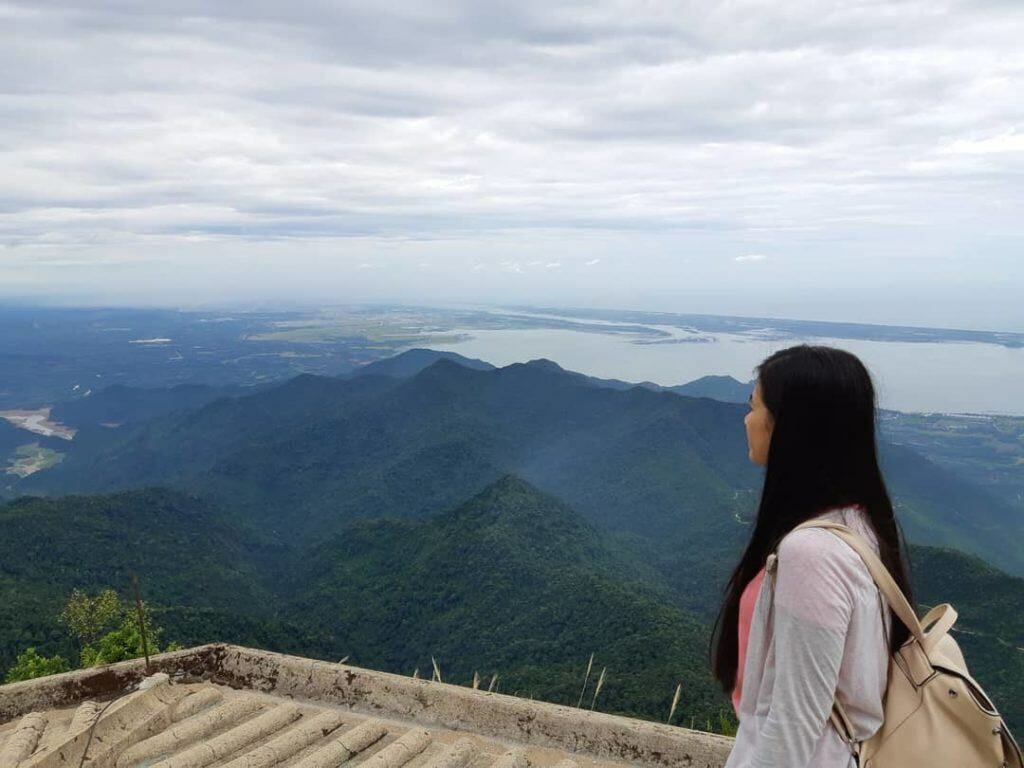 Conquering the Bach Ma Peak
 Standing at an elevation of 1450m, the Bach Ma Peak looks so imposing and majestic from afar. Despite its height and large area, it's not that hard to discover the land thanks to the favourable condition of weather. 
 During the journey, tourists will get a chance to see with their own eyes the huge clouds in different shapes and sizes right in front of them. With such wonderful scenery and amazing weather, nothing can stop those adventurers and nature lovers from going forward. And only the journey to Bach Ma Peak can bring you these fantastic experiences.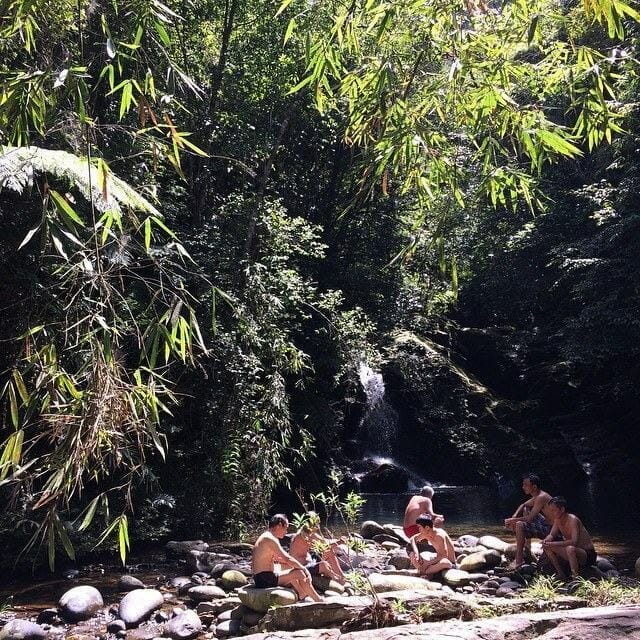 There is plenty of beautiful and famous sites on the top of the peak such as Hai Vang Watching Tower, tunnels, The Ngu Ho or Five Lake Cascade, Do Quyen Waterfall, Tri Sao, Cho Den Forest to name a few. Each site bears its own stories and significant marks that create breathtaking views. Don't miss out on anything!
Best time to visit the site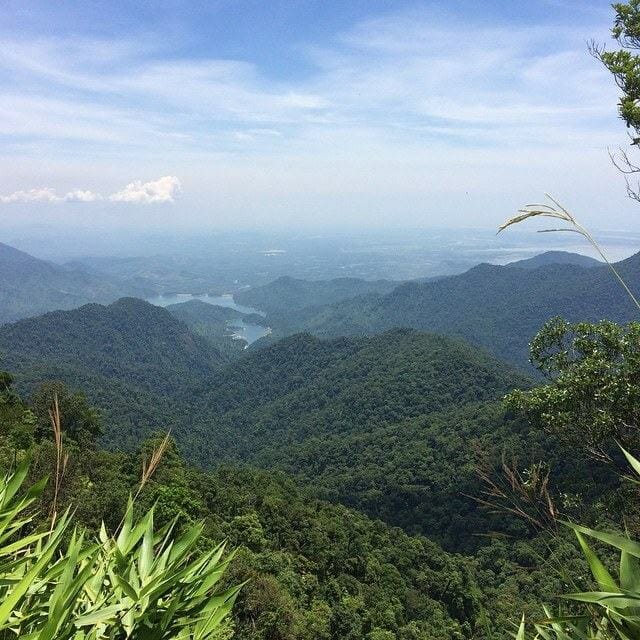 Spring, when the azalea bloom is making it a forest of red blossoms, is the right time to visit the park. Growing along the craggy cliffs, the flower boasts its beauty and shows its vehement vitality in wildlife. It presents a gentle, faint, and slender beauty, but the inner power is so strong and passionate. 
 Walking along the primaeval forest, you will see the hundred-year-old canopies of trees. It evokes an image of a mother protecting the whole forest. Beautiful as a wonderland, it comes to no surprise if you are stunned by its nature. The 300m waterfall is like a lissome white ribbon smoothly dropping down from up high. Want some more challenging? Try your hand at climbing 700 stairs up to admire the charm and elegance of the most famous waterfall in the national park.
The Ngu Ho Trail and Cho Den Forest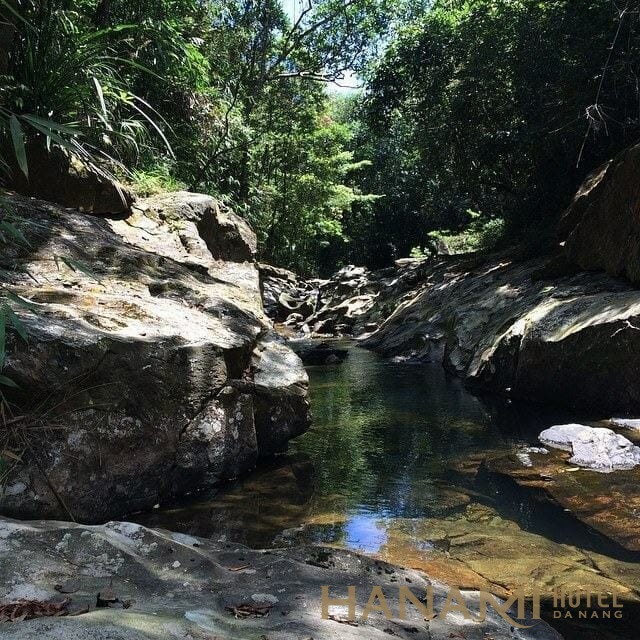 The adventurous path through Ngu Ho is such a must-try road trip for those who love a dreamy, fanciful scenery. The path is leading to a cluster of cascades next to the crystal clear lakes. It's such an excellent site to immerse yourself into the clear, cool water and mingle both your heart and soul with nature. Laze around for a while, and you definitely feel much better and relaxing. 
 And for a journey to raw nature, it's not over yet. Let's venture out for Cho Den forest, where stands lots of ancient trees. Of which, there are some trees with a height of up to 30m and a diameter of 1m that tower intimidatingly over us. Visitors come here is not only for getting back to nature but also for trying adventure games like zipline. 
 These games require adventurous players in good health. Your trip will be more integral if you can conquer all those games successfully. Are you under stress? Do you find yourself feeling unconfident and filled with self-doubt? Then try to take one of these games at least. It partly releases your depression and a good way to overcome yourself. 
Bach Ma National Park by night
 You are so wrong if you think that the whole park will be drowned in the dark when the night falls. Along with other viators and whether you know them or not, you can still join and have fun with them under the natural roof. Enjoying tea, grabbing some drinks, singing, and dancing around the campfire, do whatever you're into at that time. 
 Even if the silence covers the whole scenery, there's the sound of nature, of the forest around you. Leave the noisy and narrowed city to get back to mother nature and enjoy the indescribable sensation of excitement for a few days; your mind and soul will be much more relax and relieved. 
Dawning is when the journey's over

.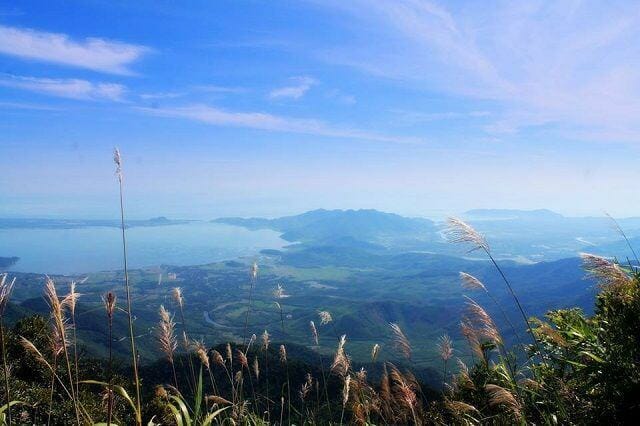 After a long day and a long night, there's still something in the morning that you haven't seen yet. Greeting morning from the forest is also an unusual thing to do. There, you will find the most serene moment ever when seeing the brilliant rays of morning sunlight weaving through the foliage and hearing birds' beautifully pure songs. Your visit to Bach Ma National Park will be more perfect if you can uncover it at all times of the day. This journey requires lots of movement so you should bring along flexible and neat outfits. 
 Spend some time getting to know the Bach Ma Peak if you're planning for a trip to Da Nang. With all that this place has to offer, it is sure that you will have a great experience to forget all the stress and fatigue after stressful days of studying and working. Have a great trip!