Pocket handbook for couples planning to spend honeymoon in Da Nang PART 1
According to the modern trend, youngsters always find a favourite location to enjoy their sweet honeymoon in Danang. To have the best trip, bear in mind the following tips.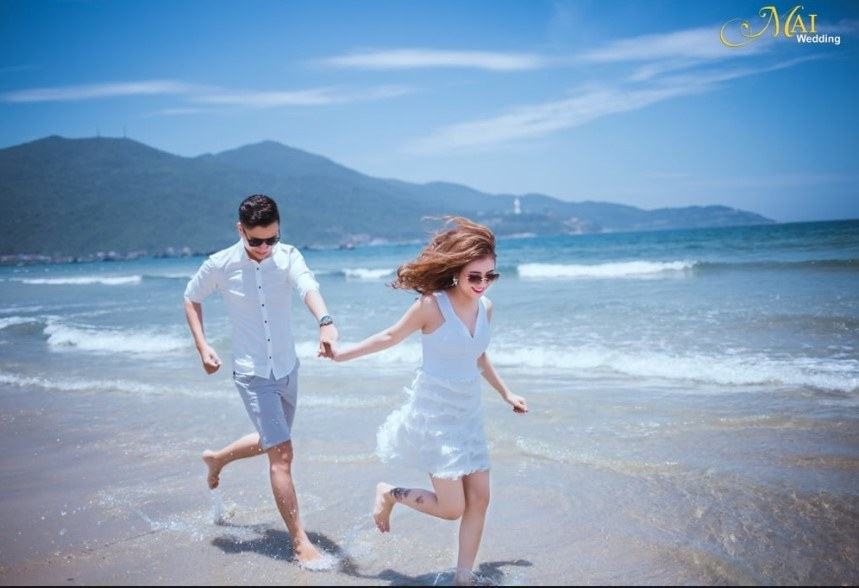 Communication in Da Nang is quite convenient for transferring, and the International Airport lies in the heart of the city; transport stations are also well-situated, facilitating the travel. Different from Hanoi and Ho Chi Minh City, Da Nang's traffic frequency is more comfortable, less hustling thanks to thoughtful planning. The vehicles here are diversified, and you can travel by motorbike or car, even bus.
Tourist destinations are also near each other, if you two like adventure and exploration, a motorbike will be no.1 choice for your trip. Otherwise, if both of you prefer safety and comfortableness, car or service cars are the more suitable choices.
Da Nang is a coastal city. Therefore, the summer here is quite hot, lasting from June to September. However, sudden summer rain sometimes will help cut down the heat. Summer is the right time for visitors accordingly. Besides, the weather here is mild all year round without any fluctuations. Come to Da Nang in the summer, prepare some belongings such as sunglasses, hat, broad-brimmed hat, jackets, sun cream, and an umbrella in case of sudden rain.
Da Nang's tourism thrives, its types and forms are diversified, namely leisure travel, entertainment tourism, cultural tourism, eco-tourism, MICE tour, etc. As for couples, the most suitable style is pleasure and entertainment tourism. Let's run through some tourist attractions in Da Nang for couples with Hanami Hotel Danang!
Ba Na Hills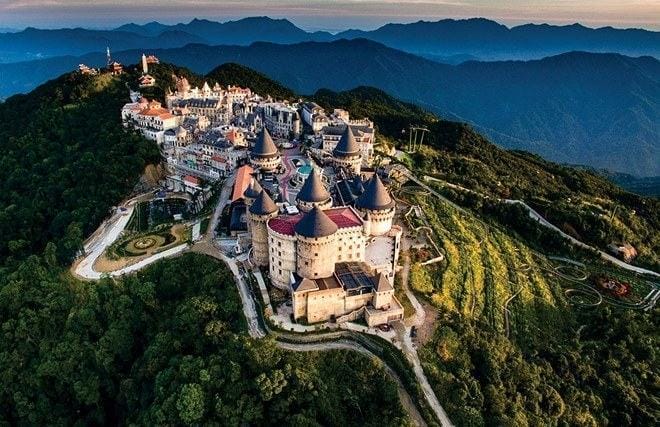 Ba Na Hills is an extremely well-known tourist destination in Da Nang, which can attract millions of visitors every year. Ba Na is famous for its spectacular natural scenery with unique architectural constructions, travel destinations for entertainment, resort, and various, copious cuisine. With cold weather, covered with dew, Ba Na looks like a fairyland, winning tourists' heart.
The Golden Bridge, Le Jardin d'Amour flower garden, French Village, Debay Wine Cellar, Fantasy Park are the places always crowded with tourists. But this places suitable for couples to capture beautiful photos as a keepsake. They are getting a little romance by holding each other's hands, walking around the colourful Le Jardin d'Amour flower garden. Ba Na promises to bring your honeymoon in Danang different space amid the fairyland.
Love Lock Bridge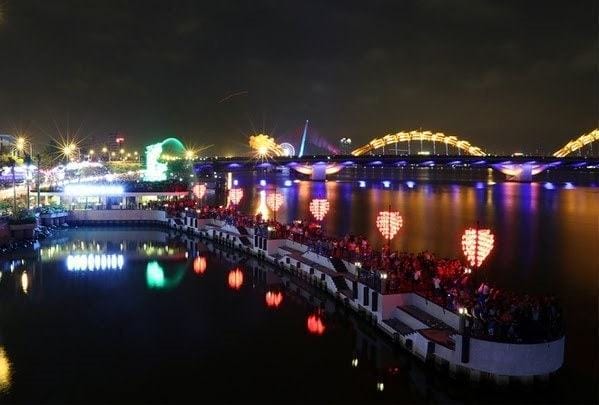 You can tell that this bridge was built for couples by its name, especially for a Honeymoon in Danang. The bridge located on the east bank of Han River, Tran Hung Dao street, Son Tra district, the centre of Da Nang. With its unique design inspired by famous love lock bridges in the world, the bridge has become a place to save couples' mark of love with pretty locks – the symbol of true love strong bond.
Unusually, is decorated with hundreds of red heart-shaped lanterns, the bridge sets itself out of the citywide vision. It's like a way to boast about its romantic name, the Love Lock bridge.
At night, the atmosphere becomes fascinating, standing on the bridge in the weekend, you and your companion for life can behold fire and water performances from the renowned Golden bridge. It will be a special memory that Da Nang brings to you.
Bring along a lock carved your names, fastening it tight to the bridge and making a wish for being together forever and save this memorable moment up.
My Khe Beach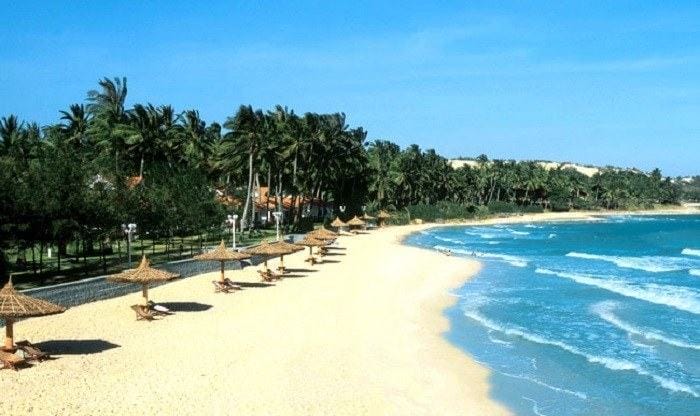 As one of the six most attractive beaches in the world, My Khe beach attracts a mass of tourists to Da Nang. With the beautiful white sand and 900-metre coastline, My Khe pleases travellers near and far whether it's in early morning or bustling afternoon. Being well-situated, it fits for outdoor activities as well as resorts.
Strolling around the beach by sunrise or immerse yourselves under the afternoon sun will also be a fantastic experience for couples. Moving your eyes over the horizon. we can see that the beach is embraced by mountains — a unique trait found in nowhere else, which will be a lively highlight in your photos.
If you are beach lovers, choose a hotel or resort near the beach for quickly travelling as well as enjoying the fullest taste of the sea. Don't forget that Hanami Hotel is also an option for you to choose.
Hoi An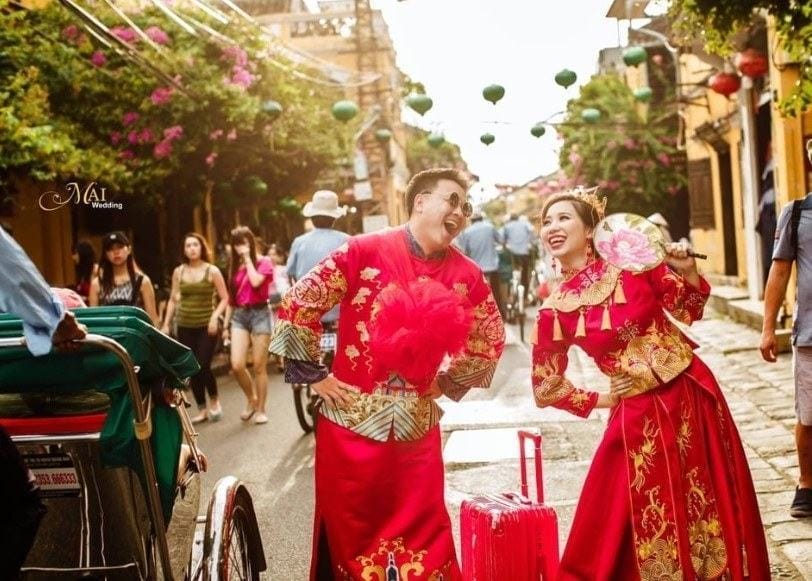 Not belong to Da Nang. However, Hoi An is a very close "neighbour" of the coastal city. Once setting foot in Da Nang, any travellers will spend time visiting Hoi An. No need to worry about the distance between Hoi An and Da nang, you can get there by a motorbike, car, or taxi.
With a nostalgic beauty, Hoi An is always gentle and charming. Nestled beside Hoai River, Hoi An ancient town strikes visitors with its unique architecture from different cultures. It is the constructive interference that brings Hoi An a colourful picture and draws travellers from all over the world to come here.
The ancient town is also a romantic place for a honeymoon preferred by couples. You two can spend the whole day exploring the town, savouring specific cuisine of Hoi An sold in markets or famous restaurant. When the night falls, you can have a stroll along a lovely little walking street covered with lanterns – a typical mark of Hoi An. You can also sit on a boat floating along Hoai River to drop flower lanterns on the river. Come to Hoi An ancient town, and your honeymoon in Danang will have more unforgettable moments.
The Cham Island
Close to Hoi An, the Cham island is a fascinating Danang tourist destination for couples who love the experience, especially sea. Take a tour to the island, and travellers can get a chance to take the driving tour, contemplating fabulous and vivid coral reefs nestled under the blue ocean. There are various activities like diving, snorkelling and watching coral reefs, sea walking, and so on.
If the Cham island is in your list, Hanami Hotel suggests that you should consider between a package tour or enjoying a self-planned one. It is a new destination quite far from the mainland. You can take a package tour. It will be partly more secure with the leading of tour guides, who know the place well. You can book a tour via Hanami hotel.
Above are the destinations that Hanami Hotel lists out for you to make a choice when coming to Da Nang and enjoy your honeymoon in Danang. However, to get appealing discounts for your precious honeymoon, come to Hanami!
Let's wait for part 2, and Hanami Hotel in Danangwill introduce you to many savoury cuisines and street foods in Da Nang.
In the last part, Hanami Hotel Danang introduced you famous tourist destinations for couples and essential information on weather, communication when coming to Da Nang for your honeymoon. In this part, Hanami is going to introduce you food heavens that you can't skip. Let's try the flavours of Central Vietnam's foods, especially Da Nang cuisine.
Con Market Food Court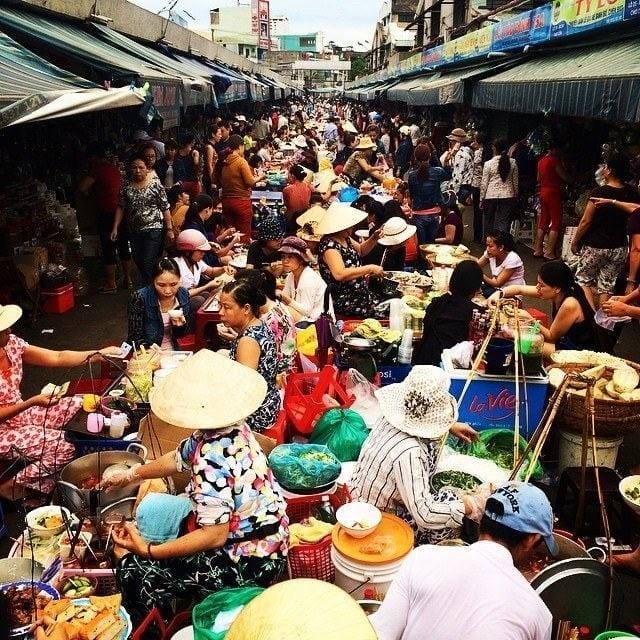 Con Market is one of the most popular markets in Da Nang. Apart from being famous as an area to visit, it's also a convergence of food courts selling Da Nang's popular fares. Perhaps that's why the market is always in the list of must-visit places here.
Not only the locals, but Con Market also draws a large number of tourists to come for a visit, eating and shopping in a day. The food variety and unique local culture from sellers make the visitors curious and want to discover.
The market is active from early morning to late afternoon. However, the most crowded time for the street food courts is from 4 to 7 p.m.
If you want to experience a typical feature of the local, then the hustle and bustle of the market in the afternoon or the purchase of specialties as gifts must satisfy you. The foods here, from the main course to the side dishes, can please all the tourists. For example, girdle-cake rolled with pork, steamed thin rice pancake, sucking snails, beef offal, and so on. It is recommended to spend your afternoon exploring Con Market.
Nam Danh Seafood Restaurant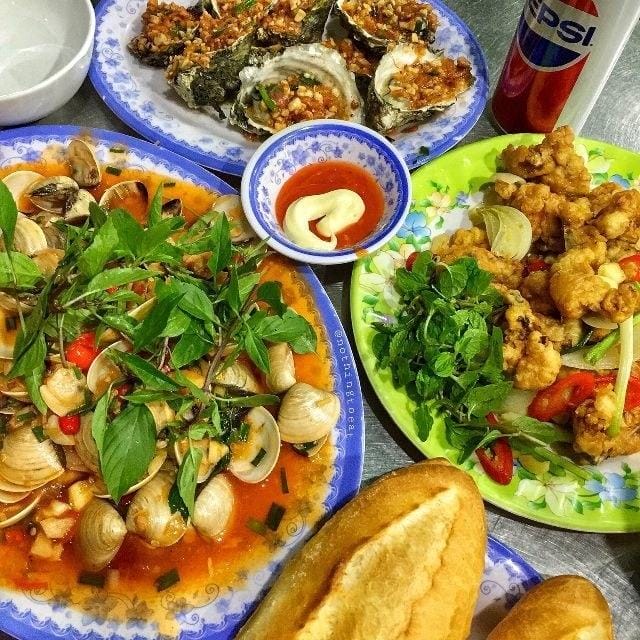 Nam Danh Seafood Restaurant has become familiar to the locals with its diversified menu, various recipes, and affordable price. It is the favourite restaurant of both the natives and couples. Though the price is affordable, this restaurant still gains visitors' trust. With only 8,5 dollars, you and your partner can have a full meal of seafood.
However, the way in there is quite crooked. Don't worry, google map will guide you the way. The specific address of the restaurant is K139/59 H59/38 Tran Quang Khai, Tho Quang Ward, Son Tra District.
The earlier you get there, the more various courses there are because the restaurant is always overcrowded. The menu includes mantis shrimp; steamed sentinel-crab or sentinel-crab with tamarind; conger salad; sweet snail; matrices; steamed, chilli & citronella fried or grilled Melo Melo; roasted, mixed or vinegar-dipped octopus, and so on. Also, you can savour steamed, grilled or hot source dipped cuttlefish; grilled scallop or oyster with onion and types of noodles, fried rice with seafood. All the dishes are cured in spices carefully. Some restaurants just make a small quantity, such as pincers, stone crabs or make about 10 dishes a day due to missing ingredients. Open from 9.30 to 9 p.m. every day. However, the restaurant might close at 6 p.m. because of out of stock, serving too many eaters.
If both of you like seafood, come here for a try.
Coconut juice, Bach Dang street
It is no coincidence that the coffee shops on Bach Trang street are all busy regularly. This is a riparian street which has a beautiful view that attracts lots of visitors. You two can amble along the river then find a shop to your liking and enjoy Da Nang's atmosphere at night.
The prices range from half of a buck to more than a dollar, the drinks include coconut juice, coconut jelly, coconut ice cream, and fruit smoothies.
Take times to have the joy of the gentle night, beholding night streets, get a pleasant breeze from the river alongside your companion for life while relishing a glass of aromatic coconut will be a perfect option for your honeymoon.
Helio night market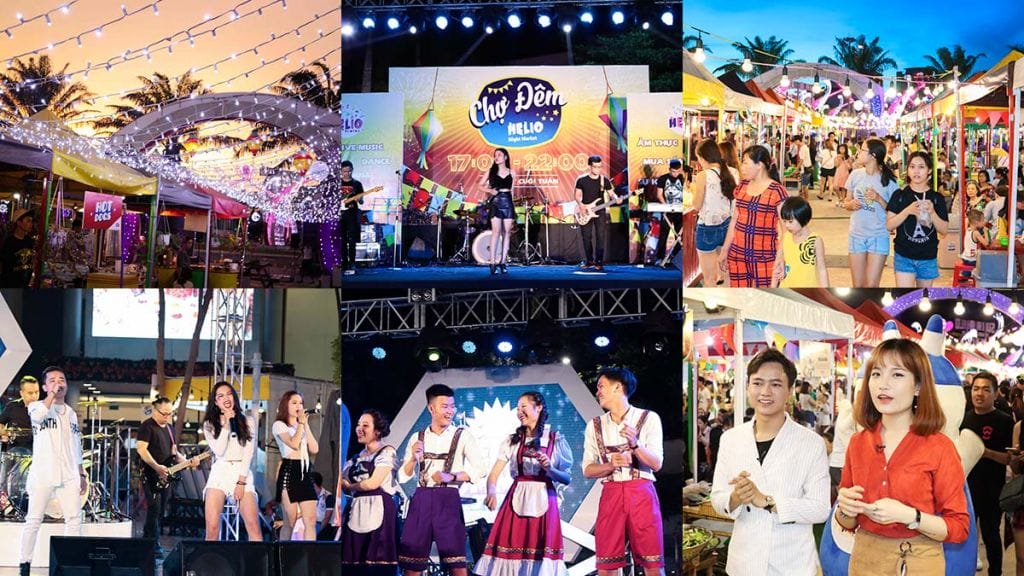 This a promising night market for those who love noise and bustle. The market is divided into 3 main zones: Food court, shopping zone, and Festival zone. It opens from 5 to 10.30 p.m. daily, which is a favourite of visitors for shopping, eating, and watching performances.
In the food court, Korean, Japanese, and Vietnamese foods are trendy with food processing varied from BBQ to ready-to-eat snacks. Besides, there are eye-catching decorated beverage booths selling juice, milk tea, carbonated drinks, etc. The market offers you two a copious and easy choice.
Come to the shopping zone, there are hundreds of trendy items. Diversity and bustle are the features of the market. From the booths of cosmetic, clothes, foot wares to accessories are all arranged in a suitable and fashionable shape and size. Also, don't forget to try your luck in Tarot stalls.
After a long time of walking, do you want to stop for a while? Don't worry !. Helio night market is really thoughtful to lay many chairs and tables in the middle of the market. Facing the stage for performances like a music show, DJ, and the circus. These are all effervescent activities for those who like going out at night.
The visitors are mostly youngsters. Therefore, check-in zone is indispensable. Helio decorates this zone by season or events. Hence, it will never be boring.
If there is any time left, get in Helio Tower to explore a jolly dynamic space of Helio Center Entertainment Complex.
Above are fascinating food destinations for couples when making a visit to Da Nang. Hanami wishes you two will find destinations for tourists and foodies to your taste to perfect your sweet and meaningful honeymoon.