BEST 6 PHOTO-TAKING SPOTS IN DA NANG FOR COUPLES
What to do to make your Da Nang trip with your beloved more special and memorable? How about taking photos that save your great and romantic moments?. Top 6 Honeymoon Destinations. To have beautiful and memorable photos, don't miss the beautiful landscapes of Da Nang city. Let's write down the following best six sites on your travel handbook for a photo hunt!
1. The Golden Bridge
The Golden Bridge is very famous to both domestic and foreign tourists, claimed by a mountain of photos uploaded to social media everywhere. This bridge must be the priority choice for taking picturesque photos. On August 23, 2018, Time – the leading weekly news magazine in the US ranked Vietnam's Golden Bridge, one of the World's most fabulous places in 2018.
This bridge is one of the constructions has been newly opened for public use in Sun World Ba Na Hills. With the altitude of 1414 metres above the sea, the Golden Bridge adds an impressive road into the picture of a vast green mountain, feeling like the two giant palms of nature lift it.
Standing on it, we can enjoy the blue sky with an extended forest mixed with the white of clouds. The scenery is both poetic and mighty. Having a further sight, we can see the whole view of the beautiful coastal city. Common, take the chance to come here, holding your beloved's hand walking through this exclusive bridge to take once-in-a-lifetime photos.
2. Love Lock Bridge
We can tell that this bridge was built for couples on honeymoon in Danang. The bridge located on the east bank of Han River.
Address: Tran Hung Dao street, Son Tra district, the centre of Da Nang city.
With its unique design inspired by famous love lock bridges in the World, the bridge has become a place to save couples' mark of love with lovely locks – the symbol of true love strong bond.
Particularly, being decorated with hundreds of red heart-shaped lanterns, the bridge sets itself out of the citywide vision. It's like a way to boast about its romantic name, the Love Lock bridge.
Bring a lock inscribed your and your boyfriend/girlfriend's name, lock it tight to the bridge then wish for a forever love and don't forget to save this moment.
3. My Khe Beach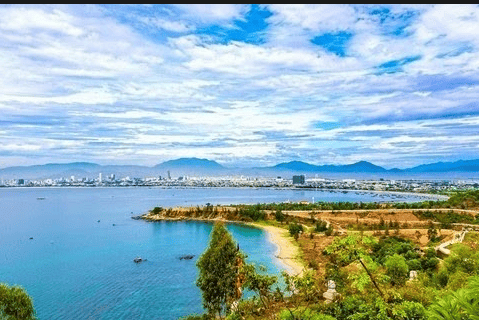 Ranking top 6 most beautiful beaches on the planet, My Khe beach is a must-visit destination in Vietnam indeed.
With the 900-metre seabank along the seashore, My Khe is always trusted by tourists far and near though it's early morning or bustling afternoon. Thanks to its favourable position that is suitable for outdoor activities and resorts. The beach attracts more and more tourists in and outside the country, especially in the summer or major holidays.
Walking along the beach together at dawn or immersing in the afternoon sun will be an amazing experience for couples. Moving your eyes over the horizon, you will notice that the sea here is embraced by mountains, a unique trait found only in this region and a striking highlight for your photos.
4. Hoa Trung Lake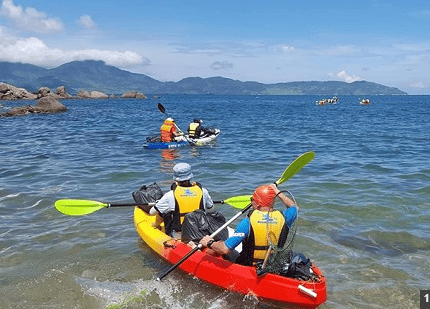 To change the atmosphere a bit, let's come to the forest. This lake must be an exciting destination for you to stay away from the hustle and bustle of city life, finding for a peaceful and wholesome space.
Forestal space is a suitable site for youngsters to hold outdoor activities or overnight camp. This lake is also a new creative inspiration for photography lovers or couples who come here for taking wedding photos.
Here, we can experience dugout canoe rowing. Queenfish fish farmers make these canoes for moving.
Trung Hoa lake has a green, fresh space like a steppe, and its peaceful area promises to bring an exciting experience to the tourists, the youth or couples who love discovery.
5. Than Tai hot springs park
More than 20km from the city centre to the west, Than Tai hot springs park, becomes a promising destination for a memorable vacation. Come there, and you can relax by soaking yourself in natural hot springs run down from Ba Na mount.
Without any city's noise, Than Tai hot springs park has many green spaces for resting. Especially, there offers the mud bath service which is very good for your health.
Since its operation, this site has attracted a large number of domestic and foreign tourists. Together with your lover to savour your relaxation and have fun there, it will also be a perpetual memory for couples.
6. Hai Van Pass – The marvellous wonder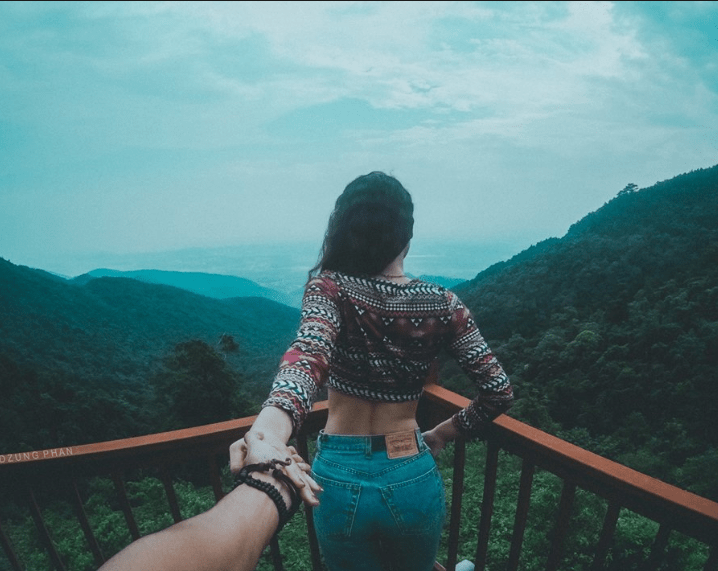 Connecting Hue to Da Nang city, Hai Van pass is about 20 km in length with an altitude of 496m above the sea. On the top of the pass lies a gate also called Hai Van, which was recognised as a national relic site in 2017. This pass is an ideal destination for those who love adventure and discovery.
The name Hai Van has conjured up a beautiful scenery that can be admired from this very pass, Hai Van – the Cloud Sea, for each day the waves tap below while the white clouds hang above. The pass stretches itself weaving around the mountains, taking visitors to the mighty nature. The youth, travellers or couples often travel by motorbikes to explore the pass. Riding a bike along the way, you can feel the vastness of the sky and earth, enjoying the spectacle of the country.
Imagine that you and your significant other are enjoying a fresh spring morning on the top of the pass then visiting the ancient remains and admiring the city through a haze. Such a lovely moments only for you two, right?
There are many points of interest for couples in this beautiful city, however, be sure to take a trip to the 6 aforementioned destinations with your lover to create great experiences together. Take as many photos as possible to save your valued memories.