EXPLORING NEW 9 NATURAL TOURIST ATTRACTIONS IN DA NANG
Speaking of Da Nang tourism, all of the tourists must think of renowned names such as Ba Na Hills, Asian Park, Linh Ung Pagoda, etc. These locations are all crowded on each holiday or special occasions, being well-known for both domestic and foreign visitors. Apart from these destinations, Hanami Budget Beach Hotel Danang is going to introduce you to some new sites in Da Nang which have plenty of wonderful check-in spots for you to preserve the best moments in your trip. 
Van Village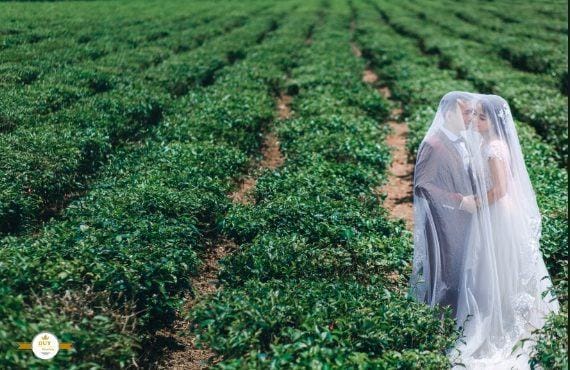 Don't forget to come by Van village when visiting Danang
Van village is a small village lying near Da Nang beaches, at the foot of Hai Van Pass. This place is pristine and spectacular, suitable for camping trips at the weekend. The village's previous name was Phong, a small village at Hai Van Pass's foot, the residence for lepers who lived separately from the outside world.
Formerly, the village was isolated. thus, there was no road to get there but these 3 ways: climb up to Hai Van Pass then follow the mountainsides to come down there; sailing the boat from the bay and pass through the train tunnel and cross many kilometres of bushes.
Come to Van Village, you can enjoy a peaceful space bonus the sound of wind soughing, birds chirping, the waving sea. It all mixed together to form an ideal living space for those who are finding a tranquillity. This is also a befitting destination for couples to spend their honeymoon in Da Nang.
Dong Dinh Museum
Dong Dinh Museum lies on Hoang Sa street (Son Tra Peninsula), which is considered a memorial garden reproducing the ancient features, a harmonious combination between forest ecology conservation and artistic and cultural space. The museum displays a lot of collections implemented by the eminent artist Doan Huy Giao.
It will be exciting walking through each tiny path around the model of a garden house in Quang style planting fruits and green liriope spicata. This museum's name inspired by the image of solitary fishtail palm, a kind of Arecaceae, growing in a large number in Son Tra Nature Reserve.
Its collections include 2 ancient zen houses in style of Kim Bong Carpentry and a modern house making use of green space built on the hill.
Opening time: Saturday, Sunday and holidays. From 8 a.m. to 5 p.m. Ticket price: 1 dollar/person.
Tien Sa lighthouse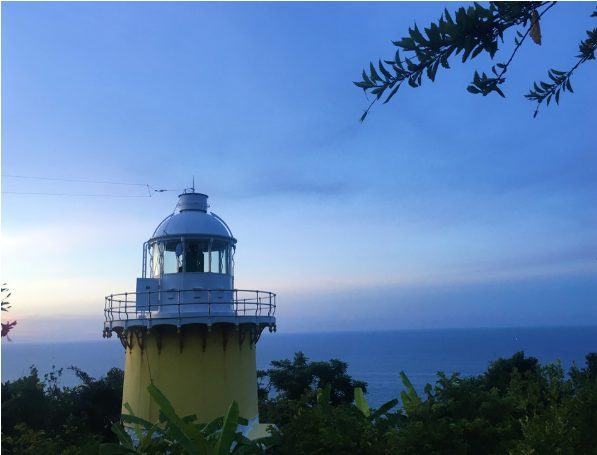 Not only Mui Nghe, Ban Co mount or Linh Ung pagoda in Son Tra Peninsula can offer you a space for beholding the sea. However, Tien Sa lighthouse (or Son Tra lighthouse) can also do the same. Standing on Son Tra mount with an altitude of 223 metres above the sea, here you will get a chance to run through the sinuous roads in Son Tra Peninsula and contemplate the immense sea.
Being one of the most beautiful lighthouses in Vietnam, which was built in the 1950s, 20th century. Tien Sa lighthouse with a height of 15,6 metres functions as helping vessels operating in Hue – Da Nang waters can orient and ascertain their position. From this lighthouse, you can get the bird's-eye view of mountain and sea, a very fantastic scenery.
Directions: Follow Hoang Sa street towards InterContinental Danang Resort, a sign will be there, turn right is the way to the thousand-year-old banyan tree and Tien Sa lighthouse. Then, go about 2 km to a three-way crossroads, and continue going to another three-way crossroads then turn right. Go ahead straight to the end of the road, you will see the lighthouse.
Dong Xanh – Dong Nghe Lake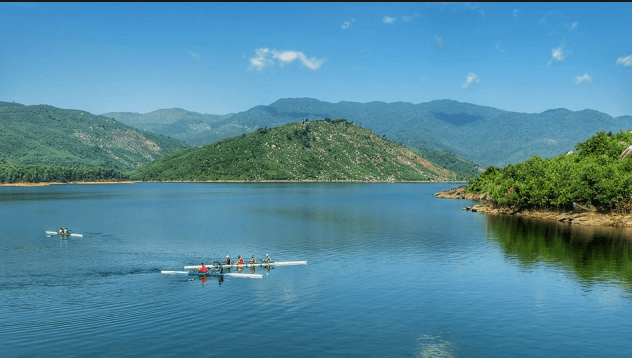 For those who want to stop and smell the roses, Dong Xanh – Dong Nghe Lake (Hoa Khuong Commune, Hoa Vang District) is attracting lots of tourists with its picturesque landscape. Especially, suitable for weekend camping trips. With a water surface area of 2.4 km2, the lake is covered by fresh green grass, from high above, it looks like a serene watercolour painting. Try immersing yourself in nature by hiring a boat or kayak to travel to the heart of the lake or to the upstream where the streams babbling. This activity is worth a shot coming here.
Directions: 25 km away from Da Nang to the west, you can go along the National route 14B to Hoa Khuong crossroads, turn right and head straight to the lake.
Bai Rang beach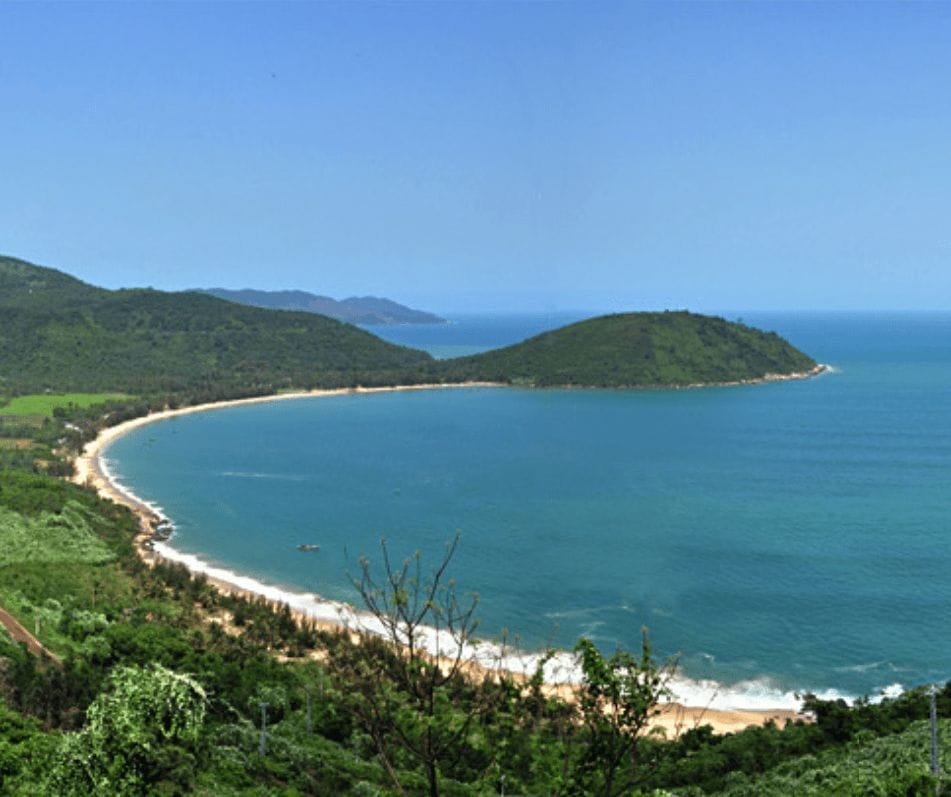 Just 20 minutes of riding a motorbike from downtown Da Nang, running along Hoang Sa street, passing Linh Ung pagoda, you can reach Bai Rang Beach. The ramp on Son Tra mount's side is now a paved road, but there are still not too many people and crowded tourers as other tourist attractions. Only by parking your vehicle on the top of the hill then step down the slope that you can explore this place.
The nature of Bai Rang beach is diversified, and most of its area has not been exploited yet. Hence, besides visiting and relaxing, travellers can experience many exciting things. This unspoiled, rustic beach brings a feeling of closeness, conquering visitors' heart at first sight.
The beach is separated from the residential area, a perfect place to sit on the beach listening to the sweet melody of waves or wallowing in the blue sea for a coral diving.
Bang rapids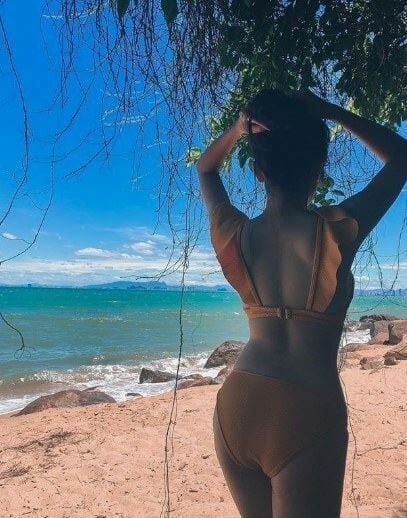 Bang rapids situated on Son Tra Peninsula, which is 20 km away from downtown Da Nang and 40 km away from Hoi An. Its coastline is about 2 km, surrounded by numerous different-size rocks and trees, such a tranquil landscape. Except for some backpackers coming there to go for sightseeing, there are quite fewer tourists. That leaves the natural landscape its original features. Along the 2-kilometre beach are thousands of rocks in different sizes and shapes, covered the rocks are thick vegetation.
Behind the uneven rock shelves is a long blue beach, fine white sand and coconut trees. Bang rapids are so primitive that there are a few temporary shelters, some canvas to make camp, along with some fishing-rods and baits, tens of swimming goggles that the locals lend visitors for exploring coral reefs peeking out off the water.
Make a visit here, you should try coral diving with homemade swimming goggles hired from shelters on the shore. However, good swimming skill is required. Additionally, go fishing in Bang rapids is also entertainment to relieve stress. You can both relax and get the fish as booty for yourself and your partners.
Thuan Phuoc lighthouse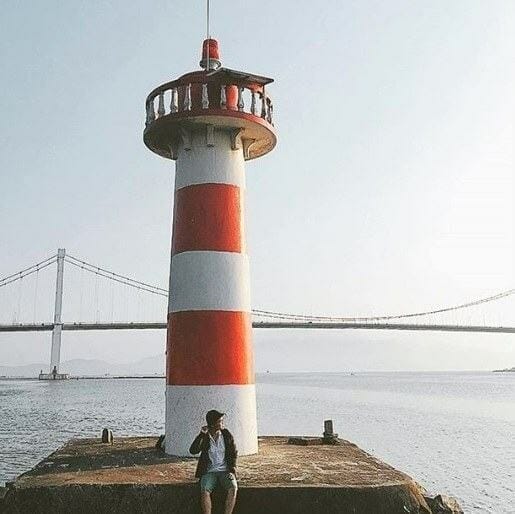 This lighthouse is near the downtown, though its shape is not as unique as Tien Sa lighthouse, it heads to the sea, connected to the mainland by a breakwater. From here, you can see clearly Thuan Phuoc bridge, other 3 typical bridges of Da Nang, namely Han River bridge, Golden bridge and Tran Thi Ly. More than that, in the late afternoon, romantic Thuan Phuoc lighthouse is also a flawless site for getting some fresh air and enjoy the sunset.
Directions: Near Thuan Phuoc bridge on the east bank of Han River, the way here is very easy, from Tran Hung Dao street, go towards Thuan Phuoc bridge linking to Le Van Duyet Street, travel about 1 more kilometres towards Han River.
Helio Centre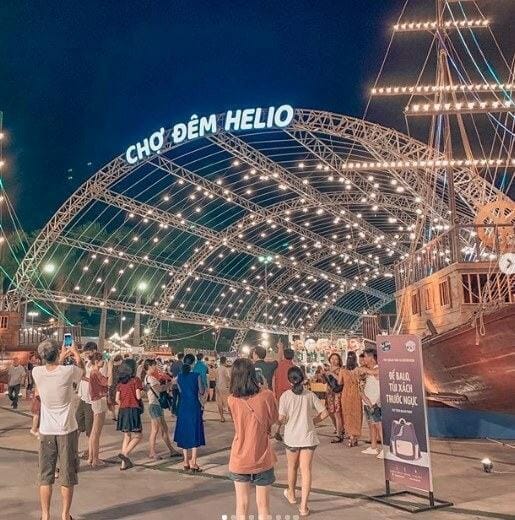 Helio Centre is the first entertainment complex offering various services for families in Da Nang. Spreading over 35 thousand metres, this place offers both forms of entertainment for adults and indoor, outdoor services for kids.
There are 3 main zones: Helio kids (indoor, outdoor), Helio Play (thrilling, exercise games and water sports, game rooms) and Helio Food & Beverage (Helio's food court is one of the best food destinations in Da Nang).
Helio kids zone is a model that combines both education and entertainment in games. Here, kids will experience many new fun and exciting activities. Also at Helio Center, there are trade fairs, food fairs on the weekend which always draw lots of youngsters and visitors to come and have fun.
Address: Located on the southeastern side of Da Nang's 2 September Peace Monument, 02/09 street, Hoa Cuong Bac ward, Hai Chau district.
Nam O Reef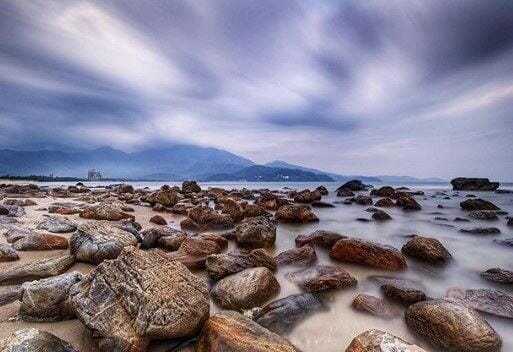 Nam O Reef is a new tourist destination for tourists because there are few companies list this place into their itineraries. However, it still intrigues those who came there once.
The reef is about 2 h.a. Wide, divided into 2 clusters: the big reef and the small one. The big one spreads towards west-northwest – east-southeast, which is about 300m long and 50m wide. The small reef is less than half of the big one, lying parallel to it. Between them is a small inlet in about 20m width.
Nam O reef is also food heaven offering tourists typical kinds of seafood, to begin with, the famed Nam O fish salad, a mixture of different fishes. Besides, thanks to many types of small fish migrating, Nam O is also famous for its fish sauce.
Directions: Depart from the central depot in Da Nang towards Ton Duc Thang street, along Nguyen Luong Bang, passing Xuan Thieu beach, enter the way to the fishing village, you will notice the long white sandy beach appearing.