In recent years, the ancient town of Hoi An must have become familiar to the people of Vietnam and the rest of the world. The antiquity created by the carefully preserved lines from the past to the present, interwoven with the modern style of famous places, has resulted in the Hoi An that exists today. So, what to do in Hoi An? Many people ask this question on special occasions throughout the year. Follow Hanami's articles "What to do in Hoi An Ancient Town: 30 Top-Rated Tourist Attractions" to find out more!
What to do in Hoi An Ancient Town: 30 Top-Rated Tourist Attractions
Hoi An is a specially well-preserved South-East Asia trading port dating from the 15th to the 19th century in Quang Nam, Viet Nam. This old town's buildings and streets reflect a unique blend of influences, indigenous and foreign. If you plan to visit Hoi An, don't forget to add the following 30 Top-Rated Tourist Attractions in Hoi An to your list.
Sacred and Religious Sites in Hoi An
Quan Cong Temple
Address:

24 Tran Phu Street, Hoi An Ancient Town, Quang Nam Province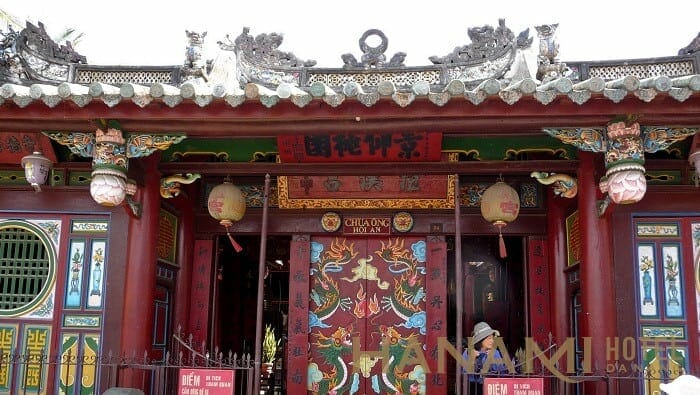 Quan Cong Temple Hoi An is one of the most sacred temples in the ancient town. This temple is also known by different names, such as Ong Pagoda and Quan Cong Temple. It is one of the highlight attractions with a great spiritual significance, converging the spiritual and traditional beauty of the cultural heritage land of Hoi An.
The Quan Cong Temple was named after a genius Chinese general who swept to victories during the Han Dynasty. He was also famous as a model of loyalty, prestige, and sincerity. The outstanding highlights of the temple here are a harmonious mix of colors (red, gold, and green) as well as its exquisite artworks. This place attracts thousands of visitors every year with its unique features.
Phung Hung Ancient House
Address:

4 Nguyen Thi Minh Khai Street, Hoi An City, Quang Nam Province
The Phung Hung Old House in Hoi An nestled quietly with ancient and Asian beauty. Through 200 years of ups and downs in history, the old house still stands tall and retains its original beauty as it did in the beginning.
The house has a harmonious architecture between three cultures, including Vietnam, Japan, and China. It was built with a system of balconies and shutters in the Chinese style. A typical architectural style in Edo, Japan, is the "four-sea" roof, which is the huge roof of the middle house. The front and back compartment roofs are all prominent features of traditional Vietnamese architecture.
Japanese Covered Bridge
Address:

Nguyen Thi Minh Khai street, Minh An ward, Hoi An, Quang Nam province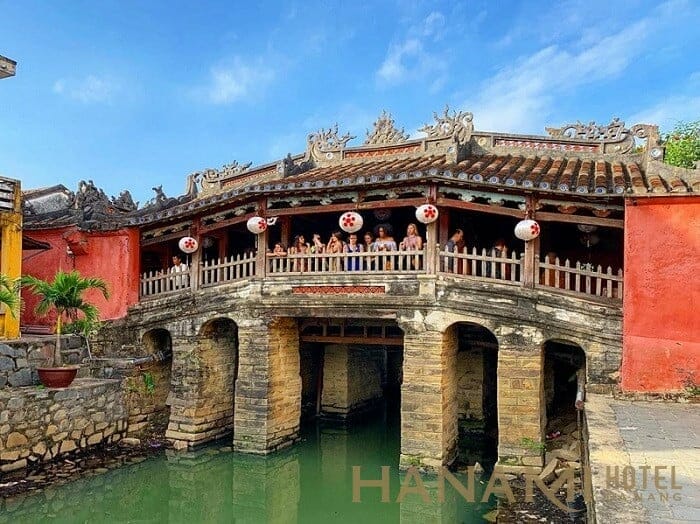 To Hoi An people, the Japanese Bridge is the soul, a symbol that has existed for more than four centuries. The Japanese Bridge Hoi An, also known as Cau Pagoda (Chùa Cầu), was built in the 17th century with Japanese businessmen's assistance.
This nearly-20m bridge connects the 2 major streets of Hoi An's Old Quarter: Nguyen Thi Minh Khai St. and Tran Phu St., looking over the peaceful Thu Bon River. The bridge and the top were built mainly with red lacquered wood, while the base was constructed with stone. Although it is commonly called "Japanese Bridge", the architecture is an ingenious combination of Vietnamese, Japanese, and Chinese cultures, from the material, design to patterns and decorations.
Assembly Hall of the Fujian Chinese Congregation
Address:

46 Tran Phu Street, in Hoi An Old Town, Quang Nam Province, Vietnam
Built in 1697, this Assembly Hall was constructed by the original Chinese community from Fujian Province in 1697 and was built entirely with wooden structures. From 1757, this place was rebuilt with brick and tile roof until today. The assembly hall is a magnificent, majestic architecture, decorated with sophisticated patterns and this contributes to enrich the architecture of the Old Town. Also, according to local belief, this is a sacred place, therefore, people who come here often bring incense offerings to pray for good things. This is also the place where the young couple has troubles in frequent infertility to come here and pray to have better things.
Cantonese Assembly Hall Hoi An
Address:

176 Tran Phu, Minh An Ward, Hoi An City, Quang Nam Province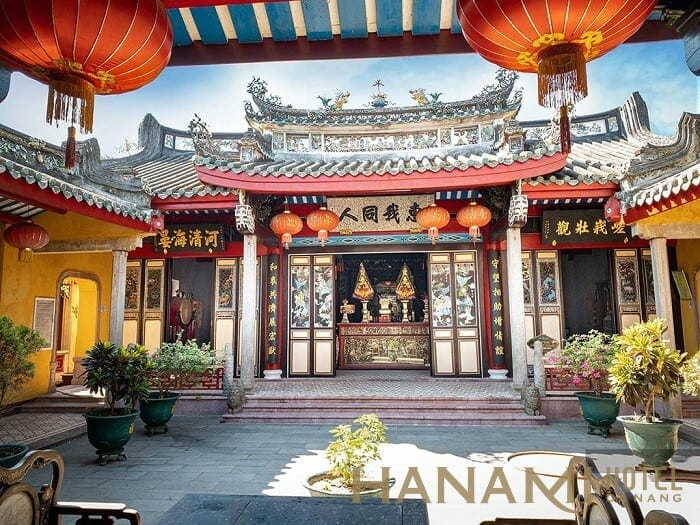 The Assembly Hall of the Cantonese Chinese Congregation was built by overseas Chinese from Guangdong – Guangzhou region in the late 18th century (often cited as 1885). The Assembly Hall served as a holy temple to worship gods of the sea and sky. Maritime trades were prevailing at the time, hence most businessmen praised for good weather and peaceful sea throughout the year. In addition to being dedicated to spiritual beliefs, this assembly hall was the place where the Cantonese community held periodic gatherings to assist each other in business and daily activities.
Cantonese Assembly Hall is an appealing destination for culture enthusiasts. Not only will you have a thorough understanding of history, but you can also reminisce about Hoi An Town's golden past. Therefore, on your next vacation to Hoi An, do not forget to pay a visit to this assembly hall to enjoy equanimity at each and every moment.
The Tran Family Chapel
Address:

21 Le Loi, Minh An Ward, Hoi An City, Quang Nam Province
The Tran Family Chapel sitting amidst a 1500m2-garden of ornamental plants, flowers, fruit trees and century-old plants, with a gate and high surrounding walls is a combination of Chinese, Japanese and Vietnamese architecture, which has remained almost the same as two centuries ago. Every year, the Tran Family Chapel is still the gathering place for all members of the family to meet and express their thankfulness to their ancestors. Also, parents in the family would educate their children about the clan's traditions. Thanks to its unique architecture having hundreds of years and the typical cultural features of Hoi An Ancient Town, Tran Family Chapel has long become one of the most impressive tourist attractions in Hoi An. Tourists will definitely get unforgettable impressions when one setting foot on Tran Family Chapel.
Hoi An Museum of Folk Culture
Address:

33 Nguyen Thai Hoc, Minh An Ward, Hoi An City, Quang Nam Province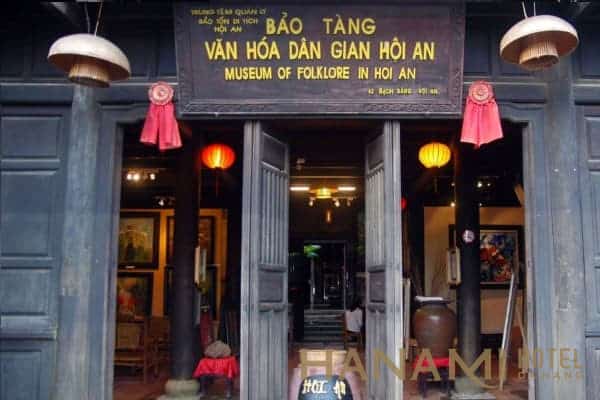 Hoi An Museum of Folk Culture, also known as Museum of Folklore in Hoi An is one of the special thematic museums in Hoi An. Thanks to photographs, original artifacts and performing activities, the museum has shown the value of intangible culture and introduced the long-lasting history of culture, the creativity and contributions of the local residents during the construction and development process of Hoi An. Hoi An Museum of Folk Culture officially opened to welcome tourists in 2005 and gradually became one of the fascinating tourist attractions in Hoi An alluring the great number of tourists.
Tan Ky Old House in Hoi An
Address:

101 Nguyen Thai Hoc, Minh An Ward, Hoi An, Quang Nam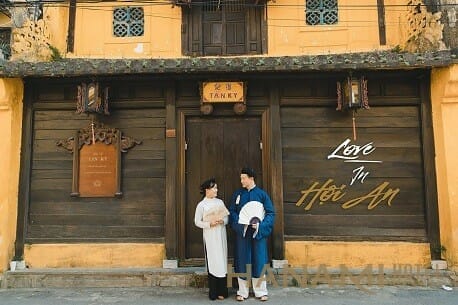 Tan Ky old house, with more than 200 years of history, is considered as a " living museum". Although Tan Ky Old House in Hoi An was built in 1741 as the residence of a 7 generation family, it can still keep the original beauty of ancient Hoi An. Besides, the old house of Tan Ky is also a special place retaining a variety of priceless antiquities. The motifs and patterns of the structure of the house are all meticulously made and carry the breath of oriental philosophy. The style of this old house is the combination of three different cultures: Japanese, Chinese, and Vietnamese. Its unique architecture of ancient Hoi An and long-standing traditional cultures have made Tan Ky Old House a household name for many tourists.
Hoi An Center for Cultural Heritage Management and Preservation
Address:

10B Tran Hung Dao Street, Hoi An City, Quang Nam Province
When it comes to this old town, it is impossible to overlook the Hoi An Center for Cultural Heritage Management and Preservation, which is a popular tourist attraction. The museum preserves and witnesses the evolution of various issues such as culture, history, and people in Hoi An from the beginning to the present. Hundreds of artifacts from Hoi An's ancient town are displayed here, including pottery, porcelain, copper, iron, wood, paper, and so on.
Bay Mau Coconut Forest
Address:

Cam Thanh commune, Hoi An city, Quang Nam province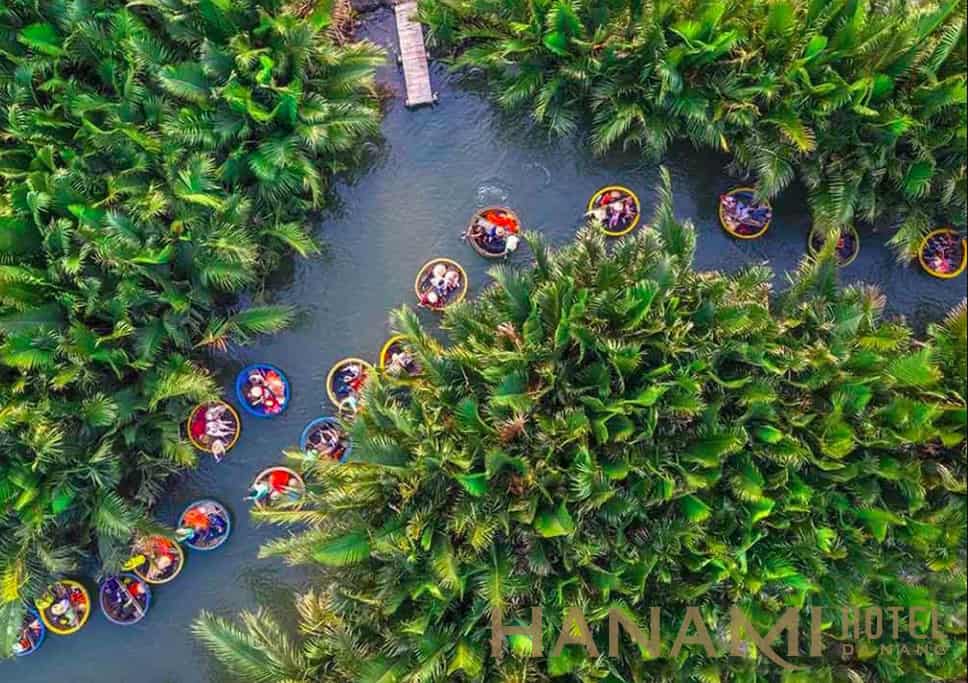 Bay Mau coconut forest is also known as Cam Thanh coconut forest by locals, about 3km from Hoi An city. This is a famous eco-tourism area that creates many experiences for tourists about the nature of rivers, immense coconut forests and rustic basket boats. In the area, you will have a chance to sit in a circular boat to visit the green coconut forest in the middle of a peaceful space and admire circular boats racing, make souvenirs from coconut leaves, learn how to catch fish or enjoy local specialties…
Sa Huynh Culture Museum
Address:

149 Tran Phu St., Hoi An
Located in the heart of the Town, the Museum of Sa Huynh Culture is home to numerous artifacts and materials of the Sa Huynh civilization, the very first traders of the port town. Housing 971 artifacts of a civilization that flourished 2000 years ago, the museum mainly featured terracotta and metal work found in the Hoi An area. All the objects on display are original artifacts. The museum provides visitors with useful information about the ancient Sa Huynh culture's inhabitants, regarding their burial customs, conceptions of life/death, the history of the region and relationships with other cultures.
Hoi An beaches – Top ideal places to satisfy your wanderlust
Cua Dai Beach
Address:

Situated 5 kilometers from the center of Hoi An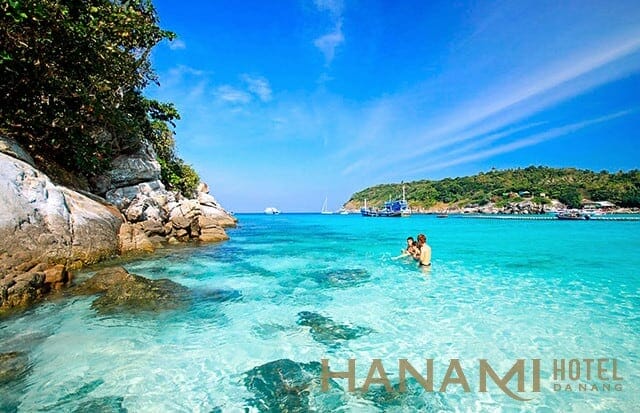 Situated just 5 kilometers from the center of Hoi An, Cua Dai Beach is one of the best beaches in Hoi An. This is where three rivers, namely Thu Bon, Truong Giang and De Vong, meet before they pour into the sea.
Cua Dai Beach captivates the hearts of visitors at first sight with its endless sand stretch surrounded by lush coconut trees. Here, swimming in the cool water, sunbathing on the beach, and enjoying the cool gusts of wind will bring you an extraordinary feeling of relaxation.
Cua Dai Beach offers many types of fish and shrimp that cannot be found anywhere else in Vietnam. You can join the locals in fishing and other activities, which is an interesting experience that you should try. You also have a chance to enjoy various fresh seafood dishes, such as grilled ray with lemongrass and turmeric, squid stirred in fat with fish sauce, and steamed oyster with lemongrass.
Ha My Beach
Address:

Dien Duong, Dien Ban District, Quang Nam Province
Located next to a coastal road linking Da Nang City and Hoi An Town, Ha My Beach is a fairly new destination on the tourism map. This beach is likened to a "fairy sleeping soundly", all while keeping her natural pristine charm.
Ha My Beach attracts tourists with its white sand stretches, crystal-clear water, and shades of endless lines of lush casuarina and coconut trees. Visiting this beach, you will surely want to lie all day on the smooth sand sunbathing, listening to the waves, and immersing yourself in the peaceful scenery, which you may not find in other beaches in Vietnam. Various local seafood dishes are also available here at reasonable prices.
Cham Islands (Cu Lao Cham)
Address:

Tan Hiep Commune, Hoi An City, Quang Nam Province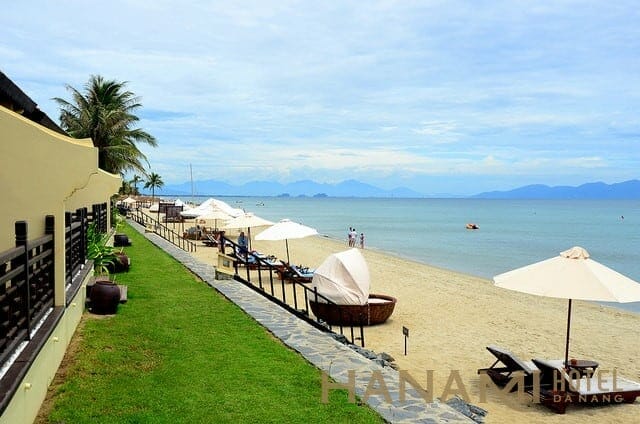 Cham Islands is a perfect destination for eco-tourists who come to marvel at its enchanting landscape, dense forest, and diverse ocean ecosystem with eye-catching coral reefs. It consists of eight islets set as an arc, very close together: Hon Lao, Hon Kho Me, Hon Kho Con, Hon Tai, Hon Dai, Hon La, Hon Mo and Hon Ong, serve as a protective barrier for the ancient town. The area is renowned for its beauty, clean and vast biodiversity with pristine white-sand beaches and crystal-clear water. Moreover, Cu Lao Cham has a plethora of awesome sights to see, since it is a historical and cultural relic associated with the establishment and development of Hoi An port town.
An Bang Beach
Address:

Hai Ba Trung Street, Cam An Ward, Hoi An City, Quang Nam Province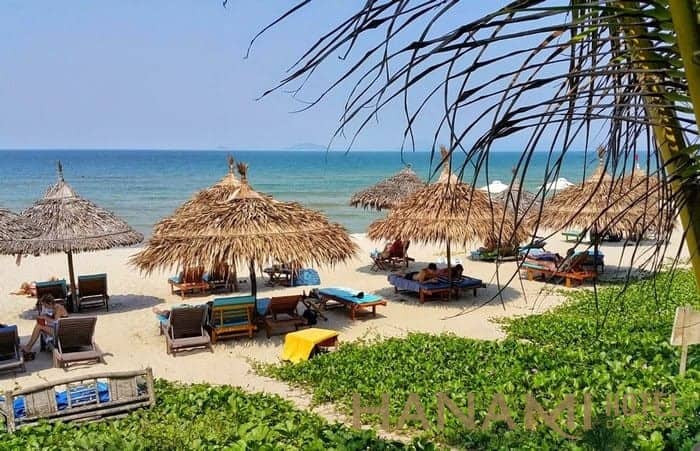 Biển An Bàng được du khách khi đến nơi đây xem như thiên đường của những tín đồ du An Bang Beach is a paradise for sea lovers among Hoi An beaches. It has a tranquil beauty that is quite different from the bustling Cua Dai Beach. When visiting An Bang Beach, you should walk around with bare feet on the smooth white sand or swim in the cool water. The waves here are quite rough, which makes it suitable for some thrilling water activities like surfing, wave riding, and jet skiing. In addition, there are many restaurants and bars nearby that offer fresh seafood and cool drinks.
Traditional Handicraft Villages in Hoi An
Thanh Ha Pottery Village
Address:

Pham Phan Street, Thanh Ha Ward, Hoi An City, Quang Nam Province
Thanh Ha Pottery Village is an ideal option for your upcoming trip to Hoi An. It is located in the west of the old town of Hoi An alongside the Thu Bon River. Thanh Ha Pottery Village is the biggest example of passion, profession and art. This village is around 500 years old and the people have been working in the field for generations. It is not an ordinary place with some typical things but a complete workshop with a huge variety of pottery. You will see a lot of decorative pottery in the making, and many pieces are getting painted or glazed. Visitors will be amazed by the new ceramic products, the burnt brick road, the idyllic roofs with baked tiles, and so on.
Tra Que Herb Village
Address:

Tra Que Village, Cam Ha Commune, Hoi An City
Tra Que herb village is also called Tra Que vegetable village is one of the famous Hoi An traditional craft villages. Throughout the village, there are more than hundreds of households that grow vegetables in an area of about 40 hectares of green vegetables with over 20 varieties. It has become the largest vegetable granary in the region. The village associates its name with the vegetables that bring their own unique flavor like places like perilla, basil, and so on. Vegetables bring together five flavors ranging from sweet to bitter and sour, which explains the reason why it is so special. Furthermore, thanks to fertile soil, the vegetables have a special flavor and are always fresh without any chemical fertilizer. With a history of over 300 years, Tra Que Herb Village has become a must-visit attraction in the list of things to do in Hoi An, Vietnam for all kinds of tourists.
Kim Bong Carpentry Village
Địa chỉ:

Trung Hà, Cẩm Kim, TP. Hội An.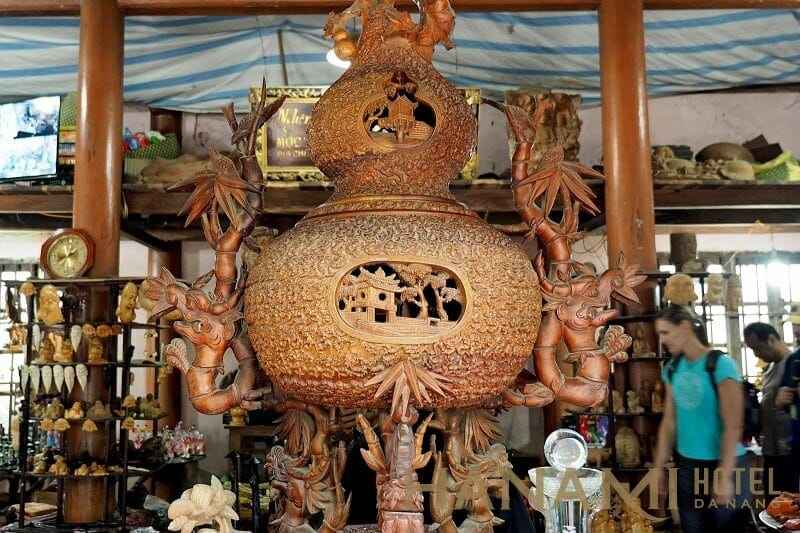 Kim Bong carpentry village was formerly known as Kim Bong Chau. Kim Bong carpentry village artisan is also proud that their ancestors were personally invited to the capital by the Nguyen kings to build and preserve works of mausoleums and citadels in the past. Visitors will learn about traditional carpentry and buy wooden products as gifts for friends and family while visiting this location.
Hoi An Lantern Making Village
Lanterns are considered the city's symbol in Hoi An. Hoi An Lantern Making Village has existed and developed for hundreds of years. There are over 32 establishments in Hoi An that produce traditional lanterns. In the present, tourism develops strongly in Hoi An, so Hoi An lanterns become a souvenir of the character of Hoi An Ancient Town. Many tourists come to the lantern establishments to see the lantern making stages with their own eyes. Hoi An Lantern Making Village is one of the most famous traditional craft villages in Central Vietnam. If you have a chance to travel to Hoi An City, Quang Nam Province, do not forget to Visit this special craft village.
Hoi An Handicraft Workshop
Address:

No.9 Nguyen Thai Hoc Street, Hoi An City, Quang Nam Province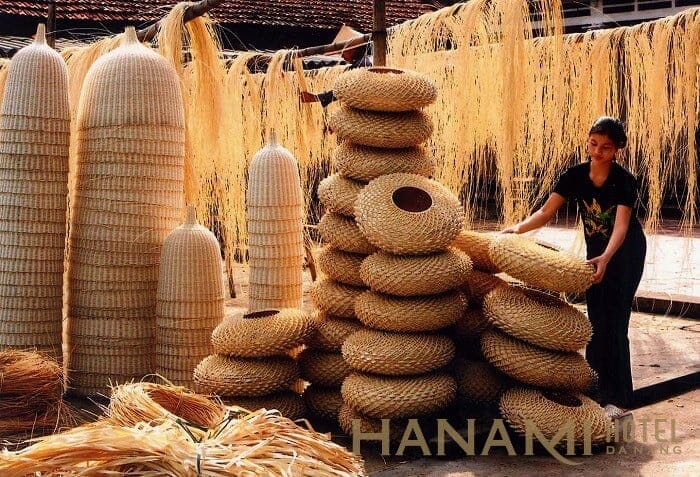 Also known as the handicraft village of Hoi An, Hoi An Handicraft Workshop is located Phi Yen ancient house on Nguyen Thai Hoc Street, aimed to maintaining the handicrafts of Quang Nam which have a long life. Now the handicraft workshop has 12 professions including pottery, carpentry, art lanterns, rattan, wood carvings, lacquer, weaving, embroidery … This place has a lot of good artisans and their products not only to exhibit, promote, but also can serve the practical needs of the market for souvenirs. Visitor coming to Hoi An handicraft workshop, in addition to sightseeing, see the exquisite products, observe the work of artisans, but also have the opportunity to participate in some stages of production. Handicraft workshops in Hoi An is one of the meaningful destinations and always is chosen for every journey to visit the old town of Hoi An, so visitors will know the importance of handicraft to this region.
Hoi An Nightlife: What to Do in Hoi An at Night
Hoi An Central Market
Address:

No.19 Tran Phu Street, Cam Chau Ward, Hoi An City, Quang Nam Province
No stay in Hoi An is complete without a visit to its Central Market. Located in Hoi An's Old Town, this multifaceted market is the liveliest and largest one around.  It spans five streets of the central tourist district. It's a must-do experience not only for food lovers but also for photographers, shoppers, and anyone wanting true entertainment at pretty much any time of day. Different from the peace and quiet in the center of the old town, Hoi An market is a bustling culinary paradise that attracts many tourists. Tourists are able to find any dishes bringing local features in the market from street food to countrywide-renowned dishes such as Cao Lau (Hoi An vermicelli), Mi Quang (Quang noodle), Com Ga Hoi An (Hoi An chicken rice), Bun Mam Nem (Vermicelli with Anchovy Sauce), and so on.
Hoi An Night Market
Address:

Nguyen Hoang Street, Hoi An City, Quang Nam Province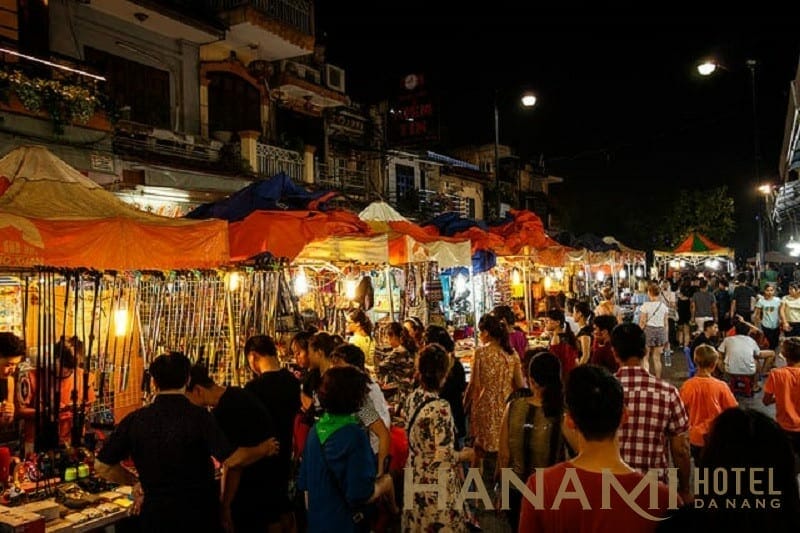 One thing you should definitely do at night in the city is visit the Hoi An night market. Stretching for 300 meters along Nguyen Hoang Street, the market is found nearby to the beautiful Bridge of Lights.
This place has great nightlife with colorful lanterns and interesting activities, which definitely brings you a pleasant vibe. When visiting Hoi An night market, you can find a unique atmosphere of blissful tranquility although it is always busy with a lot of vendors and their customers. There are a huge number of products here like clothing, shoes, handicrafts, trinkets, accessories,… Especially, it has two rows which are lined with food stalls. Here, you can enjoy plenty of tasty food which contributes to the feature of Hoi An cuisine.
Stroll around Hoi An Ancient Town
Address:

Hoi An Ancient Town
There are several routes on the walking street, including Nguyen Hue, Nguyen Thi Minh Khai, Hoang Van Thu, Nguyen Thai Hoc, and others. You can enjoy the diverse and appealing dishes on the pedestrian street, such as Cao Lau, fried mussel rice cake, wonton, skewered meat, and so on, in addition to the shimmering scenery of Hoi An ancient town at night.
Hoi An Memories Show
Address:

Hoi An Impression Theme Park, 200 Nguyen Tri Phuong Street, Cam Nam Ward, Hoi An City, Quang Nam Province
Hoi An Memories show recreates the formation and development of the old town from the past centuries through elaborately choreographed and incredibly majestic dances. With each story conveyed, it will help you fully understand the people, cultural life, and spirituality of the people in the old town. This is the world's largest real scene show, gathering a cast of more than 500 people and a stage with an area of ​​up to 25,000 m2 and is about 1km long.
The skillful use of sound, light, dance, and poetry has brought you deep vibrations in all senses, thereby feeling the beauty of Hoi An with both body and soul. Surely you will never see such a beautiful Hoi An before. Hoi An is drawn from dances, stories, movements full of authenticity, idyllic but attractive beauty.
Q Bar
Address:

No.94 Nguyen Thai Hoc Street, Hoi An City, Quang Nam Province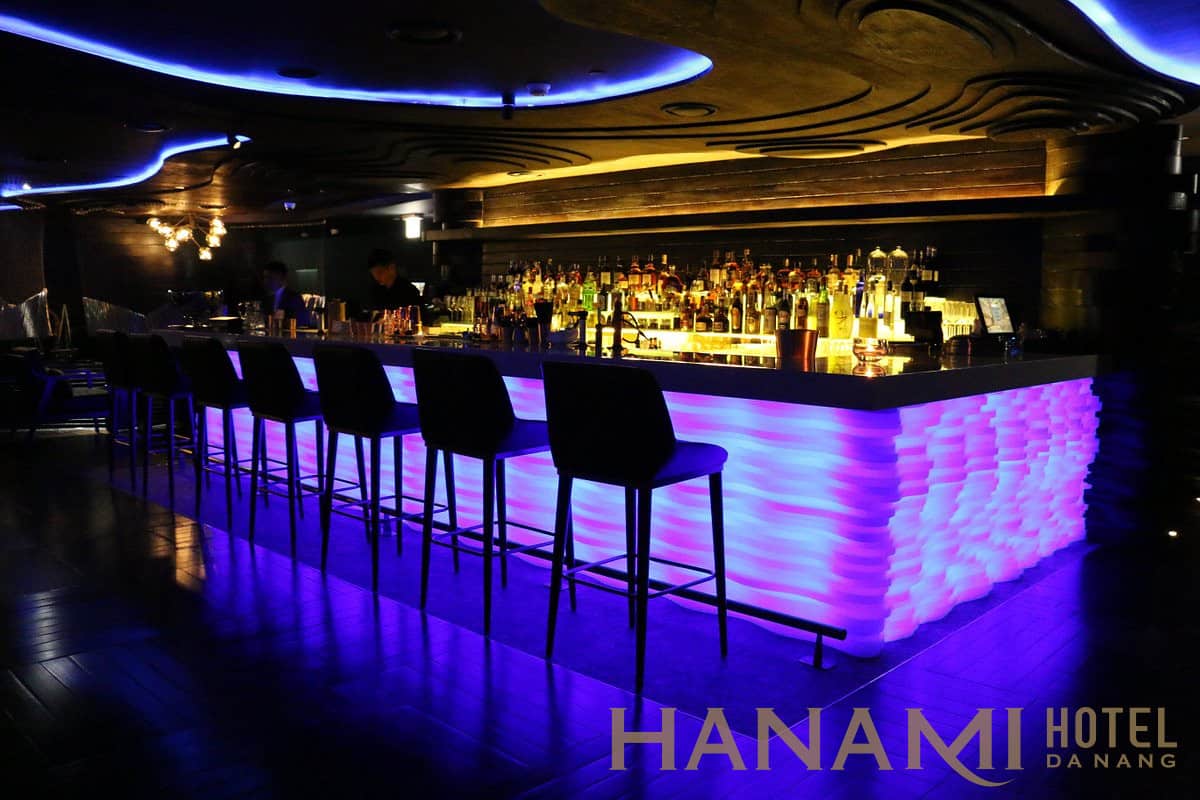 If you're wondering what to do in Hoi An but don't know what to do, Q Bar is an ideal place for you. This space promises to bring you an amazing photoshoot, with nostalgic design and bold Asian architectural lines. Simultaneously, the lighting and EDM electronic music at Q Bar will undoubtedly provide visitors with the most enjoyable experiences.
Mango Mango
Address:

No.49 Nguyen Phuc Chu Street, Hoi An City, Quang Nam Province
Mango Mango is a bar in the heart of Hoi An's old town. The Hoai River, a unique and vibrant night market, and other attractions are easily visible from here. For these reasons, this bar attracts a large number of visitors, particularly international visitors.
The Chef Cafe
Address:

No.116 Tran Phu Street, Minh An Ward, Hoi An City, Quang Nam Province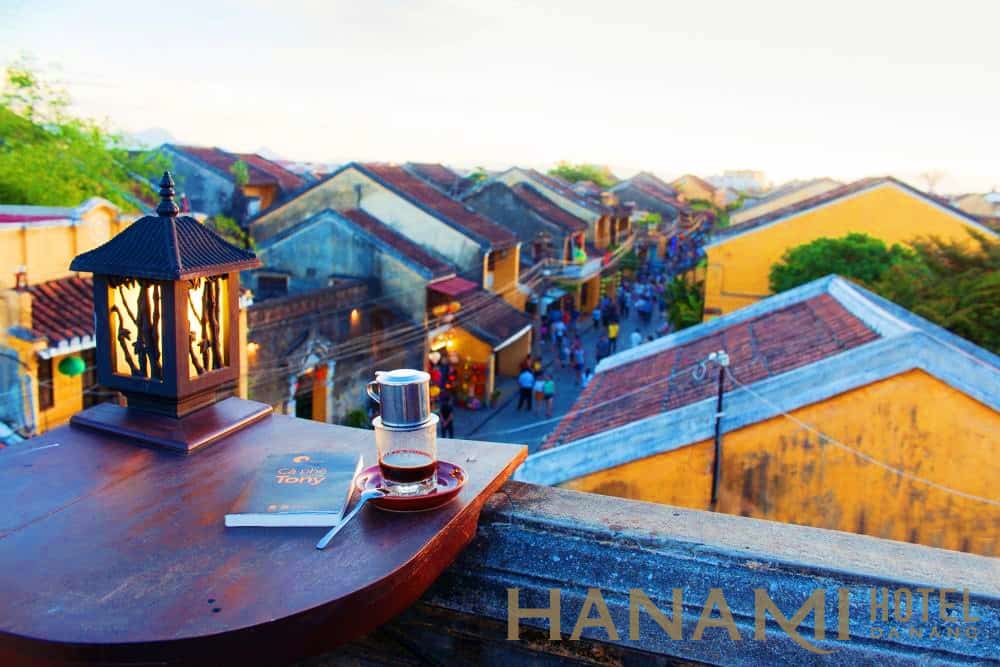 The Chef cafe will help you get your own unique photos with beautiful old town check-in corners, panoramic views of the city, and delicious Quang-style drinks. The shop is decorated with colorful lanterns and dark wooden walls with ancient and mossy features, making it ideal for those who are interested in taking photos.
The Deck House
The Deck House is a well-known cafe in Hoi An with a stunning sea view. The shop is designed and constructed in two light blue – white colors. Because it is located near An Bang Beach, you will be able to enjoy a cup of coffee while watching the peaceful, unspoiled beach…
Taking a boat ride along the Hoai River
Address:

Hoai River, Hoi An City, Quang Nam Province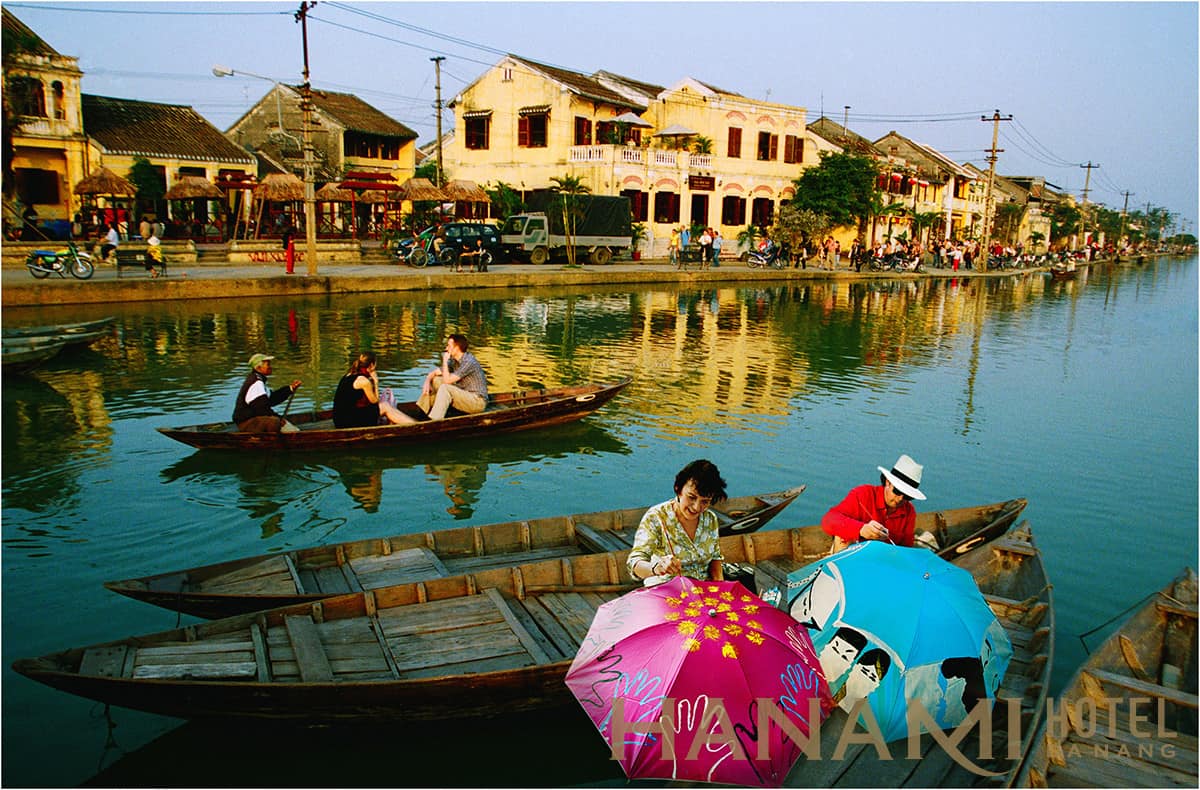 Traveling to Hoi An, besides being immersed in the shimmering scenery under the lights of the old town, people also like to rent a Hoi An lantern boat and float some Hoi An paper flower lanterns along the gentle water of the Hoai River. When night falls, the lanterns everywhere are strangely beautiful.
During the boat ride, visitors can release colorful lanterns onto the calm river water. They will be given a lantern made from colored paper with a candle in the middle to release onto the water while making a wish. Each lantern flowing on Thu Bon River brings a wish with the desire to pray for the best.
VinWonders Nam Hoi An: Entertainment paradise
Address:

Vo Chi Cong Street, Binh Minh Commune, Thang Binh District, Quang Nam Province
VinWonders Nam Hoi An is one of the beloved destinations on the journey to explore Da Nang and Hoi An. This is known as the entertainment complex combining cultural experiences with multinational heritage. VinWonders Nam Hoi An (also known as Vinpearl Land Nam Hoi An), located on the heritage road, on the land rich in history. There are 5 zones, offering exciting experiences suitable for all types of customers.
How to get to Hoi An
By Motorbike
Because the road from Da Nang to Hoi An ancient town is quite narrow, motorbikes are the most suitable and cost-effective means of transportation. There are numerous motorbike rental locations in Da Nang, and you can also rent motorbikes directly from your hotel. The cost of renting a motorcycle ranges from 100,000 VND per day to 180,000 VND per day, depending on the type of vehicle.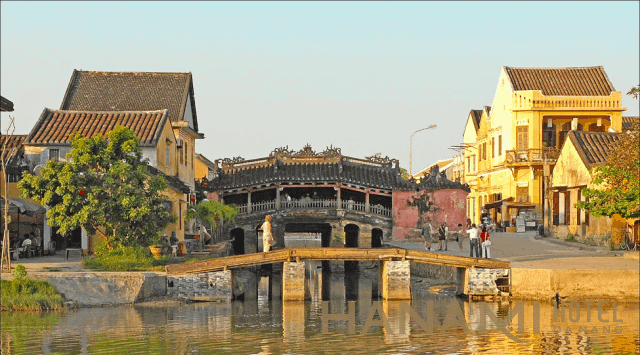 Route 1: Run about 27 kilometers south of NH1 to Vinh Dien Street, turn left for another 10 kilometers, and then follow Huynh Thuc Khang Street to Hoi An.
Route 2: After crossing the Han River Bridge in the heart of Da Nang, proceed to the provincial road Da Nang – Hoi An and run another 30 kilometers.
By Private Car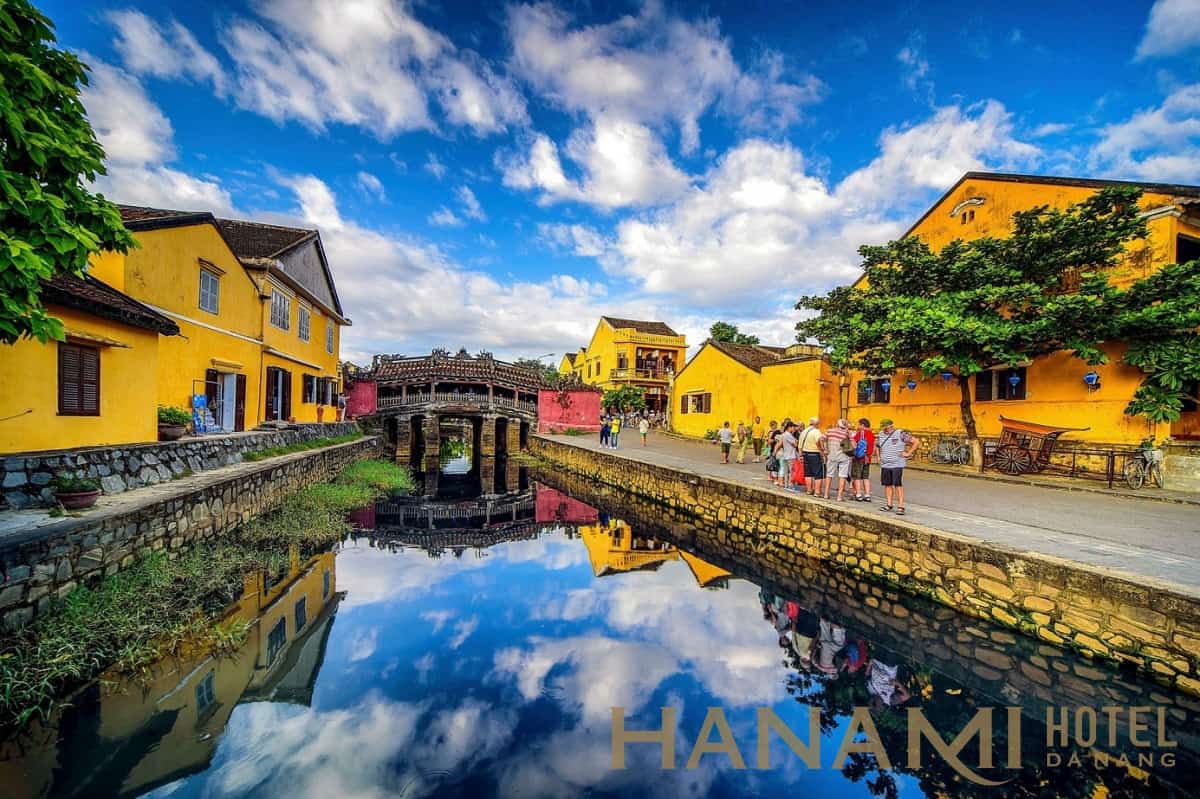 A car is the most cost-effective mode of transportation for groups of 3-4 people or more. A four-seater car can be rented for around 300,000 VND per way.
By Taxi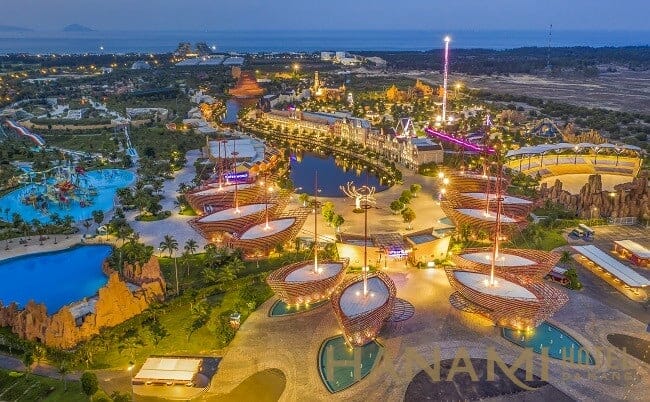 Visitors can also take a taxi from Da Nang to Hoi An, with fares from 16,000 VND/km. There are a few reputable taxi companies in Da Nang that you should know: Mai Linh, Grab,…
The following are 30 Top-Rated Tourist Attractions that you should be aware of before visiting. Hopefully, this information is useful and we wish you enjoy your trip to the fullest!