Top 10 cheapest beach hotels in Da Nang
For travel lovers, Da Nang is exactly a must-visit city. Mother Nature bestows Da Nang with heavenly natural landscapes, crystal clear beaches, and delicious dishes. Aside from visiting great destinations for tourists, staying in a well-situated beach hotel where you can get amazing views of the sky and the sea is also important to perfect your trip. If you don't know where to stay in Da Nang yet, scroll down for the top 10 cheapest beach hotels in Da Nang. 
1.Hanami Hotel Danang – The cheapest and top-quality beach hotel in Da Nang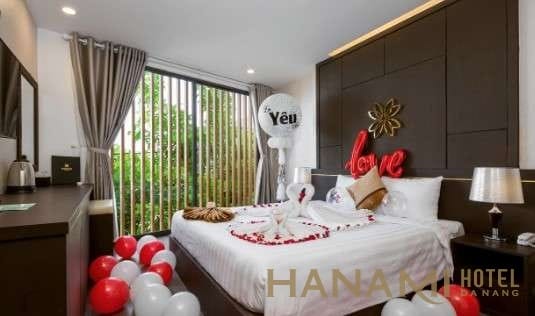 Address: No. 61 – 63 Hoang Ke Viem, My An Ward, Ngu Hanh Son District, Da Nang
Price: ~ 15 bucks
When it comes to the cheapest beach hotel in Da Nang, the first answer that comes to mind might be the Hanami Hotel Danang. It's a hotel, indeed, but it can make you feel like home with its full amenities. So, don't worry. Be in a favourable condition, Hanami Hotel Danang sits next to Chau Thi Vinh Ke – the heaven of street food and 500 meters away from My Khe beach. It's easy for tourists to walk to the sea for sunrise watching and sea bathing. And it takes just a few minutes driving from the hotel to large shopping malls or the Danang international airport.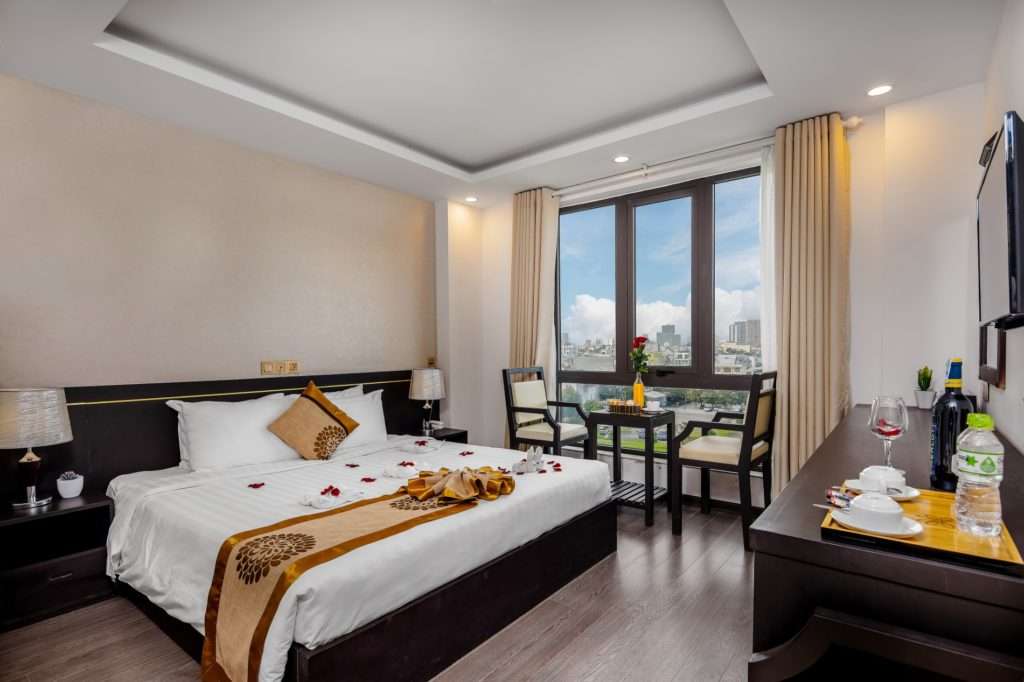 Hanami Hotel Danang's space is large, airy and each room has typical fragrance from scented candles. Especially, the hotel is open 24/24 to serve its guests. How ideal it is! Agreed? What's holding you back? Book a room there today for your coming trip. 
2.De lamour – A low-cost hotel in Da Nang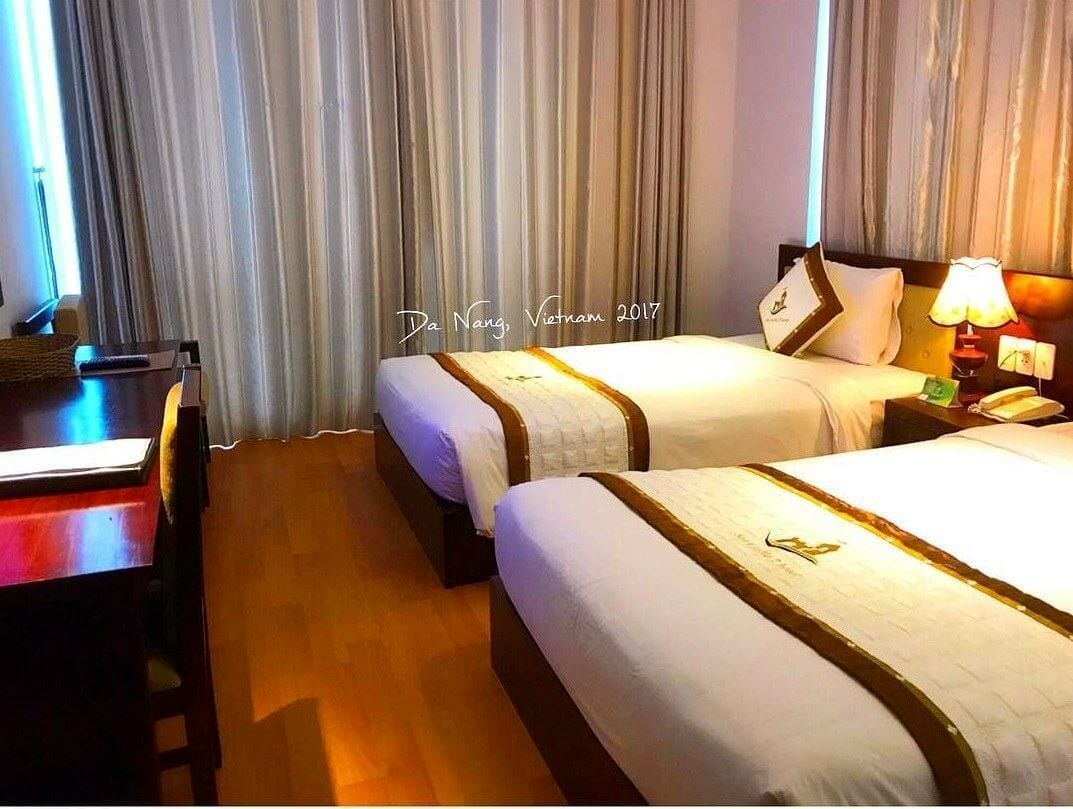 Address: No. 46 Vo Nguyen Giap, Phuoc My Ward, Son Tra, Da Nang
Price: ~ 13 bucks
Sea Castle is a 11-floor building with 51 3-star rooms designed in a unique style. All the rooms are airy and spacious and full of amenities such as TV, refrigerator, air-conditioner, WiFi, etc. Each room is like a mini apartment that brings the guests comfortableness. The hotel provides great service, affable and considerate staff who are always ready to serve. You can ask them for some marvellous places in Da Nang that not everybody can know. 
3.Osaka Hotel – beach hotels in Da Nang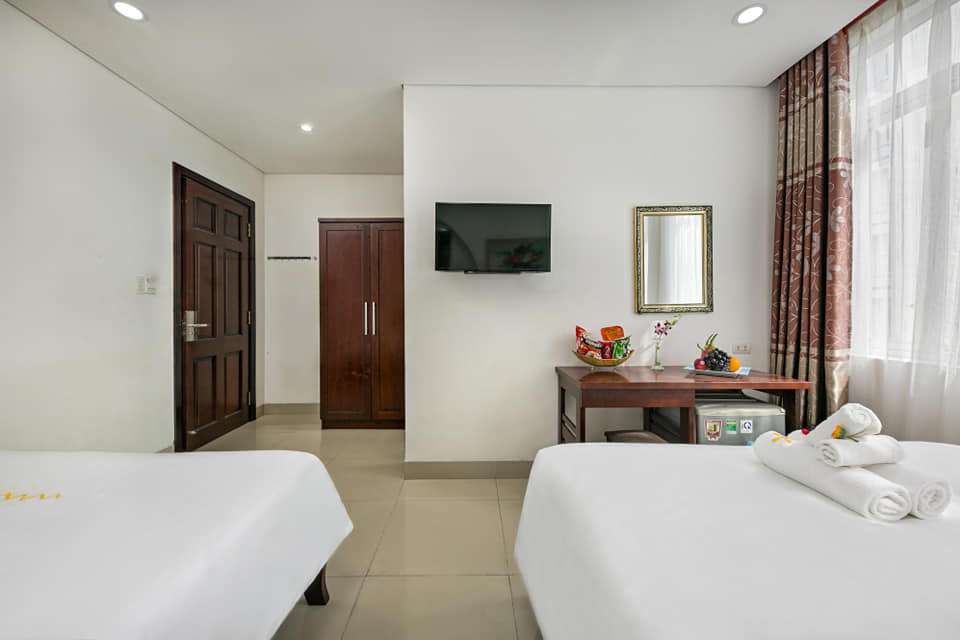 Address: No. 37 Tran Bach Dang, Ngu Hanh Son, Da Nang
Price: ~ 12 bucks
Osaka Hotel is just 50m away from My Khe Beach. Taking white as its main colour and signature, those who have a special hobby will love this place. It's an elegant colour that sets the hotel off. The hotel's conveniences are sure to satisfy tourists from all over the world. You can also view the immense sea from the hotel, where has many photogenic backdrops to feed your Instagram. 
4.Victori Hotel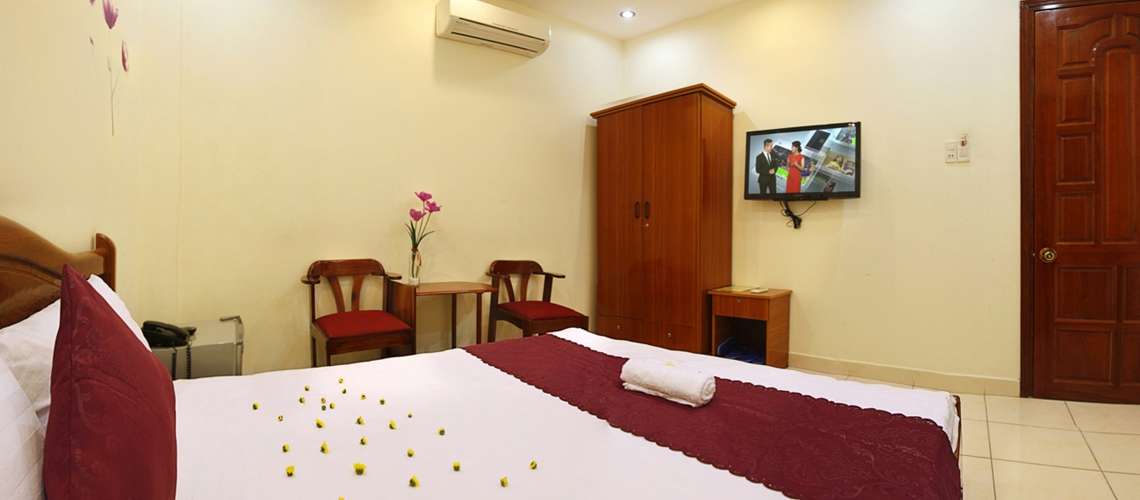 Address: No. 22 An Thuong, Ngu Hanh Son, Da Nang. 
Price: ~ 13 bucks
Victoria Hotel is very near the airport and the sea. You can take a walk to the sea from the hotel. All of its rooms are large and airy. Everywhen opening the windows, your room will be suffused with the wind from the sea. How wonderful it is! This hotel is for backpackers who are going on a road trip. The staff here are willing to help, who will show you several must-visit attractions in Da Nang if you ask for. 
5.Sea View Hotel – An ecstatically budget Da Nang beach hotel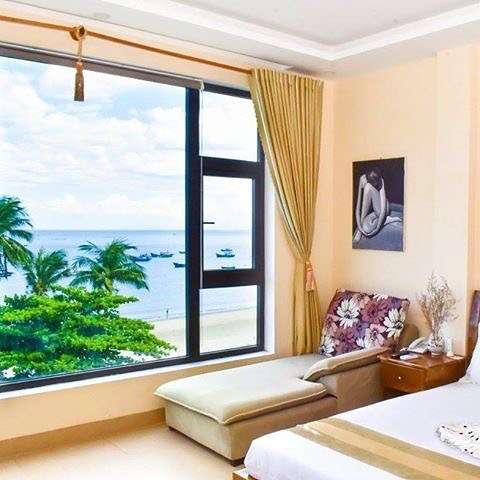 Address: Lot 41, Son Tra, Da Nang. Near Tho Quang beach, Da Nang. 
Price: 13 bucks
Sea View Hotel is a perfect accommodation for travellers, in particular, for couples who are going on a honeymoon and making a vacation. You can go to the sea for a stroll, some fresh air, and having little chatters to start a whole new day. English-speaking staffs are very social and friendly. 
6.Paradise hotel – beach hotels in Da Nang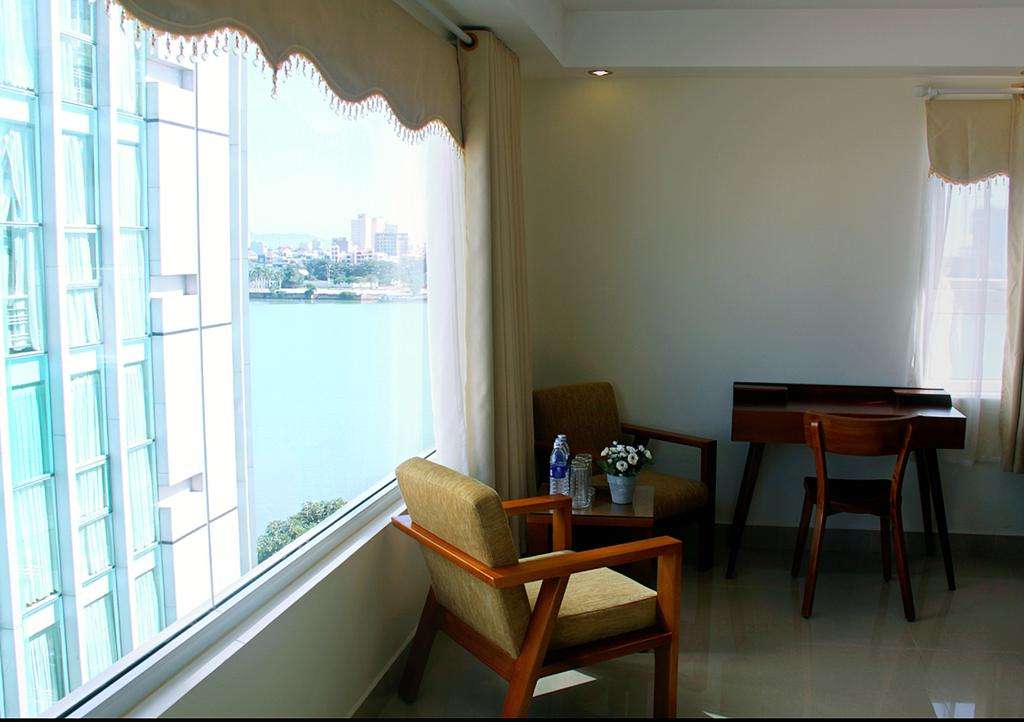 Address: No. 1 Pham Phu Thu, Hai Chau, Da Nang. 
Price: ~ 14 bucks
Paradise Hotel nestled next to the poetic Han River. It's easy to move to other tourist destinations near there. Stands in the center of Da Nang city, this hotel with 16 rooms full of amenities and views of Son Tra and the Marble Mountains is such a perfect stopover. It takes only 5 minutes to get to Da Nang train station. What's better than admiring the stunning deep blue sea and white fine sand while strolling around? The hotel's space is roomy, breezy, and clean. Paradise opens 24/24 to greet its guests' arrival. 
7.Gold III Da Nang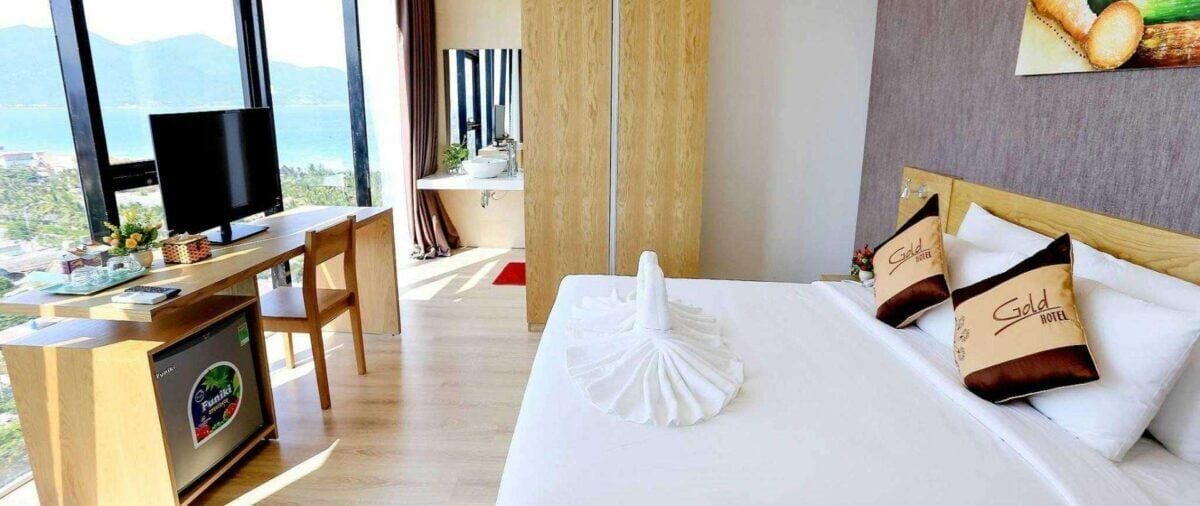 Address: No. 27 Vo Van Kiet Street, Son Tra District, Da Nang
Price: ~ 19 bucks
Gold III is an amazing beach hotel in Da Nang, where will surely win your heart with its yummy Asian and European cuisine. The accommodation has always topped the list in terms of services and amenities. Every when the night falls, you can contemplate the sunset clearly from the Gold III hotel. Moreover, you can also watch the fishermen catching fish every morning. It's like a mini picture of the vast sea right in your room whenever looking at the window. Even better than awesome!
8.Sekong Hotel – Cheap yet high-quality beach hotel in Da Nang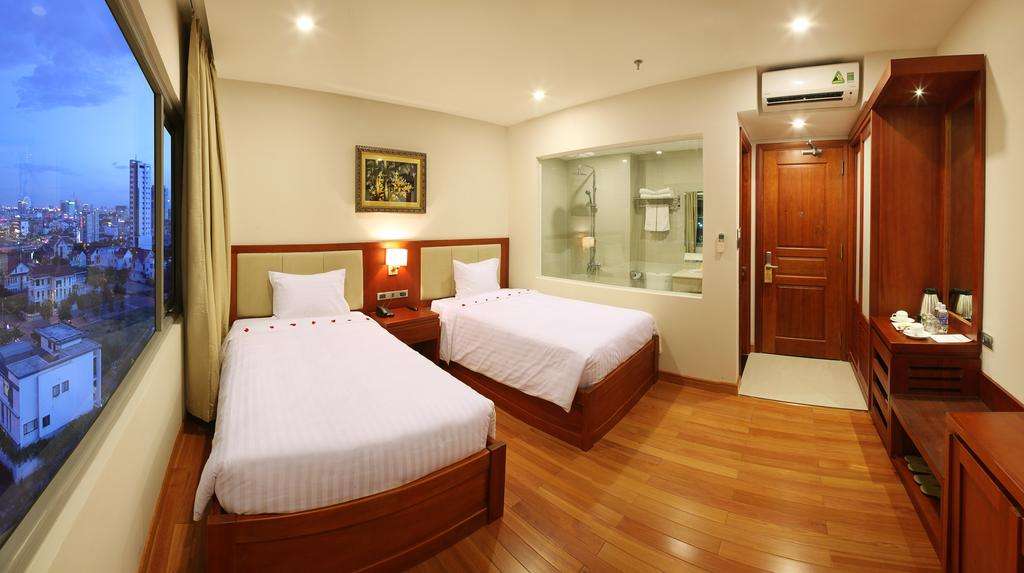 Address: No. 152 Vo Nguyen Giap, Phuoc My, Da Nang. 
Price: ~ 30 bucks
Sekong hotel is placed in the heart of the city. This beach hotel is voted as a wonderful stopover for tourists, where it is just 2 minutes of walking to the beach in early mornings. How relaxing it is when wandering around the dreamy coastline, under the shape of green coconut trees! Staying at Sekong, you will be served with Da Nang's specialties and the dishes that are rich in the Central region's taste without going anywhere else. If you need a local to tell you about ideal attractions around Da Nang, just ask the hotel's staff. 
9.Aria beach hotel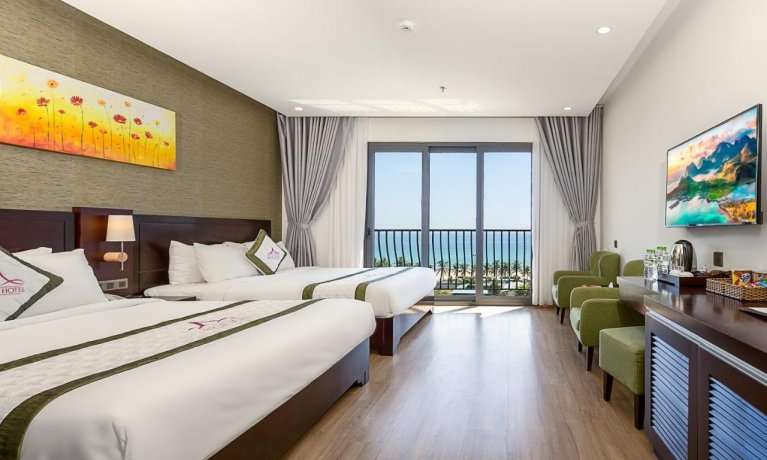 Address: No. 134 – 136 – 138 Trang Bach Dang Street, My An Ward, Ngu Hanh Son District, Da Nang City. 
Price: ~ 21.5 bucks
Near My Khe beach, this accommodation shortens the way to the beach to facilitate their guests' moving. Each room is equipped with a hairdryer, a fast-boiling kettle, a TV, an air-conditioner, and WiFi to name a few. The hotel is about 2km from the shopping malls and the way to Ba Na Hills and the Cham Towers is also smooth to take. This pretty hotel will never fail to wow any visitors, even the most fastidious ones. Once arriving at Aria, the staff will give you a warm welcome with an endearing smile, trying their best to make you feel like home. 
10.Beautiful Beach Hotel – Unexpectedly inexpensive hotel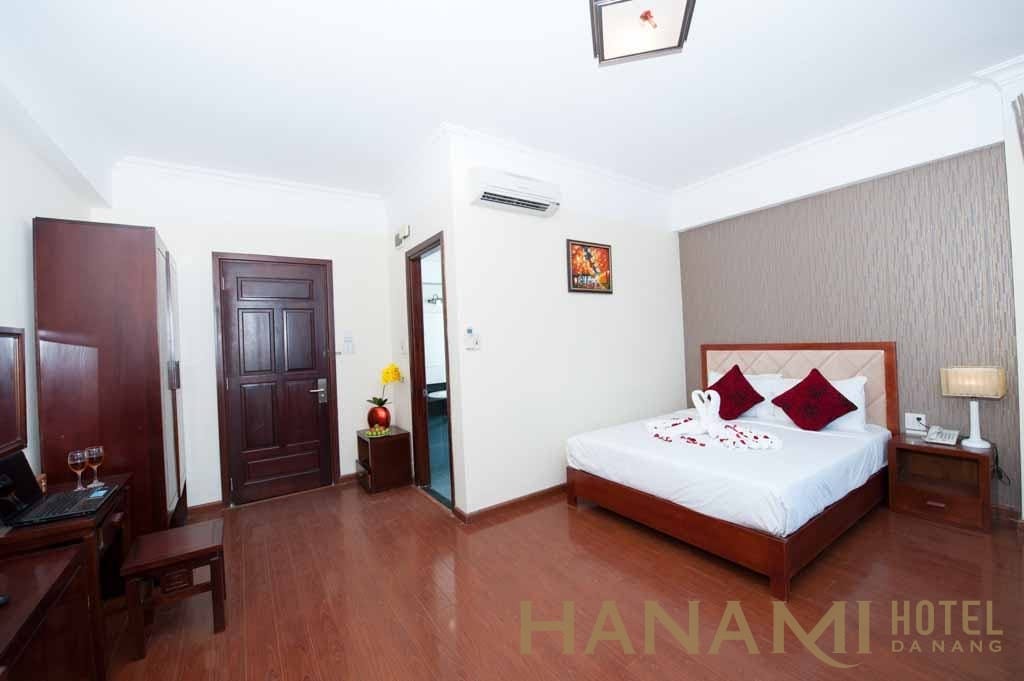 Address: No. 2 Ha Bong, Son Tra District, Da Nang. 
Price: ~ 14 bucks
Beautiful Beach Hotel is positioned between the beaches of Pham Van Dong and My Khe. It takes only 3 minutes to move to Pham Van Dong Beach to enjoy the oceanic winds as well as the sense of the sea. Waking early in the morning, open the window to welcome the wind from the sea and savouring a cup of hot tea is a good way to unwind. 
There's nothing to complain about the hotel's staff because they never forget to give their guest the best services. With its good quality to offer, the hotel is as beautiful as its name. 
Conclusion
These are the top 10 cheapest beach hotels in Da Nang. However, their quality of services and rooms are without dispute good enough to have your trust. No longer to be concerned about where to stay when travelling to Da Nang, you have us gotten you covered. Don't be hesitant any more, let's pack it up and come to one of us!