Da Nang is such a perfect city for your honeymoon, so finding the right hotel for you and your companion for life does matter to make your trip complete. 
 Da Nang is a promising place to enjoy the most luxurious, comfort, and ideal for any couples on their honeymoon. Here, you can immerse yourself in stunning landscapes including scenic mountains and dreamy beaches along with romantic bridges under extremely cold weather. Above all, you will have time relaxing and relishing the sweetness and unforgettable happiness in high-end hotels' tranquil space. 
How to choose the right hotel for your honeymoon
 1. Full of amenities
You should book a room at a hotel that offers high-quality services, regular hygiene with full of amenities to make you as comfortable as possible. And the hotels serve foods, coffee and have swimming pools, and massage services should be your top choice. 
2.Well-situated hotels with great views

This is a way for you to save time and money intelligently since a hotel that stands on a beautiful location will be ideal for travel, relaxation and go sightseeing of Da Nang's famous tourist attractions. Pick a large, comfy, and world-class hotel. 
3.Read the feedbacks

Before booking a room at any hotel, you should ask your friends' opinions for the hotel's service quality, amenities, comfortableness as well as its operation. Also, read the feedbacks of the customers who stayed there before you to make sure before taking a tour in Da Nang. 
Hanami – A cannot-be-missed hotel for your hone
1.Hanami Hotel Da Nang – A beautiful hotel offers views of Da Nang's sea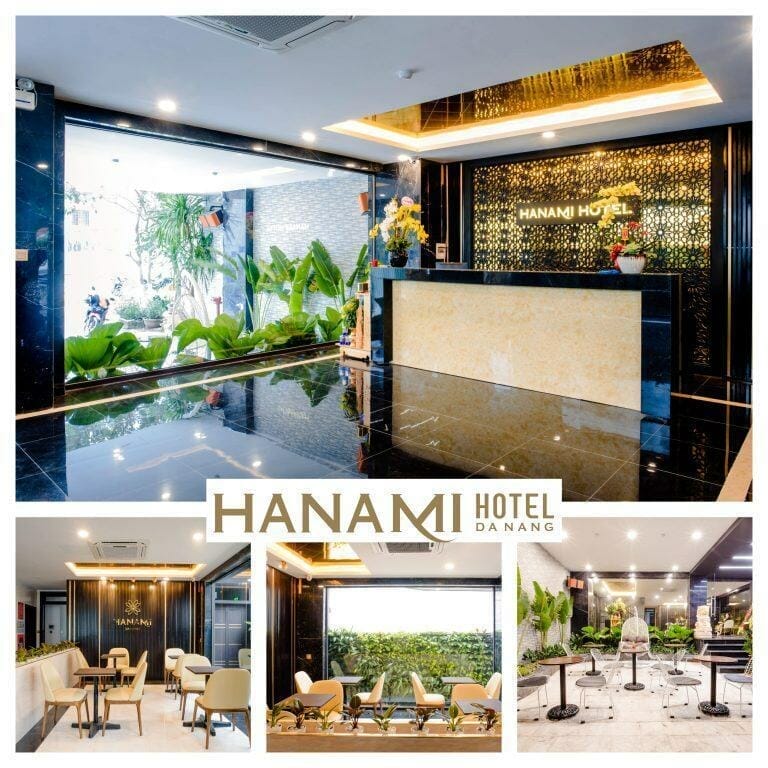 Address: No. 61 – 61 Hoang Ke Viem, Bac My Phu, Ngu Hanh Son
Hanami Hotel Danang is one of the beach-side hotels in Da Nang that has attracted lots of couples to come for its Japanese style architecture, which is a unique combination of ancient and modern features. The hotel's European-standard interiors with golden and black as two primary colours are set up harmonically. Quick to be served and welcomed with friendliness by the hotel that gives you and your precious relaxing times alongside My Khe – one of the most beautiful beaches in the world. 
2. Hanami Hotel – A well-situated hotel for couples to enjoy their honeymoon

The Hanami Hotel's pros are its favourable location. It lies on a busy road within the area of tourism and food, which is only 5 minutes away from downtown Da Nang. The service at Hanami comes with free coffee every morning. And the breakfast is always ready to charge your battery for the trip. When the night falls and the lights sparkle, enjoy a cup of hot coffee on the top of the hotel and deeply feel the happiness, sweetness that you two giving to each other. 
3.Maximum support for couples going on a honeymoon

But the most special is the 'super' special package offered by the hotel for the couples which are discounts for room price, the hotel's support for honeymoon in Danang setup, free upgrade, and welcome drinks. And a 20% discount for car or motorbike rental for the love birds who are on a self-catering holiday and 5% for adventure tours. 
 It's the energetic and youthful image of the beach city and its charming nature along with grand resorts, hotels including the Hanami Hotel that make the tourists do not want to leave. Do you want to get one room there for your honeymoon? Let's do it. 
Ours recommend: the reason why choose hanami when honeymooning in Danang
Da Nang has many resorts and hotels dubbed as "the paradise on earth". As mentioned above, if you are looking for a romantic hotel for your honeymoon in Danang to make a celebration for your new leaf, come to Hanami Hotel. It will never let you down for sure.