Hoi An is famous in the hearts of tourists for its peaceful scenery, charming rivers, and especially houses that retain the ancient features of the past. Don't hesitate to experience Coco River Bungalows – a one-of-a-kind overwater hotel, when you have the opportunity to visit Hoi An. Because of the unique features that this location offers, it is highly valued by many tourists. So what are those unique points that so many people are passionate about? Follow Hanami's article "Coco River Bungalows Hoi An – Amazing Overwater Hotel in Hoi An" to find out more!
An overview of Coco River Bungalows Hoi An
Coco River Bungalows was built as a small resort on the outskirts of Hoi An. This is a famous Hoi An hotel that you can visit on your upcoming trip. Check out the features of this hotel below.
Coco River Bungalows Hoi An contact information
Address: The Coco River Bungalows Hotel is located at Tan Khai Street, Dien Duong, Dien Ban, Quang Nam.
Hotline:

0916.656.265

Opening hours:

7:00–23:00

Check-in time:

14:00
Convenient geographical location near many attractions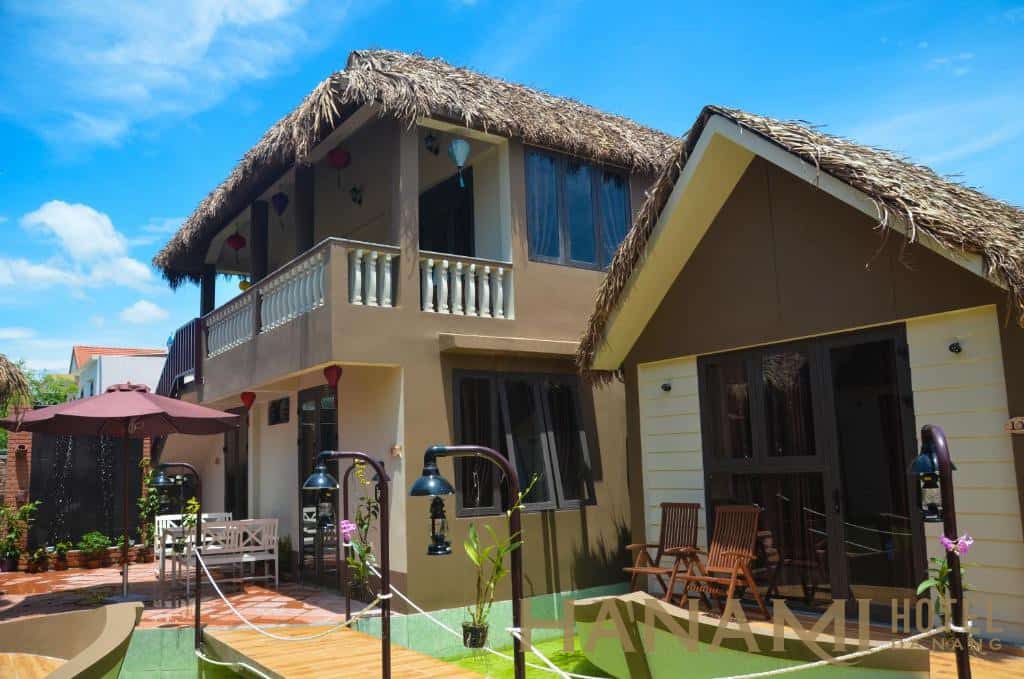 The hotel is in an excellent geographical location, close to many well-known attractions. You can visit some of the places Hanami has listed below while staying at Coco River Bungalows Hoi An:
Ha My Beach – 3.7 km

Little Riverside Hoi An – 4.5 km

Thanh Ha Pottery Village – 6.3 km

Thanh Ha Terracotta Park – 6.3 km

Thanh Ha Pottery Village – 6.6 km

An Bang Beach – 6.8 km

Phuoc Lam Temple – 7 km

Non Nuoc Beach – 7.1 km

Chuc Thanh Pagoda – 7.1 km

Hoi An Museum – 7.4 km

The Tran Family Chapel Hoi An – 7.5 km

Museum of History & Art – 7.6 km

Ong Pagoda (Quan Cong Temple) – 7.8 km

Hoi An Market – 7.8 km

The nearest airport is Da Nang airport (DAD-Da Nang Intl. ), which is approximately 22.9 km away.
Stunning hotel view
The rooms at Coco River Bungalows Hoi An hotel have a terrace with a view of the lake and are air-conditioned, with some having a balcony and being fully furnished. Connecting the bungalows are small wooden bridges over the blue water.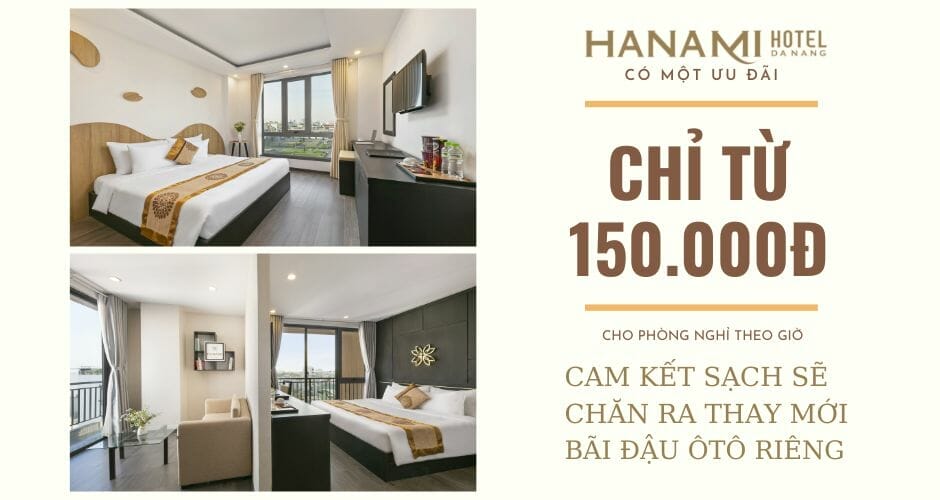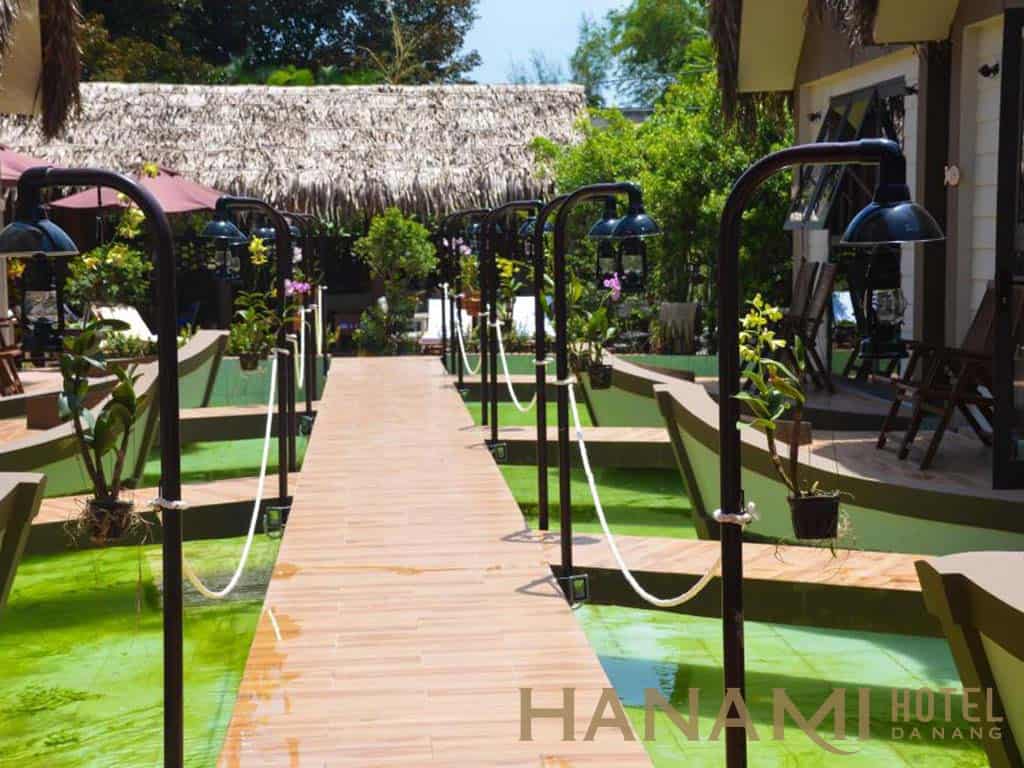 The very spacious and airy garden area with rows of green trees will undoubtedly impress you the first time you set foot here, which promises to provide you with dazzling photographs! Especially for those who love a quiet living space and mingle with nature, this is definitely the ideal paradise for you. Be ready for an amazing photoshoot here!
Quality Over Price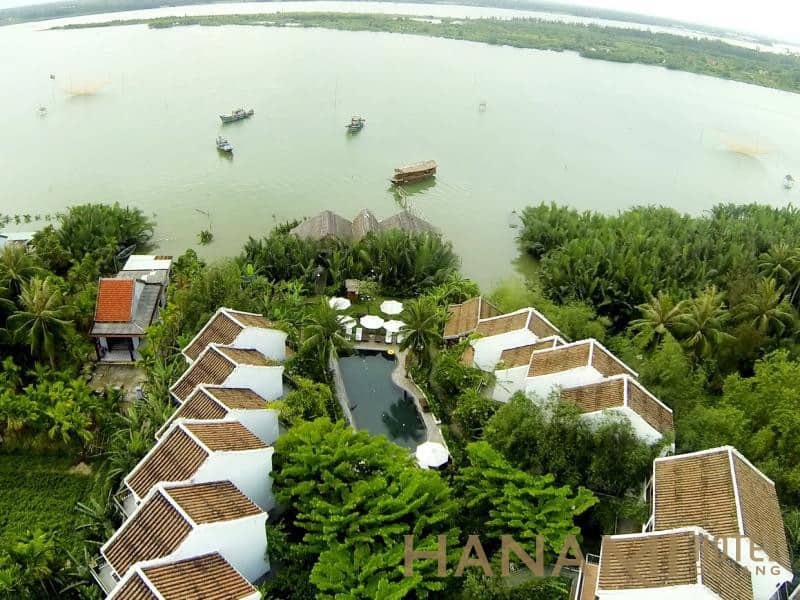 With a design that is considered extremely unique in Hoi An, you will be even more surprised with the price here, ensuring reasonable and quality so that you can enjoy yourself: 
Deluxe Boat Bungalows for 2 people: 560.000 VND

Deluxe Boat Bungalows for 3 people: 630.000 VND

Deluxe family for 4 people: 790.000 VND

Family room for 5 people: 880.000 VND

Dormitory with 4 single beds: 700.000 VND
Some Amenities That Will Wow Your Expectations
Fully equipped with modern amenities
In one of the 11 rooms at the Coco River Bungalows Hoi An hotel, which is equipped with air-conditioning, flat-screen TVs, and minibars, you will feel at home.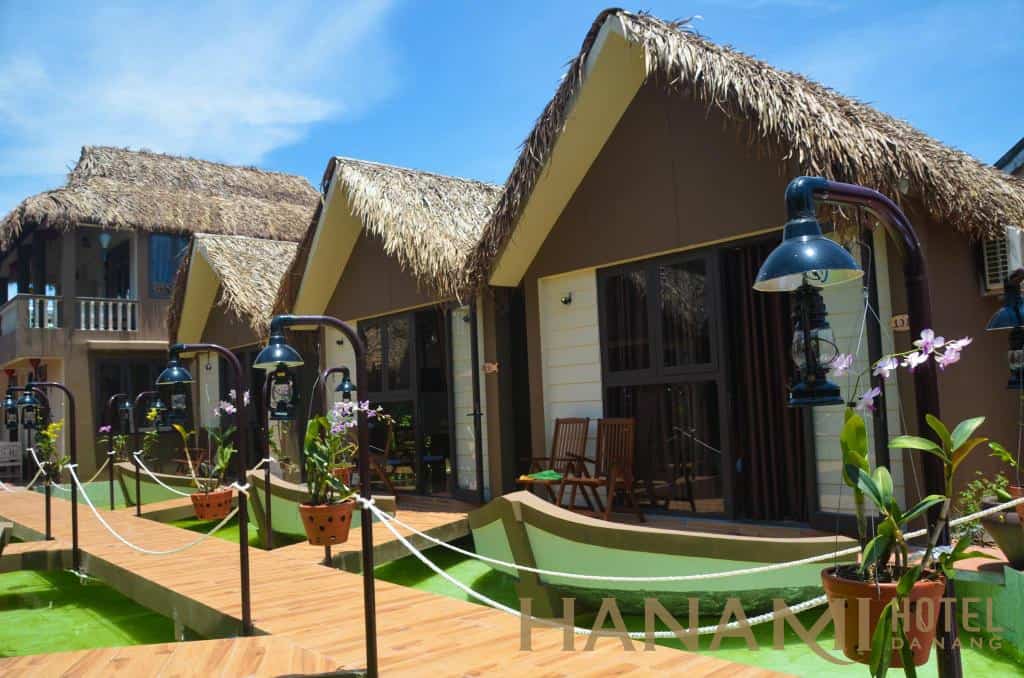 Free wireless Internet access is extremely convenient for visitors to stay in touch, while cable TV shows promise to provide relaxing enjoyment after a long day.
Free amenities and hair dryers are provided in the private bathrooms, which have bathtubs or showers. Desks are provided as a convenience, and daily housekeeping is available. Instead, visitors can also request an extra rollaway bed or extra bed but will be charged an additional cost.
Various services are available
When visiting Hoi An and staying at the Coco River Bungalows Hoi An hotel, you should not miss out on relaxing and entertaining services such as bicycle rentals or simply enjoying the view from the terrace and garden are also interesting.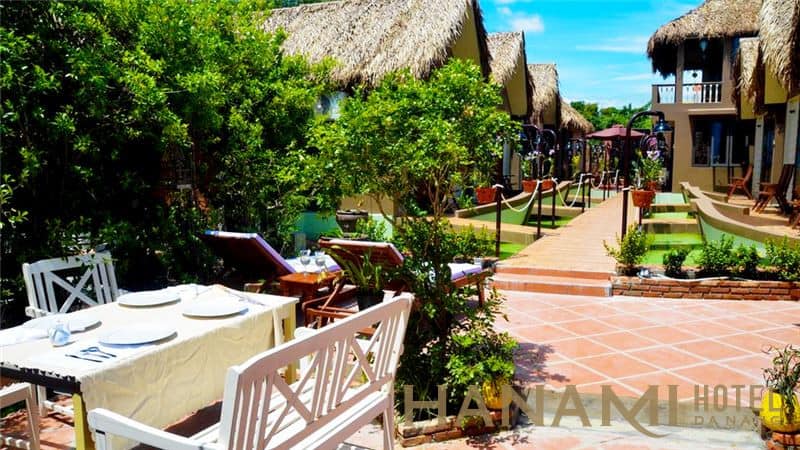 Also, this hotel offers free wireless Internet access, consultation services, round-the-clock customer care, and BBQ grills for visitors to use during their thrilling Hoi An excursion.
24-hour food service
Diners have a choice of dining at the Coco River Bungalows Hoi An hotel's restaurant or ordering delicious dishes from 24-hour room service while relaxing in their rooms.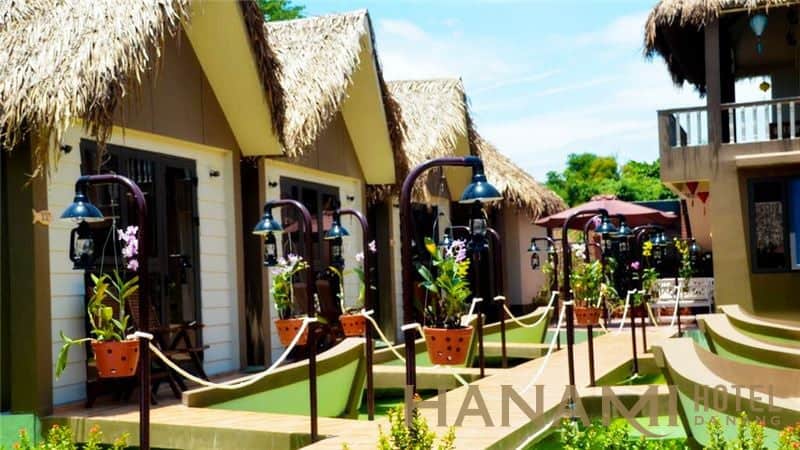 You can also quench your thirst with your favorite drink at the bar or lounge. In addition, visitors can also have breakfast with local specialties completely free of charge.
Unique and creative design of Coco River Bungalows Hoi An
One-of-a-kind overwater hotel
The one-of-a-kind and unique architecture of Coco River Bungalows with overwater houses on stilts with thatched roofs, has made a good impression on visitors since the first sight. The leaf huts are decorated with spectacular flower pots, and a large number of chairs are set up for visitors to rest.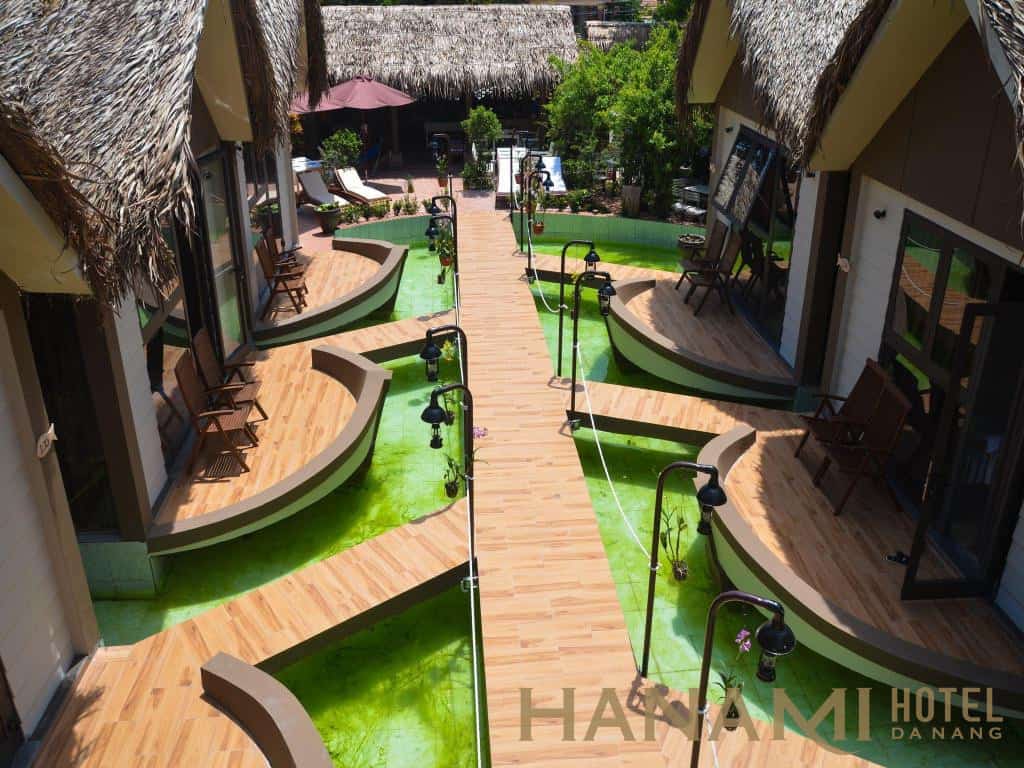 Nothing is more fascinating than an evening spent chatting with friends gathered in front of the room. Share humorous tales while enjoying the beautiful surroundings.
Open space with many trees but still very luxurious
With a total of 11 rooms, the hotel provides a very beautiful view with its glass windows overlooking the turquoise lake. The room is open-concept, fully furnished with ultra-modern, luxurious furniture, and especially blessed with a lovely outlook.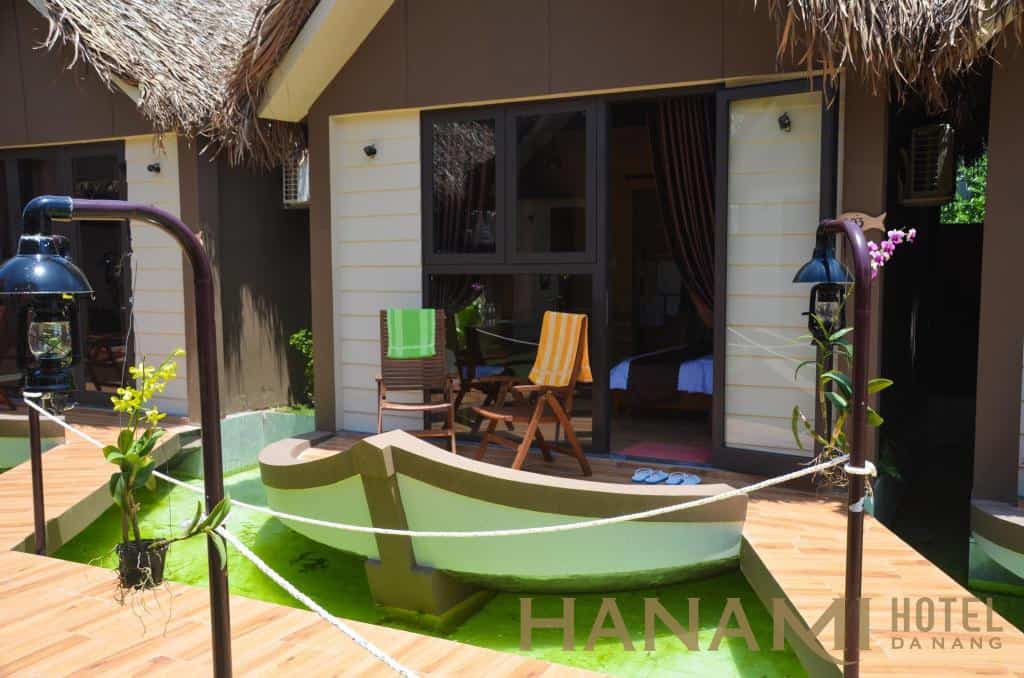 The bungalows are connected by a series of small wooden bridges that cross a really beautiful blue lake. The Coco River Bungalows Hoi An resort' general layout places a lot of emphasis on adorning trees, and since wood is the material used most often, it promises to make you feel cozy and simplistic while still looking elegant.
Some restrictions when staying at Coco River Bungalows Hoi An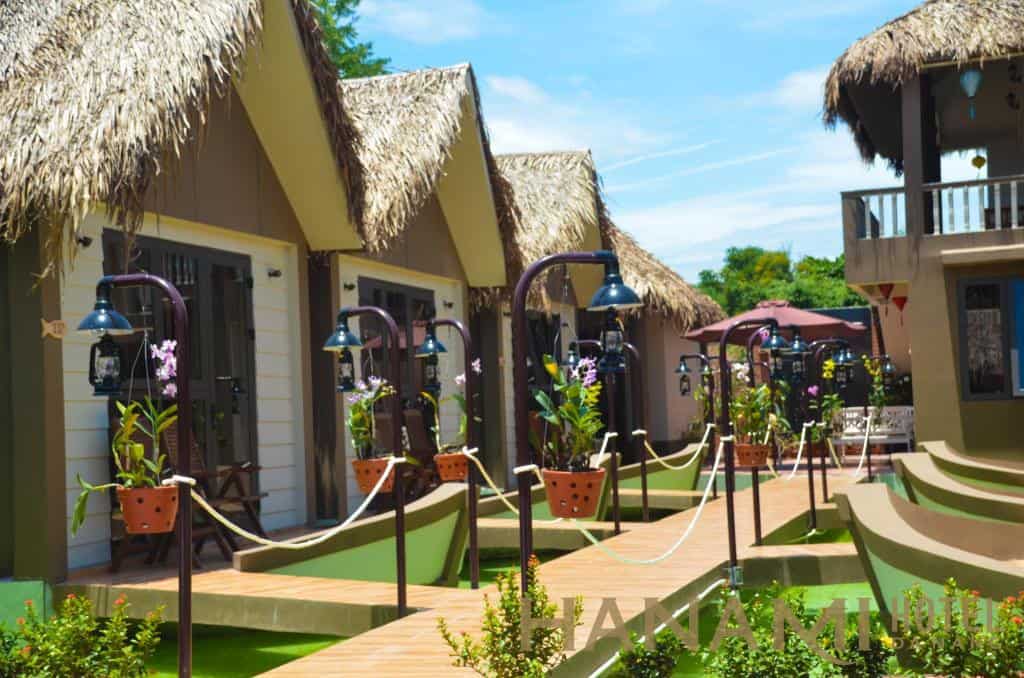 Slippers are not permitted in the hotel's bedrooms.

The hotel does not allow guests to bring food into their rooms, so they must eat outside in the lobby.

Breakfast includes coffee or tea, noodles and eggs, bread, fresh fruit, and so on. You can also request vegetarian dishes from the chef.
Visitor feedback when staying at the hotel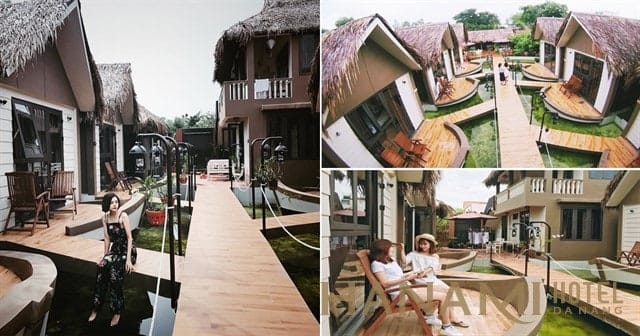 The hotel here has received many positive reviews from visitors, including domestic and foreign tourists. To give you an idea of what other travelers have experienced, here are a few unbiased reviews:
Cong:

"The space is beautiful, unique, and quite quiet, suitable for rest. Staff were friendly and devoted. The location is a bit far from the center of Hoi An, but it only takes about 10 minutes by motorbike to get there, so it's okay. You can organize your own BBQ in the yard.

Thu:

"At first, I was a bit worried because of the winding entrance that Google Maps showed, but my family enjoyed a peaceful and happy time right after with the amenities that Coco River Bungalows brought. If you are going on vacation by private car, come and enjoy!"

HONG:

"The hotel is new, beautiful, the owner is enthusiastic and friendly. 6km from Hoi An ancient town to An Bang beach, about 3km. The hotel is suitable for a resort, but the room does not have a kettle, there is no free stream, and the bath water is weak because there is no pressure booster. Breakfast is only two dishes per day, fish vermicelli and omelet bread."
Above is a detailed review of Coco River Bungalows Hoi An that Hanami wants to send to you on your upcoming trip. If you have the opportunity to come to Hoi An ancient town but have not yet chosen a reasonable place to stay, then this hotel can be a great piece of your puzzle. Don't hesitate to pack your bags and go, we wish you a happy trip.