Hoi An is well-known for its famous tourist destinations, which combine classic beauty with modernism. Hoi An Old Town retains its own peculiar charm, which can be found on every street corner, on every roof, and even on the smallest of streets. This place has an ancient grace with features that can be found nowhere else. Hoi An Ancient Town, with its natural landscapes, magnificent beaches, a Chinese – Vietnamese – Japanese cultural melting pot of architecture, and culinary delicacies, has become a leading tourist destination, attracting visitors from across the world from the 1980s until now.
But if you still don't know where to go to check in Hoi An, let's find out right away with Hanami Hotel Danang through the article 'Check-in Hoi An – The top 15 iconic locations you should know' when visiting here! There will be guaranteed you to fully explore the wonderful ancient town.  
Top 15 famous Hoi An check-in places that you should know
The Japanese Bridge in Hoi An Ancient Town
The Japanese Bridge in Hoi An is a symbol as well as the most popular tourist spot in Hoi An's picturesque old town. Any visitor coming here should visit this location. When you arrive here, you will feel extremely familiar. Because this is the image that appears on the back of the Vietnam VND 20,000 polymer banknote.
It is called 'pagoda' but this place does not worship any Buddha. This temple is located across a small creek in this famous old town. Hoi An Japanese Bridge was built in the 17th century by the hands of Japanese traders, with a round roof and decorative designs showing the cultures of all three countries Vietnamese – Japan – Chinese.
When autumn comes, visitors are welcomed by festivals such as the lantern festival, which lights up the old town. This is also the best time for you to visit Hoi An Ancient Town.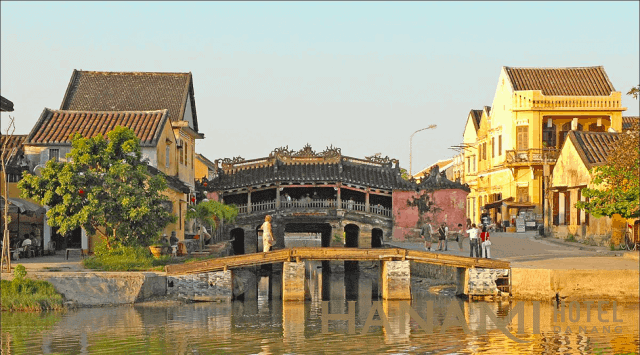 Japanese Bridge is also a check-in location in Hoi An that no traveler should miss when visiting the city. Come here to observe the old features, as well as the distinctive design of the Cau Pagoda, then take photos to keep these unforgettable memories!
The Ong Pagoda
It was built in 1963 and has undergone six restorations, but the Ong Pagoda has retained its antique beauty without fading. In the past, the temple was a place where business people commonly went to pray for good luck and it was also very sacred. The architecture here is constructed and created with classic red as the main hue, combined with eye-catching decorative patterns on the walls and many folds to create a distinct style.
Traveling to the Ong Pagoda, you can take pictures for yourself as a souvenir for this trip besides praying for luck and visiting. Because the scenery and architecture here are both cool and loaded with additional value Hoi An imprint is around here.
Check-in Vinpearl Nam Hoi An
Neither the ancient features of Hoi An Ancient Town as rumored nor the poetic village beauty that Quang Nam province brings. This is a beautiful place for visitors to take thousands of beautiful photos. Vinpearl Nam Hoi An is also combined with other enjoyable and exciting spots.
A selfie mecca named VinWonders Nam Hoi An is a selfie hotspot with a super hot Habor Corner. This divine backdrop is extremely close to Hoi An ancient town. You just need to take a taxi or rent a motorbike within 15 to 20 minutes to arrive.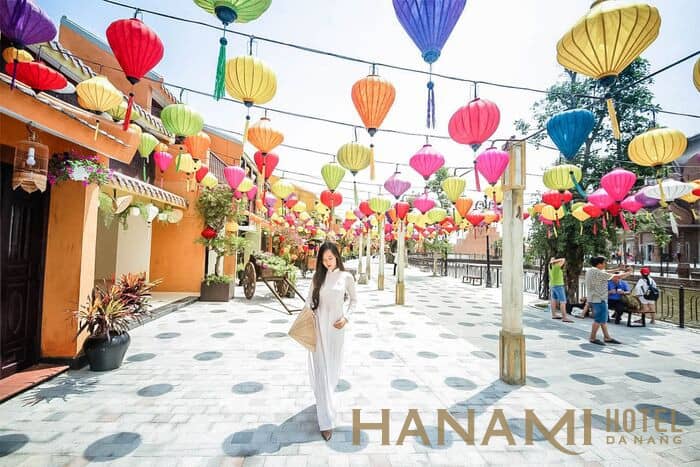 Daily open from 8:30 a.m. to 9:00 p.m, when you come here, you will be able to check in many types of photos for 12 hours.
When you visit Vinpearl Nam Hoi An, you can both check in and enjoy a wide range of entertainment game areas such as adventure land, the island of folk culture, indoor games, world water, Corner Harbor, especially the experience of sitting on a boat to see unique wildlife at River Safari Nam Hoi An.
Hoai River
Go along the banks of the Hoai River from the beginning of The Japanese Bridge, ensuring you will have enough eye-catching check-in photos that are not available everywhere. The rows of houses with tiled roofs in classic style here are lined up close together on both sides of the bank, and the boat docks are both nostalgic and romantic.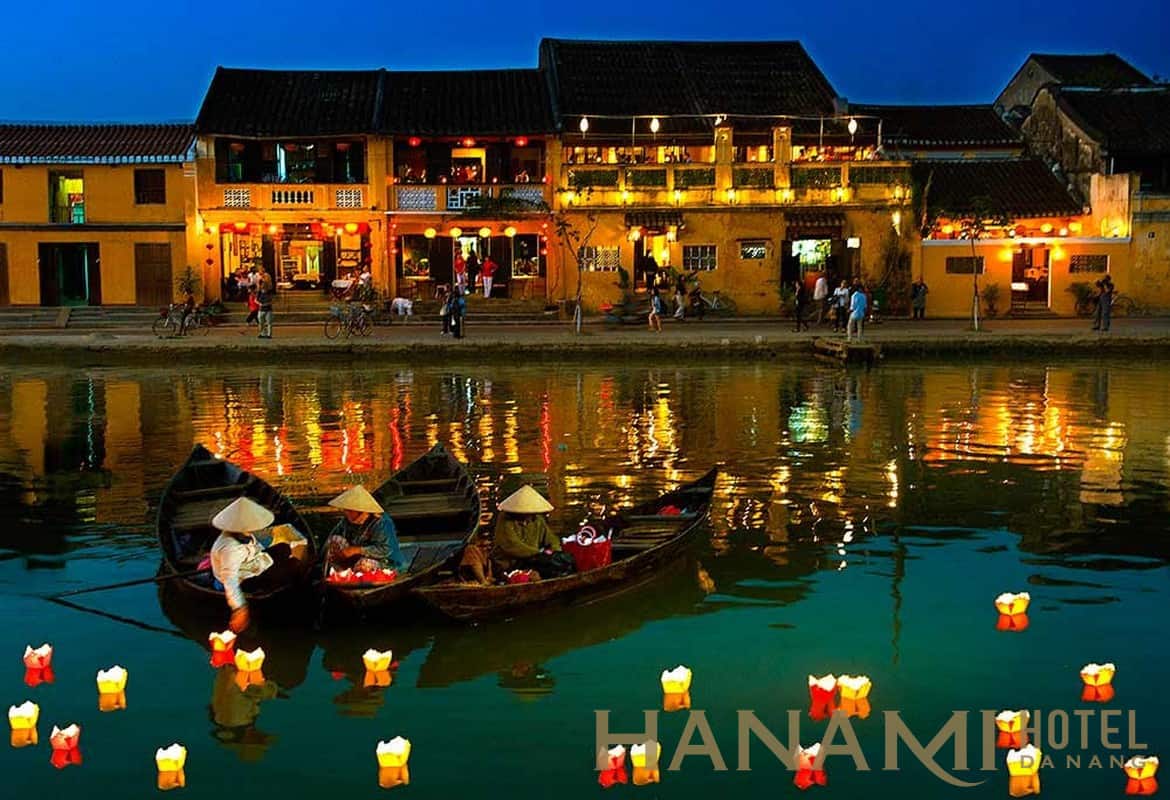 You can travel to Hoi An to see the Hoai River in the morning or in the evening. The sunlight will make the landscape here nostalgic and loving, making it ideal for those who love taking photos on the street.
If you decide to take photos of the Hoai River in the evening, you will obtain fantastic picture sessions in a vibrant and bustling space. You can also experience the feeling of boating on the river, releasing lanterns, and praying for good luck. The bright light from the lights floating on the water, combined with the light reflected in the rippled Hoai River will give you amazing check-in photos in Hoi An.
Hoi An Lantern Street
It is not incredible to refer to Hoi An as the City of Lanterns. Lanterns have almost become a symbol of this ancient and poetic city. Wandering about Hoi An, you will notice lanterns hanging to catch the breeze, lanterns on the streets, and lanterns hanging from the roofs. And even the shops that are not lacking in shimmering lanterns.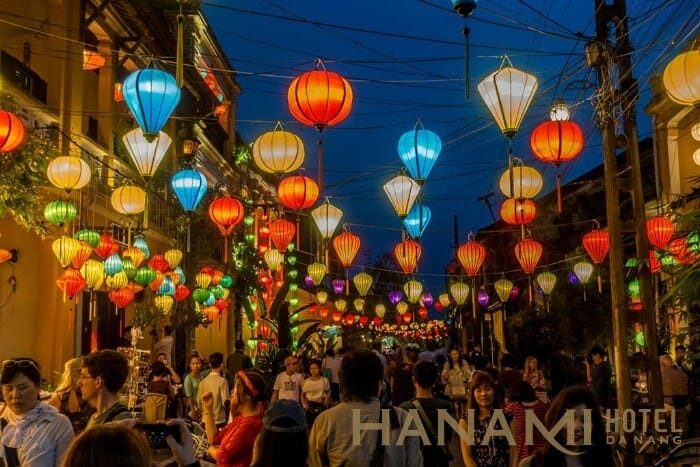 Thus it's no surprise that the lantern alleys in this old town have become a popular background for many photos of visitors. People even buy lanterns as souvenirs for their visits to this old town.
Check-in alleys in Hoi An 
Bridge Pagoda and Hoai River are the most well-known places in Hoi An when it says to Hoi An Ancient Town. Nonetheless, for tourists and particularly those who live in Hoi An, the soul of the city is represented by little alleys with yellow walls.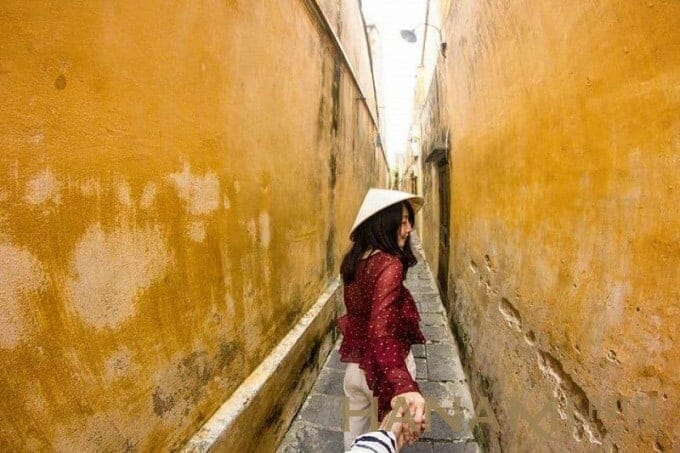 A small alley in Hoi An, with the yellow color from paint and the moss color of time is closely linked together which makes people nostalgic. Going to the old town, walking around the small alleys, and taking a few photos are things that seem simple but are very sweet.
Faifo Coffee 
When you come here, you will be enveloped in a magnificent Hoi An Ancient Town with tiled roofs that have turned yellow over time. When your feet are tired from walking through the streets of Hoi An, then you want to find a pleasant place to rest, Faifo is an ideal choice for you.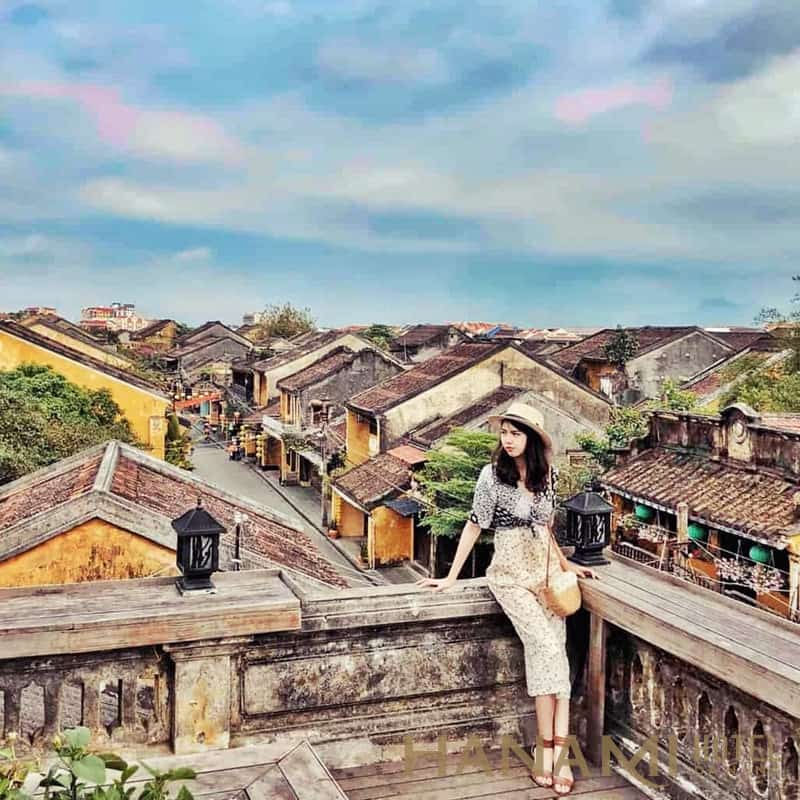 The rooftop of Faifo Coffee has a view overlooking the Hoi An neighborhood. And it is a great check-in place for young people today. You can check in on the rooftop overlooking the old town with bold ancient roofs, or catch a corner of the airy and clear sky on a sunny day.
Sunday Coffee in Hoi An Ancient Town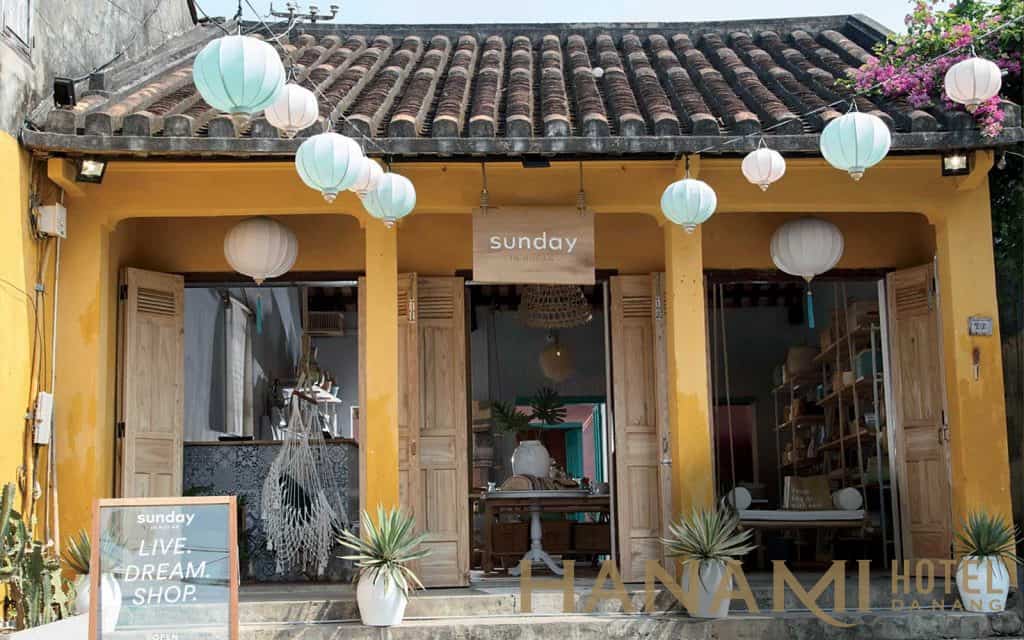 The Hoi An travel team is currently feverish with super beautiful coordinates that flutter all hearts. It was thought of as a shop at a certain location. But it is actually a shop specializing in selling Sunday furniture in Hoi An, which is famous on social networks. With the image of a pink wall with the phrase 'Hoi An vibes only' attracts a lot of young people to check in.
Old brick kiln – ladder to heaven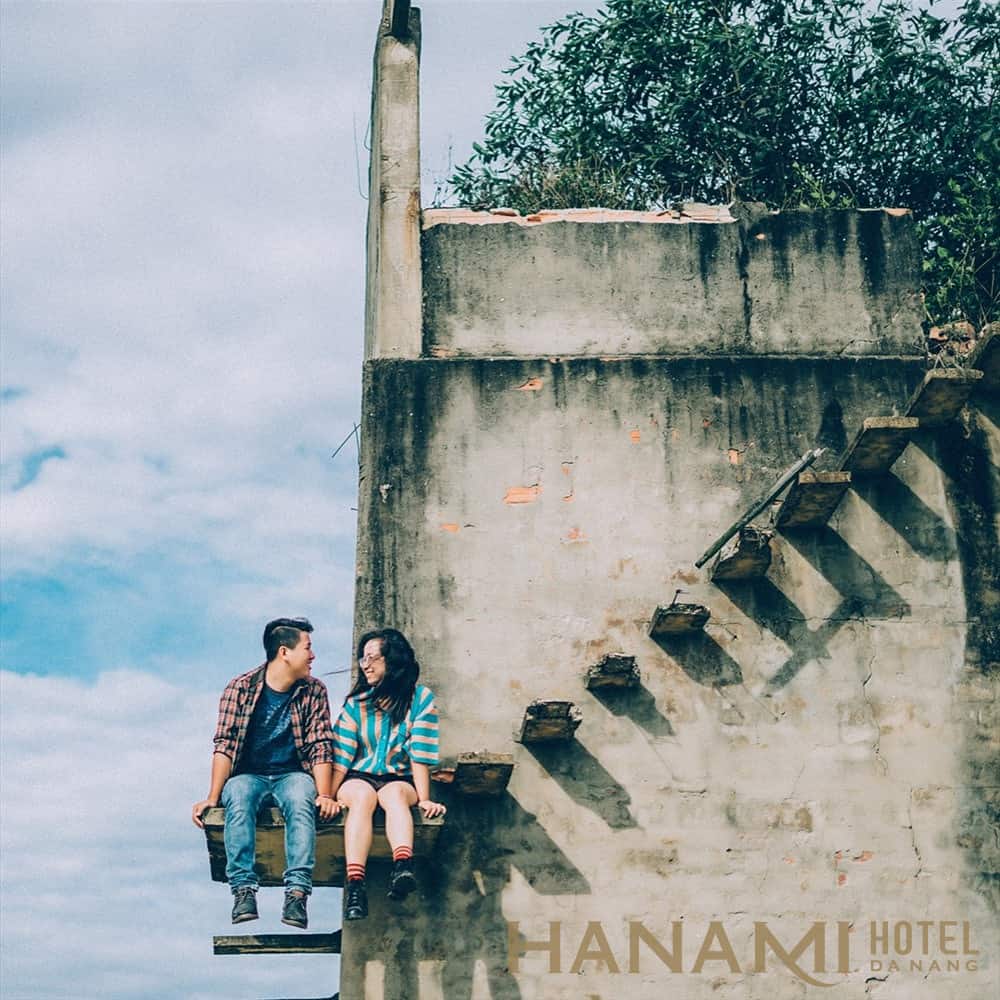 An abandoned brick kiln and currently unfinished structure, resting alone in the center of a wide rice field, is another wonderful photography place in Hoi An that Hanami Hotel Danang wants to introduce to you today. The rustic and unfinished look of the brick kiln offers a space for unique photos, delighting those who are working and having photos of millions of likes right away.
Houses covered with bougainvillea 
If you get here and are still wondering what makes Hoi An so attractive, try visiting the houses with mossy tile roofs covered with bougainvillea. They are not luxurious, lavish, or magnificent. But they are rare in Hoi An with lovely houses covered in flowers. While wandering in Hoi An Ancient Town, you will see how adorable and wonderful they are.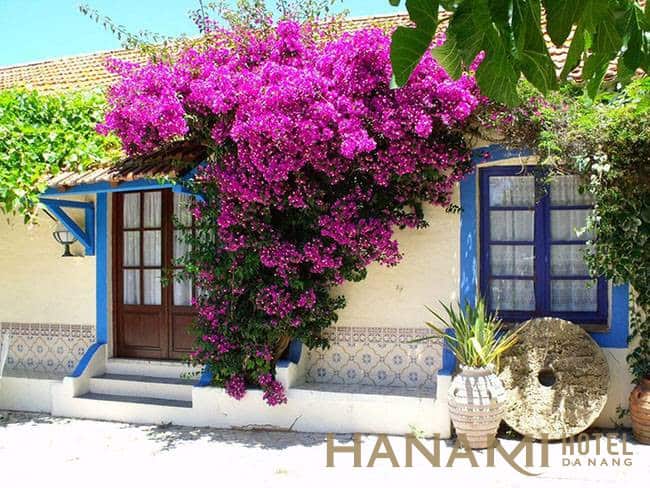 Hoi An Ancient Town is so peaceful that it can soothe the still troubled souls of people. Immerse yourself in the scenery, and create beautiful poses for yourself. You will immediately get a classic check-in photo with a yellow wall background dotted with colorful bougainvillea.
Le Nghia Basketball Court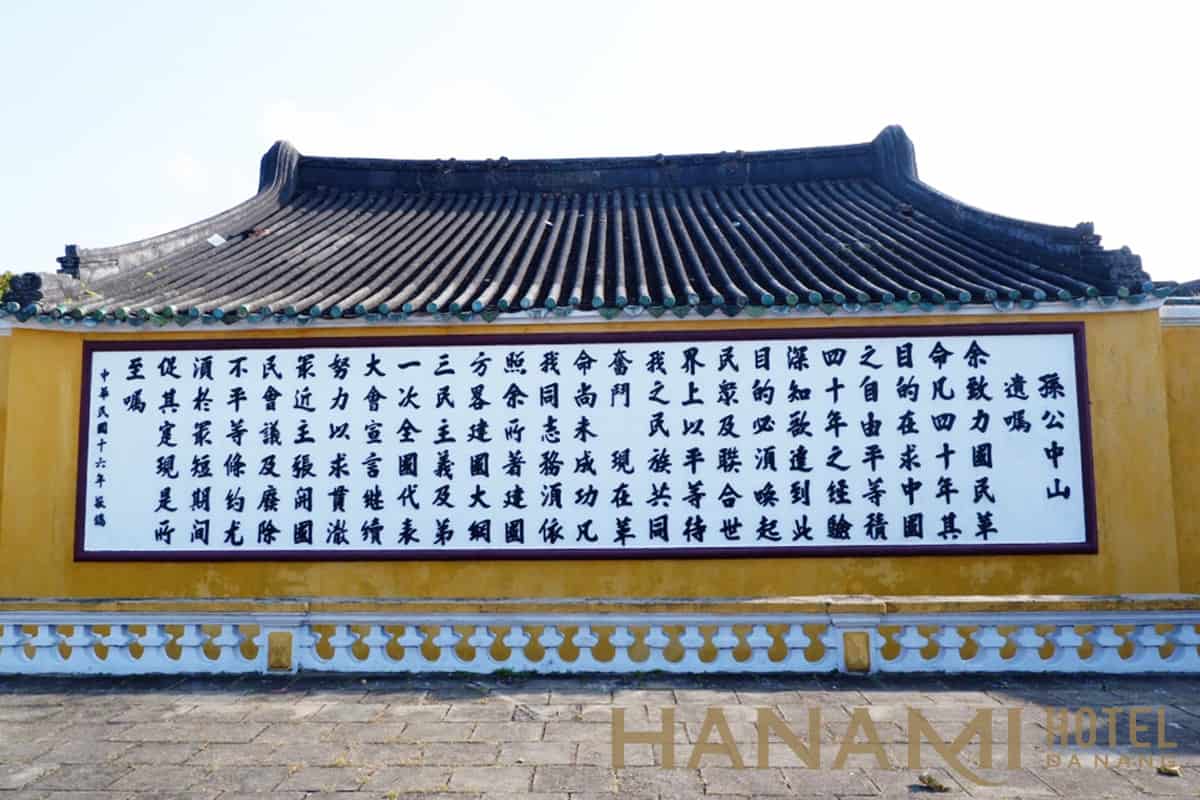 If you have ever seen the movie "The Girl From Yesterday", you will remember the place where the shimmering footage was produced. This is the Le Nghia basketball court. The place promises to give you a very cool check-in spot in Hoi An with very unique photos.
You can check in with the wall at Hoa Van Le Nghia school. The main eye-catching black and white font will help you take amazing photos, or pose in the large and romantic basketball court with fresh and dynamic colors.
Hoi An Goat Pasture
Goat Pasture of Hoi An is a pretty new check-in location. Because it is not close to the old town and the price to take pictures of goats is quite exorbitant, up to 150.000 VND. However, if you come here, you will not be disappointed since the lush meadow is adorned with a herd of lovely goats. This ensures that you get those incredibly pretty images in Hoi An.
Hoi An Central Market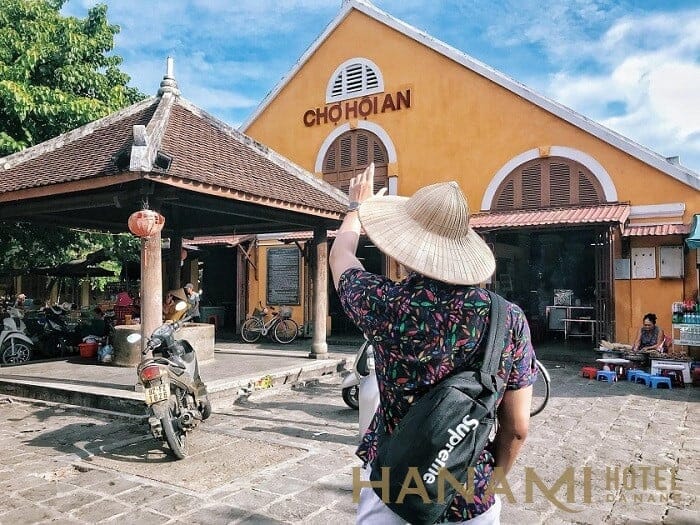 Different from the peace and quiet in the center of the old town, Hoi An Central Market is located opposite the river from Cam Nam Island. It is considered a culinary paradise that attracts many domestic and international tourists. When visiting Hoi An Central Market, in addition to check-in, do not forget to enjoy Hoi An Ancient Town specialties such as Cao Lau, Hoi An bread, chicken rice and so on that are guaranteed delicious and distinctive!
Tam Thanh mural village
Situated in Tam Thanh commune, Tam Ky city, Tam Thanh mural village is the first mural village in Vietnam. Because the location is a bit far from Hoi An city, this place is not as well-known as other famous check-in points. The mural paintings here are erected mainly depict the daily life of the fishing village people. Their bright and eye-catching colors with meticulous drawings ensure your beautiful pictures but unique!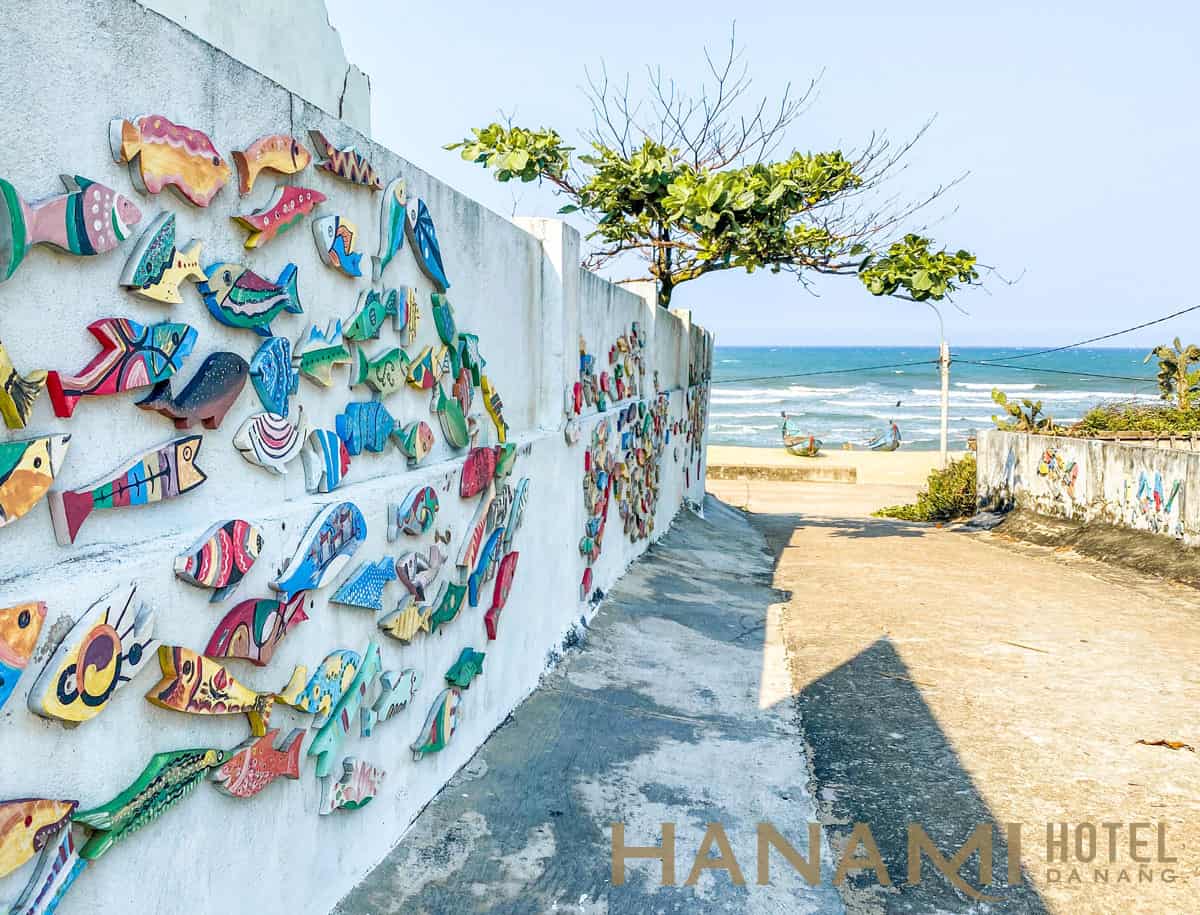 If you like a youthful style, with a little bit of art direction but lovely, Tam Thanh mural village is definitely a super suitable place to take photos of Hoi An check-in! When you have planned to pay a visit to Hoi An Ancient Town, do not miss this breathtaking place, surely the pictures you take here will not make you disappointed!
Tam Quan Ba Mu Pagoda
The monument has been extensively damaged by the passage of time, as well as many ups and downs and events that have occurred throughout history. However, there remains only Tam Quan Ba Mu Pagoda's entrance gate. Hoi An has undertaken renovation initiatives in order to maintain and protect this historic site. Tam Quan Ba Mu has quickly become a must-see check-in location for visitors to Hoi An Ancient Town after its renovation.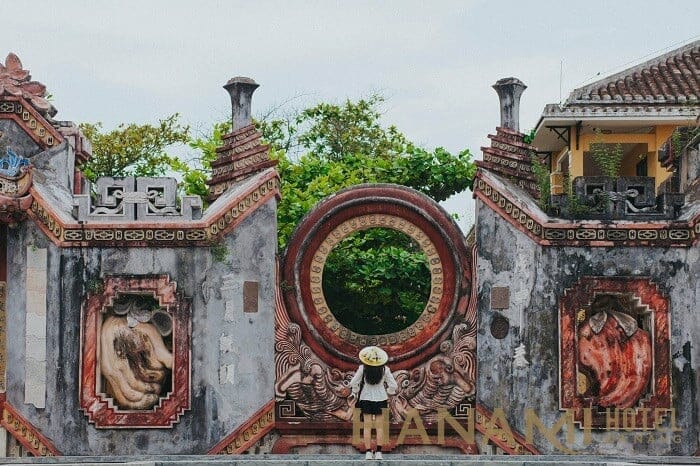 It is an extremely spacious and airy space, along with ancient calm check-in corners. Just pose, tilt the camera a little, and you will have a picture to keep your memories in Hoi An Ancient Town!
The top 15 iconic check-in spots you should know when visiting Hoi An are listed above. Perhaps, this location is famous for having a lot of quality attractions. If you are able to experience all of Hoi An Ancient Town, it is essential to prepare a detailed schedule. Do not forget to keep the above locations in mind. Hope you have a great trip to Hoi An!