Da Nang's weather often becomes colder in November, the season of hot foods. As you might know, Da Nang cuisine is very diversified and if you don't know which foods that suit Da Nang's winter, scroll down for the best refreshments around the city. 
Must-try Da Nang refreshments in winter
1.Banh Xeo (sizzling Vietnamese crepes) - A traditional refreshment of Central region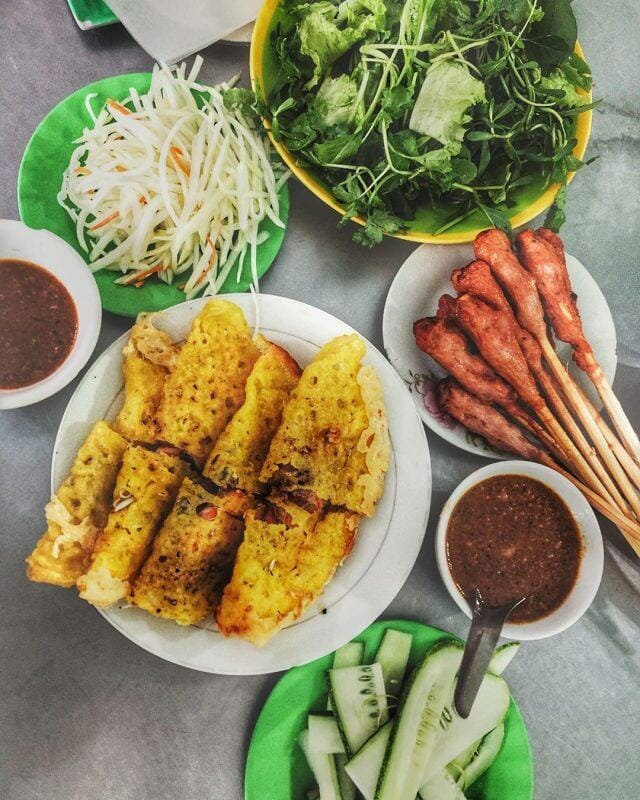 The first Da Nang refreshment in the list is none other than Vietnamese crepe. Different from Western Vietnam's banh xeo, Da Nang's one has a different flavour in such a smaller shape. Made from Quang Nam Province's high-quality rice, banh xeo's crust is fried to until turning yellow and crispy. Its filling is full of pork, shrimps, and sprouts. Add some water to the fish sauce until it's brown then some sugar, perfect enough to dip the crepe into. That's enough to appease your appetite in winter, right? Below are some of the best banh xeo eateries in Da Nang:
Am Thuc Xeo (Xeo Cuisine): No. 75 Hoang Van Thu

Banh xom tom nhay Nam Hien (Vietnamese crepe with jumping shrimp: No. 17 Tan Da, Thanh Khe District

Banh xeo Ba Duong (Madame Duong's pancake): No. K280/23, Hoang Dieu, Hai Chau District

Banh xeo Mien Trung (Central region's Vietnamese crepes): No. 280/14, Hoang Dieu, Hai Chau District

Banh xeo Xuan (Xuan's pancake): No. 4 Phan Tu, Ngu Hanh Son's District
2.Banh canh ruong (Vietnamese thick noodles) - A famous noodle soup in Da Nang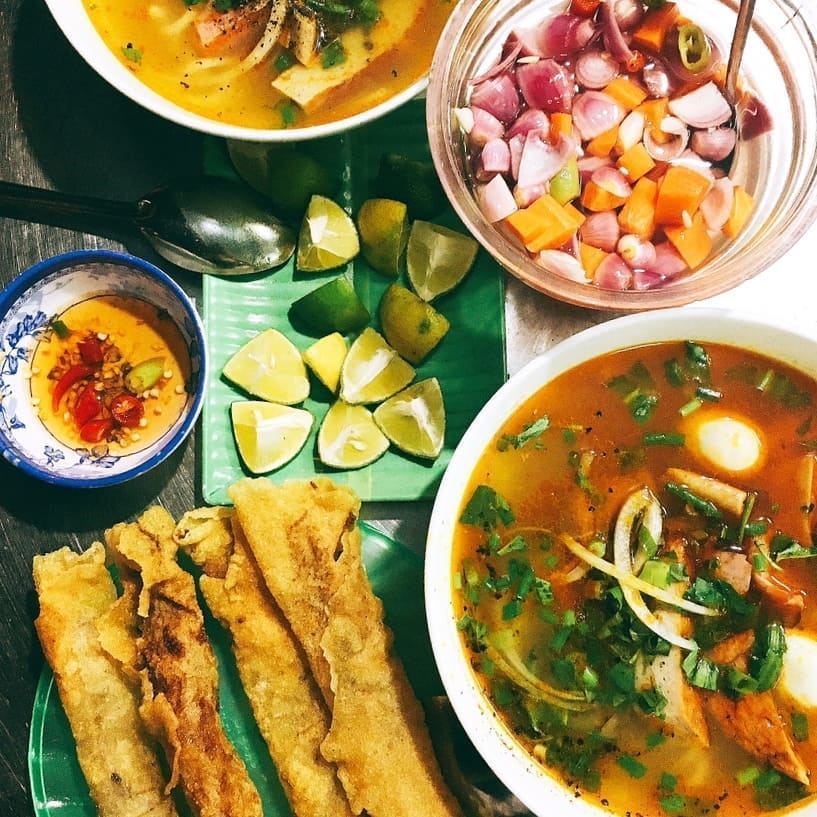 Eaters love Da Nang cuisine for its delectable food and special ingredients that make the dish tasty. Banh canh ruong or "waiting Vietnamese thick noodles" is an outstanding example, a top choice for winter. As its name refers, the dish takes time to cook so eaters must wait to enjoy. The eatery lies on Tran Hung Dao Street, or Bach Dang Dong Street, 2km away from Thuan Phuoc Bridge. Drop by if you want to try the dish. 
3.Crispy Fried Bananas (Banh Chuoi Chien) - A charming street food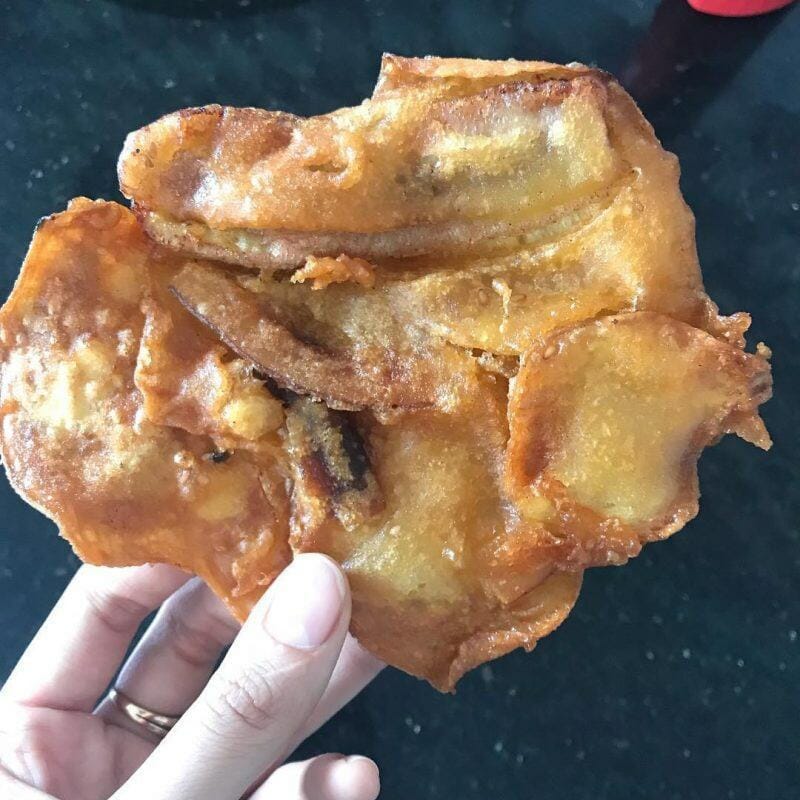 Crispy fried bananas stand to appear in every corner of Da nang. This is one of the most famous street foods here. It seems that nothing's better than a bite of hot and crispy fried bananas under the chilly weather of winter. Speaking of the taste when enjoying this snack, it is an excellent mix of rice and wheat flour to create an attractive crunchy crust. The scent of fried bananas blends together with hot coconut slices will warm yourself up and improve your mood already. Is it worth your try? Agree?
4.Da Nang's spicy snails/escargots - A popular dish for youngsters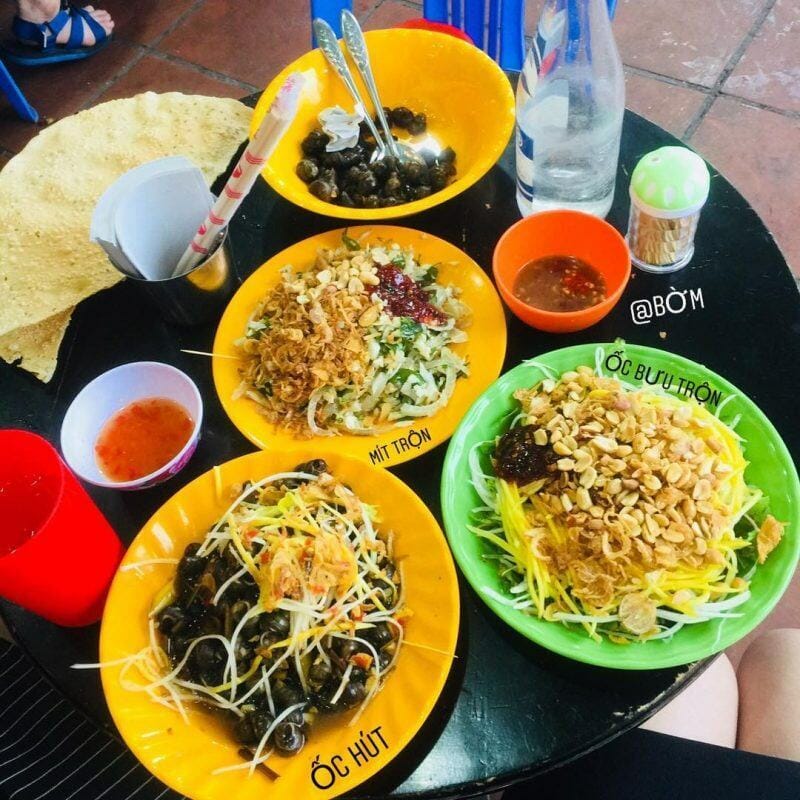 Savouring some recipes of piping-hot spicy escargots, literally known as sucking snail is the best for heating up, dispelling the cold from inside your body. The dish's delicious smell of lemongrass, chilli, and sweet coconut aroma waft up will make your mouth water. Its flavour is sure to leave you a deep impression. Under such a frigid temperature, this kind of rural dish unexpectedly becomes more charming. The followings are the top sucking snail food stands in Da Nang that you should come by.
Oc hut dia bay: the food stands lie opposite to the UFO-shaped sports centre on 2/9 street.

Oc hut Hanh (Madame Hanh's sucking snail): No. 277 Dong Da Street, Hai Chau District, Da Nang.

Yaourt village's sucking snail, on the foot of Tran Thi Ly Bridge

Bac My An market's sucking snail
5.Hot sweet soup desserts - The best choice for hibernal days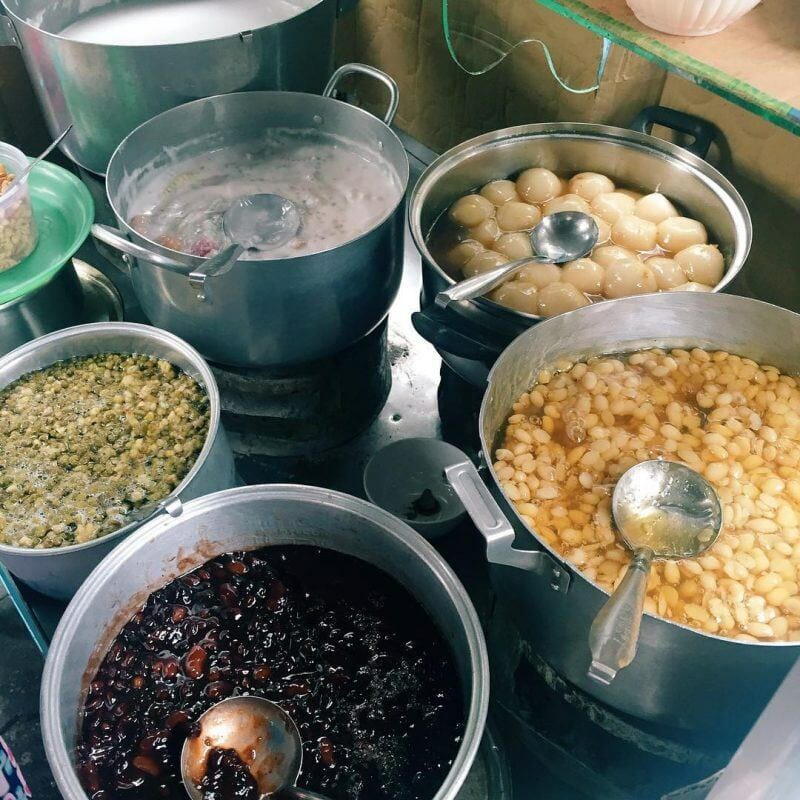 Danang Sweet soup desserts are ubiquitous in summer thanks to cool us down. Nothing can compare to a bowl or a cup of cold sweet soup desserts in the estival days, but how about the hibernal days? The answer is simple, the hot ones that will warm your body and your mind up. That's why this hot and sweet dish is one of must-try Da Nang refreshments in cold weather. 
Address: No. 255 Phan Chau Trinh, Hai Chau District, Da Nang. 
Opening hour: 5 - 9 p.m.
Price range: 5000 - 6000 VND
6.Spicy noodles
Spicy noodles are familiar with the youth in general and Da Nang youngsters in particular. The chewy Korean noodles bathed in a rich, spicy broth that surely can make feel very warm. And for some people, it's even hot to sweat. During the cold winter months, forget not to stay warm with a bowl of spicy noodles. If you are around in Da Nang, let's stop by the following addresses for one:
HOT HOT spicy noodles: No. 60 Quang Trung, Hai Chau District (Branch 1); No. 50 Tran Van Ky, Lien Chieu District (Branch 2); and No, 03 Phan Tu, Ngu Hanh Son District (Branch 3). 

"Qua Cau Lua" (Fire-ball) spicy noodles restaurant: No. 42 Dien Bien Phu, Thanh KHe District, Da Nang City. Opening hour: 4 - 10 p.m. daily.

Sinava restaurant: 2F, Indochina Riverside Towers, no. 74 Bach Dang, Hai Chau District, Da Nang City. Opening hour: 9 a.m. - 10 p.m. daily.

Cheoeum Korean spicy noodles: No. 221 Trung Nu Vuong, Hai Chau District, Da Nang City. Opening hour: 9 a.m. - 10 p.m. daily.

Naga spicy noodles: No. 307 Nguyen Van Linh, Thanh Khe District, Da Nang City. Opening hour: 9 a.m. - 10 p.m. daily.
7.Da Nang hotpot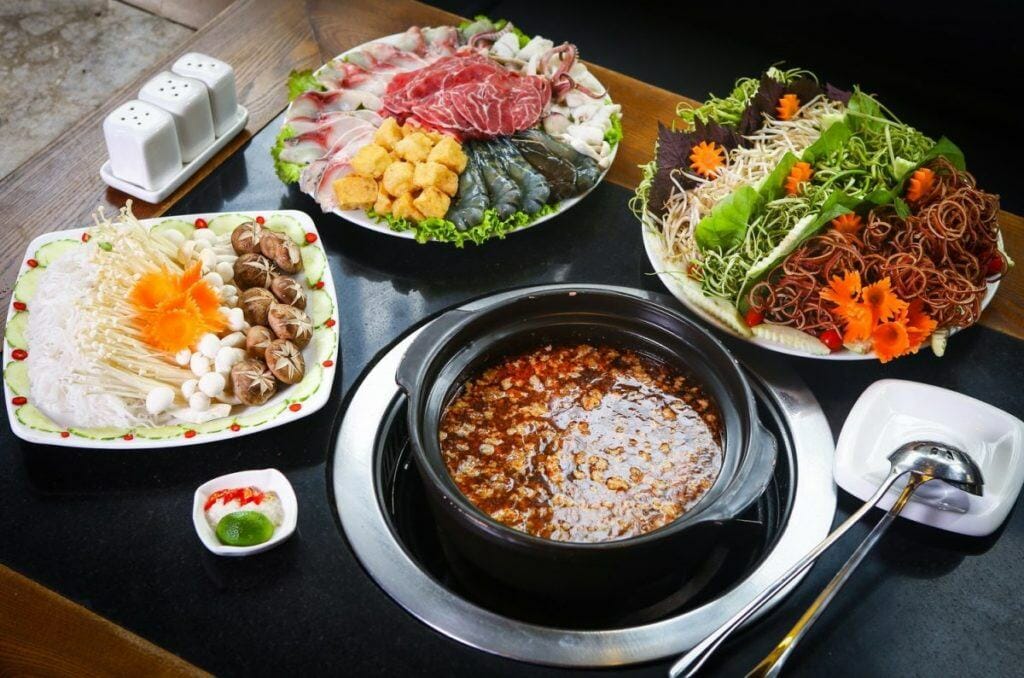 Though hotpot is not a traditional dish, it's one of the most famous dishes in Vietnam and an indispensable meal in winter days. It's not only the way to stay warm but also a great way to socialize. The boiling broth cooks the seafood, meat, and fresh veggies. How can you refuse a hotpot meal when the weather starts colder? It's freshly caught seafood that makes foodies fall for Da Nang hotpot. Here are the top hotpot restaurants in Da Nang for you to choose from:
Thai Market: No. 46 Thai Phien, Hai Chau District, Da Nang City. 

Ui Chao Hotpot & BBQ: Lot 04 b2.7 Nguyen Van Linh Street, Hai Chau District, Da Nang City. 

Madame Due hotpot: No. 40 Le Hong Phong, Hai Chau District, Da Nang City.

Sau Hung Beef Hotpot: No. 1191 Ngo Quyen, Son Tra District, Da Nang City. 
8.Grilled meat - Super delicious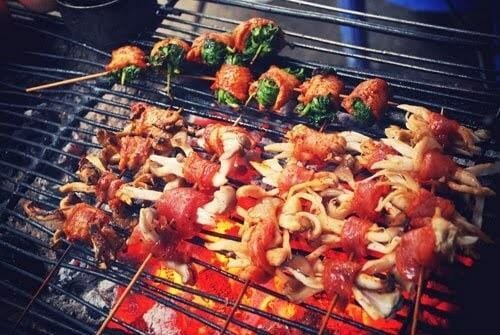 Are you a BBQ lover? Then a BBQ party is the best meal ever. Grilled meat has long been a ubiquitous dish all around Da Nang, which is much better to taste. What's better than chatting with your friends while chowing down on the grilled meat? It's so fun, agreed? However, there are many Korean BBQ restaurants in Da nang, for example:
Ui Chao Hotpot & BBQ: Lot 04 b2.7 Nguyen Van Linh Street, Hai Chau District, Da Nang City. 

Gogi Restaurant: No. 9 Nguyen Van Linh, Binh Hien, Hai Chau, Da Nang City. Branch 2: 4F, VinCom Ngo Quyen, Da Nang City. 

BBQ Restaurants on Hoang Hoa Tham Street: No. 60 Hoang Hoa Tham, Hai Chau District, Da Nang City. Opening hour: 9 a.m. - 10 p.m.

Nhop Nhep Hotpot & BBQ: No. 343 Phan Chau Trinh Street, Hai Chau District, Da Nang City. 

Tu Hai Quan: No. 50 Le Loi, Hai Chau District, Da Nang City. Opening hour: 3:30 - 11:30 p.m.

Da Thanh BBQ: No. 107 Nguyen Van Linh, Nam Duong, Hai Chau, Da Nang City. 
9.The sapid grilled banana sweet soup - An irresistibly delicious refreshments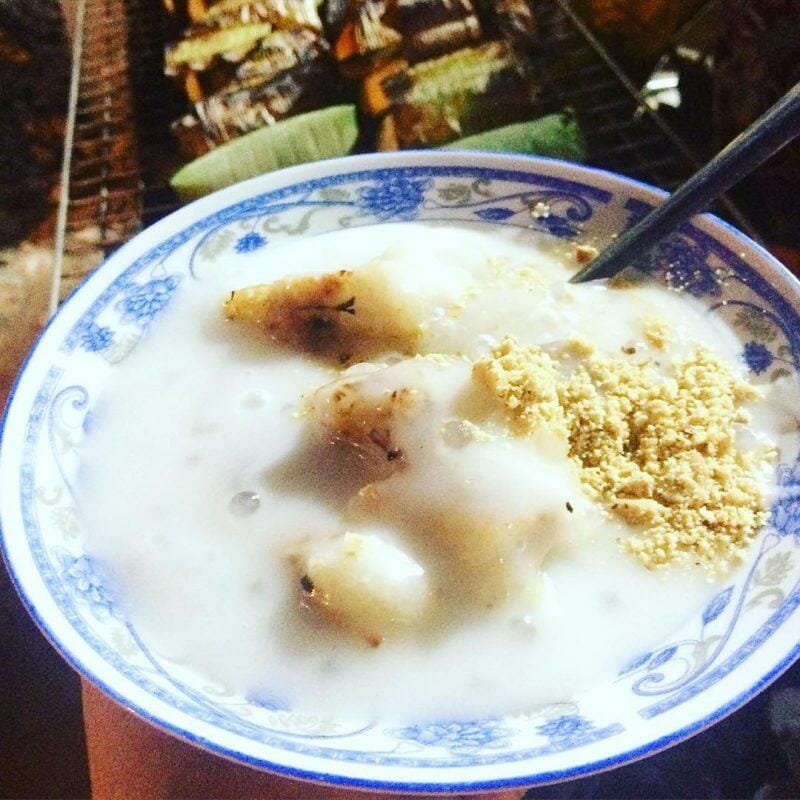 Guys, please do not miss the chance to taste the soup when you travel to Da Nang. This is without dispute a must-try dish here. The pieces of bananas are strongly aromatic mixed with greasy, thick coconut milk juice, creating a mild sweetness that makes you feel not only warm but also happier. Many foodies said that it's such an omission if they ignore the dish when winter comes. 
10.Vietnamese baked cassava cake - The dish that turns streets' corners fragrant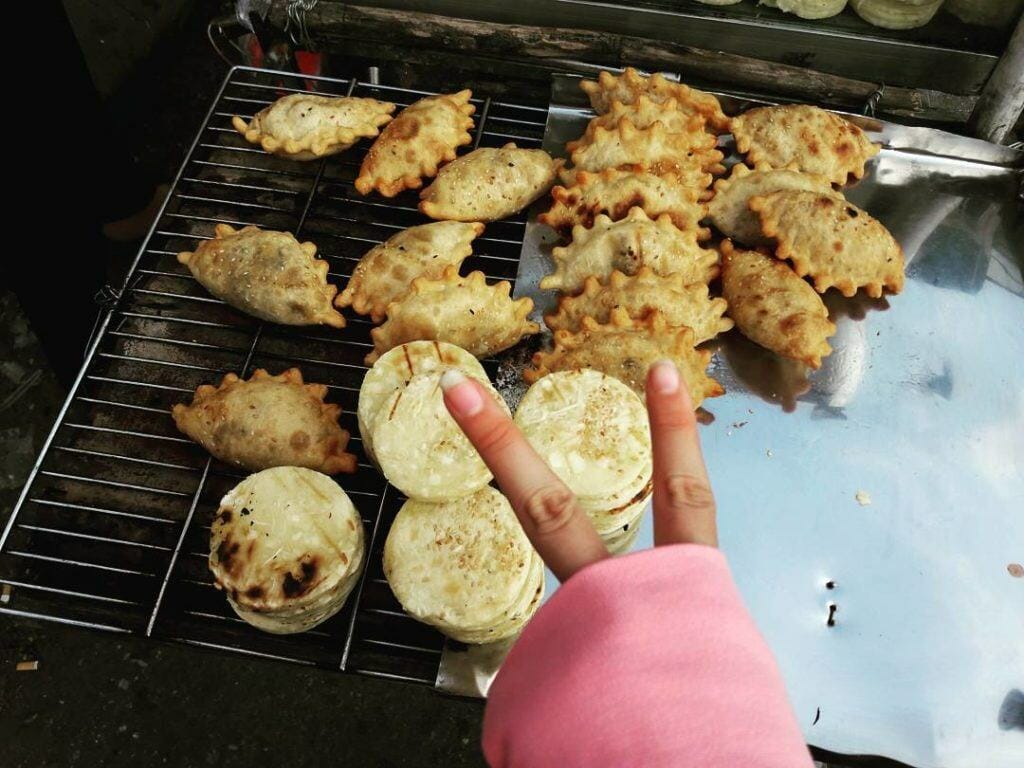 Vietnamese baked cassava cake is one of the most common street foods in most of Da Nang's corners. Each round cake is grilled over the charcoal-burner, and its impressive scent spreads in all directions. The cake has a buttery taste and greasy a bit. How warm it is after having some bites of the baked cassava cake on a bleak midwinter's day!
With the modern Japanese-style architecture, the 3-star Hanami Hotel Danang can always please its guests even the most particular ones. The hotel stands at no. 61 - 63 Hoang Ke Viem Street, near My Khe beach and the street of food. It takes you only a few minutes of walking from the hotel to the beach for a short walk, join in entertainment activities and enjoy all the delicacies of Da Nang. The word has that, and Hanami is such a perfect place for tourists of any kind. 
Hopefully, the above eateries top picked by Hanami Hotel Danang can please and appease your appetite. Have a nice trip around one of the most worth-living cities in the world!