Top 10 drinking places in Da Nang for boozers
 Da Nang is known as the city of tourism with plenty of destinations for tourists such as Hoi An Ancient Town, the Dragon Bridge, Ba Na Hills, Hoa Trung Lake, Son Tra Peninsula, and many more. Each year, the city welcomes millions of tourists. Not only be the most worth-living city in Vietnam but Da Nang also offers well-known landscapes, professional tourism services, diversified cuisine, and great restaurants that provides foods in rich taste that make the locals proud of. 
 If you have a chance to get there, do not miss out on the following top 10 drinking places in Da Nang where you can have varied dishes on a budget. 
 1.
Chuong Gio (Windbell)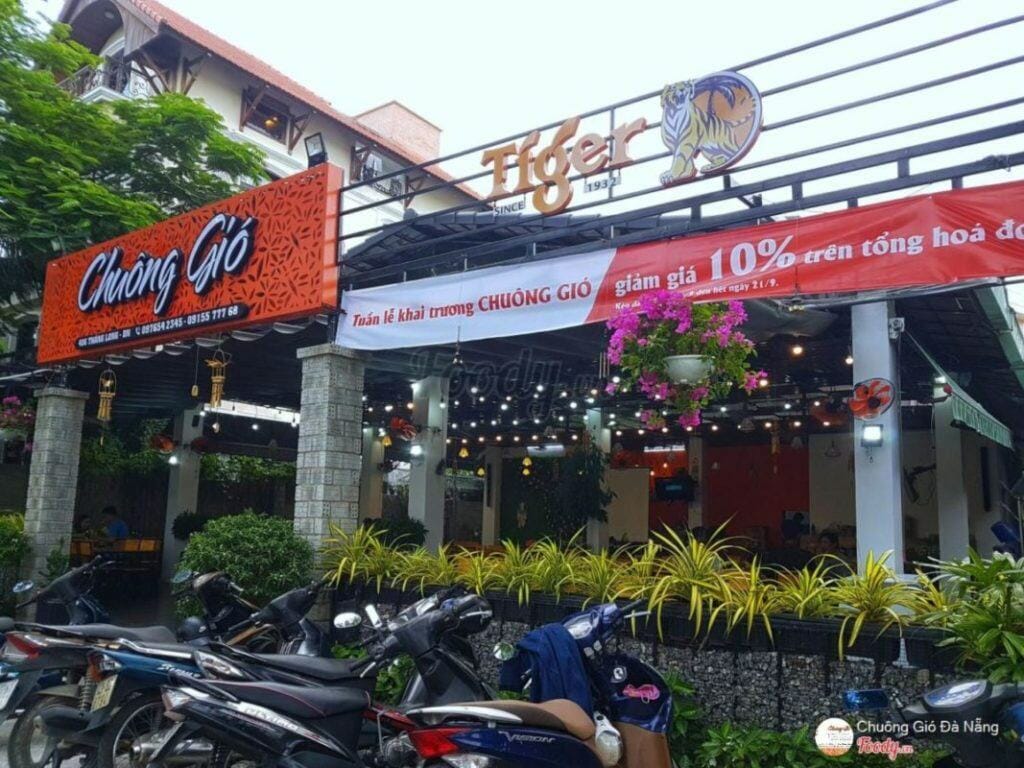 Address: 

No. 101 Au Co, Lien Chieu District, Da Nang City
Chuong Gio is a famous eatery among tourists. Despite its affordable price, which ranges from nearly 11 to 13 bucks per person, this eatery serves eaters with a varied menu of tasty delicates. 
 Its space is very great, too, that can satisfy fastidious drinkers. Different from other simple drinking places, Chuong Gio sets privacy as a priority. Though being just a drinking place, its space is perfectly divided into private compartments. Everyone coming here will be free to enjoy the typical delicacies in Da Nang in a space full of privacy.
 As reported, Chuong Gio's staff is very friendly and agile, always serve their guests in the most thoughtful manner.
 2.
Nguyen Gia Trang - A restaurant rich in bucolic flavour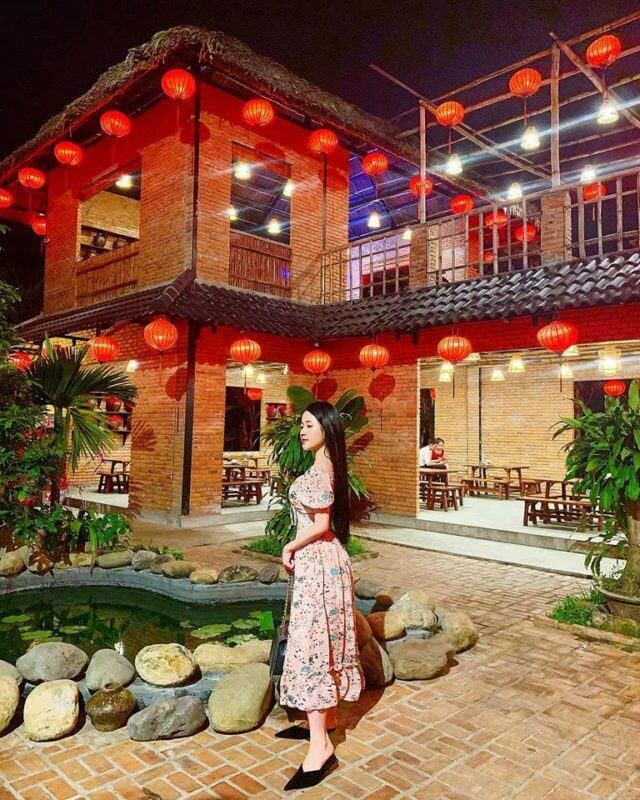 Address: 

No. 20 Nguyen Thuat, Hoa An Street, Cam Le District, Da Nang City
 Situated in the heart of the city, Nguyen Gia Trang is a large restaurant built in ancient Chinese style. From the layout, sitting place, utensils to bucolic dishes, all are bold in ancient Chinese features. The dishes here are cooked by the well-experienced staff. 
 The prices are very affordable, ranging from nearly 2 to 13 bucks. The restaurant opens from 10 a.m. to 10:30 p.m. 
 3.
Cay Tao Restaurant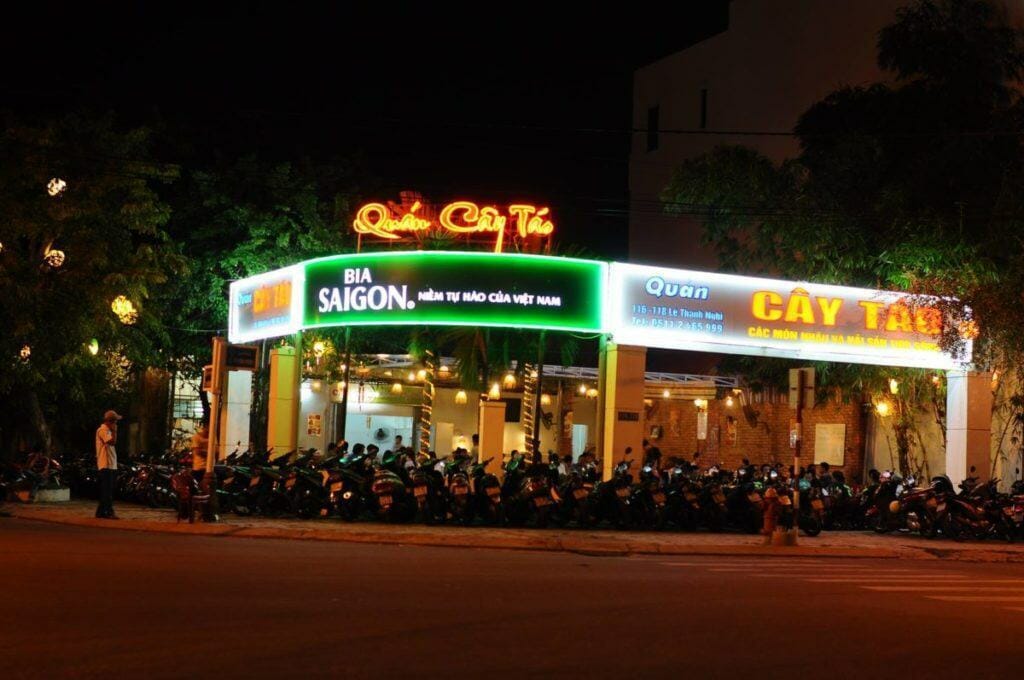 Address: 

No. 116, Le Thanh Nghi Street, Hoa Cuong Bac Ward, Hai Chau District, Da Nang City
 If you are a seafood lover, do not bypass this restaurant. 
Opening from 9 a.m. to 10:30 p.m., Cay Tao has a distinct style of cuisine. 
 Most dishes are fresh seafood such as oyster, shrimp, squid, clam, etc. and popular dishes made of chicken, beef, goat, pork, and many more. According to eaters, those dishes are goluptious, yummy, and sapid. 
 Aside from delicious food, the restaurant's spacious green garden is waiting for you to enjoy. It's very airy and interesting. 
Top 10 coffee shops with the best views of Da Nang City on rainy days
 4.
Nam Danh Seafood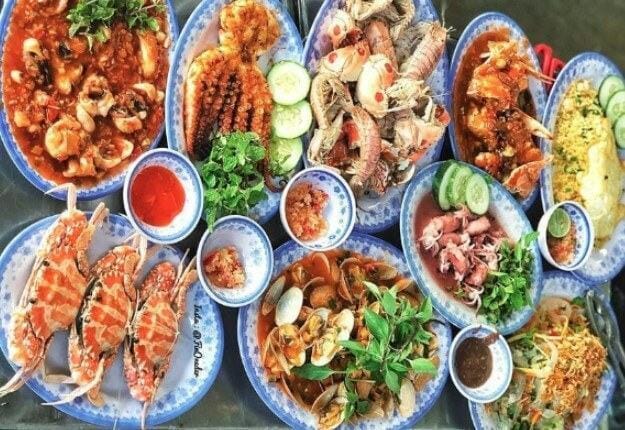 Address: 

K139/H59/38 Tran Quang Khai, Tho Quang Ward, Son Tra District

Opening hour: 

10 a.m. - 10 p.m.
 Nam Danh seafood is a famed drinking place in Da Nang. Like the name refers, all the dishes are seafood. Here are the best sellers of the restaurant: grilled shrimps, razor clams fried with chili and lemongrass, and seafood hotpot to name a few. The restaurant's menu is very diversified and ample. Besides, all the ingredients are freshly caught and hygienic. 
 Nam Danh Seafood is quite hard to find because it stands in a small alley; however, it's regularly touristy and full of foodies. The space is vast and airy. Especially, the prices fit within the budget of youngsters and students. 
 5.Kien Tuu Quan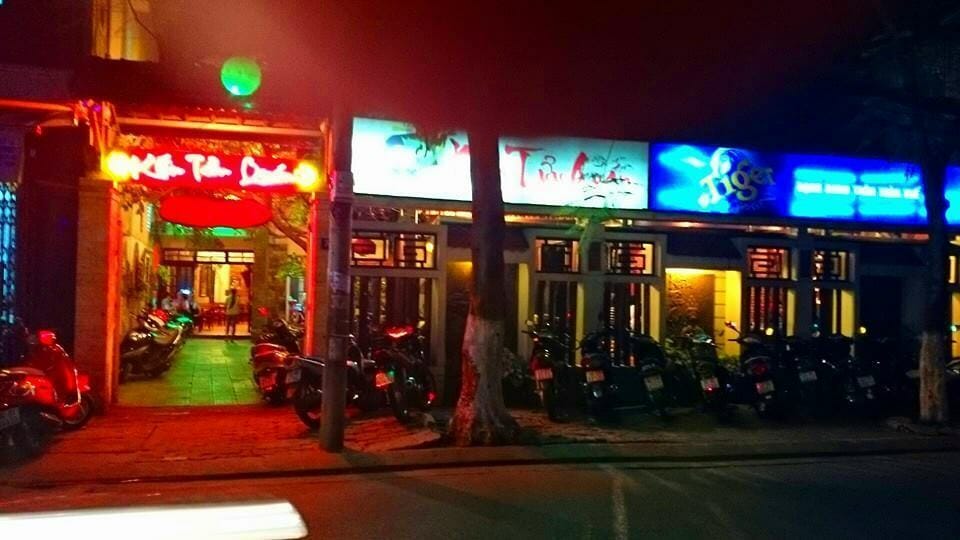 Address: 

 No. 30 Nguyen Hoang, Thanh Khe District, Da Nang City
 Kien Tuu Quang has a capacity of 70 people with its own style. 
 The highlight of the restaurant is the use of bottle gourd to store wine that makes the taste of wine more intense and passionate than ever. Lying at the crossroads of Ong Ich Khiem and Nguyen Hoang.  
 Kien Tuu Quan's dishes are delicious and varied, with the price range from over 2 to 9 bucks. Space is divided into 2 parts: outdoor and indoor. Its capacity is huge, so you can bring a crew of your friends or family there. 
 6.
Doi Gio Restaurant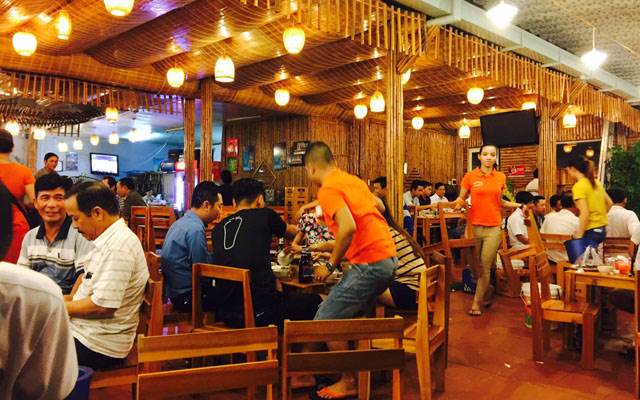 Address: 

No. 186 Nguyen Van Linh, Thac Gian Ward, Thanh Khe District, Da Nang City. 
Doi Gio is a well-known restaurant in Danang city, where offers a great place for drinking. 
For over 20 years of providing the service, Doi Gio deserves to be called a long-standing eatery in Da Nang. For that reason, the menu is various and typical, namely chicken hotpot with sour-soup creeper, steamed goat, dog-salmon salad, and many more. Doi Gio attracts lots of eaters with its mouth-watering menu and affordable price ranging from nearly 4 to over 6 bucks. 
 7.Thap Beer Restaurant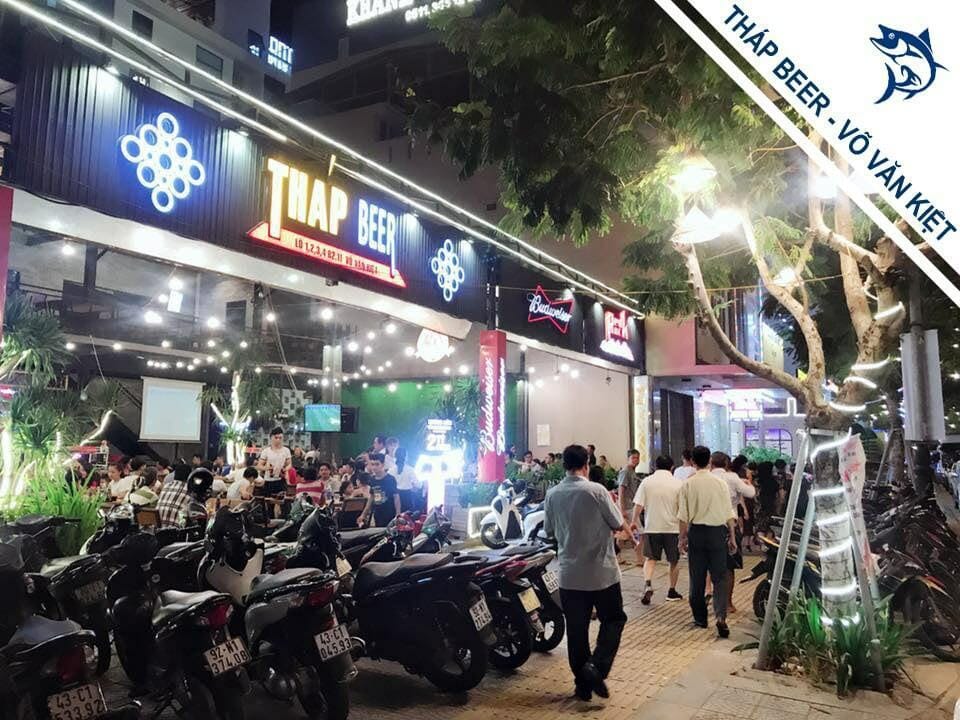 Address: 

Lot 1 - 2 - 3 - 4 Vo Van Kiet, Son Tra District, Da Nang City
This is a large restaurant with a spacious and airy space.
 The 2-floor luxury restaurant offers many delectable dishes. This restaurant's staff is very spry and always set their guests as a priority. They carry out the service with 3 criteria: quality, affordable price, and manner. Speaking of Thap Beer Restaurant, people are sure to think of an ideal and deluxe drinking place. 
 9.Bia
To Lao Dai Beer

Address: 

No. 76 - 78 Street 3/2, Hai Chau District, Da Nang
Average price: from over 1 to nearly 9 bucks
 Forget about Hai Xom - the renowned beer restaurant in Hanoi if you are around Da Nang. Just come to To Lao Dai, which has been developed for a decade. None of the gourmets doesn't know about this place. The one-and-only feature of the restaurant is that they serve beer in a bowl instead of a cup. This way of drinking reminds us of swashbucklers in martial art serial. The side dishes mostly are veggies, fruits, and signature seafood of the beach city. 
 10.Be Man Seafood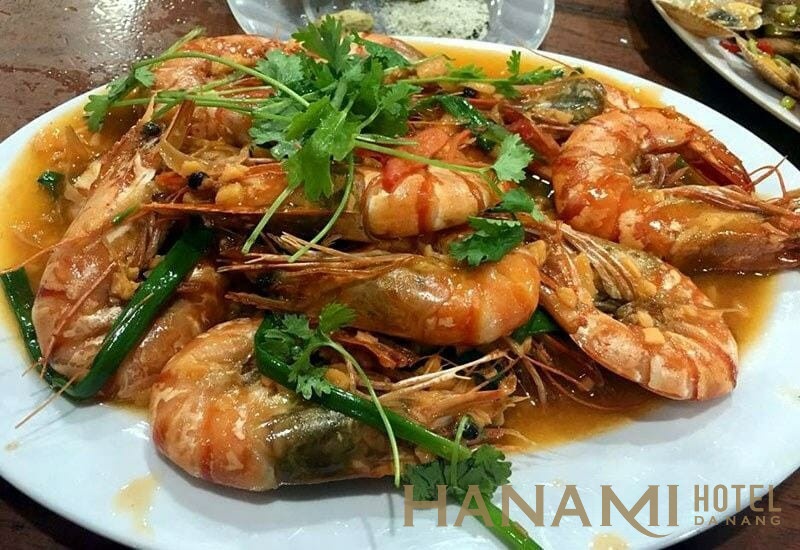 Address: 

Lot 11, Vo Nguyen Giap, Son Tra, Da Nang

Average price: from over 1 to 43 bucks
Top 10 best seafood restaurant that only Danang resident knows
Be Man Seafood is a name that must be on the list. Alongside a comfortable space, the restaurant has an indescribably delicious menu that fascinates diners. Be Man offers seafood, including shrimp, crab, fish, mantis shrimp, and many types of snails. Cooked by talented chefs, the flavor of those dishes are heavenly fresh. No wonder why people often think of the restaurant as a budget beachside drinking place. Come, and you will feel it.