With a wide variety of local foods and seafood, Danang offers tourists the best flavour of the sea and Central Vietnam. It's such a waste if you travel to Danang without tasting Danang much-vaunted cuisine. Being known as a magnificent beach city in the lap of luxury, Danang is endowed with many majestic sceneries, romantic spaces, and diversified cuisine. That makes Danang a firm travellers' favourite who comes from all around the world. When it comes to Danang cuisine, we can't pass by freshly caught seafood which appeases millions of tourists' appetite, providing them such great moments. Thence the phrase "Good wine needs no bush" is precisely to describe the city. 
Read more about Danang Cuisine here: https://hanamihotel.com/en/danang-cuisine-reviews-of-places-to-eat-in-danang-and-vietnam/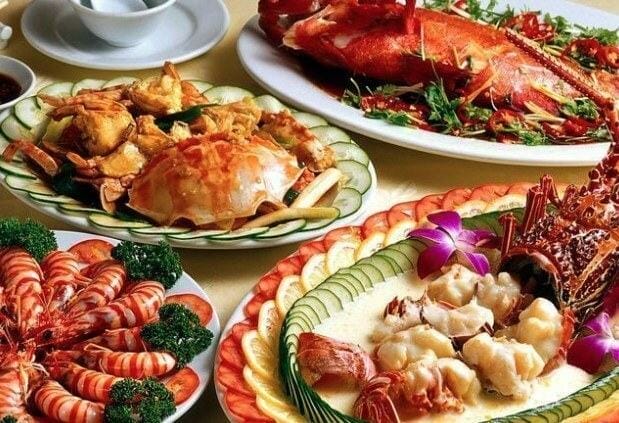 Located in Central Vietnam, Danang cuisine is the convergence of the nation's foods. So it's easy for you to find your favourite taste among the signature dishes. 
As a beach city, Mother Nature bestows Danang with the freshest seafood including shrimps, fish, cuttlefish, sentinel crab, snails, oysters, octopus, etc. With that advantage, Danang is sure to welcome you with the best food ever. 
Similar to the indigenous people, Danang cuisine is not ostentatious at all. The ingredients are undoubtedly fresh and clean, all from nature. Hence, there are no worries about food hygiene here. With a budget range of food prices, it comes as no surprise that Danang has become the most ideal destination all year round. 
There's a reason why Danang cuisine can win tourists' hearts. With a series of long-time specialities and modern dishes served at food stands and fancy restaurants, you can try from rustic foods to deluxe courses with an affordable price.
Top 10 best seafood restaurants in Danang
1.Hai San Thoi Co – a superb tempting restaurant
 Hai San Thoi Co – a superb fascinating restaurant
This is one of the best seafood restaurant in Danang, a perfect place for any visitors.
Pros:
Airy and roomy space with a beachfront view. 
Various menu: crabs, fish, cuttlefish, shrimps, sentinel crabs, snails made into different dishes. 
The price range starts at 3 dollars. 
Address: No. 354/1 Vo Nguyen Giap Street, Ngu Hanh Son District, Danang
2.4U Seafood Restaurant – The well-known area for seafood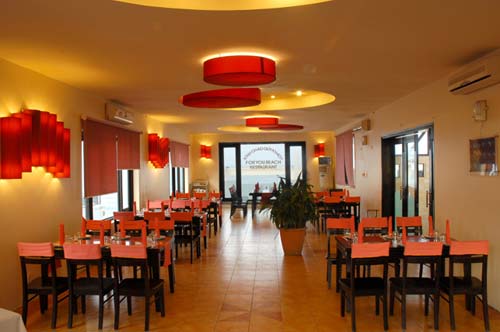 This restaurant belongs the For You Restaurant System which is for a crowded group of eaters who love luxurious space. Also, it is voted as a must-visit seafood restaurant in Danang by the consumers. 
Pros: 
Spacious, luxurious, airy with a great view
Specialize in serving big-size seafood like seafood soup, cuttlefish, lobster, clam salad, and so on
Good and friendly service
Address: Lot 9/10 Vo Nguyen Giap Street, Phuoc My Ward, Son Tra District, Danang City
3. Budget yet tasty Hai San Ba Thoi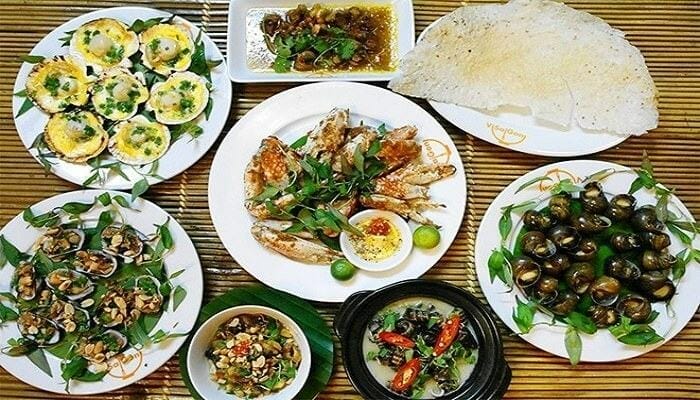 Hai San Ba Thoi is a must-try restaurant for those who want to enjoy great seafood on a budget.
Pros:
Net, hygienic, and airy space
Friendly staff with a good attitude
Exotic menu
Affordable price, suitable for students 
Address: No. 96-98-100 Le Dinh Duong Street, Danang
4.Phong Phu 2 Eatery – Strange taste and Diversified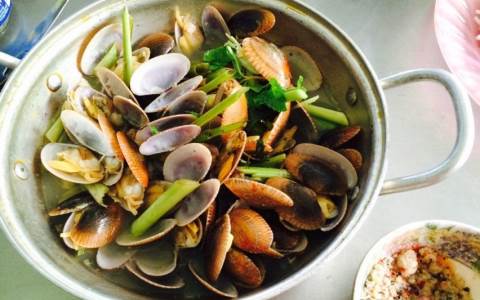 Eaters come to this eatery for an experience of both excellent food and an exciting, bustling atmosphere. This is also a familiar address for the locals themselves when they want to have some seafood. 
Pros: 
The menu offers a wide variety of seafood, from refreshments to best food pairing with alcohol such as hot-pot, grilled or BBQ, steamed seafood, fresh seafood, etc. 
Touristy, airy, and spacious space
Friendly and devoted staff provide an excellent service, bringing eaters comfortableness
 Budget price
Address: No. 80 Ngo Van So, Nguyen Lien Chieu Street, Danang
5.Attractive Tho Y Seafood Restaurant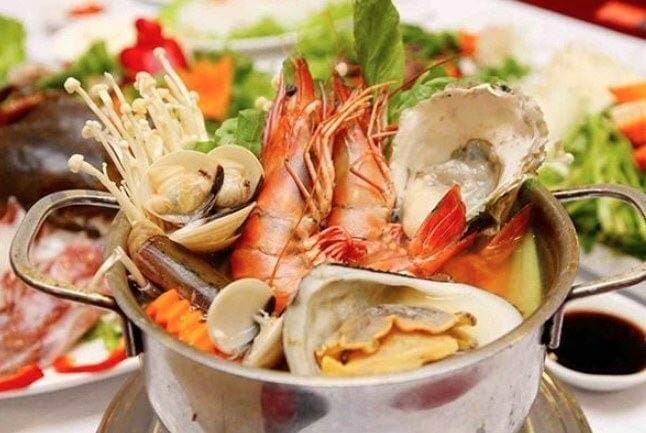 The charm of Tho Y Seafood Restaurant
This restaurant is well-situated on Son Tra Peninsula where is cool all year round. It's a luxurious and attractive destination for both eaters in and out of the country. 
Pros:
Airy and roomy space with parking area
Affordable price for a high-end and various menu
Beachfront view
Address: At the three-way crossroads of Truong Dinh, Hoang Sa, Son Tra District, Danang
6.Irresistibly delicious Anh Ty Seafood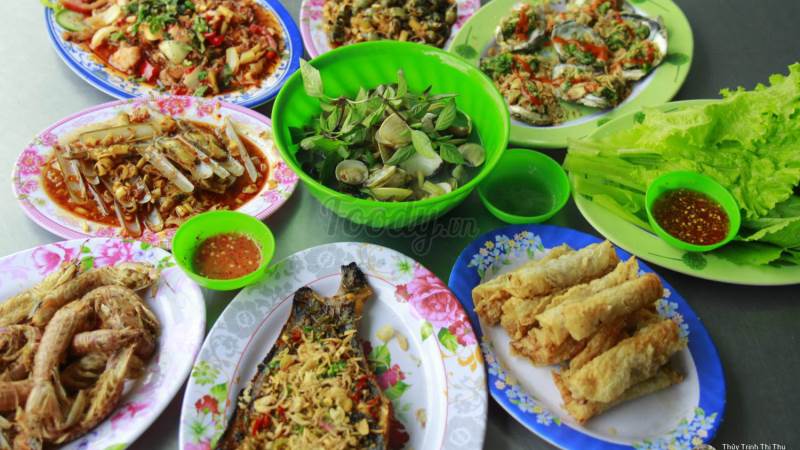 If you want to find a restaurant offering good quality seafood and made into dishes by professional Vietnamese chefs, Anh Ty Seafood is sure to satisfy even the most fastidious eaters. 
Pros: 
All kinds of seafood are made into delicious, savoury, and unique courses. 
Professional, open, and hospitable service
However, the range of price here is higher than other restaurants so you should check on your money before getting here. 
Address: Lot 11 Le Duc Tho, Son Tra District, Danang
7.Nam Danh Seafood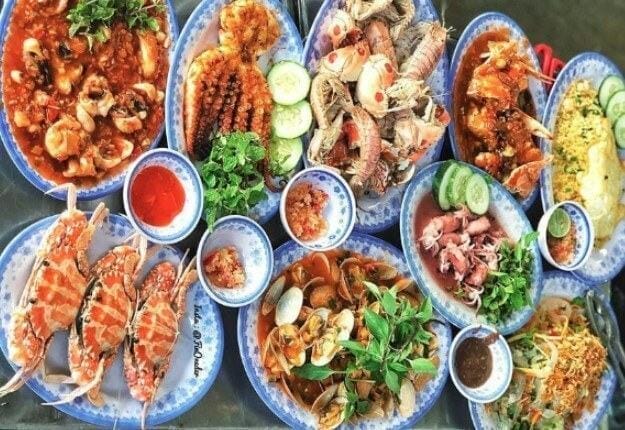 Nam Danh seafood draws lots of eaters to come day by day thanks to its tasty dishes made from fresh seafood, but their costs are inexpensive. The highlight of this diner is that all its dishes charge only 2.5 dollars. 
Pros: 
Various menu
Low price
Address: K139/H59/38 Trang Quang Khai, Tho Quang Ward, Son Tra District, Danang.
8.Superb cheap Ba Ro Seafood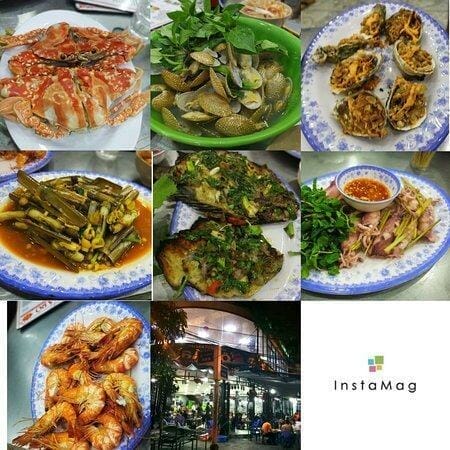 Ba Ro seafood is an ideal dinner to appease your own appetite or even your friend's. 
Pros: 
Comfortable and spacious space with parking area
Cheap yet various menu: jelly-fish salad, grilled cuttlefish, spicy fried, grilled ray, stir-fried clam, etc. 
Range of price begins from 2.5 dollars, suitable for groups and families. 
Address: No. 118 Ly Tu Tan, Son Tra District, Danang City. 
9.Thanh Hien Seafood with a great view
Sitting on My Khe beach – one of the most beautiful beaches in Vietnam, Thanh Hien Seafood is often crowded with tourists who come here for its magnificent view of the sea, golden sand, and the sky. 
Pros: 
The restaurant is well-situated with spacious space, convenient for moving
Eaters can choose the seafood of their liking and have the chefs cooked it based on your taste. 
Address: My Khe T20, Truong Sa, Son Tra District, Danang
10.Be Man Seafood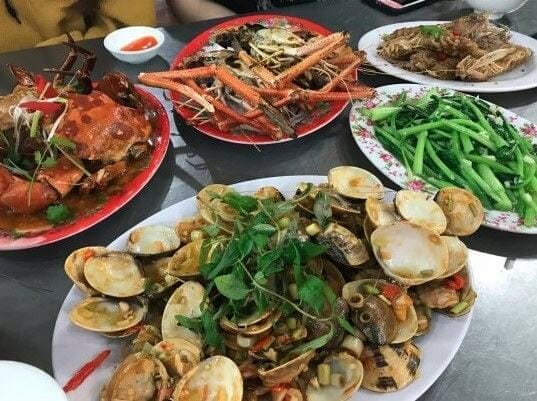 Nothing can be compared to the moment of relishing appetizing seafood in the sound of lapping waves. Standing on Danang's coastline, Be Man Seafood attracts many eaters to come for its freshly caught seafood. With only 2.5 dollars, you can have a dish of 10 oysters or 6 big-size grilled shrimps. 
Address: Lot 14 Hoang Sa, Man Thai, Son Tra, Danang. 
Danang is one of the most worth-living cities in the world. Best known for not only moderate weather and beautiful beaches, but Danang cuisine is also fascinating with a wide range of seafood caught by the local fishermen. Moreover, the indigenous people here are very endearing and hospitable. That makes travellers feel extremely hard to leave.