For those who want to settle down in Vietnam, Hoi An is the ideal city to start your new life. The town is small indeed but doesn't worry, all the modern conveniences are here and sold at an affordable price.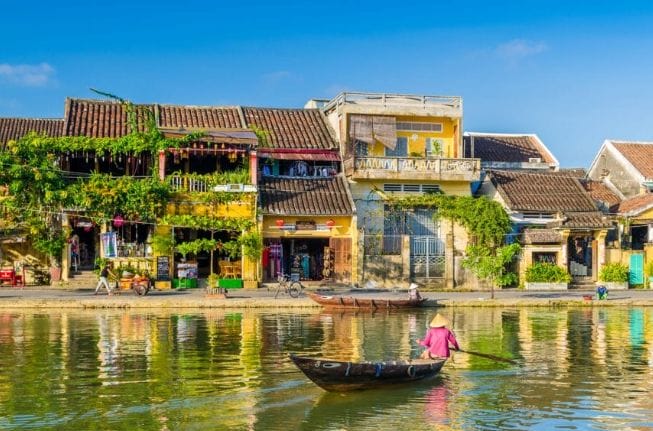 Most visitors find that Hoi An is their favourite city in Vietnam, where has a great convergence of destinations for tourists and locals alike, spectacular beaches and a vegetable village supplying organic veggies for the whole Hoi An. Lots of people move to the town because of the relaxed, peaceful lifestyle and budget cost living. 
 Maybe you don't know that on July 10, 2019, the central city of Vietnam – Hoi An has been claimed as the world's best city of 2019 with the highest point – 90.39. It's such a big leap when the city just ranked 8th out of 15 cities last year. 
An overview of the life's going on in Hoi An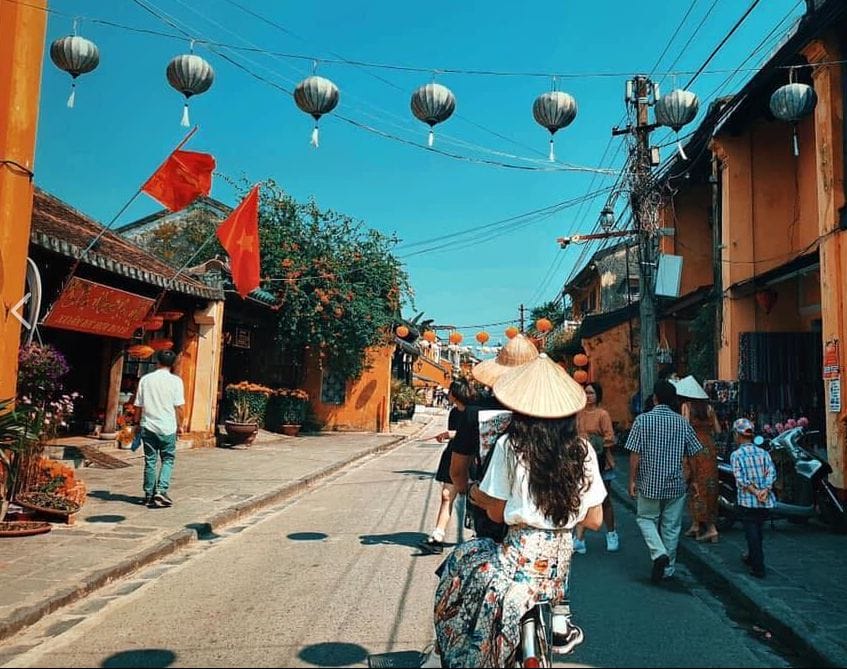 As you might know, life here is very tranquil, comfy, and leisure. But when night falls, the ancient town becomes more crowded with different tourism activities. As a day outing, you can cycle around the city, settle down in one of the coffee shops to savour a cup of Vietnamese coffee. Get yourself some vitamin sea to relax your mind and soul, head to An Bang beach to enjoy the bright skies and nature. You can't pass the beach by once setting your foot in Hoi An. It's like part of the town's soul. Along the beach, relaxing bars front onto the sparkling white sand and magnificent blue waters. 
 To catch up with the pace of life, see the locals' life and join them for daily activities like buying cooking ingredients in the flea market nearby. Start with socializing with the sellers, cooking yourself or having tasty meals in eateries where are always ready at your service. For adrenaline junkies, take a ride to Thanh Ha Pottery Village, Cu Lao Cham, My Son Sanctuary, Da Nang beach city or Hoi An's outskirts at the weekend. It's hard to find another iconic town with such stillness. 
Hoi An Weather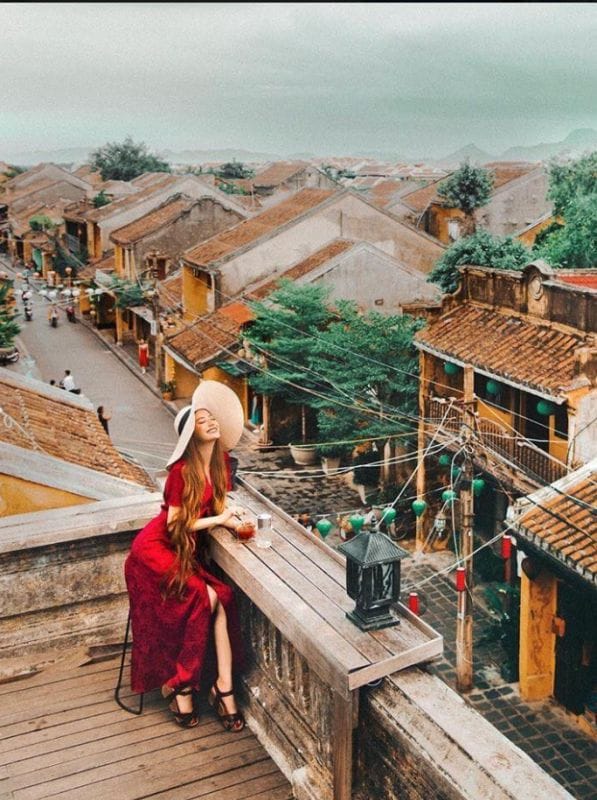 Like other areas, there are also two opposite seasons, the rainy season and the dry one. It seems quite hot in the dry season. However, it's the best time in a year. The rainy season often comes to bring storms and floods, causing most shops and stands to close. That affects daily activities. Be sure to check out the forecast weather to get full preparation for yourself. 
Hoi An Traffic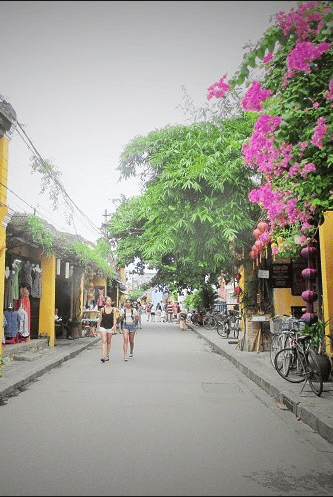 With the full transportation services available such as taxi, bus, pedicab, and motorbike taxi, both the residents and visitors can get around the city quickly. Compared to other major cities, it is hardly any traffic jams in Hoi An. 
 Vietnam is still a motorbike nation, so there is no wonder why you could see lots of them commuting on the streets. Motorbike rental ranges from over 5 to 6 dollars for a day. This is the standard prices applied for motorbike rental shops around the town. Do note that the vehicle is banned from the city by the evening so mind the time on the signs marking the town's boundary. 
 On the flip side, Hoi An ancient town is also the most fabulous place for cycling or walking. Yet walking is still the foremost way to explore the city because the sites for tourists are quite close to each other. It's further a bit to reach An Bang beach so you can ride a bike there. With just over one dollar, you can hire a bike for a day of use. The same as a motorbike, bicycle rental services are ubiquitous. 
Shopping and Eating
 Hoi An is a foodie icon, with much famous local food such as cao lau (Vietnamese Vermicelli), mi quang (Quang-style noodle), chicken rice, banh mi (Vietnamese bread), and so on. The town charges you a budget price for the best flavour of all. Teeming with eateries, vendors, food stands, and luxurious restaurant, Hoi An is food heaven appeasing any Food Vloggers' appetite. Aside from food, Vietnamese coffee here is excellent and famous too. Forget not to try a cup of coffee in the morning to wake up your mind. 
 Hoi An is a food and shopping heaven where providing all kinds of merchandise such as clothes, jewellery, handicrafts, lanterns, other souvenirs. However, remember to bargain with the sellers before deciding to buy anything. You will get used to it quickly after moving here. 
 Household utensils are indispensable items to start a new life, agreed? It means that you need to find a prestigious outlet to buy those. Just come to Dien May Xanh (Green Electronic), the biggest chain of electronics supermarket in Vietnam. Dien May Xanh placed two of its outlets in Hoi An. One is located in no. 16 Nguyen Tat Thanh Street and the other is at no. 371 Cua Dai Street. The products here are all high-quality, which comes with reliable warranty services. 
Entertainment, Health and other facilities
 For workout lovers, Tuan Toan Fitness Center Hoi An and SuperFit Gym are the finest in Hoi An. Both of the centres provide modern fitness and exercise equipment and high-qualified Personal Trainers. If you want to do yoga, check out Hoi An Yoga and Nomad Yoga Hoi An – the most famous yoga clubs in town. By the way, Muay Thai (Thai Boxing) has increasingly drawn attention from sports addicts. So if you feel interested in these sports, reach out Hoi An Muay Thai. Last but not least, The Calm Spa and White Rose Spa will bring you fairer skin and handle your skin problems. 
 With its iconic features, entertainment facilities in Hoi An are not acting too late. However, you can still chill out at bars in the ancient town or An Bang beach until 10 p.m. But fear not if the nightlife is your thing, drive 45 minutes out of the city to reach Da Nang. The beach city teems with bars, entertainment parks and facilities always ready at your service by night. Different from entertainment facilities, the town abounds various banks working from Monday to Friday. Some branches are active on the morning of Saturday. Be sure to check the working time before arriving there to deal with your business.
 You need to go to the hospital, but your Vietnamese is terrible. Don't fret, many doctors working in Pacific Hotel at no. 6 Phan Dinh Phung Street can speak English well. With the most modern medical equipment, the hotel is sure to bring you quick and fast service. There are more hospitals that charge you cheaper, but the Pacific Hotel is the best. And you deserve the best. Had you had not enough time to go there, find a treatment and prescription in some drug stores nearby your accommodation. Still, diagnosing your disease in a hospital is a better way. Da Nang is one of the most worth-living cities, so the superior and well-trained doctors also move here in droves that rank the medical services first in Central Vietnam. 
Where to live in Hoi An
 Top 3 worth-living zones in Hoi An are the ancient town and the neighbourhoods, Tra Que Village, and An Bang beach. 
 Downtown Hoi An including the ancient town and the neighbourhoods where gathers all the comforts. You can even walk to get where you are heading to so it's the most convenient zone to live in. But do note that the rent is much more expensive than that of other zones. 
 Tra Que Village lies between the ancient town and An Bang beach. Few people live there because of the most areas of land used for farm and plant. No high buildings found in this zone, that means you can easily admire magnificent dusk and dawn every day. Moreover, the village has fresh and pure air where exhaust and pollution have no way to access. Still, you need to buy the necessaries of life from the town due to a shred of stores and outlets around. In return, the room rental rate is affordable. 
 Prevailing in An Bang beach, 6km from Hoi An ancient town, are hotels and restaurants. Unlike Tra Que Village, you can get the necessaries within the zone. Living in an apartment near or front the beach, start your day by doing yoga on fine golden sand at daybreak. Yet, the rental is not cheap at all. 
 Generally, the level of prices relating to a range of everyday items in Hoi An is much lower than in other major cities. Regarding accommodation, a suit costs about 250 dollars per month. Apart from the top 3 zones to live, try finding an apartment on the outskirts that matches your budget. Join two groups named Hoi An Expats and Danang Hoi An Expats for advises from the foreigner community if you are finding a house for your family. 
Cost of living in Hoi An 
As mentioned above, the level of prices relating to a range of everyday items in Hoi An is much lower than in other major cities. Regarding accommodation, a suit costs about 250 dollars per month. With only 0.65 to 1.1 USD, you can buy one dish for your meal, but the cost is 10.000 VND higher in the ancient town. And of course, it will be much higher when you take the meal at a fancy restaurant. Prices of drinks at coffee shops usually range from 0.9 to 2.2 USD. Shopping or other utensil expenses shall depend on the quality of products or services. 
 In short, Hoi An's advantages, including eco-friendly vehicles, low cost of living, quiet atmosphere, green spaces, and organic food. Bet that these features are enough to improve your life, Health, and mind. Even though it also has some disadvantages such as the flood in the rainy season, entertainment facilities close early, little modern hospitals in town (Arrive in Danang for one), no airports and fewer job opportunities for foreigners. 
 Beyond dispute, Hoi An is such an ideal place to settle down and start a whole new life.