A little "tip" for an elegant & stylish room reservation
To ensure that you get a satisfying room during the travel season, follow the "tips" of Hanami Hotel exclusively for you. Hanami Hotel always offers you the best service at the best price.
Determine room rates and support services
Please click here for more information on the types of room available at Hanami low-price beach hotel, then choose the room type that suits you. We have several types of rooms according to your needs. In particular, if you are on your honeymoon, you'd better notice us since we serve in-room decoration and celebration on your request.
Besides, if you have any further queries please contact our customer service by email at contact@hanamihotel.com or let us talk to you directly.
Also, we have a free parking lot with a capacity of about 10 cars. So you can be sure that your vehicle is always safe. This is particularly rare because virtually all beach hotels could not afford for car parking spaces and security.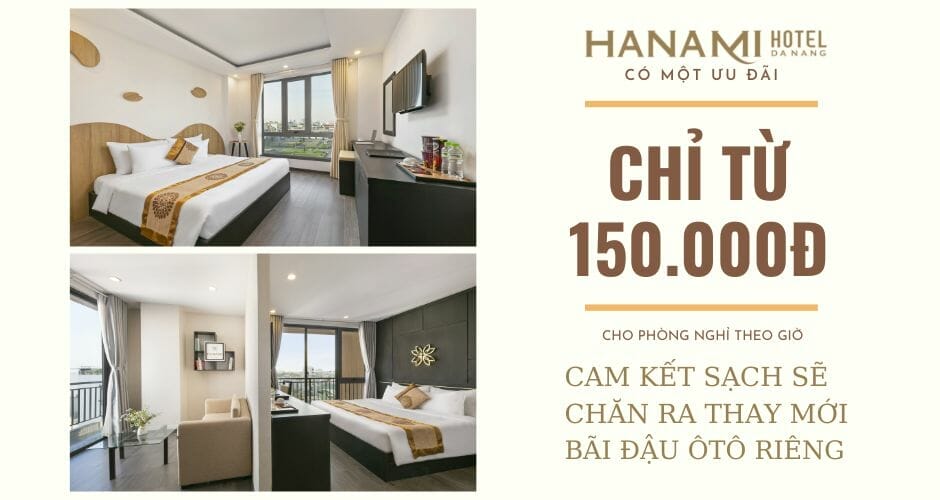 Early booking at least 2 weeks in advance
To get bonuses for using the service and ensure accommodation – especially hotels close to the beach like Hanami Hotel, book the room as earliest as you can. Because in high season, it is usual that all the rooms are booked or no more any room of your choice is available.
You can make a reservation directly with us or via booking partners such as Booking, Agoda, etc. If you have any questions, please contact our customer service for immediate answers.
Please note the conditions for cancelling or booking additional dates,
We have special terms to support you in some unexpected cases that you may therefore need to check in later or earlier. For more details, click here.
Children and Extra Bed Policy
If you would like to have children with you, please let us know. Depending on your child's age, there will be a separate policy (usually applied according to age). Don't worry too much about the costs involved because the price of the service at the Hanami Hotel is reasonable.
It's the time of summer vacation or honeymoon travel, take advantage of this time to enjoy with your family or friends to have fun, and don't forget to book at Hanami, a low price beach hotel. We are pleased to be a part of your Danang trip.