Pham Van Dong Beach, as a precious gift of nature, is a popular tourist destination today. So, what makes this beach so appealing? Check out Hanami's article "Pham Van Dong Beach: One of the must-see beaches in Da Nang" for more details.
Pham Van Dong Beach's location and directions
The location of Pham Van Dong beach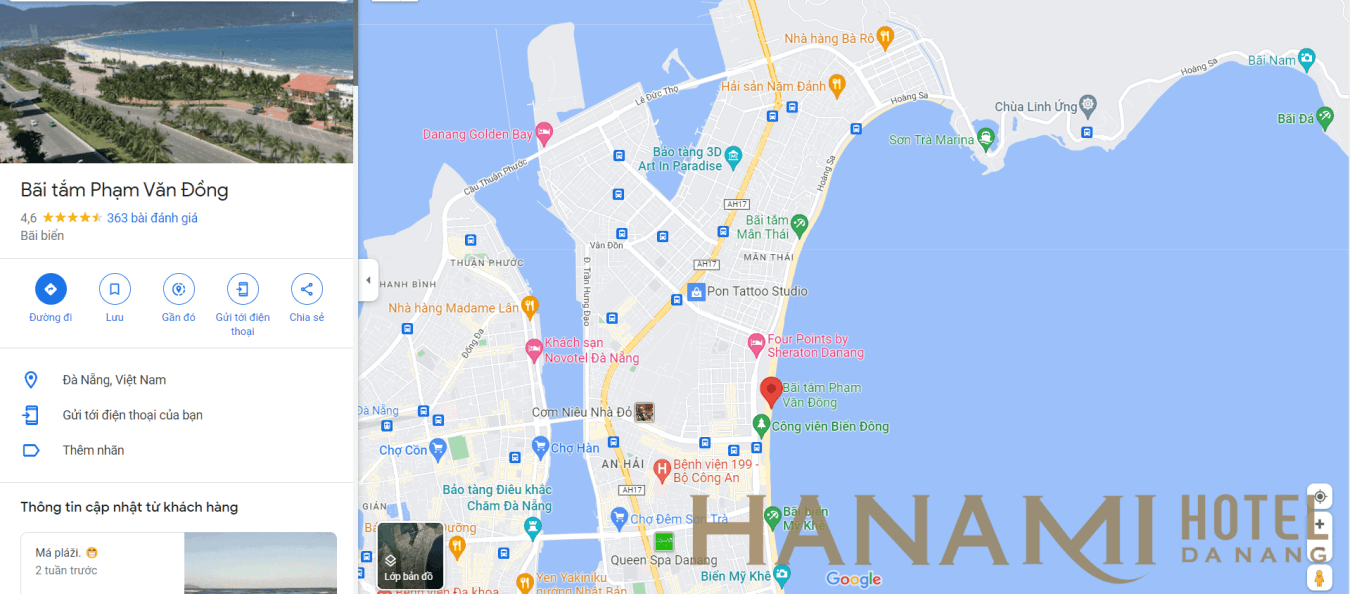 Da Nang beach stretches nearly 60km from Hai Van Pass to Non Nuoc with stunning, uninterrupted beaches. This deserves an ideal rendezvous for resting, relaxing, and bathing in the Asian region. As one of the most beautiful and impressive beaches in Da Nang, Pham Van Dong Beach is located at the end of Pham Van Dong Street in Phuoc My ward, Son Tra district, Da Nang city. Built in Bien Dong (South China Sea) Park, it is one of the beach serving communities, which was invested to relatively well upgrade.
How to get there
Pham Van Dong beach is not far from Da Nang's city center, so you can choose from a wide range of different vehicles, depending on your needs, such as: taxi, motorcycle, bus,…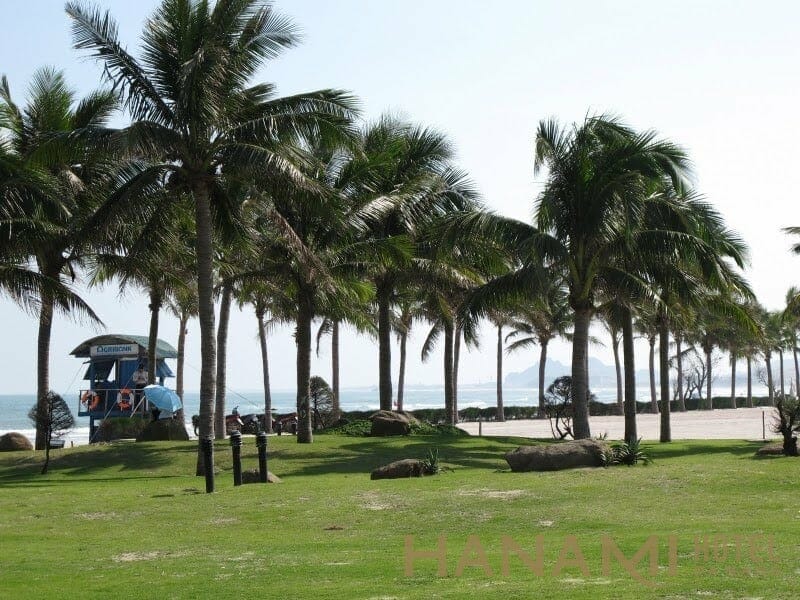 You can travel through Vo Van Kiet and Vo Nguyen Giap streets to get here in only 5 minutes. You can also choose to travel 3.7 km through Ngo Quyen and Pham Van Dong streets, which would take you about 6 minutes.
The ideal time to visit Pham Van Dong beach
From March through September is the best season to visit Da Nang in particular and Pham Van Dong Beach generally. The weather in Da Nang is often cool and fresh throughout the dry season, with gentle sea waves. This is the perfect time for beach vacations.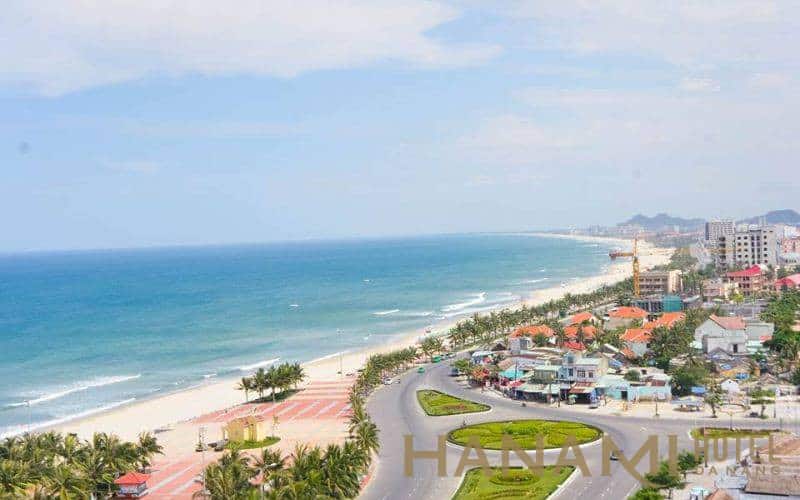 Even though it is the dry season, the weather in Da Nang is not too hot. The salty taste of the ocean is carried by the refreshing sea wind that blows on the shore. When night falls, this place will have a really relaxed, pleasant, and soothing feeling.
What makes Pham Van Dong Beach appealing?
Beautiful blue water all year round
The sea water at Pham Van Dong beach is always turquoise. The pearly beauty of the sea with the deep blue sky, that's how it makes tourists immersed in its beauty.
You will be drawn to this location by the crystal-clear, blue sea and the harmony between heaven and earth's natural beauty. Pham Van Dong Beach is an ideal destination where you can relax your mind after a tough day because of the vast landscape and the coolness of the sea.
Relax at the beach
Located in prime location, Pham Van Dong Beach is always crowded without giving others a sense of stuffiness or hustle. There is nothing better than spending a hot summer day immersed in cool, clear blue water or resting on the sand and enjoying the breezes from the sea and the sweet sound of the waves crashed onto the shore.
Smooth white sand shores – ideal place for outdoor activities
Pham Van Dong Beach, with its smooth white sand shores, is ideal for outdoor activities. Visitors can go for a walk while enjoying the stunning beauty of the sea, or they can organize a camping trip on the beach or play volleyball with their friends here.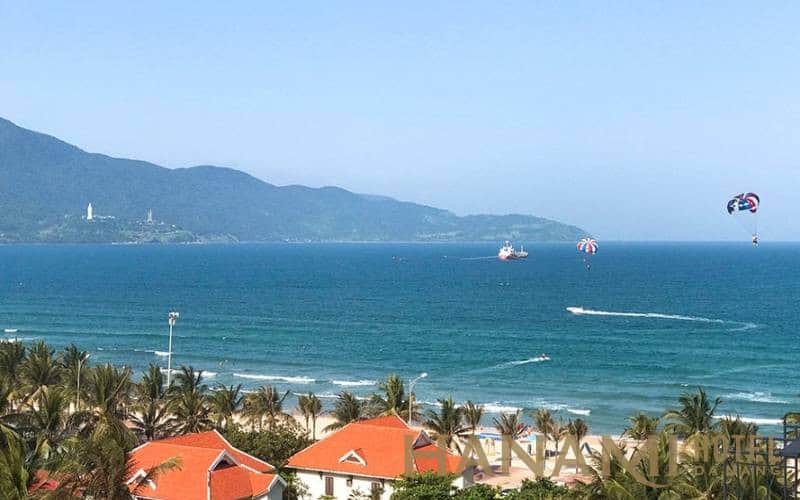 However, during the dry season, this white sand beach can be scorching. As a result, you should bring along a pair of travel sandals to protect your skin while traveling.
Impressive tree rows
This location, which is known as a vacation paradise, has fresh air, long white sand, and turquoise water. Pham Van Dong beach's attractiveness is enhanced by a row of lush green trees that line the roadside in addition to the sea and sand, making it the ideal destination for your vacation.
Take check-in photos at East Sea Park
Taking pictures is definitely something you should not skip when visiting one of these gorgeous beaches. The sunset view at Pham Van Dong Marine Park is regarded as a masterpiece, making it the perfect location for "photographers" to be born.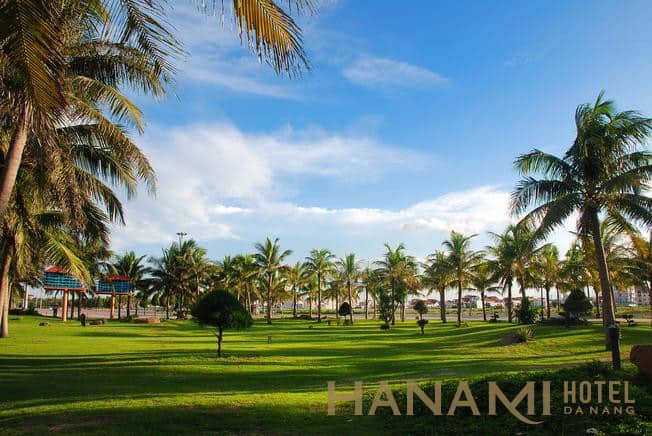 Must-try activities when visiting Pham Van Dong beach
Enjoy swimming in the sea 
Immersion in the water is a must-do when visiting a stunning beach. The majority of people who visit Pham Van Dong beach have engaged in swimming activities, which are seemingly simple but are actually quite fascinating.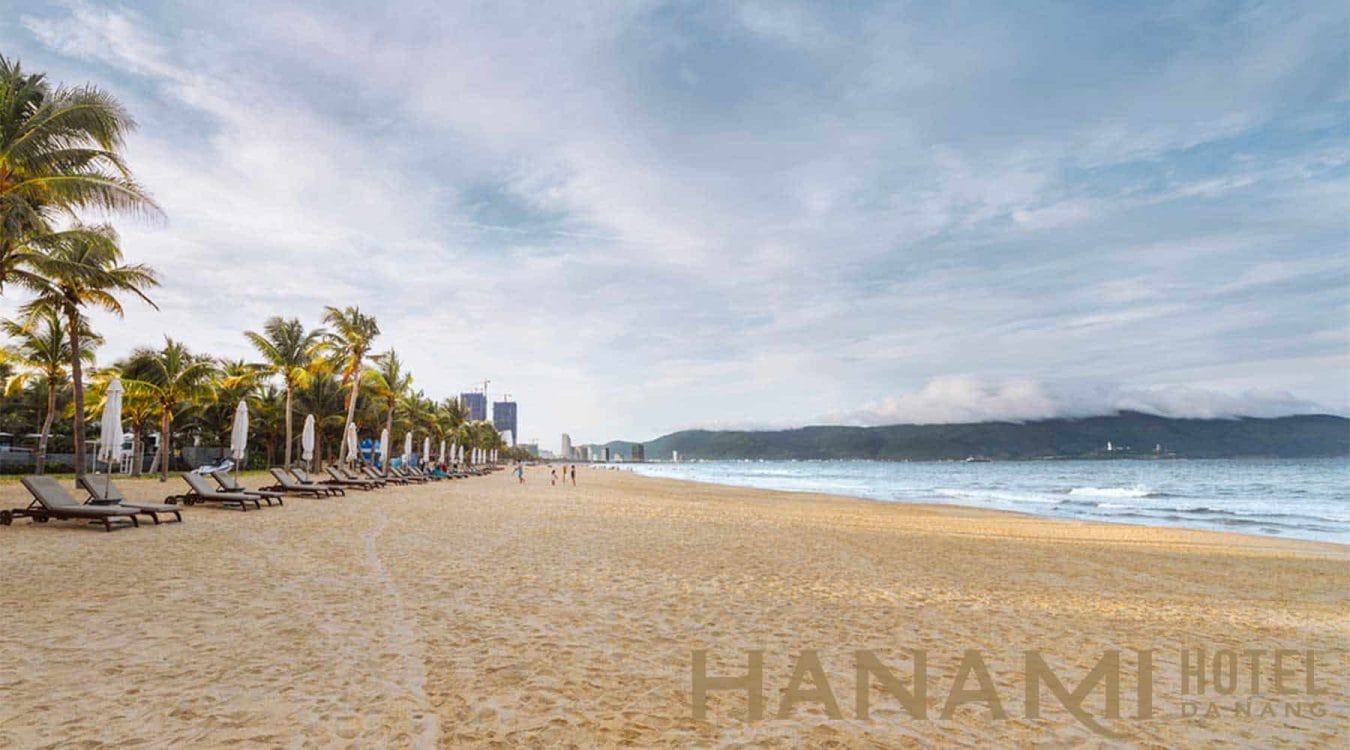 Although the water is very shallow, you should bathe close to the shore to guarantee your safety. Children should also be under adult supervision. Moreover, keep in mind that you should choose a location with many people to prevent unplanned events from delaying your vacation.
Camping for a picnic
If you want to organize camping and picnic activities, Pham Van Dong Beach is a perfect option. It has smooth white sand shores, beautiful scenery, and plenty of open space. It will undoubtedly provide you with a memorable experience.
Take a walk on the beach
Many tourists enjoy the beach because it has a long stretch of white sand and a dreamy blue landscape. You can visit the beach with friends and family to experience the romantic beauty of this location. At the same time, your mind will rest and unwind after a long day of work.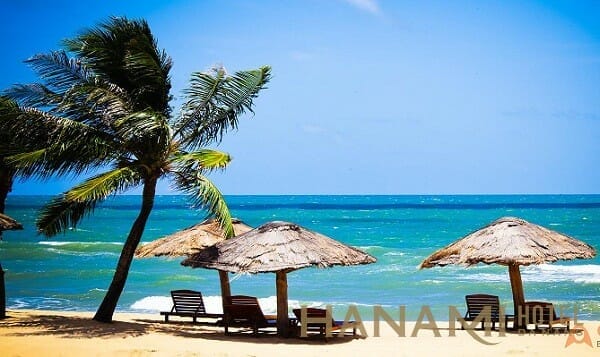 Yachts, paragliding on the sea
For those who love adventure games, here is a paradise of activities such as yachting, paragliding. This is a chargeable activity, you should ask to be sure of the cost, to ensure a trip at the original estimated cost.
Tourist attractions near Pham Van Dong Beach
Marble Mountains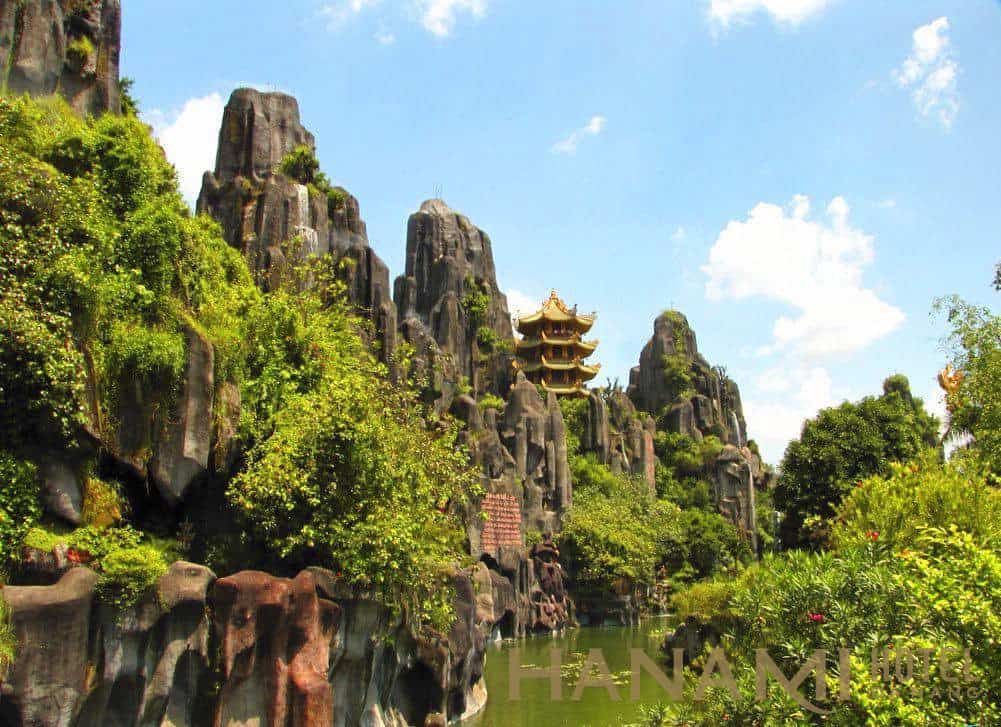 Marble Mountains is a work of art that Mother Nature bestowed upon Da Nang. This is a destination with a harmonious beauty between the spiritual place and the natural ecological area, creating a very appealing area for visitors.
Danang Golden Bridge
One of the landmarks of Da Nang, the stunning and unique Golden Bridge, is a must-see for anybody visiting. The Da Nang Golden Bridge's simulation design, which is based on a huge hand, captured the interest of many domestic and foreign tourists after the bridge was built.
Han River Bridge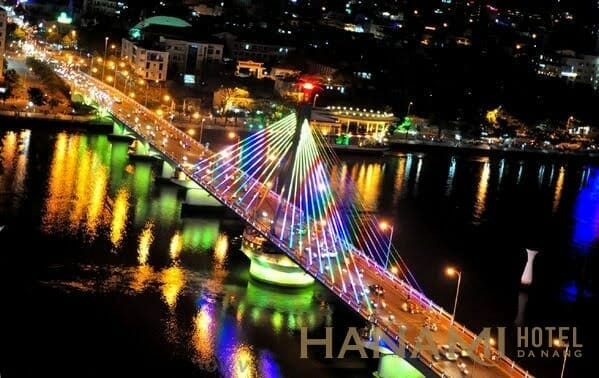 This is the first bridge in Vietnam that can be rotated, and it is also a destination that visitors can choose after visiting Pham Van Dong Beach. With a one-of-a-kind scene combined with the sparkle of Da Nang city, it creates a romantic scene at night that no visitor can ignore.
Delicious restaurants near Pham Van Dong Beach
Huong Bien Restaurant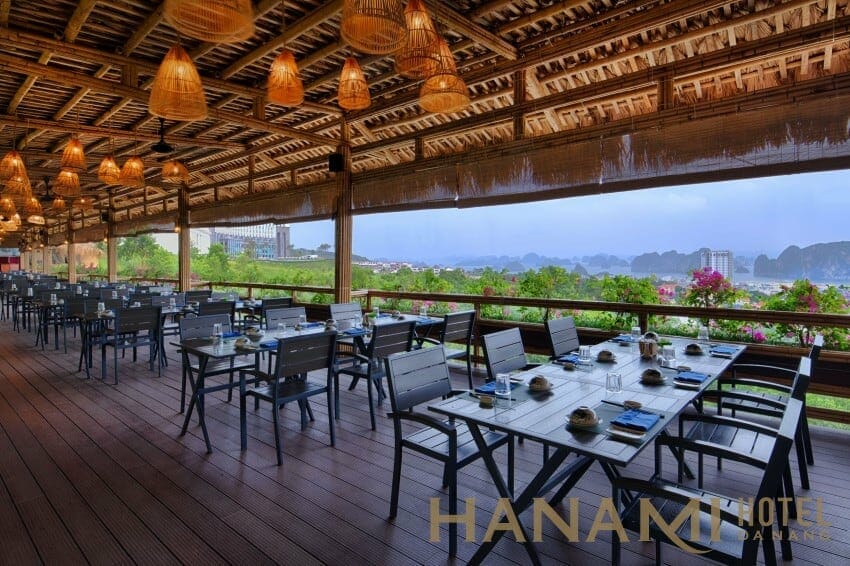 This is a popular tourist destination due to its cleanly prepared dishes and spacious, airy space. There are also a variety of dishes on the menu, ranging from salads to fresh seafood dishes typical of the sea. This is a restaurant you should try before moving on to another tourist attraction.
Address:

199 Nguyen Van Thoai Street, Phuoc My Ward, Son Tra District
Le Gia Seafood Restaurant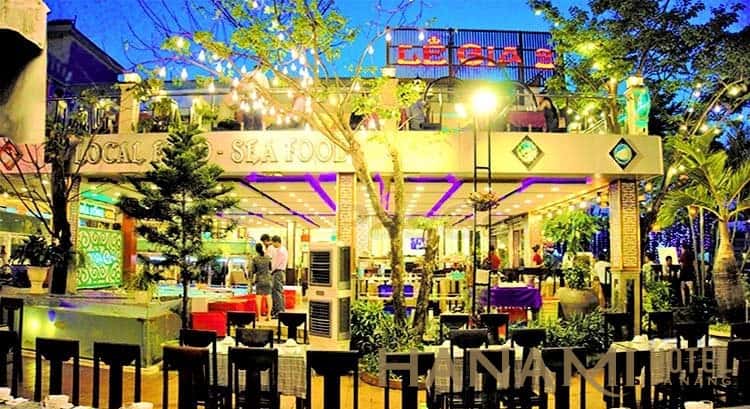 The restaurant specializes in dishes made with fresh seafood. Meticulously prepared and beautifully decorated, the dishes are extremely clean, and the menu is diverse with various dishes excluding seafood, so you are looking for a seafood restaurant. This is an intriguing option.
Address:

A5 Pham Van Dong, An Hai Bac, Son Tra.
Lo Thien Quan
Visitors are drawn in by the restaurant's unique name, which also evokes their curiosity. The seafood dishes are also prepared delectably, winning them over. After a long tour, this is a great place to relax with friends, family, or coworkers.
Address:

19 Tran Bach Dang, Son Tra district, Da Nang
Viet restaurant

Address: 113 Nguyen Chi Thanh, Hai Chau District, Da Nang
When visiting Pham Van Dong Beach, you should not miss out on this casual but high-quality restaurant. Here you can satisfy your hunger with rustic dishes. The menu is also extremely diverse, so you can come and try the famous dishes here!
Above is detailed information about Pham Van Dong Beach that Hanami wants to introduce to you. There is no justification for you to pass up the opportunity to visit a location that is so beloved by nature. Don't hesitate to make plans as soon as possible to visit and enjoy the beauty here!