Love Lock Bridge Da Nang is a well-known tourist attraction in Da Nang. If Namsam Tower is famous in Seoul, Korea, Love Lock Bridge in Da Nang, Vietnam, is a site for sightseeing and romantic amusement that is no less competitive. So what attraction does this place have that everyone wants to visit once when coming to Da Nang? Let's explore Hanami Hotel Danang through the article below!
About Love Lock Bridge Da Nang
Love Lock Bridge Da Nang is located at Tran Hung Dao Street, Son Tra, Da Nang. Officially put into operation in 2015, the park is located between the Dragon Bridge and the Han River Bridge. Therefore, when visitors stand here, they can admire a lot of beautiful scenery. Da Nang Love Park is famous for its 68-meter-long arc-shaped love bridge, which spans the middle of the Han River. As soon as it was put into operation, this was a place that attracted a lot of people and tourists. 
Because this is a bridge built and inspired by world-famous love-lock bridges such as Milvio, Pont des Arts, Hohenzollern, and Tretriakovsky, it is a romantic space for couples. This is the place to express the couple's wishes for eternal love. When the two hang a love lock with their names on it, the key is thrown away.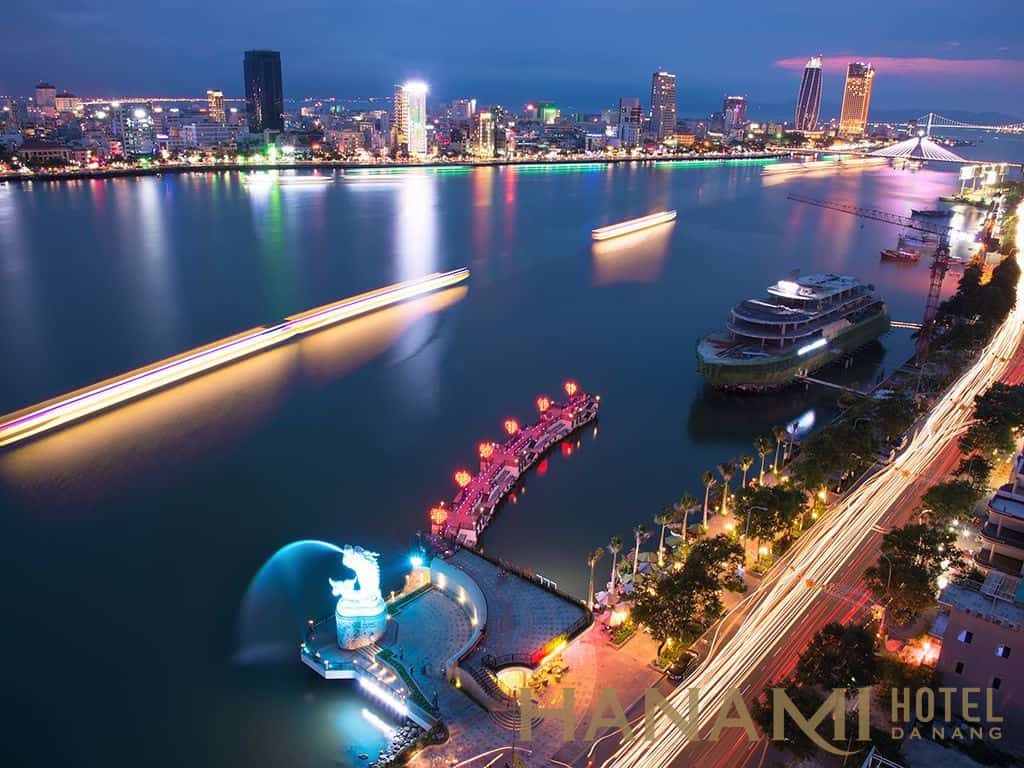 The ideal time to visit 
Depending on the time of day, Love Lock Bridge Da Nang will bring a different beauty. If you want to immerse yourself in the pristine early morning space and see the clear blue water of the Han River, visit the park in the morning. If a couple wants to take a walk in the late afternoon sunset and talk about being a romantic couple, the late afternoon is the most ideal time.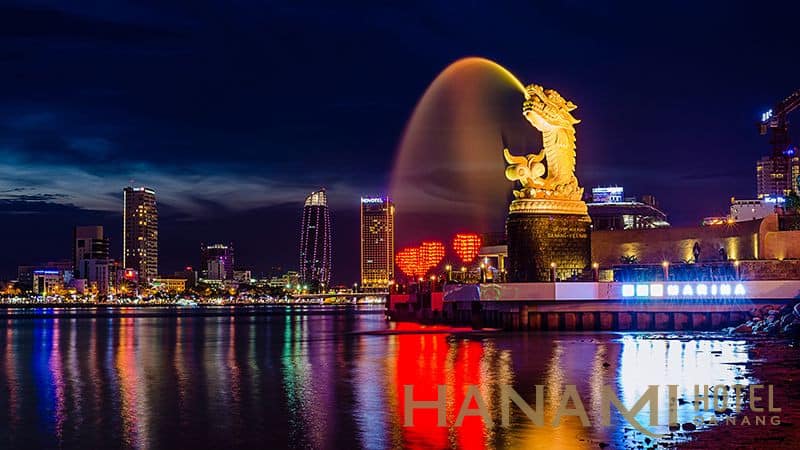 Love Lock Bridge Da Nang at night becomes extremely charming and splendid in the heart of the city by wearing extremely radiant and colorful clothes. Thousands of lanterns lit up brightly, reflecting the most beautiful things on the poetic Han River.
Outstanding works 
Love Lock Bridge Da Nang – The mark of love for couples
Love Lock Bridge Da Nang is one of the special bridges in Da Nang thanks to its poetic space and impressive series of check-in points that anyone does not want to miss. The bridge and small heart-shaped lights are exquisitely designed and combined into a big red heart in the heart of the park. The most precious moment of this bridge is when it is dark, the street lights are up, and the heart-shaped lights light up the whole sky, an extremely romantic beauty. This is also one of the most popular check-in points for couples when taking wedding photos in Da Nang.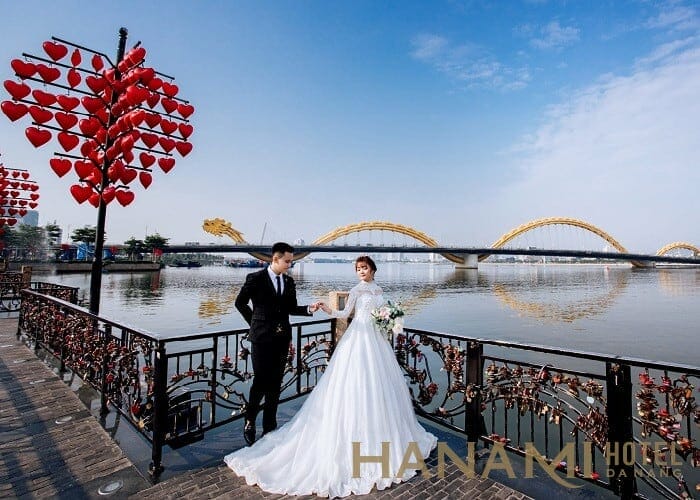 Dragon Carp Statue
The statue of a carp turning into a dragon is a symbolic image of the marina. The statue is 7 meters high, weighs nearly 200 tons, and is cast from five blocks of natural white marble. The statue of a carp turning into a dragon has a very special meaning, which is to express the desire to rise up in all circumstances. To serve the tourists, the carp statue will spray rain, and every weekend night it creates interesting images for visitors to visit and take pictures.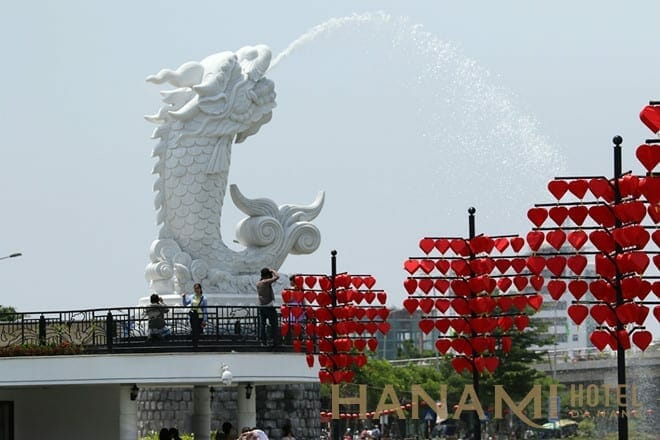 DHC Marina 
DHC Marina has five luxurious and romantic floors that serve food and drinks at the yacht's Skybar. This is an extremely ideal place to admire the beautiful scenery of Love Bridge, enjoy drinks, and relax. The statue of a carp turning into a dragon is located in the DHC Marina Marina cluster. At night, you can enjoy a meal while listening to the live orchestra in the shimmering scene of lights shining on the surface of the Han River.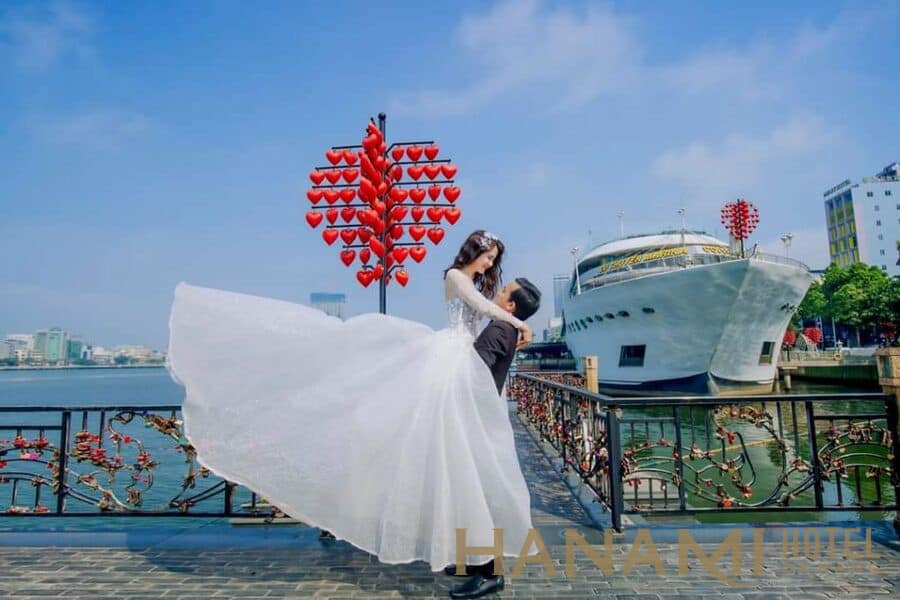 Experience going to Love Lock Bridge Da Nang
You can buy locks at Love Park Da Nang at the store at the entrance, with prices ranging from 50,000 VND to 200,000 VND. Alternatively, you can also prepare your own locks at home. 

If you move your motorcycle here, it will cost you 5,000 VND for parking. There are two parking areas: one in front of the yacht restaurant and the other in the vacant lot opposite the Love Bridge area. 

If you like a romantic space, go in the evening because hundreds of red heart lanterns will be lit up at that time. 

This place is very hot on Saturday and Sunday nights because it is a convenient location to watch the Dragon Bridge spray water and spit fire. Take advantage of going early if you want a spot with a nice view! If you don't want to be too crowded, avoid going at this time.
Through the above article, Hanami Hotel Danang has just provided some information about Love Lock Bridge Da Nang. If you have the opportunity to visit Da Nang, do not forget to come here to visit, check in, and keep many beautiful memories with your lover, family, and friends!