With just 4 dollars, you can eat all Danang's specialities. Are you surprised? Let us - the budget Hanami beach hotel help you find out the truth. 
Mi Quang (Quang-style noodles is the thick turmeric rice noodles in a tasty broth)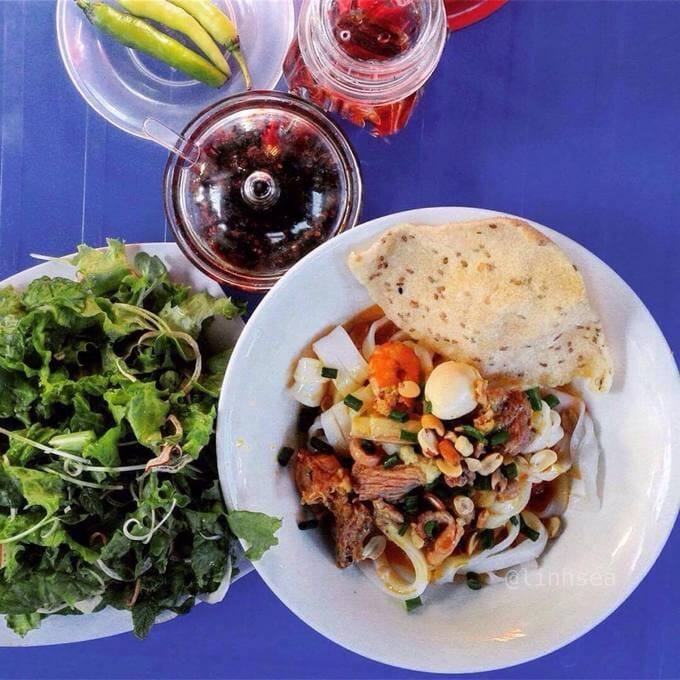 Price: 0.65 dollars - 0.86 dollars
Quang-style noodles is a very famous dish in Danang, Quang Nam. So if you choose the Hanami Hotel to stay, you can try the dish right in its restaurant. The fillings vary from shrimp, pork, chicken, snake-head fish, frogs, to name a few. 
Vietnamese Vermicelli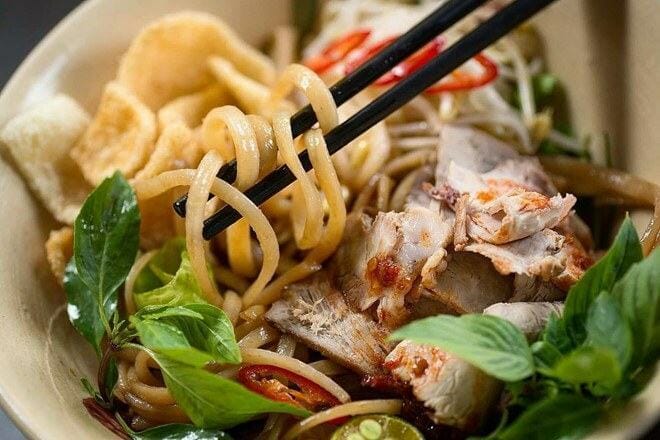 Price: 0.86 dollars - 1.73 dollars
Though being a popular dish, those people who are choosy about food might not like it. That's why the number of places selling this dish is less than before. But if you see any eateries offering the dish, you should still pop in for a trial.
Fermented thick Vietnamese vermicelli soup with pork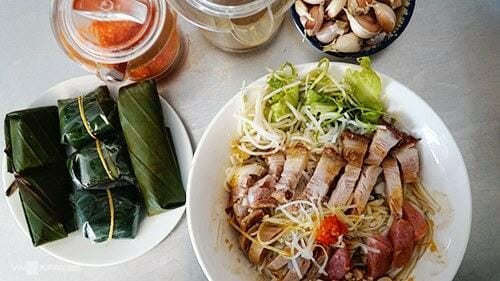 Price: 0.65 dollars - 0.86 dollars
Aside from must-have ingredients such as vermicelli, fresh herbs, and meat, the native people add into it boiled young jackfruit, spring rolls, Vietnamese sausage, roasted or grilled pork. This soup is a ubiquitous dish in Central Vietnam so you can taste it at any restaurant in the region. Do not miss it, or you'll be sorry. 
Mixed jackfruit - Danang local street foods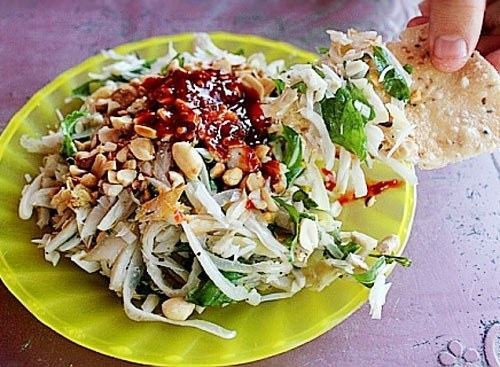 Price: 0.43 - 0.65 dollars
There are many people who feel its flavour quite funny at first time trying. But soon, they fall in love with the delicate and fresh flavours of the dish. People boil the jackfruit then mix it with spices, peanut, pork, and several other ingredients. Finally, the dish is served with rice paper and crispy fried pig skin. With only 1 dollar, you can get your belly full satisfactorily. 
Sucking Snails - Avocado Ice-cream
Price: 0.9 - 2.15 dollars
These are Danangese's favourite dishes for their mood. Though Danang's known for its out-of-earth seafood, you shouldn't pass by snails. There are many recipes to turn the snails into delectable dishes such as stir-fried with coconut, chilli & lemongrass, steamed, and so on. 
By the way, near our budget Hanami Hotel is the famed Bac My An Market where is packed with avocado ice-cream and sucking snails. A palatable cup of ice-cream costs only 0.45 dollars. If you once watched a clip about Danang cuisine, you might know about that. Within the market, there's a woman whose sucking snails steps out of all so you should ask the locals for a direction to her. 
Hanami Hotel Danang Free Coffee
Yes, you don't take it wrong. You'll get free breakfast coffee if you choose Hanami Hotel to stay during your trip. Furthermore, you can get other promotions such as free wedding room decoration, room party,... It sounds interesting, right?
These are all popular, delicate, and low-price dishes that Hanami Hotel wants to show you. We hope that you'll have a perfect trip. For more information about Danang tourism, check on it here. Have a nice trip!