Vietnamese consumers have long trusted and loved Korean products, especially food and cosmetics. If you enjoy Korean products, don't miss Hanami Hotel Danang's recommendations for Korean supermarkets in Da Nang!
Why are Korean supermarkets so well-liked among young people in Da Nang?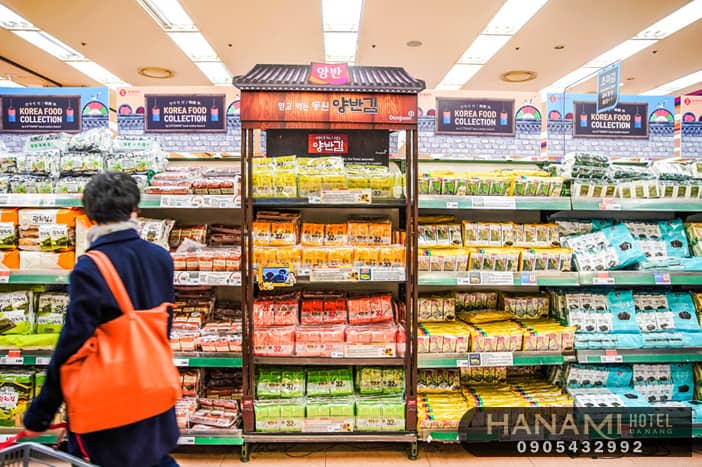 Korean supermarkets sell a wide range of imported foods and household goods. In addition to the main supermarkets, there are also small stores known as mini supermarkets that can be found throughout Da Nang. These stores are typically open 24/7 to fulfill your needs, making shopping easier and more effective.
Korean supermarkets in Da Nang are popular with young people for many reasons:
Korean supermarkets are popular among Danang's young people for a variety of reasons.

One of the main reasons is that these supermarkets provide high-quality goods at low costs.

Furthermore, these supermarkets offer a wide range of products that meeting the needs and interests of young people, including fashion, cosmetics, electronics, home appliances, Korean food, and so on.

In addition, supermarkets also have modern, impressive and customer-friendly shopping spaces.

Many Korean supermarkets in Da Nang also have promotions and discounts to attract the attention of young people.
Top 7 Korean Supermarkets in Da Nang
Lotte Mart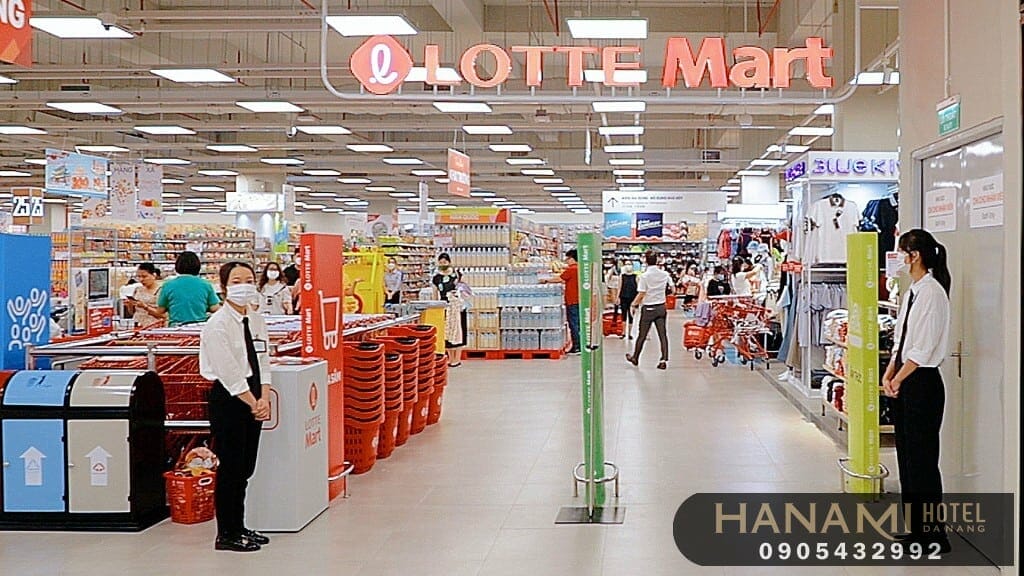 Lotte is a popular destination for housewives because it specializes in importing pork, beef, and Korean gourmet products. Not only that, you will be completely satisfied with the long-term, qualified staff who have been carefully selected and trained.
You won't have to worry about product quality if you visit this Korean store in Da Nang. Before being supplied to the market, the products are quality tested, have product quality certificates, and are absolutely safe during the importation process from Korea.
Lotte Mart has a beautiful parking lot, convenient transportation, and the stalls are arranged in a scientific, reasonable, and artistic way to help customers easily choose products. The supermarket's layout is simple and modern, but also eye-catching and Korean-style.
CONTACT INFO:
Address:

6 Nai Nam, Hoa Cuong Bac, Hai Chau, Da Nang

Tel:

0236 3611 999

Opening hours:

08:00 am – 10:30 pm

Website:

http://lottemart.com.vn/

Fanpage:

https://www.facebook.com/LOTTEMartDaNang/
Joy Life Korea Mart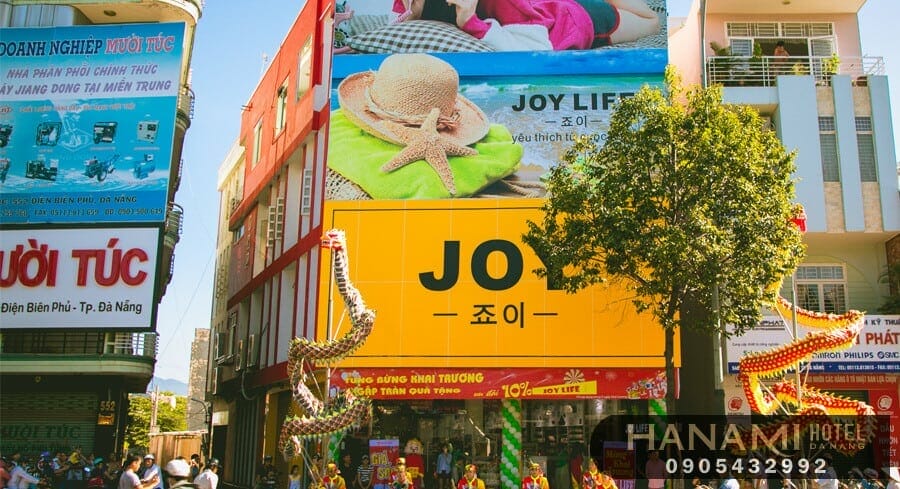 Another Korean supermarket in Da Nang that deserves to be on this list is Joy Life Korea Mart. The majority of the company's product lines are Korean food and beverages. All products will be carefully chosen and of high quality. Therefore, the majority of customers shopping here are also quite satisfied.
In addition, the store sells fashionable things, consumer goods, and children's toys… So, this will be a Korean store in Da Nang that you should not miss.
CONTACT INFO:
Address: No. 548 Dien Bien Phu, Thanh Khe Dong, Thanh Khe, Da Nang

Phone number: 0236 3797 268
K–Market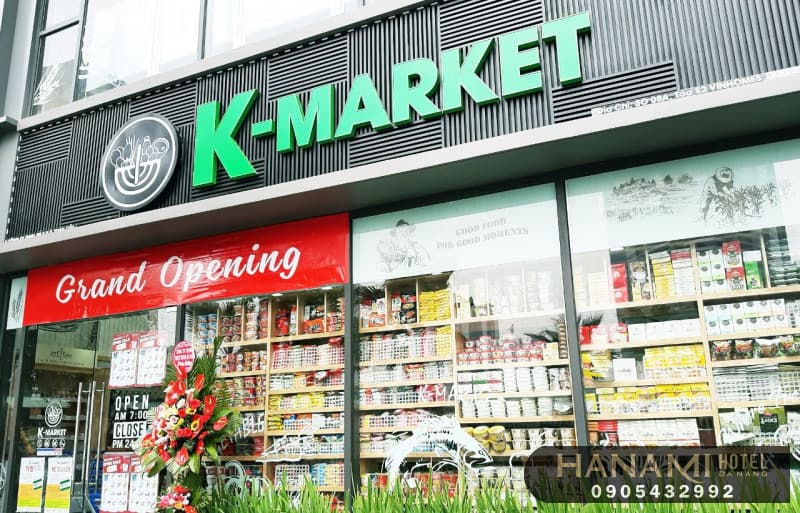 K-Market is a Korean food store in Da Nang that specializes in importing food, beverages, and beverage items from Korea at a reasonable cost with high quality assurance.
K-Mart supermarkets not only bring high-quality consumer goods but also smart utilities to city shoppers. In supermarkets, there are often high-class American brand laundry detergents with guaranteed quality, trusted by many customers.
K-Market promises to be a place where you can shop for Korean food at a reasonable cost with attentive service.
CONTACT INFO:
Facility 1: B1-2-3 Pham Van Dong, An Hai Bac, Son Tra.
Facility 2: 104 Bach Dang, Hai Chau.
Facility 3: 05-07 An Thuong 2, Ngu Hanh Son.
Tel:

0236 3960 001

Website:

k-martketdn.business.site
Hi Mart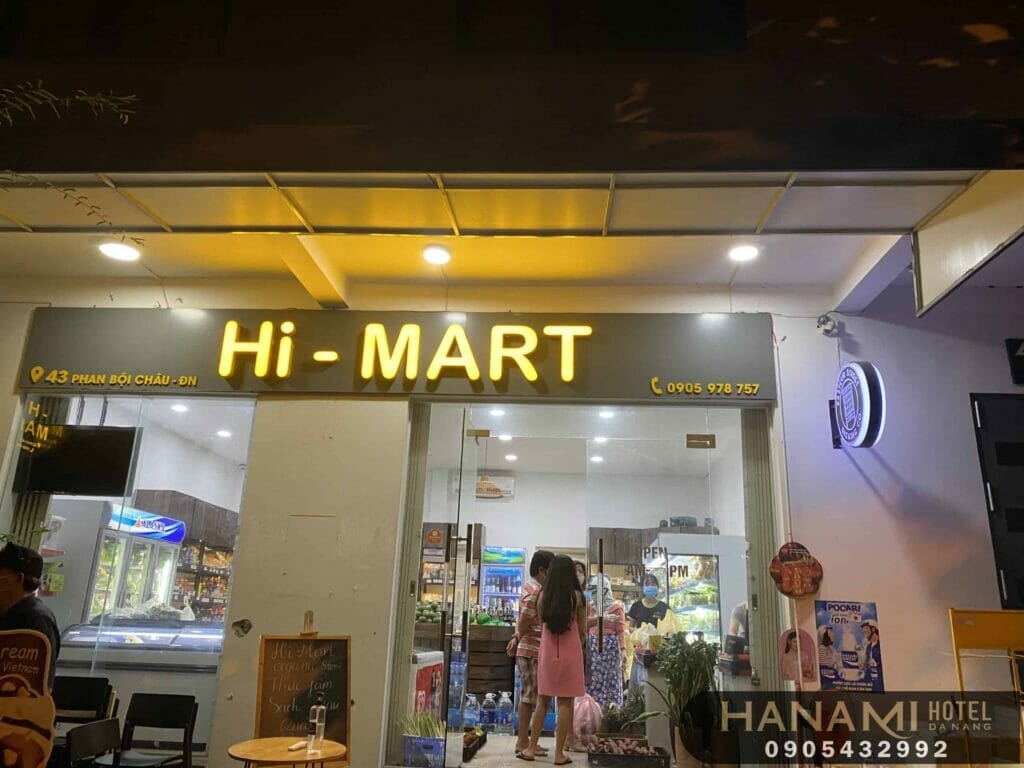 Hi Mart is an extremely famous Korean store, currently the official representative for many famous Korean products, from consumer goods to beauty cosmetics.
When coming to Korean supermarket Da Nang – Hi Mart, you will be able to shop for 100% genuine products at a low cost. With the goal of bringing high-quality Korean goods to Vietnamese consumers. Hi-Mart supermarkets import goods directly from manufacturers, so they guarantee the lowest prices in Da Nang.
CONTACT INFO:
Address:

189 Thai Thi Boi, Chinh Gian Ward, Thanh Khe, Da Nang

Tel:

090 515 15 14

Opening hours:

07:00 am – 22:00 pm
Ilahui Shop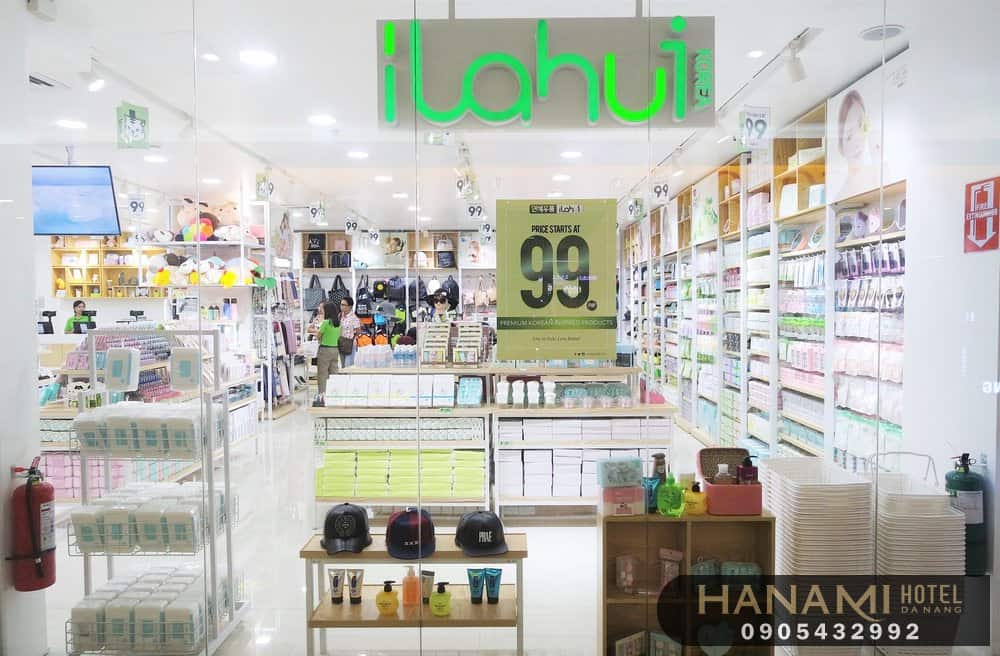 ILAHUI is a chain of convenience stores selling fashion accessories. This is one of the Korean supermarkets in Da Nang recommended by many young people. Convenience items and youthful fashion accessories that are popular with young Vietnamese are ILAHUI's strengths.
Customers can find anything they need at ILAHUI, including men's and women's clothing, accessories, toys, stationery, home appliances, electronic accessories, cosmetics, etc. Wide selection of models and prices.
Customers shopping here will also encounter a new shopping style, as well as a simple, elegant, and modern decoration space. Fashion items, cosmetics are all contained in lovely, colorful boxes.
If you love pretty items, then ILAHUI is a place worth experiencing.
CONTACT INFO:
Address:

125 Ly Thai To, Thanh Khe, Da Nang

Hotline:

092.616.0202

Website:

ilahui.vn

Facebook:

Ilahui Da Nang

Opening hours:

08:30 am – 10:30 pm
BB Mini Mart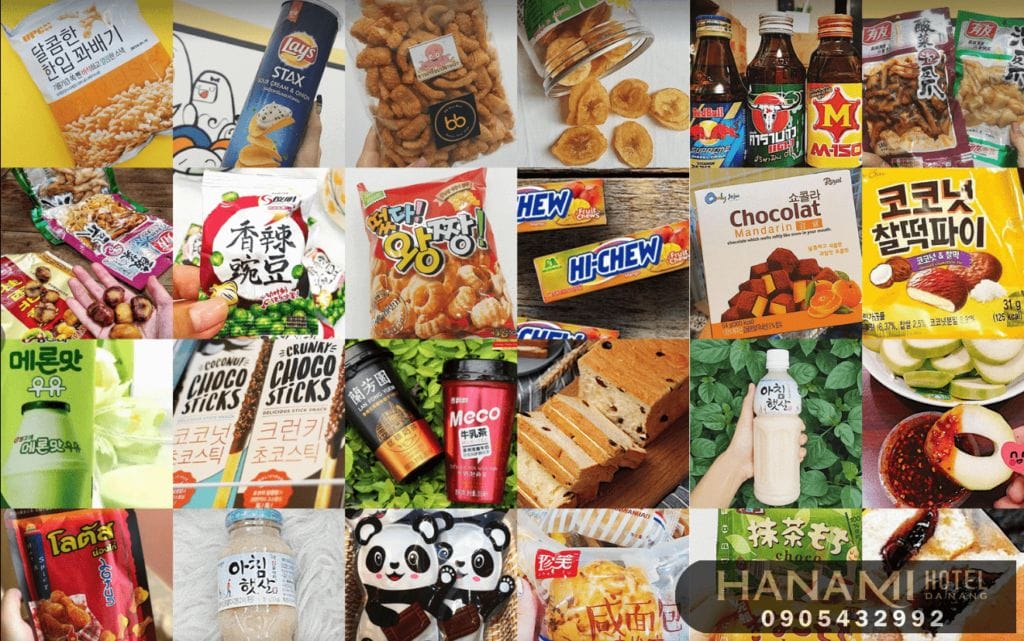 If you like Korean food, BB Mini Mart is the place you should go. BB Mini Mart is a company specializing in importing foods with a variety of designs.
The staff here is always pleasant and energetic, always willing to advise and assist customers in choosing the product that best suits their needs. Samyang spicy noodles, Soju, Korean dried persimmons, Korean cheesecakes, rice milk, and many other popular dishes are available here.
CONTACT INFO:
Address:

53 Tran Ke Xuong, Da Nang

Phone:

0905 183 173

Fanpage:

https://www.facebook.com/bbmart74/
Gugo Mart
Gugo Mart was established to provide genuine products to customers, providing clean and safe products. A welcoming and comfortable shopping environment with a team dedicated to serving and advising customers.
In addition, customers also benefit from flexible warranty and return policies. When customers visit, Gugo Mar promises to have convenient shopping experiences for its customers.
CONTACT INFO:
Address:

185 Nui Thanh, Da Nang

Phone:

0931 910 919

Website:

https://gugomart.com.vn/
In short, Korean supermarkets in Da Nang are a great destination for those who are passionate about shopping and discovering Korean culture. Customers love shopping at Korean supermarkets in Da Nang because of its spacious space, excellent service, and high-quality products.
We hope that the list of the top 7 Korean supermarkets in Da Nang will expand and become a well-known destination for both domestic and international travelers.