Green moss-covered Nam O Reef is like a beautiful pearl that appears in the heart of bustling Da Thanh, attracting hundreds of tourists every day. Follow Hanami's article "Nam O Reef – A Wonderful Check-in Point in Da Nang" to discover the beauty of this tourist destination!
The stunning beauty of the green moss-covered Nam O Reef 
Nam O Reef is a famous destination in Da Nang. At the beginning of spring, the whole Nam O Reef is dressed in a new green shirt of moss, attracting visitors from near and far to check-in and enjoy the beauty of nature.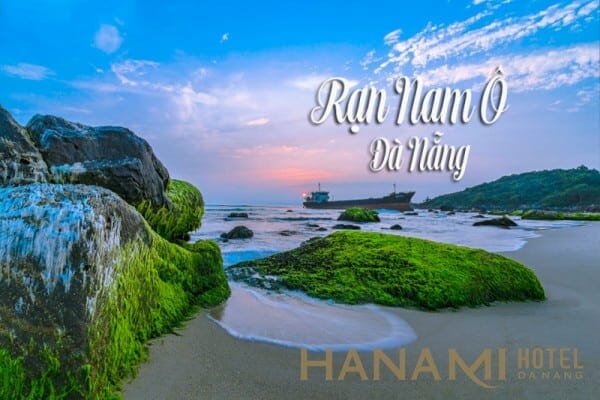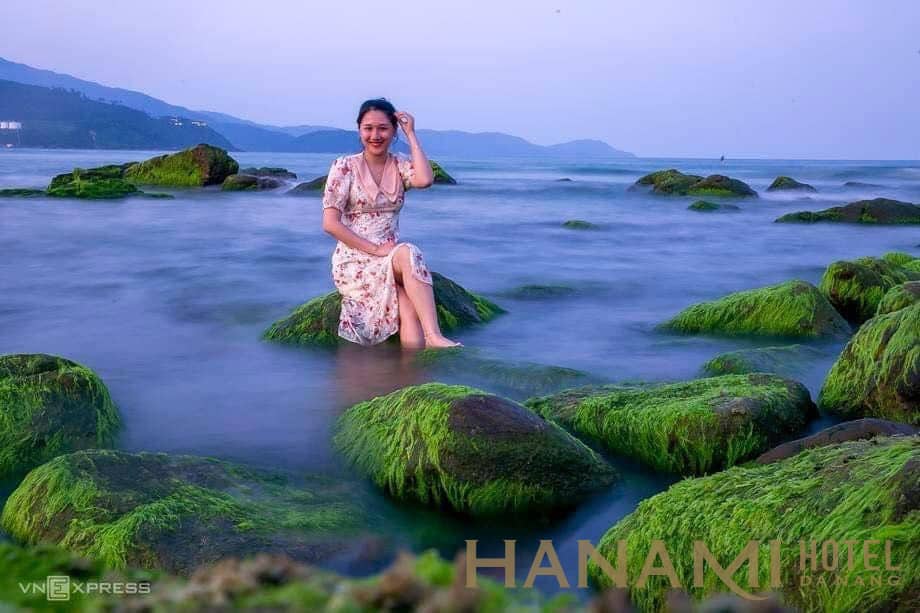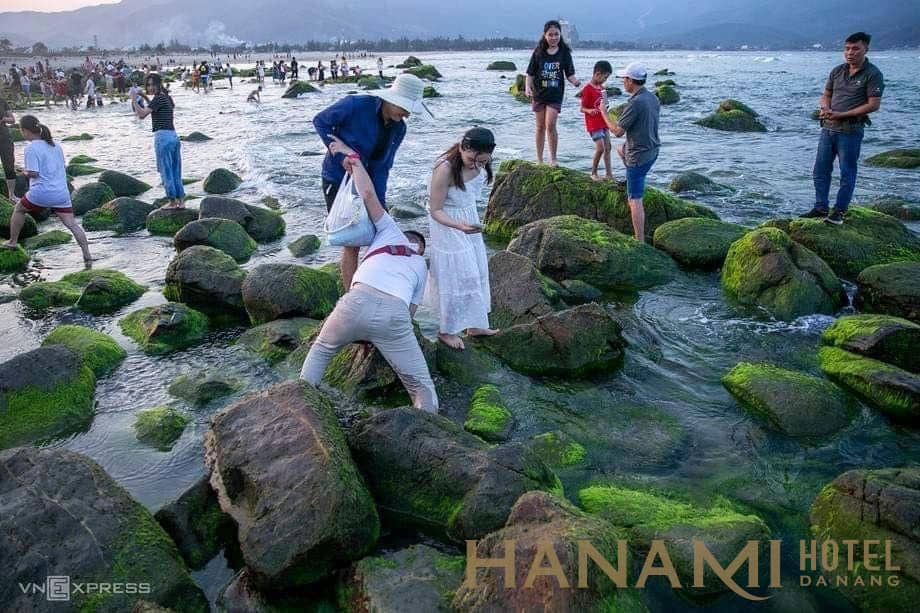 The ideal time of year to visit Nam O Reef
With many years of travel experience in Da Nang, you should visit Nam O Reef whenever you can to take in all of its various natural majestic beauty. However, Nam O Reef is most often enjoyed by tourists in the green moss-covered season. The entire landscape surrounding this location is like a stunning blue artwork, which is probably an ideal destination for locals and tourists in Da Nang to take memorial photos.
Spring comes, this is a sparkling virtual living spot that everyone loves. Early morning and late afternoon are the best times to capture the best moments of Ran Beach. Green rocks mixed with golden sand and continuous waves of water will create a picturesque picture.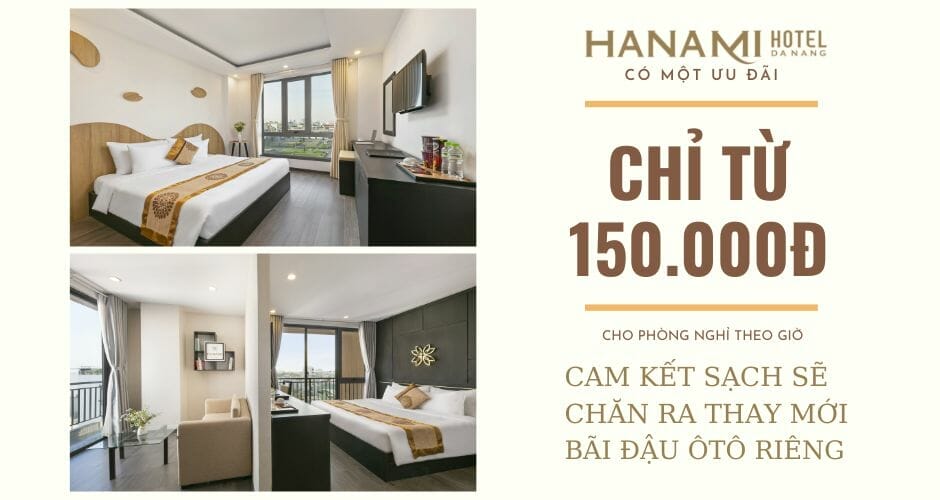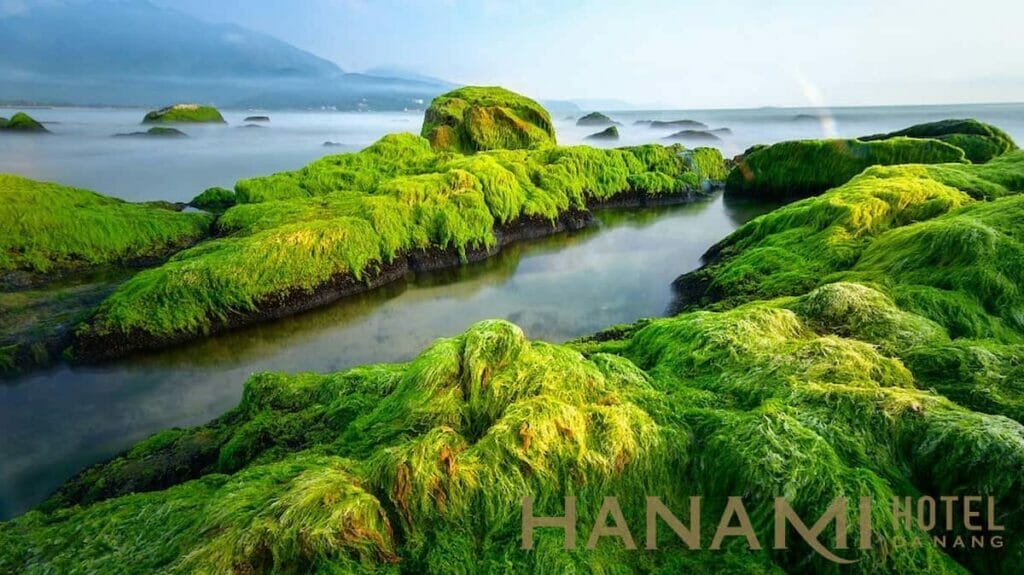 Nam O Reef location
Nam O Reef is located in Hoa Hiep Bac ward in Lien Chieu district, about 17km northwest of Da Nang city center. You can absolutely get around on a motorcycle.
To get to Nam O Reef from the city center, take Nguyen Tat Thanh Street or Ton Duc Thang Inner Street.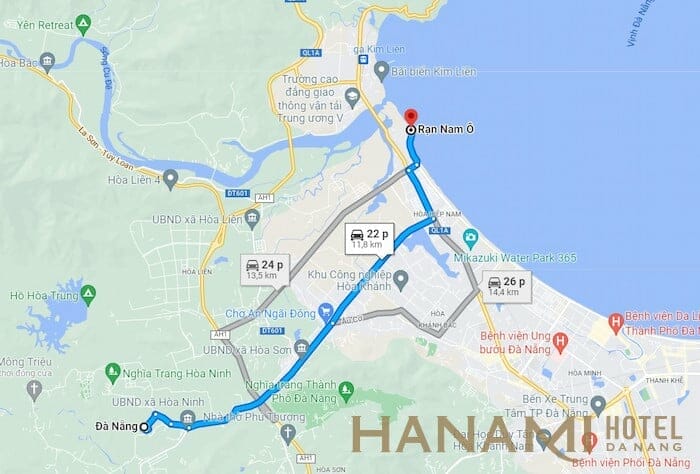 Following the spacious Nguyen Tat Thanh street with a cool sea view is recommended by experience. You can go all the way from the city center to the foot of the Thuan Phuoc Bridge on Bach Dang Street. Then make a left onto Nguyen Tat Thanh Street.
At the end of the road, instead of turning left, continue on the extended road and then turn right onto the small road to enter the fishing village. You then proceed to the end of the road to reach Nam O reef. If this is your first time visiting this location, you should consult with the locals to avoid taking the wrong path.
Discover Nam O Reef's specialties
Nam O raw fish salad
Nam O raw fish salad is a Da Nang specialty made from raw fish. There are two types of fish salad: wet fish salad and dry fish salad. The raw fish salad is served with a variety of mixed vegetables and a special dipping sauce. All of them create a delectable and famous dish that tourists coming here must try.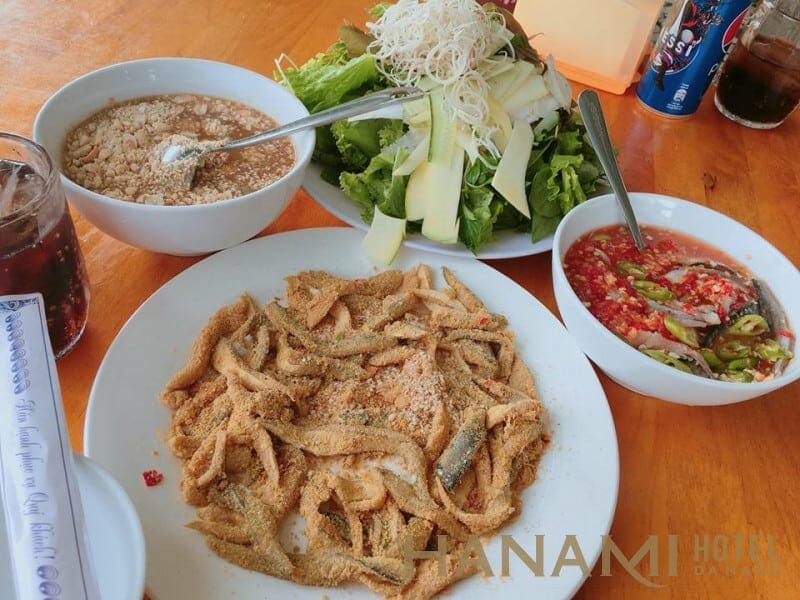 Nam O fish sauce
The Nam O fish sauce craft village is a worthwhile stop for making fish sauce as well as purchasing products as gifts for loved ones.
The fish sauce served here is carefully selected and prepared according to an ancient recipe. Therefore, the flavor of fish sauce is both delicious and appealing.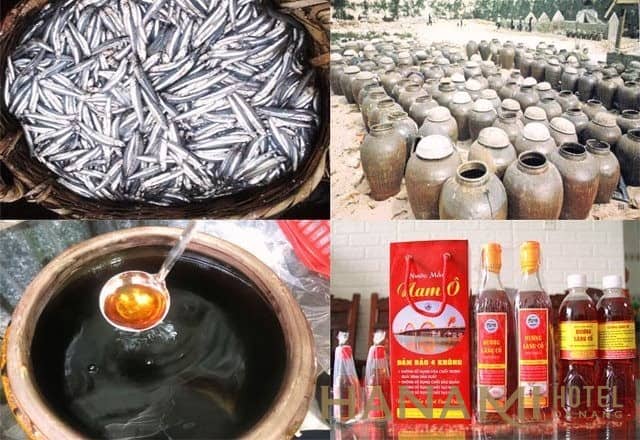 Fresh seafood
Seafood is one of the mouthwatering delicacies in Da Nang. Many different types of fresh fish, snails, shrimp, squid, and so on can make you excited to savor them right away.
Tips for visiting Nam O Reef in Da Nang
If you want to have the greatest trip to Nam O Reef, then take some of this advice into consideration. Choosing a budget hotel or homestay that is a little bit further away will help you save money on lodging because it is easy to go there on a motorcycle.
Check the service price before using the service

When visiting the beach, remember to pack the essentials like hats, sunscreen, sunglasses, and other stuff to protect yourself from the sun.

Get ready for stunning images here by preparing bikinis or maxi dresses.
The information about the green moss-covered Nam O Reef provided above is for you to visit and enjoy to the fullest. We hope this information encourages you to visit Nam O Reef to fully experience this amazing destination.