What's better than chowing down on crunchy pieces of hot Vietnamese crepes in the chilly days? Do you agree to hunt down the top 10 best and most famous Vietnamese crepe restaurants in Da Nang together with us?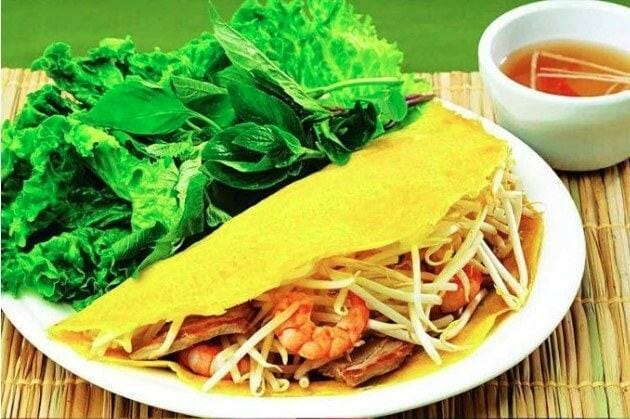 Vietnamese crepes have been around for a very long time and gotten into the subconscious mind of Da Nang people. Then, it becomes the city's specialties which is bold in sentimental attachment given by the locals to all tourists. Nowadays, it's a ubiquitous street food sold in every corner and many restaurants and eateries around Da Nang and other large cities. Below are the top 10 must-try Vietnamese crepes restaurants in Da Nang on rainy days. 
Da Nang's Vietnamese crepes - The irresistible local street food
 Though no one knows about the dish's birth, it now still becomes a typical specialty of the beach city and a favorite dish of every tourist. Each crepe contains all the quintessence of life, a hard-to-forget taste. 
 The crepe is round in medium size, and it's very crunchy - the dish's feature. The fillings mostly are pork, shrimps, eggs, seafood, sprout, and onions. Don't forget to take each bite with some herbs and dip into the fish sauce. Despite the imported cuisine culture and the cultural exchange among regions over the years, Vietnamese crepes still keep the original taste intact. 
 

Top 10 budget Vietnamese crepe restaurants that worth your try on rainy days
 1.

Madame Duong's Vietnamese crepes - A long-standing restaurant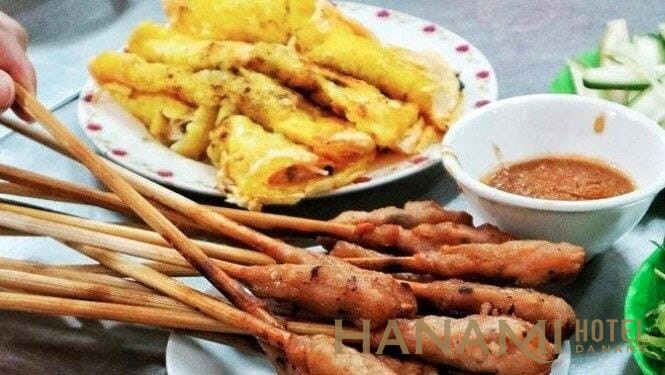 Address:

 K280/23 Hoang Dieu, Hai Chau

Price range: from nearly 1 to over 2 US dollars 
 Madame Duong's Vietnamese crepes is a long-standing restaurant in Da Nang
 Madame Duong's Vietnamese crepes - a long-standing restaurant can't be missed when it comes to the famous restaurants in Da Nang where offers the greatest dish. The place has gained a firm position in eaters' hearts. The crepes here are crunchy with full of shrimps and pork. Dip the roll into the aromatically dense and rich sauce then take time to enjoy the taste because the rain's pouring out there. The dish tastes much better when the hibernal days come. 
 2.

Banh Xeo Tom Nhay Co Ba (Crepes with jumping shrimps) - Original Da Nang Cuisine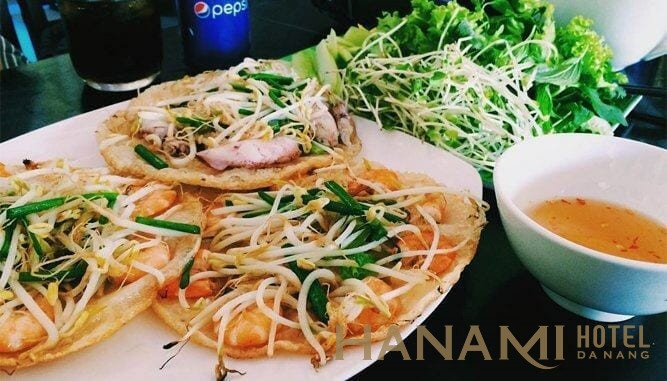 Address: 

No. 248 Trung Nu Vuong, Hai Chau

Price range: from nearly 1 to 2 US dollars
 Origin Da Nang Cuisine - Crepes with medium-small shrimps
The decisive factor that determines the taste and quality of Ms. Ba's Vietnamese crepes is none other than the medium-small shrimps, literally mean jumping shrimps to describe how fresh the seafood is. A true taste of Binh Dinh was imported into Da Nang and became an extremely popular specialty of the coastal city. The restaurant's crepes are quite big and its crust made of pure rice filled with shrimp, pork, bean sprouts, sliced ​​onions to create a naturally sweet taste that is hard to resist.
 3.

Banh xeo Mien Trung (Central region's Vietnamese crepes)
Address: 

K280/14 Hoang Dieu, Hai Chau

Price range: Around 2 US dollars
Nestled into the tiny alley, but the eatery has never been emptied. The hot and hoppy crepes are made with a unique recipe that stands out from other eateries. Aside from this, Cao Lau (a regional Vietnamese noodle dish, from the town of Hội An, in central Vietnam's Quảng Nam Province) and local spring rolls are also highly appreciated. If you are looking for a place offering Da Nang cuisine on rainy days, do not miss out on this location. 
 4.

Banh Xeo Nhung - The traditional taste of Da Nang cuisine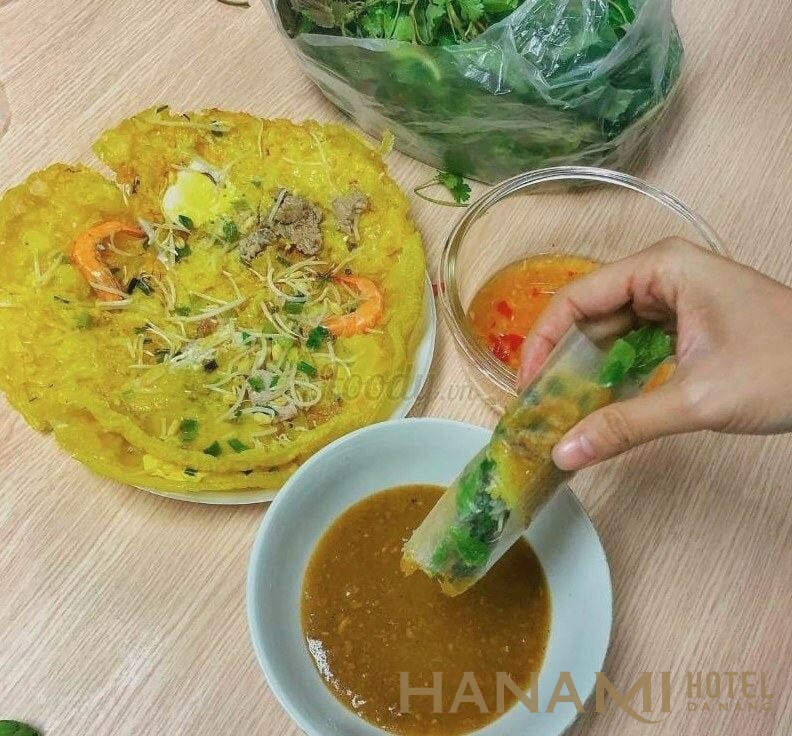 Address: No. 105 Nguyen Thien Ke, Son Tra

Price range: Around 2 US dollars
 Nhung's crepes are molded in the traditional style of Dai Loc and Quang Nam with different thickness depending on the taste of eaters. Especially only when the eaters order the food that the staff starts to pour a fixed amount of mixture into hot oil contained in a pan to make the crust. What's more interesting is that the eatery serves crepes with 3 different sauces, including sour-sweet sauce, mam nem Dai Loc (a sauce made of fermented fish), and homemade soy sauce. 
 5.

Banh Xeo Lipton - Deliciously irresistible Vietnamese crepes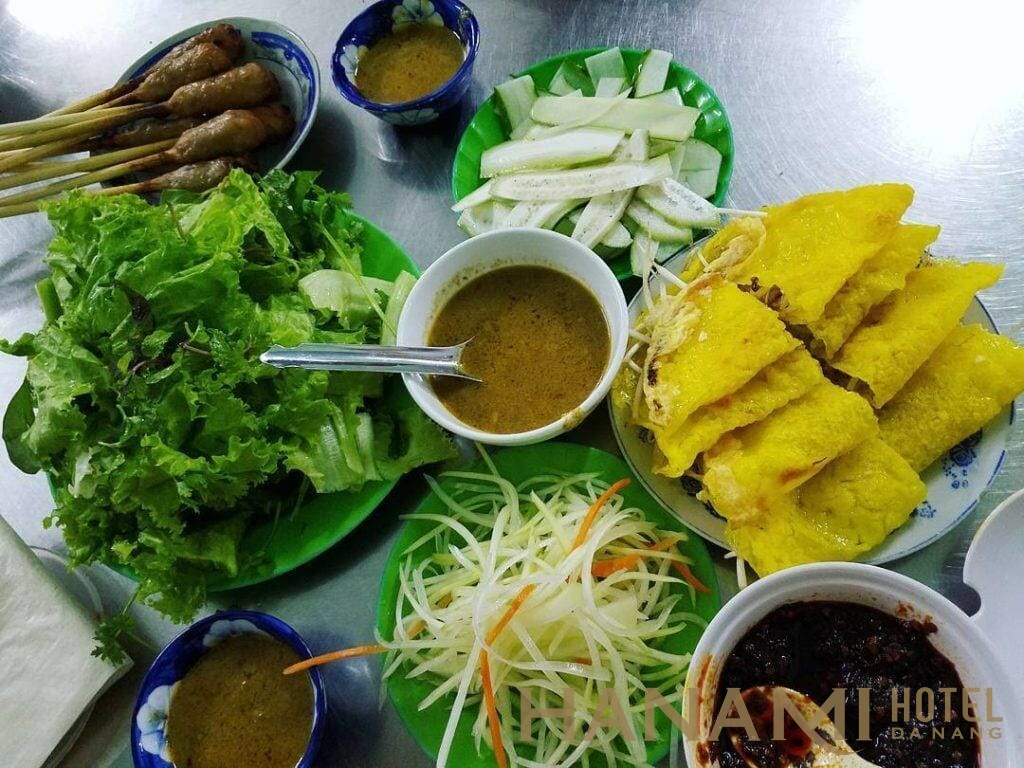 Address: No. 280/21 Hoang Dieu, Hai Chau
Price range: from nearly 1 to over 2 Us dollars
Receiving countless compliments from foodies, Banh Xeo Lipton is a must-visit restaurant for sure. Been through careful processing, the crepes come with an eye-catching yellow, crunchy crust, and an excellent taste when dipping into the rich sauce. Coming here, you can also enjoy other attractive dishes such as spring rolls, grilled pork, barbecue noodles, and many more with an original taste and great quality.
 6.

Banh Xeo Be Uyen - Rich in taste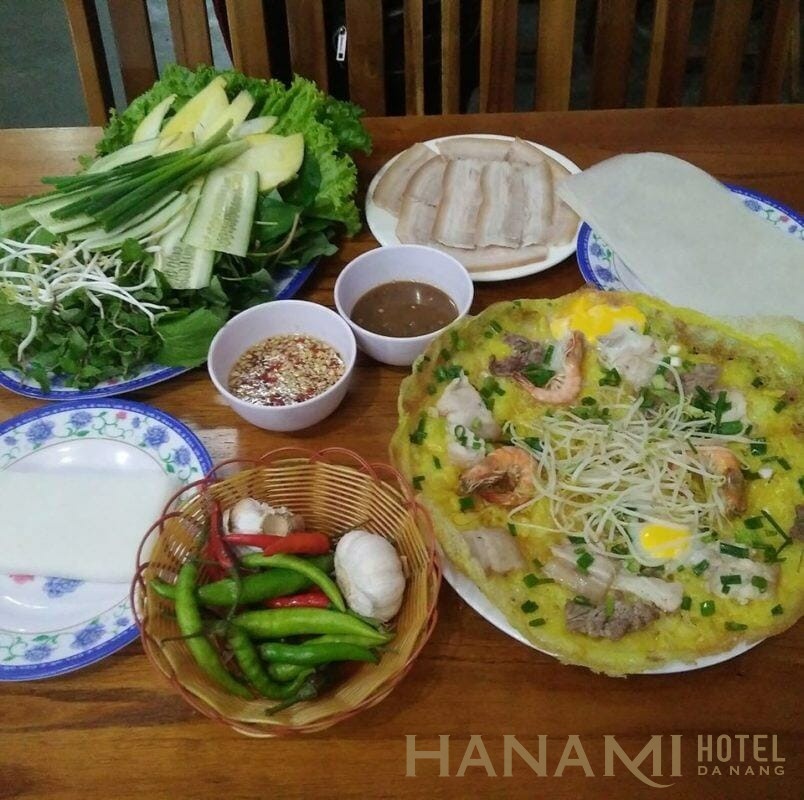 Address: No. 103 Le Thanh Nghi, Hai Chau

Price range: from half of a dollar to 2 
 Banh Xeo Be Uyen is a delicious restaurant that brings the typical flavor of people and culture of Quang Nam Province. The crepes have its own flavor, which can suit many people's taste well. The restaurant has an airy, large, and clean space. 
Top 10 eateries serving specialities in Danang that only the locals know
 7.

Banh Xeo Co Muoi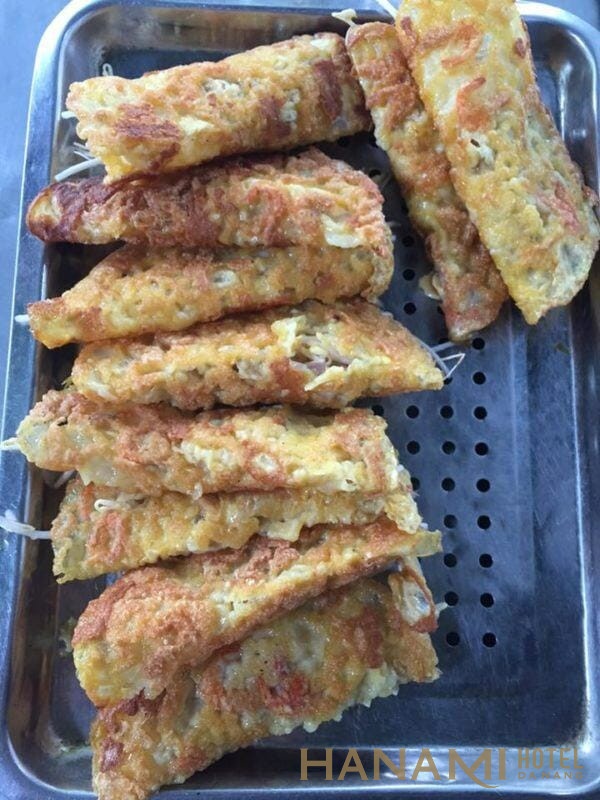 Address: No. 23 Chau Thi Vinh Te, Ngu Hanh Son District

Price range: around 2 US dollars
Delicious, cheap, and healthy are the restaurant's criteria. Placed on the well-known street of inns for students, Banh Xeo Co Muoi is a folksy place for both locals and tourists. The crepes are carefully and hygienically processed. They are not only delicious but also absolutely safe for us to take in. 
 8.

Madame Ngoc's Vietnamese crepes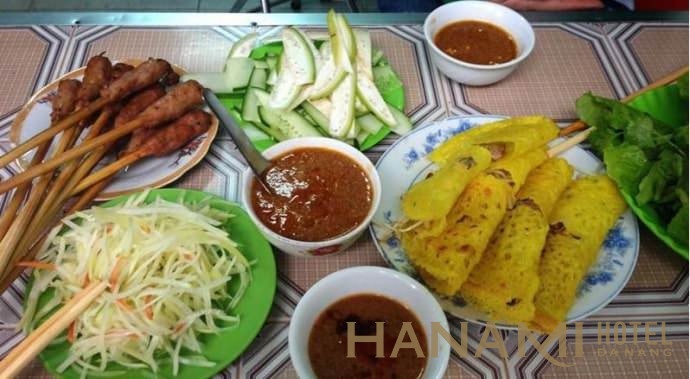 Address: 

No. 228 Dong Da, Hai Chau

Price range: from 1 to nearly 5 US dollars
 Standing on the beautiful Dong Da Street, Madame Ngoc's Vietnamese crepes is a famous restaurant in Da Nang. This is the ideal destination for visitors to enjoy this rustic specialty. As a long-standing restaurant, the place gains plenty of praise from foodies for its sapidity and quick service. 
 9.

Banh Xeo Dung Bac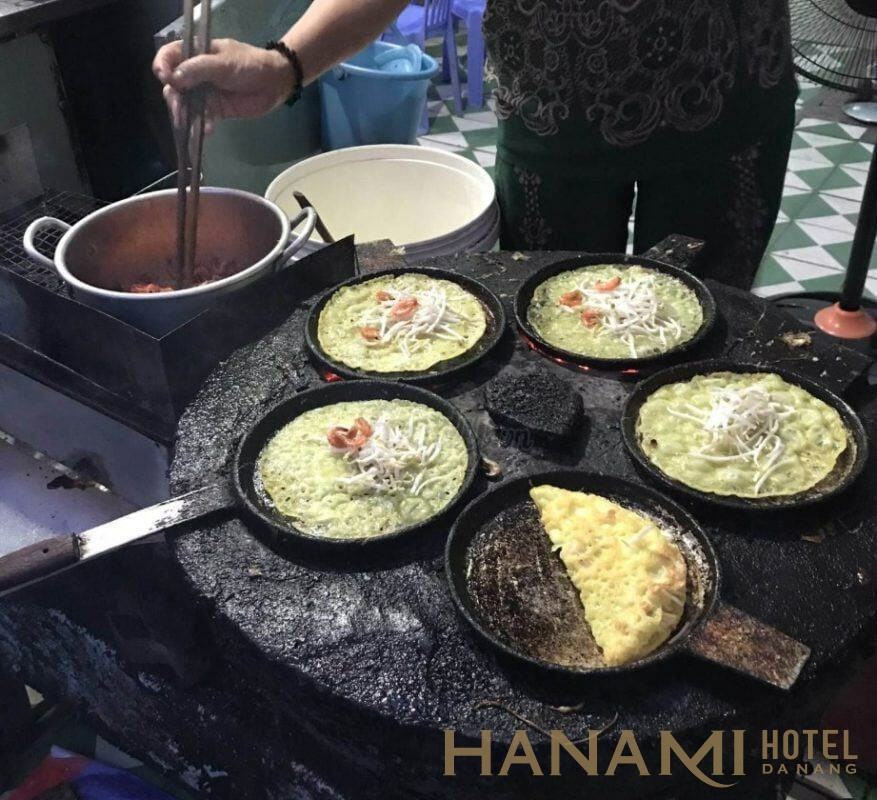 Top 10 refreshments in Da Nang for chilly winter(Opens in a new browser tab)
Address: No. 61 Hoang Quoc Viet, Nai Hien Dong Ward, Son Tra District

Price range: Around 1 dollar
 With a long history, Banh Xeo Dung Bac is widely known for its delectable crunchy crepes filled with eggs and shrimps. It is the salty-sweet shrimp sauce, a special spice that you can't find anywhere else, that makes Banh Xeo Dung Bac a brand. Besides striking taste and pretty decoration, the restaurant's hygiene is also appreciated. 
10.

Madame Xuan's Vietnamese crepes 
Address: 

No. 2 Phan Tu, Ngu Hanh Son

Price range: Around 2 US dollars
 Madame Xuan's Vietnamese crepes are always a favorite destination for not only locals but also tourists. Although the dish is not eye-catching in the presentation or fussy in processing, the crepes have its own features that you cannot forget. The other 2 outstanding dishes of the restaurant are vermicelli with marinated char-grilled pork and lemongrass skewer. 
Da Nang's crepes are as rustic and simple as the locals. Enjoying the crepes, you will partly feel more about the area's cuisine culture. Come on! What's holding you back from visiting the top 10 Vietnamese crepe restaurants in Da Nang? Just act now to appease your appetite.  Wrote by Hanami - One of the Best hotels in Danang