As a tourist city with a variety of accommodation services, Da Nang has many hotels for you to choose from. Are there any budget hotels in Da Nang that you don't know yet? Check out the top 20 best budget hotels in Danang below with Hanami Hotel!
Hanami Hotel 3 stars – The best budget beach hotel in Danang
Address: 61-63 Hoang Ke Viem, Ngu Hanh Son, Da Nang.

Price: From 300,000 VND/ night, hourly rental for only 150,000 VND/ 2 hours.
Hanami Hotel Danang is a great choice for those looking for an affordable price and high-quality services for their stay in Danang. There are 3-star rooms ranging from Standard to Deluxe, as well as apartments with full kitchens.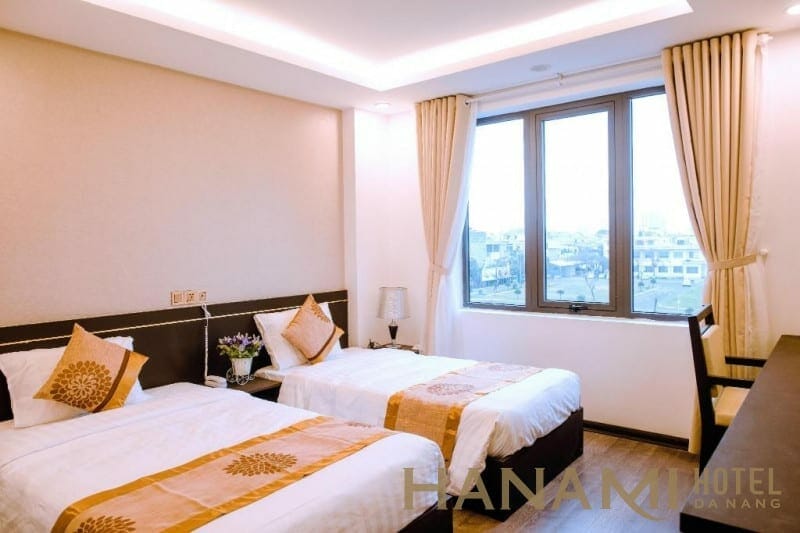 Hanami is a resort for both domestic and international tourists. This is the place chosen by many customers to stay during their business trips in Da Nang. Located in a convenient location, it is near the most beautiful My Khe beach in the city, as well as the administrative center, tourist attractions, and bustling eating areas.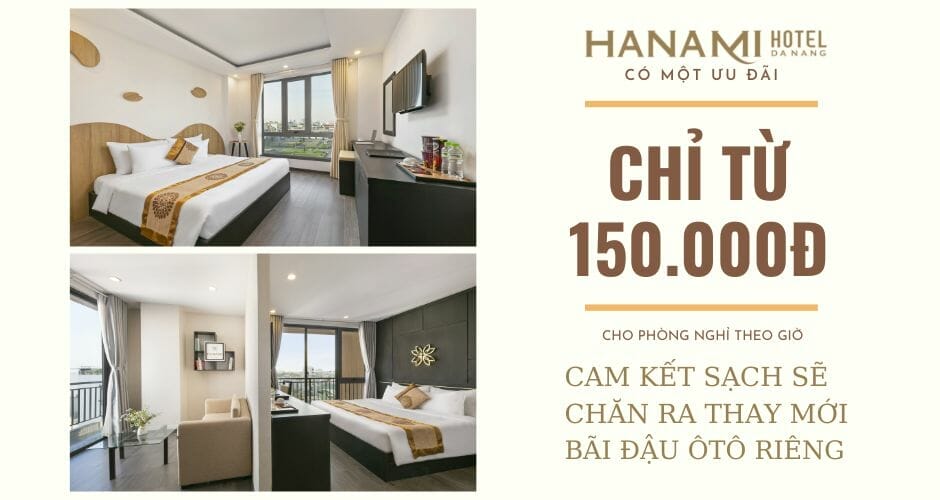 Hanami Hotel Danang also features a spacious free parking space for cars and motorcycles for tourists. In addition, there are a variety of extra services available, such as assisting travelers in booking flight tickets, purchasing tickets to visit popular tourist attractions in Da Nang, renting motorbikes, and so on. Visitors just need to pack a bag to check in and stay at Hanami Hotel. Every day, room service regularly cleans the room ensuring that it is always clean and cool.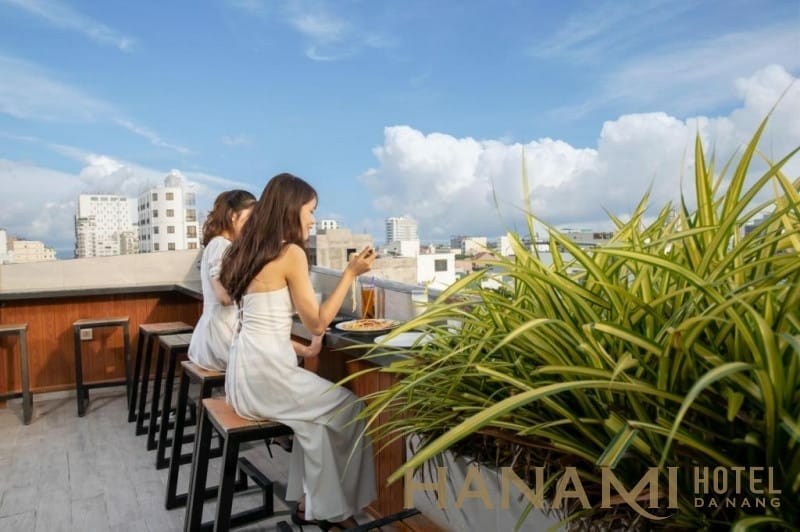 Customers can be definitely assured because the room is always kept clean. If you want to have the most memorable trip to Danang, you can book online right now at Agoda!
The best budget hotels in Danang, near the sea in Son Tra District
Azure Hotel Danang
Address: Ha Bong, Phuoc My, Son Tra, Da Nang

Reference price: 500,000 VND/night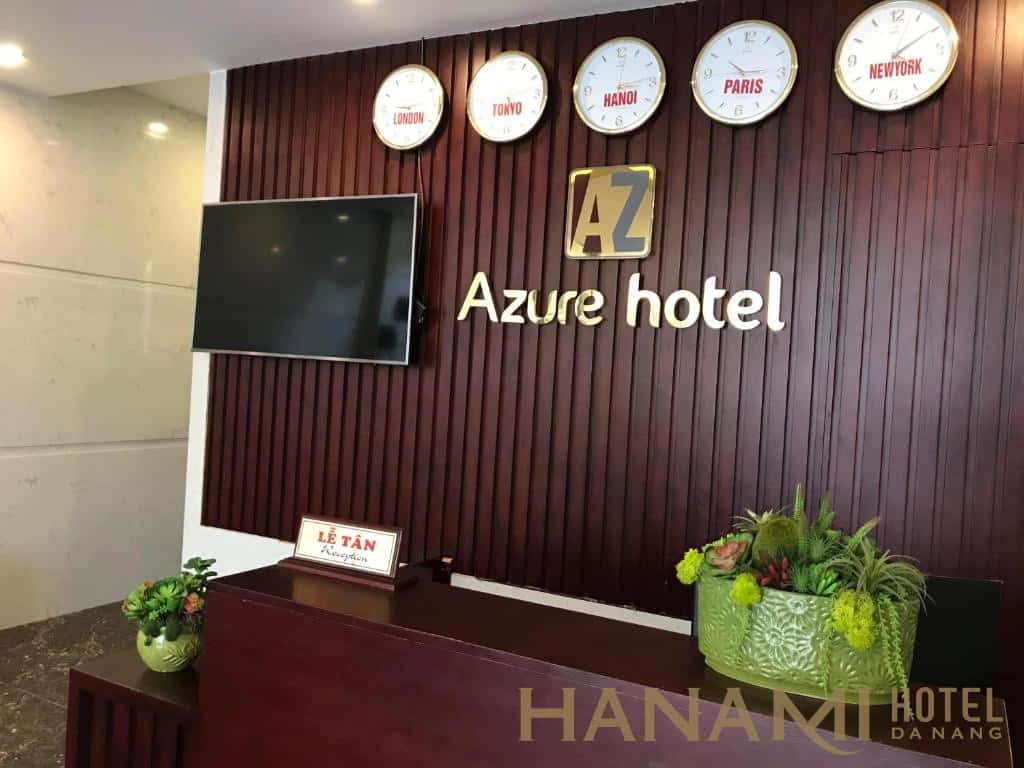 Azure Hotel has a classic style design, minimalist interior, and light colors that cover the resort space. The room fully meets the demands of visitors and has a private and clean bathroom. The hotel is about a 4-minute walk away from My Khe beach. Focusing on service investment, and reasonable prices are the marks making Azure to be the top location when tourists visit Danang.
Sea Wonder Hotel Danang
Address: Nguyen Cong Sau, Phuoc My, Son Tra, Da Nang

Room price: 400,000 VND/night
Sea Wonder Danang is conveniently situated on My Khe beach for those that enjoy the seaside atmosphere. The hotel is completely equipped with air conditioning, Caesar sanitary ware, a refrigerator, a television, and other amenities. With low prices and a location close to the sea, this will be a resort that guests are not able to ignore.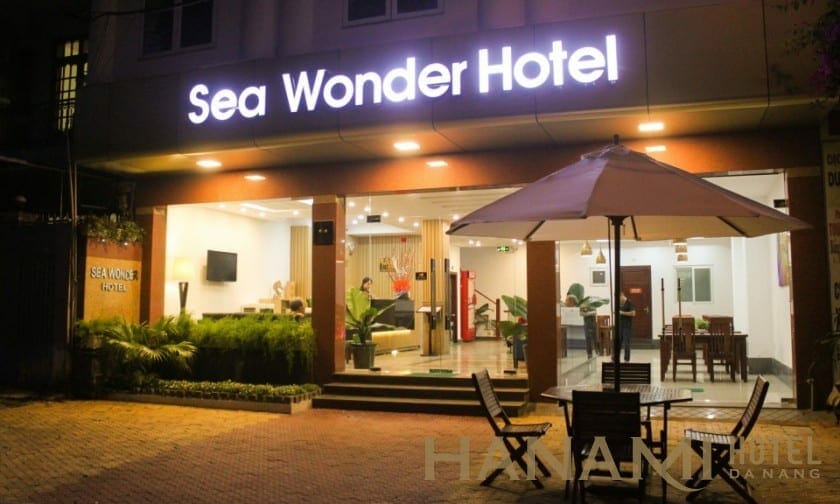 Dining spots near the hotel offer family groups with a variety of menus to suit the tastes of different regions. Visitors can easily choose fresh fish that is suitable for both children and the elderly.
Grand Tourane Hotel
Address: Vo Nguyen Giap, Phuoc My, Son Tra, Da Nang

Reference price: from 2,000,000 VND/night
Grand Tourane Hotel is a 5-minute walk from Danang city center and is located along the world-famous My Khe beach, making it an ideal choice for a relaxing vacation. The staff is willing to serve and provide the greatest amenities and dedicated service to ensure the guests are comfortable and proud.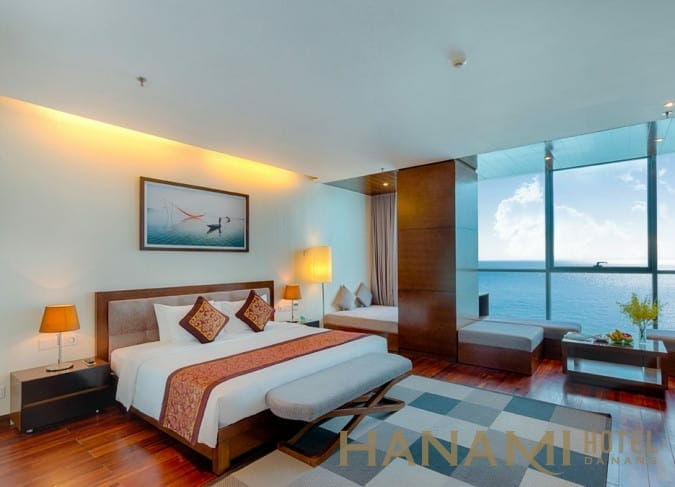 The hotel, which has 188 rooms and modern suites with stunning views of My Khe beach or the city skyline, is the perfect place for both work and pleasure. The hotel offers everything from full meeting rooms to tennis courts, as well as health, wellness, and cosmetic services. To finish off the perfect weekend, enjoy meals at the Bella Vista restaurant or a drink at the pool bar.
Even your dream of going to the beach can be realized at Grand Tourane. This area is close to the main historical and sightseeing attractions of Central Vietnam, so you can meet amazing moments and truly experience an enjoyable stay.
Four Point Hotel by Sheraton Danang
Address: Vo Nguyen Giap, Phuoc My, Son Tra, Da Nang

Room price: 2,500,000 VND/night
Four Points by Sheraton Danang is a hotel located on the most beautiful beach in Vietnam. It has excellent design style with 36-storey building and the best sea view.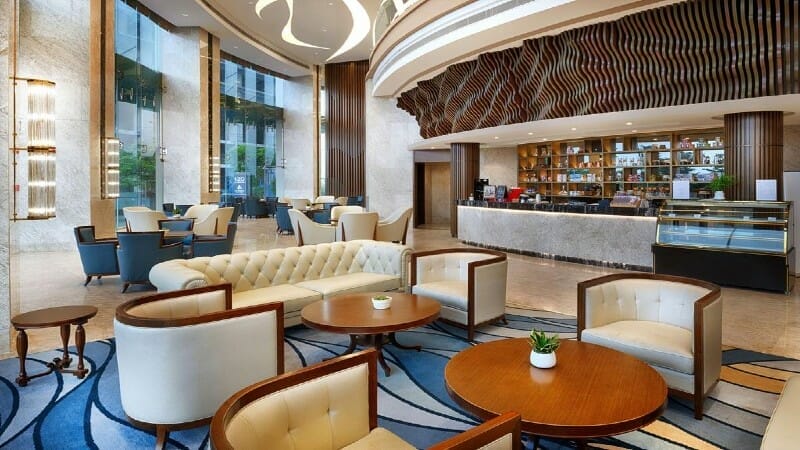 The private balcony in each room has its own decoration so that guests can enjoy the dawn or sunset in Da Nang.
During your stay, guests can sip a cup of fine coffee at the luxurious lounge. The rooftop pool with cool cocktails or cool craft beer from the Best Brews collection at Horizon Rooftop Bar.
Don't forget to give yourself natural herbal remedies as well. From Four Point by Sheraton Danang, tourists can easily explore numerous famous heritage sites such as Hoi An Ancient Town, Hue Imperial Castle, and My Son Sanctuary.
Belle Maison Parosand Danang Hotel
Address: Vo Nguyen Giap, Phuoc My Ward, Son Tra District, Da Nang

Reference price: from 2,000,000 VND/ night
Belle Maison Parosand Da Nang Hotel is 1.7 km from My Khe Beach, 1.8 km from Love Bridge, 2 km from Song Han Bridge and 6 km from the nearest Da Nang International Airport.
The hotel provides guests with amenities such as air conditioning, a flat-screen TV, a private bathroom, bathrobes, and slippers. Guests can also enjoy a cup of tea while looking around at the beautiful sea/city views. Some rooms also provide a couch for guests to enjoy while relaxing. 
Guests can leave their luggage at the 24-hour luggage storage room, work out at the fitness center, and relax with massage treatments at the hotel's spa.
Beautiful view hotels near Da Nang beach in Ngu Hanh Son District
Risemount Resort Danang Hotel
Address: Nguyen Van Thoai, My An, Ngu Hanh Son, Da Nang

Room price: from 2,600,000 VND/night
Risemount Premier Resort Danang has a youthful and cheerful color scheme, as well as an airy environment with blue domes, a rooftop swimming pool, and a convenient location near the sea. Inspired by the beauty of Santorini island, Risemount Premier Resort Danang hopes that you can experience the beauty of Vietnam in Santorini style.
Muong Thanh Luxury Da Nang Hotel
Address: Vo Nguyen Giap, Bac My Phu, Ngu Hanh Son, Da Nang

Room price: from 2,000,000 VND/night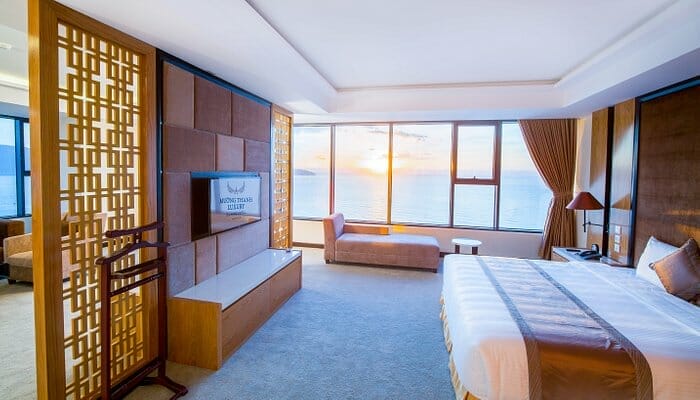 Muong Thanh Luxury Danang Hotel is located near the city's beach. Besides providing rooms, the hotel also has a spa and wellness center. Guests can dine at the restaurant of the hotel. Free Wi-Fi is available in all areas of Muong Thanh Hotel.
The services of Muong Thanh Da Nang Hotel for guests are near many attractions such as My Khe Beach (47 m), Love Lock Bridge (2.2 km), Asia Park (2.6 km), and Da Nang International Airport (5 km). All attractions are located close to each other, visitors can easily move around to spend their vacation in Danang.
The hotel has furnished rooms with iPod docking stations and flat-screen cable TVs. In addition, each room has a resting area and a desk for you to unwind after a long day. Moreover, guests can also enjoy a cup of tea while enjoying the sea or city view from the window. To increase convenience, rooms also offer a private bathroom with bathrobes and slippers.
A la Carte Da Nang Beach Hotel
Address: Vo Nguyen Giap, Bac My Phu, Ngu Hanh Son, Da Nang

Reference price: 2,500,000 VND/night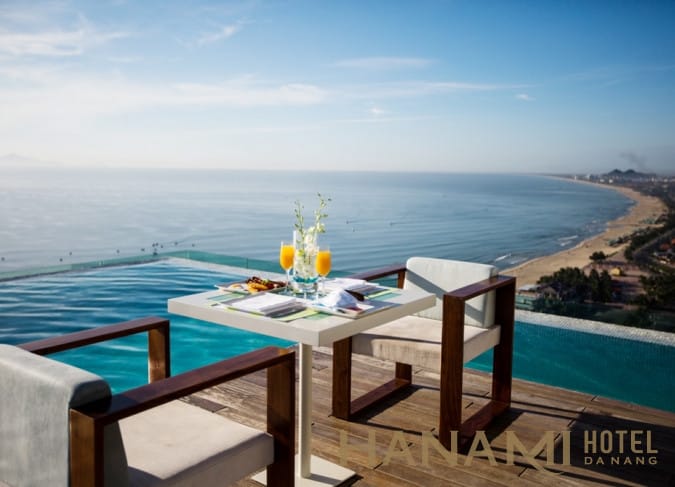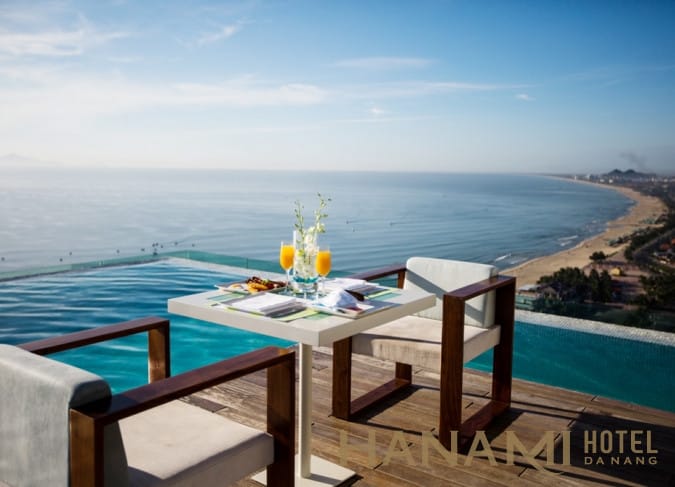 Great location: Just step out the door to dip your feet in the white sand and feel the flow of sparkling water. This beachfront hotel offers panoramic views of My Khe Beach and Son Tra Peninsula. All of the spacious suites and flats are designed with the latest modern amenities. Along with that, there are a number of intelligent configurations to meet your demands. 
Raon Danang Beach Hotel 
Address: 5-7 An Thuong 32, My An, Ngu Hanh Son, Da Nang

Reference price: from 750,000 VND/night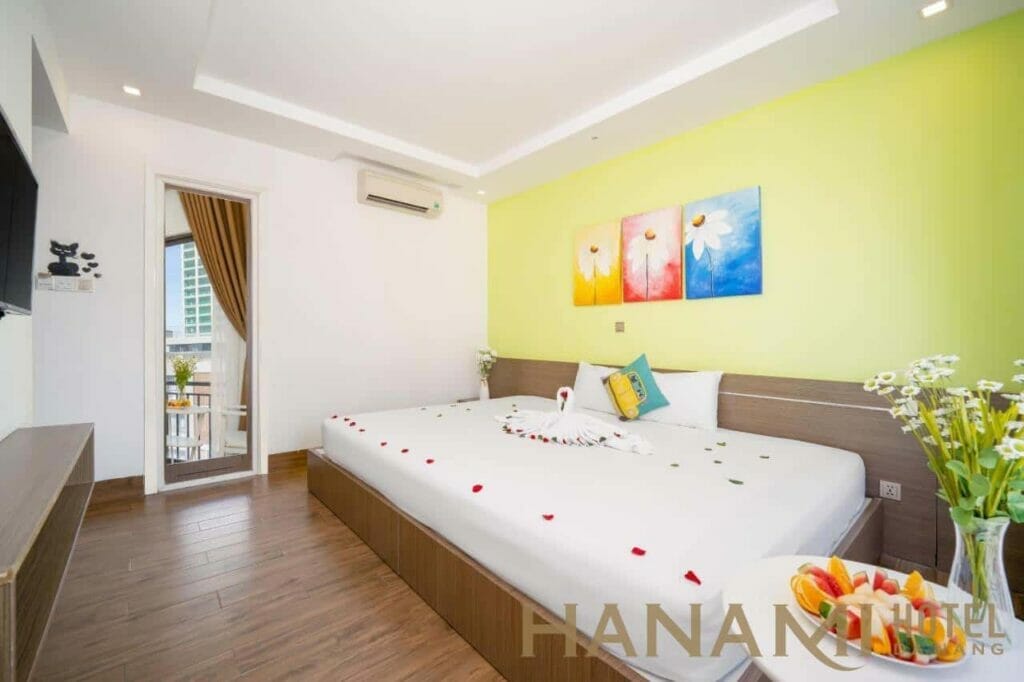 Located 3 km from Da Nang Sculpture Museum, Raon Danang Beach Hotel offers a Spa center and massage services. The 3-star Raon Danang Beach Hotel is nearly next to Tam's Pub & Surf Shop.
The hotel is less than 5 kilometers from the Han River, Asia Park, Tran Thi Ly Bridge, Nguyen Van Troi Walking Street,… Don't forget to enjoy the breakfast served by the restaurant. European, Italian, and Mediterranean cuisines are available to guests.
L' amore Boutique Hotel
Address: 378 Vo Nguyen Giap, Ngu Hanh Son, Da Nang

Reference price: 350,000 VND/night
Located 6.8 kilometers from the airport, L'Amore Boutique Hotel offers a shuttle service at any time for a fee of 200000VND each one-way car. At the same time, guests can also choose to capture the experience of massage at the spa or dining at the restaurant. Furthermore, My Khe Beach is merely a 10-minute walk away.
Budget hotels in Hai Chau District, Da Nang
Magnolia Hotel Danang
Address: 6 Le Loi, Thach Thang, Hai Chau, Da Nang

Reference price: from 700,000 VND/night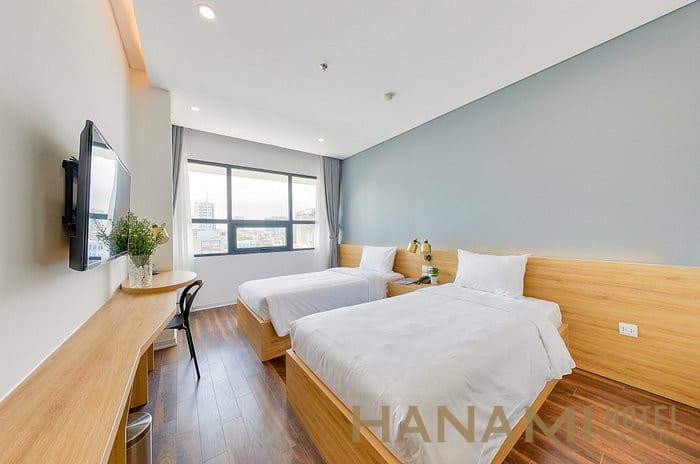 Magnolia Hotel stands out as a green icon of the city core of Da Nang. The hotel, located in the midst of the bustling and hot city, provides a cool atmosphere. Exceptional rooms have views of the city or the garden. Magnolia offers all the services you need to match the customer's budget, including renting living space and planning large parties, meetings, or weddings for up to 600 guests.
Tarasa Hotel 
Address: 191 Dong Da, Hai Chau, Da Nang

Reference price: From 500,000 VND/night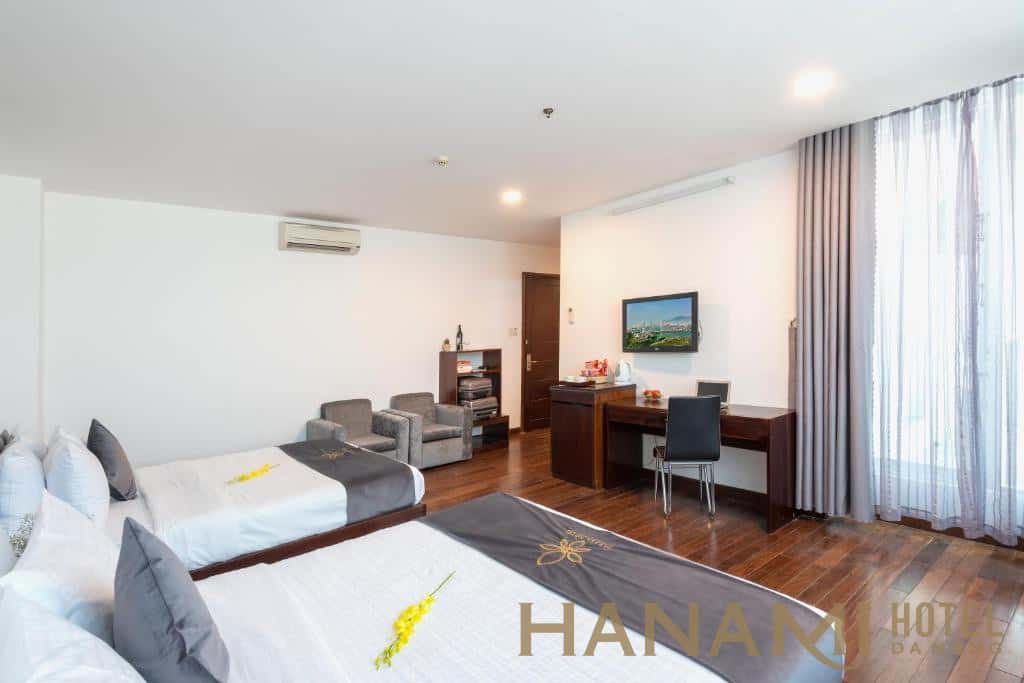 Tarasa Hotel is located in the city center with the busiest street in Da Nang and near My Khe beach. With 3-star certification, the hotel ensures to give you all the necessary amenities to help you experience a perfect vacation.
– Free breakfast buffet
– 24/7 reception, enthusiastic and attentive care
– The room is clean and airy
– Best-price airport shuttle
– There is a terrace view, and the bedroom view is extremely beautiful
– Self-drive motorbike/car rental
– Enthusiastic recommendations for tourist attractions in Danang
The beach is about a 15-minute walk away from Tarasa. Tarasa had incentives with a 3-star accommodation for the summer vacation. Tourists only need to make a reservation to obtain the most incentives.
Myana Hotel
Address: 40 Nguyen Thai Hoc, Hai Chau, Da Nang

Reference price: 450,000 VND/night
Mayana Da Nang – The hotel includes 30 semi-classical rooms with the amenities such as Wi-Fi, satellite TV LCD, minibar, electric kettle, and a private bathroom with shower. The hotel has a city view or a river view that attracts a lot of tourists. The hotel offers a 24-hour reception, business, tourism, room, laundry, car rental, convenience store, and fax services.
Happy Day  Hotel
Address: 160 Bach Dang, Hai Chau, Da Nang

Reference price: From 300,000 VND/night
There are a variety of hotel rooms available, some with views of the Han River, as well as Da Nang International Airport (within 2 kilometers away), Dragon Bridge, and Da Nang Church (only 10 minutes away from walking). The hotel is 3 kilometers from the public beach at Pham Van Dong and 10 kilometers from The Marble Mountains.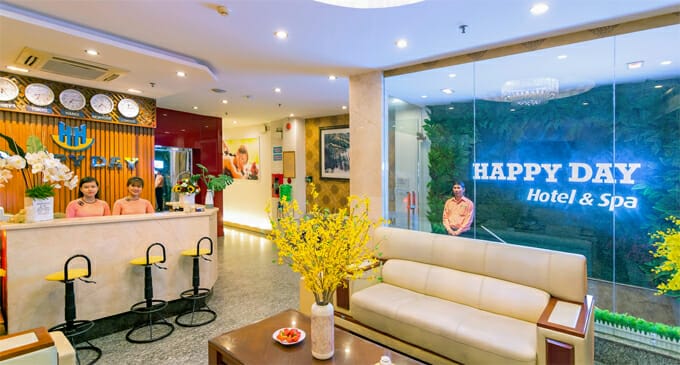 All rooms are equipped with wooden floors, air conditioners, flat-screen cable TV, a minibar, a wardrobe, and a private bathroom with amenities such as a hot shower and toilet. Guests will also receive two free daily water bottles. In addition, the services of luggage, laundry, airport shuttle, and ticketing can be arranged at the 24-hour front desk. Travel plans can be resolved at the tour desk.
Moonlight Hotel Da Nang
Address: 136 – 140 Phan Chau Trinh, Hai Chau, Da Nang
Reference price: 600,000 VND/ night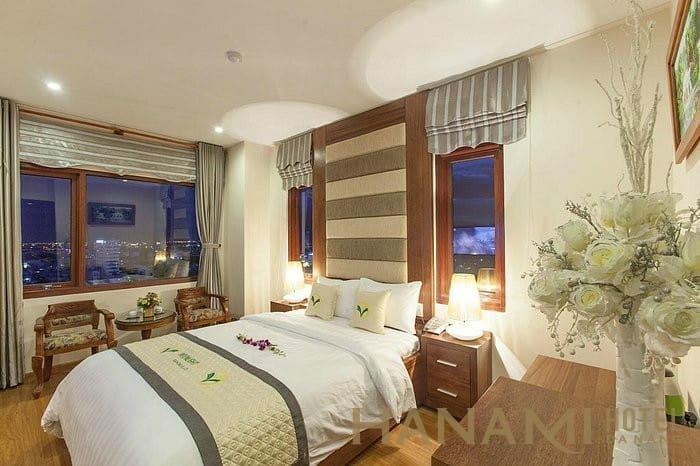 Moonlight Hotel Danang is a hotel chosen by many tourists when coming to Da Nang. By staying at this hotel, you will enjoy a variety of amenities, from service to friendly people. With preferential prices during the holidays; as a result, you can choose the suitable hotel and resort that meets your family's demand.
Hotels near Thanh Khe District, Da Nang
Samdi Hotel
Address: 331 Nguyen Van Linh, Thach Gian, Thanh Khe, Da Nang
Reference price: from 650,000 VND/ night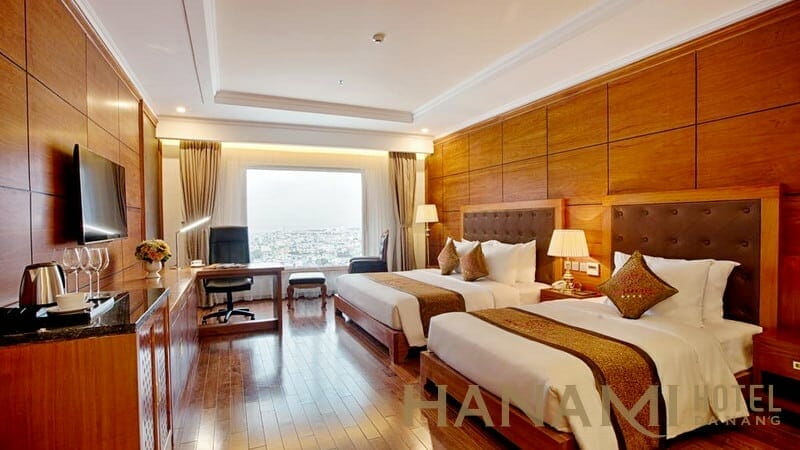 Samdi Hotel is located in a great location, 5 minutes from the international airport, 10 minutes from Da Nang beach, and 5 kilometers from the shopping mall and entertainment centers. The hotel is also very convenient for both tourists and business people. Furthermore, you can see beautiful scenery such as the sparkling bridges, the beach stretching majestic, and the unique mountains from the terrace of the hotel.
Paris Hotel
Address: 747 Nguyen Tat Thanh, Thanh Khe, Da Nang
Reference price: 300,000 VND/ night
Paris Hotel is located on Nguyen Tat Thanh sea axis. The rooms are all decorated and clean. The hotel strives to provide the most exciting and complete experiences for guests.
Gold Boutique Hotel 
Address: 1357 Nguyen Tat Thanh, Thanh Khe, Da Nang
Reference price: 450,000 VND/ night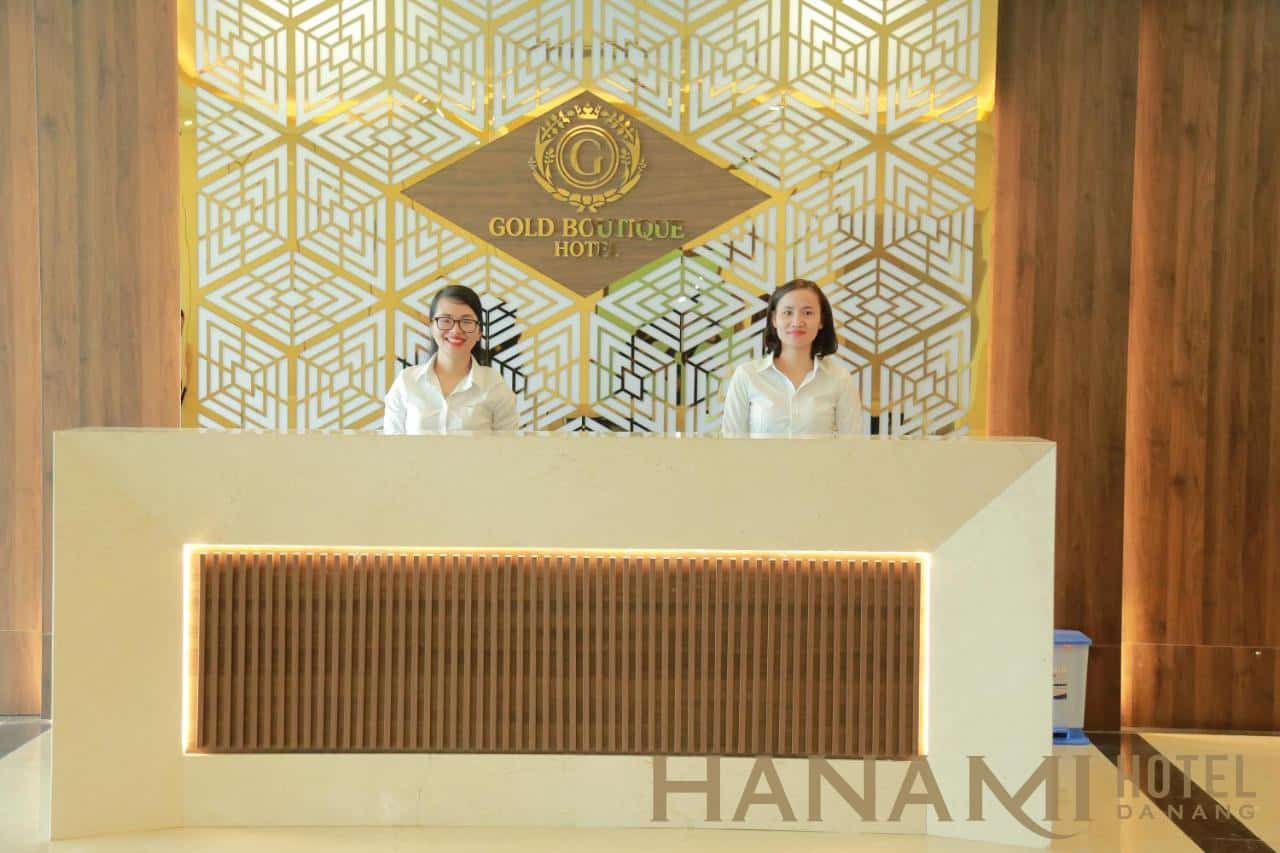 The hotel with the highest standard of accommodation. Situated in a convenient position, travelers can easily move to the city center, restaurant, and amusement park. Hotel receptionists are available 24/24 to provide the best service for clients.
Lotus Rock Hotel 
Address: 231 Nguyen Van Linh, Thac Gian Thanh Khe, Da Nang
Reference price: 370,000 VND/ night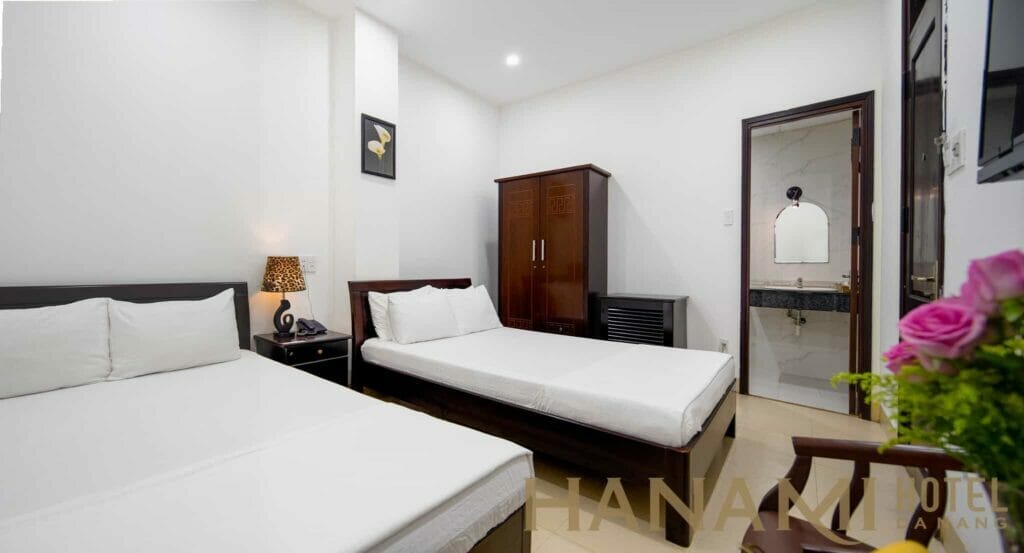 A minimalist hotel decorated in a minimalist style and drinking service is served here. Hotels are often equipped with full amenities such as bedrooms, bathrooms, wifi, air conditioning, cable TV, room services, and other utilities. You can enjoy these amenities while traveling to make your trip more comfortable.
Room rates at Lotus Rock Hotel are also considered cheap and affordable for visitors. Therefore, you can easily choose this hotel for a vacation in Da Nang with your family and loved ones.
Conclusion
The top 20 best budget hotels in Danang have been shared with tourists. With the above information, Hanami hopes you will be able to make the best decision for the lowest price. If you want to reserve affordable rooms in Da Nang, please contact Hanami!