In the age of modern technology, smartphones have become an integral part of our lives. Many people' first pick is always Apple devices, such as the iPhone. There are numerous iPhone stores in Da Nang offering a wide range of models and prices.
However, finding a reliable and quality store address is not easy. Hanami would like to share useful information about the iPhone stores in Da Nang and helpful buying advice. Follow Hanami Hotel Danang's article below to find out more!
Benefits of buying iPhone at a reputable store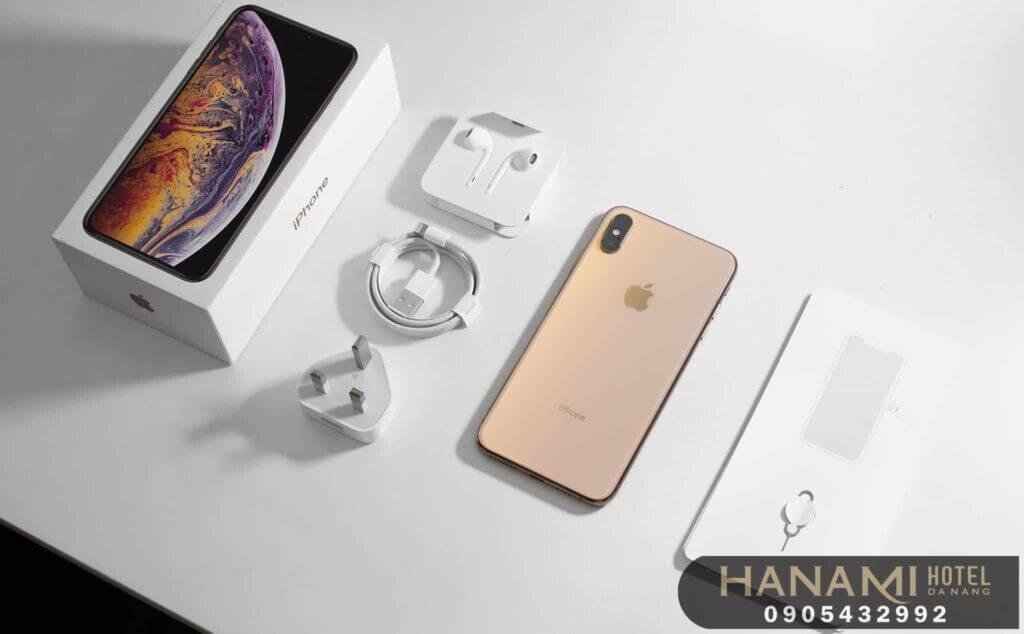 Quality Assurance: This makes your device reliable and error-free. In the event of a manufacturer defect, you can also get a very recognized warranty service.
Warranty: A trusted iPhone retailer will have a clear warranty policy. In the event of a manufacturer defect, you will be returned or repaired to keep the machine in the best possible shape. Many people don't care about this, but if you're reading this, you should buy from places with decent warranties.
After-sales policy: Each store will have its own gift policy. When buying an iPhone at a reputable store, you will usually be given a set of accessories such as: charging cord, case, strength; donating headphones; raincoat; helmets;… There will be special offers for returning customers.
Dedicated service: When you shop here, you will be in a very clean and pleasant environment. Furthermore, the staff's professional knowledge and communication skills will make you feel at ease and help you quickly find what is best for you.
Discover Top 7 iPhone Stores in Danang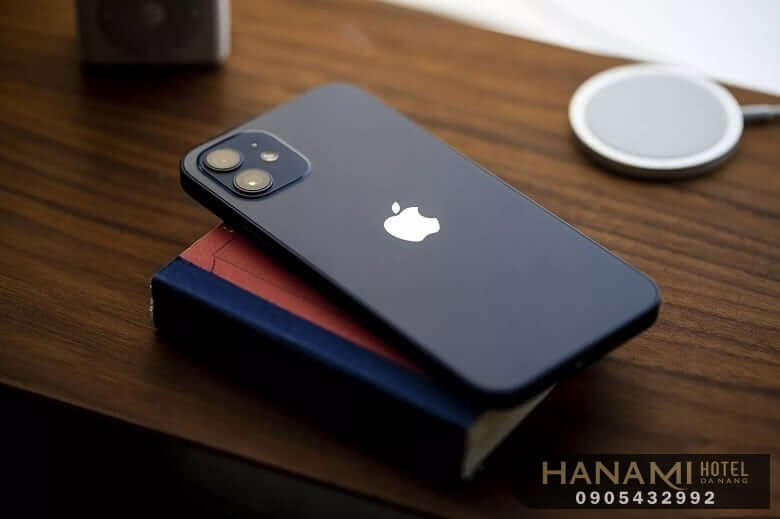 Let's look at the cheapest places to buy and sell iPhones in Da Nang to find the best deal for you.
1. Di Dong Xanh Da Nang – 106 Ham Nghi, Thanh Khe District, Da Nang City
Green Mobile is located in a prime central location in a scenic complex worth living in Da Nang. Green Mobile provides customers with an eye-catching journey into the world of smart phone technology, with a room designed and lavishly made for each technology item available today.
As mentioned, the main product is the soul of the business. Green Mobile specializes in providing 100% new, Like New FullBox iPhone Zin products, including the latest iPhone lines such as iPhone X, 11, 12, 13 Series, and the latest model. Old iPhones, such as the iPhone 5, 6, 7, 8, and so on, are all authentic and high-quality products.
Products are guaranteed to be 100% authentic, and hot specials include a one-month free renewal.
Sell and repair iPhones and SmartPhones at a low cost, with quick installation support and a simple technique.
CONTACT INFO
Address 1:

106 Ham Nghi, Thanh Khe District, Da Nang City

Address 2:

106 Nguyen Van Linh, Hai Chau District, Da Nang City

Hotline:

0901176222

Website:

http://didongxanh.com.vn
2. iHub Da Nang – 149 Nguyen Van Linh, Hai Chau, Da Nang
iHub operates a large network of Apple stores throughout the city, gradually asserting itself as the most prestigious place to sell genuine Apple products in Da Nang. iHub already has two locations on Nguyen Van Linh Street, located at 149 and 206 Nguyen Van Linh. Bringing customers the latest Apple experience space. Customers will benefit from high quality products.
iHub Da Nang is a Da Nang iPhone store that sells authentic iPhones, iPads, and Macbooks at the lowest prices in Da Nang. You should not only consider the price, but also the service and the difficulties that may arise during the warranty period of your smartphone. In addition, the company offers 0% interest installment payments on most products, as well as enticing gift programs.
CONTACT INFO
Address:

149 Nguyen Van Linh, Hai Chau, Da Nang

Website:

http://ihubdanang.vn/

Fanpage:

https://www.facebook.com/ihub.danang/
3. Quang Da Hitech Da Nang – 330 Dien Bien Phu, Hoa Khe, Thanh Khe, Da Nang
Customers appreciate Quang Da HiTech because of its guaranteed product quality, reasonable prices, prestigious and professional warranty, and constant efforts to provide great products and services that meet the most stringent specifications.
Quang Da HiTech specializes in selling computer technology products (Smartphone – Tablet – Laptop – SmartWatch) imported directly from leading technology countries such as the US, Japan, and Korea.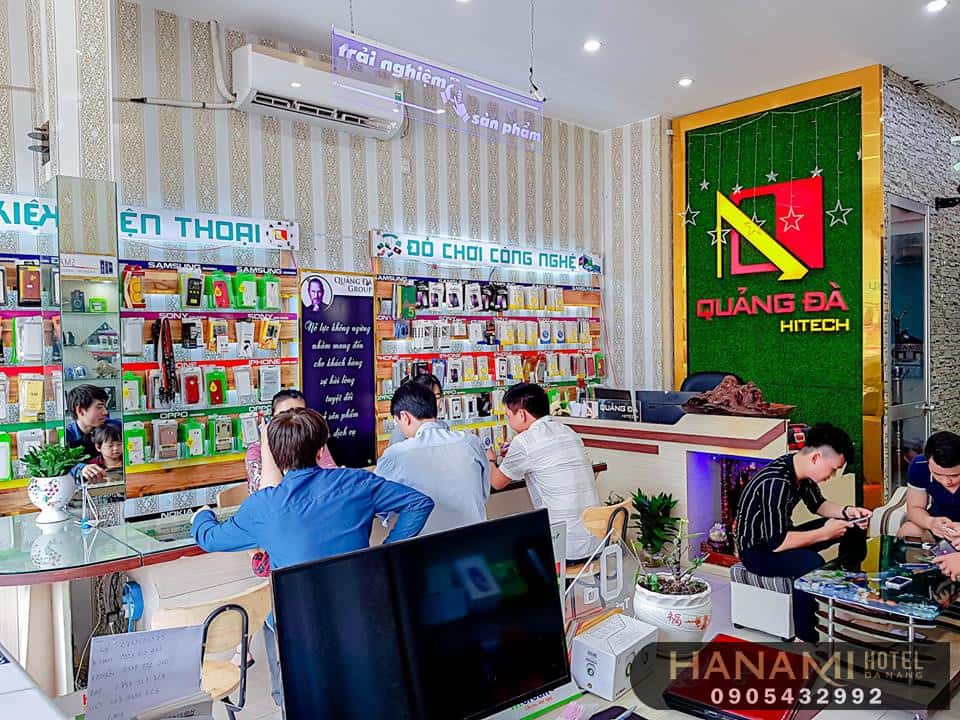 CONTACT INFO
Address:

330 Dien Bien Phu, Hoa Khe, Thanh Khe, Da Nang

Tel:

096 666 10 20

Website:

quanda.vn

Facebook:

facebook.com/QuangDa.HiTech/
4. Mega Phone- 163 Ham Nghi, Da Nang
The store is known for providing high-quality products at a reasonable cost. Mega specializes in providing authentic iPhone, Apple Watch, iPad and Macbook lines. This gives customers many options to find the best product for their needs and budget.
Moreover, the business allows 0% installment purchase, collection before renewal with a support price of up to 2 million VND. All products in the store have been thoroughly tested and the service is second to none.
The reasonable price policy and flexible product return policy of Mega Phone help customers feel secure when shopping and using the product.
With the above advantages, Mega Phone deserves to be one of the most prestigious iPhone stores in Da Nang trusted and chosen by customers.
CONTACT INFO
Address:

163 Ham Nghi, Da Nang (Specialized Technology Street in Da Nang)

Tel:

093 549 11 63

Fanpage:

https://www.facebook.com/megaphonedanang1/
5. Phone House – 109 Ham Nghi, Da Nang
Phone House is the most prestigious iPhone sales address in Da Nang and should not be overlooked. This is the largest Apple supermarket chain in the Central region, with 5 locations. Because of its many years of experience and reputation in the field of mobile phones and other supporting gadgets, Phone House has become one of Da Nang's primary shopping locations.
Customers can completely trust the product quality as well as the service attitude of the staff when shopping at Phone House. Cheerful and professional staff is the hallmark of Phone House. When you come here, you will receive the best customer service.
In addition, Phone House also has a special warranty, repair service, product return policy, and after-sales service.
CONTACT INFO
Address:

109 Ham Nghi, Da Nang

Hotline:

0763 345 643

Fanpage:

https://www.facebook.com/cuahangphonehouse2/
6. TopPhone – 105 Le Dinh Ly, Da Nang
If you are looking for a reliable iPhone store to buy phones or accessories, TopPhone is the place to go. Here specializes in picking up iPhones and iPads that have been rigorously tested and censored. When shopping at TopPhone, you don't need to worry about appearance, quality, or price.
Customers who purchase TopPhone not only receive a high-quality device at a low cost, but also receive personalized support during product use. TopPhone is dedicated to providing the best possible after-sales support to ensure that customers are completely satisfied with the product they have purchased. The staff will always be ready to assist customers in any situation, whether it is a repair, warranty, or software update.
With the criteria of product quality, a reasonable price, and professional customer service, TopPhone is a reliable Da Nang iPhone selling address for those who are looking for a quality iPhone store in Da Nang.
CONTACT INFO
Address:

105 Le Dinh Ly, Da Nang

Hotline:

0905 565 553

Fanpage:

https://www.facebook.com/topphonestore8/
7. Asmart Store – 56 Ham Nghi, Da Nang
Asmart Store is an iPhone store in Da Nang that constantly updates the latest iPhone models on the market with the best prices. Moreover, attentive service as well as warranty are definitely what attract customers to this place.
Asmart Store also provides hardware and software repair for smartphones such as the iPhone – iPad, Samsung, Sony, LG, and others, as well as free software support for customers who purchase from the store. Asmart Store will assist you in your search for the best smartphone.
ASmart has become one of the major Apple retail stores in Da Nang thanks to its high quality products and excellent customer service.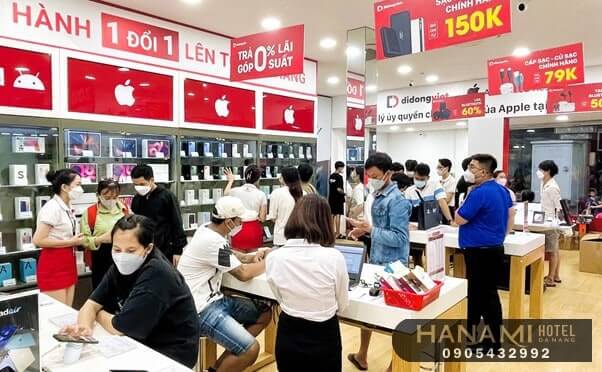 CONTACT INFO
Address:

Facility 1: 56 Ham Nghi, Da Nang

Facility 2: 173 Nguyen Hoang, Da Nang

Hotline:

090 567 43 25

Website:

a-smart.vn

Fanpage:

facebook.com/AsmartStore
The above article gives you the Top 7 Reliable iPhone Stores in Da Nang. Hopefully, through this article, Hanami can help you find an address that suits your needs.